Passively Managed Funds Can Help You Earn Better Returns Amidst Market Turbulence
Passively Managed Funds Can Help You Earn Better Returns Amidst Market Turbulence
May 22, 2020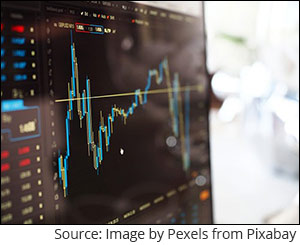 An extension in lockdown due to the COVID-19 pandemic has hit the economy harder pushing the markets down. The Sensex has plummeted below the levels of the fall witnessed in 2018.
Every segment and sector of the country is so badly hit that it fails to revive the investors sentiment and the index.
Graph 1: S&P BSE Sensex fallen off the cliff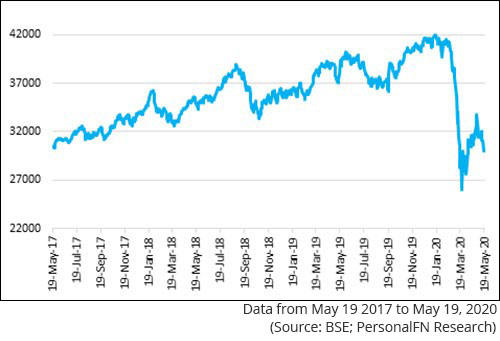 Last week a friend rang up during the Finance Minister's video announcement of the relief measures to boost the brooding economy to ask the one question that is on every investor's mind, "Where should I invest now? It's so difficult to suitably choose anything..."
I said, "If you know how long you want to invest, the investment risk you are comfortable with and the financial positioning, it should not be difficult. "
"My mutual fund portfolio is also down, so I can't think of redeeming any schemes. I have reviewed my portfolio, but I don't know where to make new investments. "
"I understand, what you mean, the market has been extremely volatile, and investing anything in equities calls for a strong heart, " I replied.
I continued, "This volatility has given a leeway for attractive valuations, though choosing the right pick is getting difficult even for the fund managers. New cases are being reported every day and there's no sign of a vaccine yet. Besides, opening up industries in a phased manner is making livelihood tough which is a deterrent for the growth of the economy and is impacting the bottom line of most companies. "
BREAKING: Here's Investment of the Decade
This makes the passive investment, i.e. index funds or exchange-traded funds, a better choice for new investment.
Passively managed funds are aligned to a particular benchmark index such as the S&P CNX Nifty, BSE Sensex, S&P CNX 500, or even for that matter a sectoral index such as BSE Banked. Index funds and exchange-traded funds are passively managed funds.
An index fund does not attempt to outperform the benchmark index, it simply replicates the index.
An index constitutes a representative collection of stocks that are important for the economy. Therefore, index funds invest in the same companies as the benchmark index in the same proportion. These funds endeavour to mirror the performance of the designated benchmark index by investing only in the stocks of the index with the corresponding allocation or weightage.
The fund manager tries to build and match the portfolio whose holdings mirror the securities of a standard index.
Exchange Traded Funds (ETFs) are innovative products that provide exposure to an index or a basket of securities or physical gold that trade on the exchange like a single stock. ETFs are an innovation to traditional mutual funds because these provide investors with a fund that closely tracks the performance of an index / physical gold with the ability to buy/sell on an intra-day basis.
ETFs feature all the benefits of indexing such as diversification, low cost, and transparency. The cost of distribution is much lower, and the reach is wider because these funds are listed on the exchange. Hence, the savings in cost are passed on to the investors in the form of lower costs. The manager of such a fund only buys the stocks of the underlying index and exits a certain stock only when the respective stock exits from the index and replaced by another one.
Hence, investing in passively managed funds is less cumbersome as compared to investing in actively managed funds. Also, they carry with them a low expense ratio along with a low risk (as compared to actively managed mutual funds), make market timing irrelevant and low portfolio churning also adds to their merit.
If you look at the data table below, the returns of top index funds for over three years have performed well. In fact, even the ETFs have been doing well.
Table 1: Performance of top passive funds and category average returns of diversified funds
| Scheme Name | 3 Years | 5 Years | 7 Years |
| --- | --- | --- | --- |
| Index funds | | | |
| SBI-ETF Nifty Next 50 | -3.9 | 4.91 | |
| Nippon India ETF Sensex | 2.07 | 4.23 | |
| SBI-ETF Sensex | 2.08 | 4.2 | 9.73 |
| ICICI Pru Sensex ETF | 2.03 | 4.17 | 9.47 |
| Kotak Sensex ETF | 1.87 | 3.96 | 9.27 |
| ETFs | | | |
| Motilal Oswal Nasdaq 100 ETF | 30.49 | 27.68 | 44.8 |
| Nippon India ETF Hang Seng BeES | 6.59 | 3.24 | 9.96 |
| Nippon India ETF Consumption | 1.14 | 5.92 | |
| Nippon India ETF Shariah BeES | 0.42 | 4.4 | 10.6 |
| Motilal Oswal M50 ETF | -1.52 | 1.57 | 7.17 |
| Category Large & Mid Cap | -2.57 | 4.6 | 15.95 |
| Category: Large Cap Fund | -0.85 | 4.01 | 11.48 |
| Category: Mid Cap Fund | -3.84 | 3.92 | 19.76 |
| Category: Multi Cap Fund | -1.93 | 3.88 | 13.6 |
| Category: Small cap Fund | -8.03 | 1.86 | 17.17 |
Data as on May 19, 2020
(Source: ACE: MF; PersonalFN Research)
The good performance of passively managed schemes is because e alpha generation was very difficult. Passively managed index funds and ETFs (which were a category of funds generally ignored by retail investors in India) have slowly started gaining momentum. Notably, the concept of index funds is quite popular in developed markets like the U.S.
--- Advertisement ---
[EXCLUSIVE] Webinar Invitation - "10 Charts, 1 Growth Story - INDIA"

Date: April 23rd | Time: 6pm | Venue: Your Computer

The second wave of the pandemic is here.

But we did beat the first wave, and surely we will beat this one too!

There is a reason why India is poised to be a global superpower soon.

The growth story of India has spanned over the past decades and is only getting stronger.

Hence, it only makes sense for smart investors to have all the information & answers to make the most of India's growth trajectory.

That is exactly what our Live & Exclusive Webinar will cover.

• Has Covid Impacted India's Long Term Growth Potential?
• What Opportunities Does India's Growth Story Create For You?
• Is Equities The Best Way To Play India's Long-Term Growth Story?

And many more...

Click Here to Register FREE for this Exclusive Webinar
[No Payments | No Credit Card | Absolutely FREE]
[Yes! I want to attend this Webinar]
------------------------------
Taking into account the underperformance of the actively managed funds against the key benchmark indices like S&P BSE Sensex and Nifty 50 index in the last one year, many investors now want to get the taste of passively managed funds. It is noteworthy that passively managed funds tracking the popular index have managed to outperform their active peers by a noticeable margin.
Table 2: Average category returns across market cycles
| | Bear Phase | Bull Phase | Bear Phase | Bull Phase | Bear Phase | Bull Phase | Corrective Phase |
| --- | --- | --- | --- | --- | --- | --- | --- |
| Scheme category | 08-Jan-08 To 09-Mar-09 | 09-Mar-09 To 05-Nov-10 | 05-Nov-10 To 20-Dec-11 | 20-Dec-11 To 03-Mar-15 | 03-Mar-15 To 25-Feb-16 | 25-Feb-16 To 23-Jan-18 | 23-Jan-18 To 18-May-20 |
| Large & Mid Cap | -56.3 | 83.2 | -25.8 | 31.2 | -18.2 | 34.3 | -12.2 |
| Large Cap Fund | -52.8 | 75.7 | -23.7 | 27 | -20 | 28.1 | -9.4 |
| Mid Cap Fund | -62.6 | 97.1 | -27.7 | 36.6 | -16.4 | 34.9 | -13.7 |
| Multi Cap Fund | -56.1 | 84.2 | -26.2 | 31 | -19.2 | 31.9 | -11.1 |
| Small cap Fund | -55.9 | 96.1 | -27.6 | 36.3 | -12.6 | 40.6 | -20.8 |
| ETFs - Other | -63.7 | 126.3 | -28.6 | 25.5 | -17.8 | 31.6 | -8.7 |
| Index | -54.4 | 95.2 | -30.7 | 23.4 | -24.9 | 32.2 | -10.7 |
Data as on May 19, 2020
(Source: ACE: MF; PersonalFN Research)
Even in terms of market phases, the bull and bear phases, the average returns of passively managed funds have shown that they have performed well, as seen above in the table.
"What are you saying?" my friend interrupted me.
I continued to explain further.
Index funds are popular in developed countries like the U.S. It is noteworthy that the U.S. is a saturated economy, where the active fund managers find it difficult to generate alpha over the benchmark.
In India, passive management of funds is relatively an unpopular concept because investors tend to chase returns. A majority of passively managed funds offered in India mimic the Nifty or S&P BSE Sensex. The other categories of passively managed funds, such as strategy-based funds, are yet to evolve.
If you choose an index fund with low tracking error and the low expense ratio, it can help you generate higher returns than the index provided you invest for the long term.
However, keep in mind that a market crash impacts index funds as well. Unlike index funds, actively managed funds are better poised to take advantage of dynamic market conditions. During the market crash, the actively managed funds get the opportunity to pick strong companies available at attractive valuations. Hence, they can outperform the market with a remarkable margin during the recovery and bull phase.
Besides, most index funds usually track the large-cap index. This prevents you from taking advantage of the growth in broader markets. If you want to create a diversified portfolio of funds, actively managed funds can be a worthwhile option.
Remember there is a long way to go before we get to a level where the active fund management becomes completely ineffective and redundant. In our understanding, we are far away from having a complete passively managed fund industry. Do not forget, a large number of investors continue to prefer market-beating returns over market-linked returns.
If you wish to get the taste of passive investing, make sure you do not go overboard on index funds. Maintain a fair allocation between actively and passively managed funds. An allocation of 80:20 could be fair if you still aim to beat the markets.
End note:
My friend thanked me for clearing his mind before ending our conversation. If you too want to consider investing in passively managed funds, remember since passively managed funds mirror the benchmarks it tends to lose out on the opportunities that diversified fund offers. However, from a diversification standpoint, one can consider investing in passively managed funds.
PS: If you wish to select worthy mutual fund schemes, I recommend you to subscribe to PersonalFN's unbiased premium research service, FundSelect.
Additionally, as a bonus, you get access to PersonalFN's popular debt mutual fund service, DebtSelect.
If you are serious about investing in a rewarding mutual fund scheme, Subscribe now!
Author: Aditi Murkute
This article first appeared on PersonalFN here.
Join Now: PersonalFN is now on Telegram. Join FREE Today to get 'Daily Wealth Letter' and Exclusive Updates on Mutual Funds
PersonalFN is a Mumbai based personal finance firm offering Financial Planning and Mutual Fund Research services.
Disclaimer:
The views mentioned above are of the author only. Data and charts, if used, in the article have been sourced from available information and have not been authenticated by any statutory authority. The author and Equitymaster do not claim it to be accurate nor accept any responsibility for the same. The views constitute only the opinions and do not constitute any guidelines or recommendation on any course of action to be followed by the reader. Please read the detailed Terms of Use of the web site.
More Views on News
Apr 20, 2021
Here's the rundown on the company's latest quarterly results.
Apr 21, 2021
PersonalFN explains the outlook for Balanced Advantage Funds and the best Balanced Advantage Funds that can be considered for investment in 2021.
Apr 21, 2021
In this video I'll tell you why trading commodities will make you a better trader.
Apr 21, 2021
The guiding light of Equitymaster for two and half decades.
Apr 20, 2021
PersonalFN analyses the features of TRUSTMF Liquid Fund and explains the potential this fund has to offer to its investors.
More Views on News
Most Popular
Apr 13, 2021
Ajit Dayal on how India's vaccine strategy will impact the markets.
Apr 15, 2021
Narayana Murthy was one of the first unicorn founders to get the backing of this entity...
Apr 16, 2021
There is no stopping this 11-bagger stock from significant upside.
Apr 20, 2021
In this video I tell you the three Nifty ETFs I think are the best.
Apr 13, 2021
In this video, I'll you what I think is the real reason behind yesterday's market crash.
More