3 Steps to Generate Your Mutual Fund e-CAN
3 Steps to Generate Your Mutual Fund e-CAN
May 25, 2017
Mutual fund transaction portal, MFU (Mutual Fund Utilities) is a single window for you to transact across mutual fund schemes using a Common Transaction Form (CTF) or through the online portal. It is an investor-friendly platform that has eased the process of transacting in mutual funds -purchases (lump sum and SIP), redemptions, switch, STP (Systematic Transfer Plan). and SWP (Systematic Withdrawal Plans)...
All you have to do is first create your Common Account Number (CAN), which is a unique reference number issued by MFU.
Once this is complete, the CAN will map all your existing mutual fund folios across fund houses (participating in MFU), thereby providing you with a consolidated view of all your mutual fund investments in India. This is because the CAN is held centrally across the industry and includes details such as your name, mode of holding, nomination, KYC status, nationality, tax status, bank account details, depository account details, guardian's information (in case of a minor), power of attorney (if any), and so on.
With e-CAN you can submit all the data required for opening a CAN electronically and get a CAN created. Currently e-CAN facility is available only for individual investors and MFU offers two ways for e-CAN registration. This registration can be done either completely electronic or partially electronic.
To avail this below are the few pre-requisites-
You should be a regular KYC compliant (other than EKYC or Aadhar based KYC)
You should be an existing investor out of the 27 participating AMCs on the MFU platform (check the list here)
The bank account which you decide to register should be your default account in your existing mutual fund investment
Below are the steps mentioned to help you facilitate in creating an e-CAN:
Step 1:
Visit: https://www.mfuindia.com/eCANFormFill
Enter your email id and click on 'New Form'.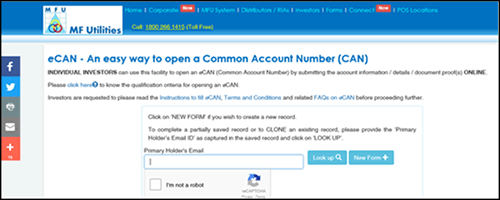 Next it will direct you to the next page as below.
Step 2:
You need to select the CAN criteria i.e. either partially electronic or completely electronic.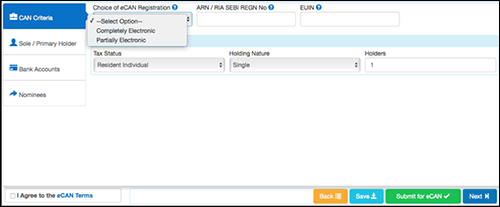 If you fulfill all three pre-requisites then select completely electronic, if not you can opt for partially electronic.
Step 3:
Select your holding type. It can be either Single, Joint or Either or Survivor and then enter the number holder for the CAN you are creating.
Please note that for each type of your holding you will have a different CAN number. So if your Fund A has Single holding your CAN will be xxxxxx15. And for Fund B which is Joint holding your CAN will be xxxxx17.
Further you require to fill up all the KYC details, Bank account details FATCA details and nominee information. You can register upto 3 bank accounts under CAN.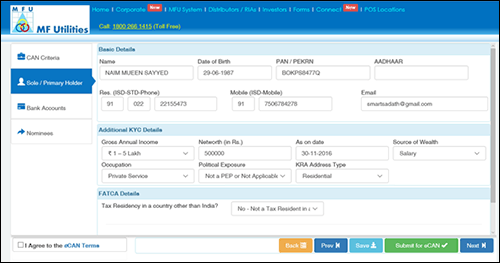 And you are through!!
Once you successfully finish inserting all your details you will be provided with a provisional e-CAN number. You will be provided your permanent CAN number once your address proof, identification proof and bank account details are verified by MFU.If your registration is completely electronic then below message will be generated.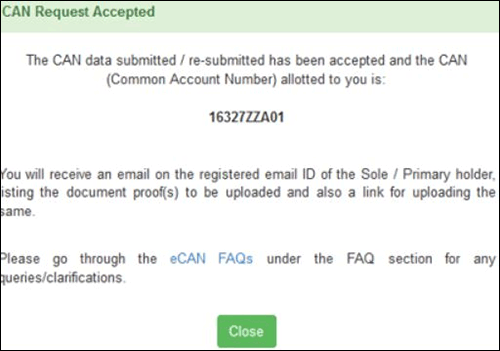 A link will be sent to your email where if needed you will have to upload relevant documents.
Please note if your KYC details sourced by MFU from KRAs / CERSAI / RTA is not satisfactory you're your record will be converter to Partially Electronic. You will receive a prefilled eCAN Registration Form which needs to be filled and submitted along with necessary document proofs at a MFU Point of Service (POS).
If your registration choice was Partially Electronic then, you should print the "eCAN Registration Form", fill the details and sign. Further you need to attach the necessary documents and submit it at any of the MFU POS for further processing. Once your document verification is complete your CAN will be approved and activated for further transactions.
Read: 7 Benefits of Creating A CAN.
Happy Investing!
PersonalFN is a Mumbai based personal finance firm offering Financial Planning and Mutual Fund Research services.
Disclaimer:
The views mentioned above are of the author only. Data and charts, if used, in the article have been sourced from available information and have not been authenticated by any statutory authority. The author and Equitymaster do not claim it to be accurate nor accept any responsibility for the same. The views constitute only the opinions and do not constitute any guidelines or recommendation on any course of action to be followed by the reader. Please read the detailed Terms of Use of the web site.
More Views on News
Jun 10, 2017
Forty Indian investing gurus, as worthy of imitation as the legendary Peter Lynch, can help you get rich in the stock market.
Aug 19, 2017
Ever heard of Lindy Effect? Find out how you can use it to pick timeless stocks.
Aug 18, 2017
Buying the index now will hardly help make money in stocks even in ten years.
Aug 18, 2017
Donald J Trump, a wrasslin' fan, took a 'Holy Sh*t!' blow on Tuesday.
Aug 17, 2017
PersonalFN simplifies the mutual fund account statement for you.
More Views on News
Most Popular
Aug 7, 2017
The data tells us quite a different story from the one the government is trying to project.
Aug 10, 2017
Don't miss these proxy bets on growing companies or in a few years you will be looking back with regret.
Aug 8, 2017
Bharat-22 is one of the most diverse ETFs offered so far by the Government. Know here if you should invest...
Aug 12, 2017
The India VIX is up 36% in the last week. Fear has gone up but is still low by historical standards.
Aug 7, 2017
Raksha Bandhan signifies the brother-sister bond. Here are 7 thoughtful financial gifts for sisters...
More