5 Easy Steps To Become KYC Compliant
5 Easy Steps To Become KYC Compliant
May 25, 2017
Know Your Customer (KYC) is a prerequisite for investing in mutual funds (and almost all financial instruments). It is vital compliance on the part of financial product manufacturers, to know their investor better.
The Securities and Exchange Board of India (SEBI) under The Prevention of Money Laundering Act, 2002 ("PMLA") requires Mutual Fund Houses to comply with (KYC) norms, irrespective of the investment amount.
However, the investors' pace to this compliance has been slow, as not all investors have completed their KYC norms. Investors find complying with KYC burdensome and a rather complex process, involving a good amount of paperwork. And to a certain extent, this is true.
To resolve this, the Government has appointed the Central Registry of Securitisation Asset Reconstruction and Security Interest of India (CERSAI) to establish a central KYC registry, which simplifies the process of complying to KYC procedures -- and you need to do it just once; either with a bank, mutual fund, or an insurance company that you've invested in. This means, investors/account holders don't have to fill-up the KYC form every time with other financial product manufacturers/providers.
Have you complied with KYC norms?
No? Well, here's how you can get started...
Recent passport size photograph
Proof of Identity
PAN Card Copy
Proof of Address
This is physically done once, of course, and you need to submit the form to your broker or investment adviser with your documents.
Secondly, there is an In-Person Verified (IPV) procedure that you need to do. To do this, there's the options of either visiting the point of sales office or fixing up an online or video meeting.
But this process can prove to be time consuming and lengthy. To add on to the frustration, a lot of times these online meetings could get cancelled if either the customer service executive or the investor is unavailable.
However, there's a solution...
Quantum Mutual Fund has introduced E-IPV. Their E-CKYC process is completely paperless and online.
Allow us to take you through it. To comply with the KYC process in a hassle-free way all you need is:
Internet Connection
Working Web Camera
Self-Attested scanned copies of your photo identity and proof of address
Signature on a plain paper
And follow the 5 easy steps to become compliant in just two weeks.
Step 1:
Go ekyc.quantumamc.com Enter your PAN number and it will confirm your PAN number validity. It will also check if your KYC is already verified.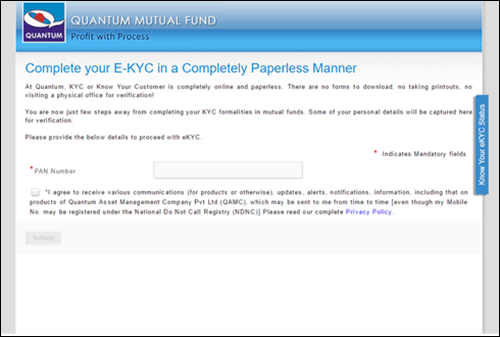 Step 2:
Next, enter your other personal details such as Mobile Number, Email, and Aadhar (UID) Number. On the next page, you are required to enter further details for Central KYC purpose.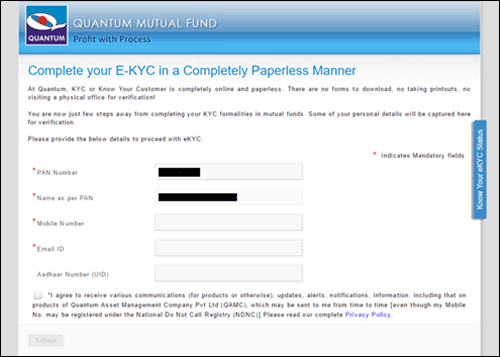 Step 3:
Now you need to upload self-attested scanned copies of your pan card and address proof. And for the signature, you need to sign on a plain paper piece of paper and place it in front of the camera and capture it.
Please note that, SEBI permits investments upto Rs 50,000 for each financial year per mutual fund for Aadhaar based e-KYC using OTP verification. Once the 50,000 limit is crossed, it requires you to undergo the in-person verification procedure.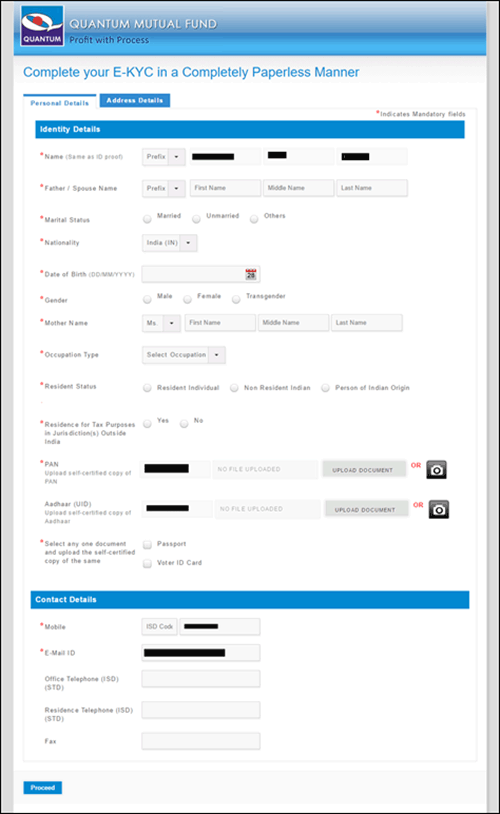 Step 4:
Next is your In Person Verification (IPV). Unlike the physical verification, here your live video is recorded through your device camera.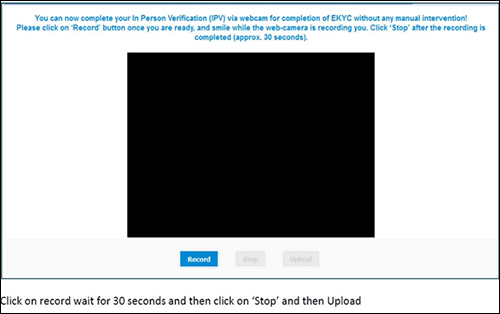 Hence, there is no need for you to physically visit to prove that you are alive. Everything is possible and at your convenience 24x7.
Step 5:
Confirm all your information and submit it. Lastly, all you need to now is wait for 2 weeks while your KYC will be uploaded on Central KYC servers and will be verified during this time period. Further, you will also get a confirmation e-mail about your KYC Status. In the mean while you will receive communication about your KYC status. You can also check your KYC status here.
After the entire process is done, you will receive a 14-digit identification number- KIN (KYC Identification Number). And lastly, your FATCA declaration will also available in the same KYC form.
Complying with the KYC procedure can get you started with investing in a wealth creating investment avenues such as mutual funds. You would not be expected to invest in schemes from Quantum Mutual Fund; all they're doing is lending you a helping hand, facilitating your journey to financial freedom.
Please note you might receive various communications (for products or otherwise), updates, alerts, notifications, information, including that on products of Quantum Asset Management Company Pvt Ltd (QAMC), which may be sent from time to time [even though your Mobile No may be registered under the National Do Not Call Registry (NDNC)].
PersonalFN is a Mumbai based personal finance firm offering Financial Planning and Mutual Fund Research services.
Disclaimer:
The views mentioned above are of the author only. Data and charts, if used, in the article have been sourced from available information and have not been authenticated by any statutory authority. The author and Equitymaster do not claim it to be accurate nor accept any responsibility for the same. The views constitute only the opinions and do not constitute any guidelines or recommendation on any course of action to be followed by the reader. Please read the detailed Terms of Use of the web site.
More Views on News
Mar 22, 2018
Certain blue chips hold the potential of delivering returns comparable to small-cap stocks. With these stocks, you can get the best of both worlds.
Nov 29, 2017
Stocks that could beat Sensex returns in the long term.
Jul 20, 2018
Bill Bonner talks in detail about US president been accused of treason, biggest debt default in China, the problem of growing inflation and the trade war.
Jul 20, 2018
Here's is a business in small cap space that is asset-light and yet profitable - A serious contender for the list of future blue chips.
Jul 20, 2018
While the attack on the bad corporate governance is an overhang in the near term...this can be a game-changer in the years to come.
More Views on News
Most Popular
Jul 12, 2018
Blindly following super investors is a dangerous game to play. Here's how you can avoid such mistakes.
Jul 10, 2018
If you're worried about the markets - you are on the wrong track. This is opportunity - put your wealth-building hat on, instead - Richa shows you how...
Jul 11, 2018
The price signals that MSP sends out, creates its own set of problems.
Jul 11, 2018
PersonalFN explains how ICICI Prudential Mutual Fund flouted the norms of related party transactions while subscribing to the IPO of ICICI Securities.
Jul 10, 2018
PersonalFN highlights the key points of distinction between PPF and mutual funds.
More