HDFC Balanced Fund Merged To Form HDFC Hybrid Equity - What Has Changed?
HDFC Balanced Fund Merged To Form HDFC Hybrid Equity - What Has Changed?
Jun 1, 2018
HDFC Mutual Fund currently has two equity-oriented hybrid funds (earlier known as balanced funds) in its kitty. These are HDFC Balanced Fund and HDFC Prudence Fund. Despite belonging to the same category, each adopts a unique investment style.
However, to comply with SEBI's diktat on mutual fund categorisation, HDFC MF needed to categorise them differently. Merging the schemes would have been an imprudent strategy, given that HDFC Balanced Fund has an AUM of Rs 21,000 crore and HDFC Prudence Fund a corpus of Rs 38,000 crore.
HDFC MF decided to categorise HDFC Prudence Fund as a Balanced Advantage Fund. The Fund will merge with HDFC Growth Fund and will be renamed HDFC Balanced Advantage Fund. This categorisation gives the fund house to dynamically manage the asset allocation of the fund to Equity and Debt securities.
Here's what will change for HDFC Balanced Fund:
As per SEBI's nomenclature, balanced funds (this was a misnomer in the first place) are now termed as Aggressive Hybrid Funds or better called by fund houses as Hybrid Equity Funds. Such funds need to invest a minimum of 65% in equity. HDFC MF proposes to categorise HDFC Balanced Fund under this category, after merging it with HDFC Premier Multi-Cap Fund. The new scheme will be known as HDFC Hybrid Equity Fund. The effective date for these changes is June 1, 2018.
Hybrid Equity Funds have a mandate to invest a minimum of 65% and a maximum of 80% in equity. This asset allocation makes this category of funds similar to Balanced Funds of the past. Thus, investors of HDFC Balanced need not worry about the cosmetic changes of the scheme. However, they should take a closer look at how the scheme has performed in the past and its ability to deliver efficient risk-adjusted returns.
For the entire list of scheme names changes, do read: Your Mutual Fund Scheme Renamed. What Should You Do?
In terms of performance, HDFC Balanced fund has consistently outperformed the benchmark across market periods, while maintaining a tab on risk. The fund boasts of a stable fund management, with Mr Chirag Setalvad being at the helm for over a decade.
--- Advertisement ---


SMART MONEY ALERT: One Of India's Top Investing Guru Just Bought This…

One of India's Top Investing Gurus, whom we follow under Smart Money Secrets, has just bought a stock that has been on our radar for many months now…

Yes, it is a solid business with great money-making potential which you could consider adding to your portfolio right away. So, don't wait…

Click here to know how you can a get a detailed report on this lucrative opportunity, along with 30 Day Unrestricted Access to our ONLY guru based stock recommendation service, by paying Just Rs 99.

Hurry…Invitation available only for a few days. Click here for full details…
------------------------------
The longer-term returns of the fund are more encouraging. Over the longer periods of 3-years and 5-years, HDFC Balanced Fund has outpaced the Crisil Hybrid 35+65 Fund Index by a decent margin with returns of 13.46% and 19.05% respectively. However, investors would be tad disappointed with the fund's recent performance over the past 1 year.
Could the recent underperformance of the fund be due to its burgeoning corpus? Over the past couple of years, the corpus of HDFC Balanced Fund has doubled in each year. The hybrid fund's corpus more than doubled to Rs 9,508 crore as in February 2017 from Rs 4,695 crore in February 2016. In the past year, the fund corpus again doubled to Rs 20,081 crore in January 2018. The fund's corpus now stands at Rs 21,700 crore, as on April 30, 2018.
As far as the AUM of mutual funds is concerned, PersonalFN is of the view that the size of a mutual fund schemes doesn't tell you anything about its future performance. The key to a fund's performance lies in its investment style, which is also a factor of the fund manager's experience and investment processes followed by the fund house.
It is best to assess whether the AUM growth is causing changes to the investment sstyle. Some changes may be in the interest of the investors and some may not. Act before any changes materialise as a disappointing performance.
HDFC Balanced Fund has often ranked among the top decile performers in the Aggressive Hybrid Fund category. Its performance in the past over certain periods has even put more aggressive large-cap funds to shame. The aggressive hybrid fund not only boasts of a lower volatility compared to its peers, but has delivered even stronger returns in comparison.
In this brief analysis, we take a close look at the features and performance of HDFC Balanced Fund.
Investment Objective of HDFC Balanced Fund (HDFC Hybrid Equity Fund)
HDFC Balanced Fund has an investment objective to "generate capital appreciation along with current income from a combined portfolio of equity & equity related and debt and money market instruments."
The new fund, HDFC Hybrid Equity Fund will follow an investment objective to "to generate capital appreciation and income from a portfolio, predominantly of equity & equity related instruments."
HDFC Balanced Fund Details
Fund Facts
| | | | |
| --- | --- | --- | --- |
| Category | Aggressive Hybrid | Style | Blend |
| Type | Open ended | Market Cap Bias | Multi-cap |
| Launch Date | 20-Sep-00 | SI Return (CAGR) | 16.35% |
| Corpus (Cr) | Rs 21,779 | Min./Add. Inv. | Rs 5,000 / Rs 1,000 |
| Expense Ratio (Dir/Reg) | 0.77% / 1.92% | Exit Load | 1% |
Portfolio Data as on April 30, 2018.
SI Return as on May 23, 2018.
(Source: ACE MF)
Under normal circumstances, HDFC Balanced Fund allocates...
40% - 80% of its assets in equity & equity related instruments.
10% - 70% in Debt Securities (including securitised debt) and Money Market Instruments.
From June 1, 2018, the new scheme HDFC Hybrid Equity Fund will allocate -
65% - 100% to equity and equity related securities
20% - 35% to Debt Securities (including securitised debt) and Money Market Instruments
0-10% to REITs and InvITs
0-10% to Non-convertible Preference Shares
Growth Of Rs 10,000, If Invested In HDFC Balanced Fund Plus 5 Years Ago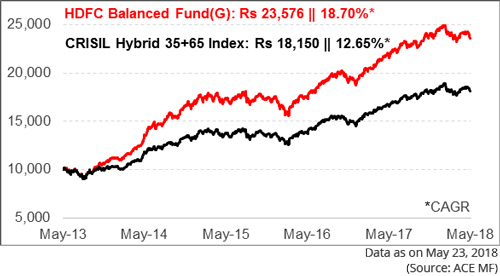 Had you invested Rs 10,000 HDFC Balanced Fund, five years back on May 23, 2013, it would have grown to Rs 23,576 as on May 23, 2018. This translates in to a compounded annualised growth rate of 18.70%. In comparison, a simultaneous investment of Rs 10,000 in its current benchmark - CRISIL Hybrid 35+65 Index would now be worth Rs 18,150 (a CAGR of 12.65%). HDFC Balanced Fund has clearly outperformed its benchmark over the period of last 5 years. Bulk of the outperformance came in 2014-15.
HDFC Balanced Fund: Year-on-Year Performance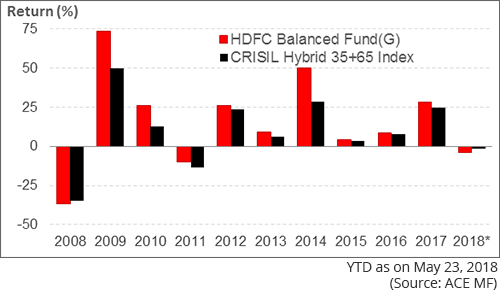 HDFC Balanced Fund has a track record of over 15 years. The year on year performance comparison of the fund vis-a-vis its benchmark - CRISIL Hybrid 35+65 Index shows that the fund has outperformed the benchmark in 9 out of last 10 calendar years. In 2008, when the financial crisis hit, the fund underperformed the benchmark when the market crashed.
In 2011, HDFC Balanced Fund proved its ability to limit losses during market correction. A large portion of its alpha was generated in the market rallies of CY 2009 and CY 2014. The returns have been subdued in the recent few years. For the year-to-date, the scheme has lagged the benchmark and delivered a negative return.
HDFC Balanced Fund: Performance Vis-a-vis Category Peers
Rolling Period Returns
| Scheme Name | Corpus (Rs Cr) | 1 Year (%) | 2 Year (%) | 3 Year (%) | 5 Year (%) | Std Dev | Sharpe |
| --- | --- | --- | --- | --- | --- | --- | --- |
| Principal Balanced Fund | 1,255 | 25.89 | 21.12 | 14.78 | 17.89 | 11.68 | 0.20 |
| L&T Hybrid Equity Fund | 10,572 | 18.82 | 15.30 | 13.78 | 19.06 | 9.76 | 0.14 |
| HDFC Balanced Fund | 21,779 | 19.27 | 17.01 | 13.46 | 19.05 | 9.72 | 0.14 |
| DSPBR Equity & Bond Fund | 7,190 | 16.16 | 15.70 | 13.45 | 16.21 | 11.60 | 0.11 |
| ICICI Pru Equity & Debt Fund | 28,807 | 18.16 | 17.54 | 13.32 | 18.83 | 9.67 | 0.14 |
| Reliance Equity Hybrid Fund | 13,426 | 20.13 | 16.20 | 13.14 | 17.40 | 10.30 | 0.13 |
| Aditya Birla SL Equity Hybrid '95 Fund | 14,662 | 16.36 | 15.78 | 12.85 | 17.73 | 9.97 | 0.12 |
| SBI Equity Hybrid Fund | 23,581 | 16.73 | 13.54 | 12.18 | 18.20 | 9.15 | 0.09 |
| Canara Rob Eq. Debt Allocation Fund | 1,616 | 16.71 | 14.11 | 11.77 | 16.34 | 11.39 | 0.09 |
| Franklin India Balanced Fund | 2,087 | 12.81 | 12.13 | 11.62 | 16.72 | 8.41 | 0.07 |
| UTI Hybrid Equity Fund | 6,127 | 17.03 | 15.62 | 11.19 | 14.96 | 10.06 | 0.10 |
| Tata Hybrid Equity Fund | 5,552 | 11.42 | 10.88 | 10.43 | 16.98 | 9.87 | 0.02 |
| Escorts Balanced Fund | 3 | 15.04 | 13.34 | 10.13 | 16.75 | 9.18 | 0.06 |
| Sundaram Equity Hybrid Fund | 1,009 | 14.63 | 14.53 | 9.04 | 11.31 | 9.15 | 0.09 |
| Shriram Equity & Debt Opp Fund | 45 | 14.05 | 10.79 | 8.00 | 0.00 | 10.04 | 0.02 |
| DHFL Pramerica Hybrid Equity Fund | 243 | 11.48 | 9.34 | 7.17 | 13.57 | 10.25 | -0.03 |
| JM Balanced Fund | 3,684 | 12.40 | 9.73 | 6.41 | 13.74 | 8.94 | -0.02 |
| LIC MF Balanced Fund | 348 | 10.32 | 9.72 | 5.26 | 10.76 | 12.25 | -0.07 |
| CRISIL Hybrid 35+65 - Aggr. Index | | 16.53 | 14.67 | 10.97 | 13.78 | 8.57 | 0.12 |
Returns are on a rolling basis and those depicted over 1-Yr are compounded annualised.
Data as on May 23, 2018
(Source: ACE MF)
*Please note, this table only represents the best performing funds based solely on past returns and is NOT a recommendation. Mutual Fund investments are subject to market risks. Read all scheme related documents carefully. Past performance is not an indicator for future returns. The percentage returns shown are only for indicative purposes.
On rolling return basis, HDFC Balanced Fund is a strong competitor in the balanced fund category. It has delivered above average returns across rolling periods of 1-year, 2-year, 3-year and 5-years. The erstwhile Balanced Fund has done well to beat its benchmark and most of its category peers by a distinct margin.
HDFC Balanced Fund's return comes at slightly higher volatility when compared to the benchmark. Its Standard Deviation of 9.72 is in line with the other peers in the category. The fund's Sharpe Ratio of 0.14 ranks among the top in the balanced fund category.
The top five Aggressive Hybrid mutual funds in the 3-year rolling period performance include-Principal Balanced Fund, L&T Hybrid Equity Fund, DSPBR Equity & Bond Fund, ICICI Pru Equity & Debt Fund and Reliance Equity Hybrid Fund.
Investment Strategy of HDFC Balanced Fund (HDFC Hybrid Equity Fund)
Under normal circumstances, HDFC Balanced Fund has a mandate to invest 60%-70% of its portfolio in equity. However, it strictly maintains an allocation of above 65% into equities, for it to qualify as an equity scheme and enjoy the long-term tax sops.
The fund manager looks to invest in "businesses with superior growth prospects and good management, at a reasonable price". HDFC Balanced Fund does not hold a market-cap bias and tends to maintain a fair mix of mid-caps and large-caps in its portfolio.
For the new scheme, HDFC Hybrid Equity Fund, the aim of equity strategy will be to build a portfolio of companies across market capitalization that have
reasonable growth prospects
sound financial strength
sustainable business models
acceptable valuation that offer potential for capital appreciation
With a higher allocation to large-caps, HDFC Balanced Fund is able to cushion market downturns. The addition of mid-caps to the portfolio enables the fund to generate a steep outperformance over the benchmark during market rallies. This is why, though the volatility of the fund is higher than the benchmark; it outpaces it in the form of superior risk-adjusted returns.
Under debt, HDFC Balanced Fund maintains the flexibility to invest in the entire range of debt instruments.
HDFC Balanced Fund - Portfolio Allocation and Market Capitalisation Trends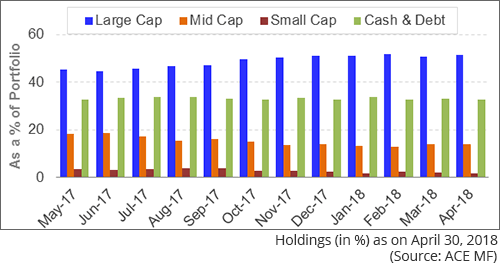 HDFC Balanced Fund usually remains tilted towards large caps, where it allocates about 40% of its portfolio. Mid-and small-caps account for 20%-25% of the portfolio. Over the past year, the scheme has shifted its exposure from mid-and small-caps to large caps. Over the past year, the exposure to large-caps has steadied about 50%, and stands at 51.5% for April 2018, from little over 40% a year ago. The mid- and small-cap exposure has dropped to 15% from about 25% in the previous year. The exposure to debt and cash equivalents have moved in a narrow range of 30%-35% of the portfolio.
HDFC Balanced Fund - Top Portfolio Holdings
Top 10 Stocks
| Stocks | % of Assets |
| --- | --- |
| HDFC Bank | 6.50 |
| Infosys | 3.82 |
| HDFC | 3.38 |
| ITC | 3.25 |
| Larsen & Toubro | 3.10 |
| ICICI Bank | 2.96 |
| Aurobindo Pharma | 1.94 |
| IndusInd Bank | 1.77 |
| Axis Bank | 1.76 |
| Voltas | 1.75 |
Top 5 Sectors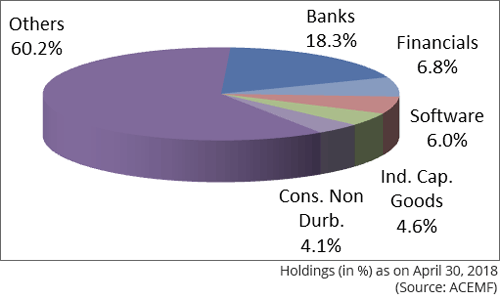 HDFC Balanced Fund usually holds around 50-70 stocks in the portfolio. Currently, it has 63 stocks in its portfolio. The fund's portfolio is not churned often and the fund manager prefers to stay invested for the long term. The top 10 holdings account for 33% of the entire portfolio. Apart from HDFC Bank, Infosys, ICICI Bank, HDFC and L&T are among the top stocks.
The sector-wise allocation of HDFC Balanced Fund remains skewed towards banks. While banks account for 20% of the entire portfolio, HDFC Bank contributes 7% to the entire holdings. The remaining part of the portfolio remains diversified across stocks and sectors.
On the debt side, about 16% of the assets is allocated to corporate debt while 12% is exposed to G-Secs. The debt portfolio offers a yield-to-maturity of 7.35% with an average maturity of around five years. The modified duration of the balanced fund works out to 3.41 years.
HDFC Balanced Fund keeps a higher maturity profile compared to its peers. This would have enabled it to earn a higher return when interest rates and bond yields were on a decline. However, it now poses as a risk, with bond yields on an upward trajectory.
Top Gainers in HDFC Balanced Fund's portfolio
Out of the 63 stocks, about 53 stocks have been held for over a year. This gives a sense that HDFC Balanced Fund prefers to hold the stock for the long term. Among the top performers in the portfolio, with an average holding above 1%, were Balkrishna Industries, Voltas and Aarti Industries. These stocks gained 68%, 57% and 54% respectively over the past year.
There were a few laggards as well. State Bank Of India, Bank Of Baroda, and Bharat Electronics were among the large-caps that declined in value. These stocks fell by 15%, 21% and 21% respectively.
Suitability of HDFC Balanced Fund (HDFC Hybrid Equity Fund)
Aggressive Hybrid Funds (erstwhile Balanced Funds) are a good alternative when equity valuations have deviated significantly from the mean. These set of funds provide stability in a volatile market environment, while have potential to generate superior capital appreciation over longer period, due to significant allocation to equities.
As most existing Balanced Funds maintained an aggressive equity allocation, fund houses have already or may soon classify them under Aggressive Hybrid Funds. It is unlikely to see many fund houses classify funds under the Balanced Hybrid Fund category, as these schemes do not give investors a tax advantage.
Under Aggressive Hybrid Funds, a minimum debt allocation of 20% is specified. Unlike Balanced Hybrid Funds, where no Arbitrage is permitted, Aggressive Hybrid Funds have the flexibility to include an arbitrage exposure.
If your balanced fund classification has changed to an Aggressive Hybrid Fund, in all probability you need not worry. The scheme is likely to stick to its existing investment strategy, though there may be a change in the fund name and minor changes in the asset allocation.
Some Hybrid Equity Funds have taken a quantum leap by investing in mid-cap stocks as well. With this aggressive equity allocation, Aggressive Hybrid Funds are able to score massive returns in a bull market. At times, some schemes even outperform many equity-diversified funds. Such funds, like HDFC Balanced Fund, are suitable for aggressive investors with an investment horizon of five years or more.
If you plan to invest in Aggressive Hybrid funds or Hybrid Equity Funds, do ensure that the investments are in line with your financial goals. If you are not sure about how to align these schemes with your tax planning or financial goals, do consult your financial planner or investment advisor.
Note: This write up is for information purpose and not a recommendation to buy or sell the mutual fund scheme. As an investor, you need to pick the right fund to meet your financial goals. If you are not sure about your risk appetite, do consult your investment consultant/advisor.
Editor's Note:
PersonalFN has a long track record of offering unbiased mutual fund research services. It analyses thousands of data points to shortlist schemes and also applies a whole host of qualitative parameters to select only a handful schemes for your portfolio.
Do try PersonalFN's Premium Mutual Fund Research service 'FundSelect'
Every month, our FundSelect service will provide you with an insightful and practical guidance on which mutual fund schemes to buy, hold or sell, which will assist in creating the ultimate portfolio that has the potential to beat the market.
And there's more great news!
FundSelect is turning FIFTEEN.
And on this auspicious 15th anniversary of FundSelect, we intend to make it "ultra-special" for you.
How?
Well, how about getting 1 Year of access to FundSelect virtually Free?
And if you wish, perhaps even MORE...
Check out the exciting offers that can be availed on subscriptions to FundSelect here.
Go ahead and subscribe to PersonalFN's FundSelect NOW!
This article first appeared on PersonalFN here.
PersonalFN is a Mumbai based personal finance firm offering Financial Planning and Mutual Fund Research services.
Disclaimer:
The views mentioned above are of the author only. Data and charts, if used, in the article have been sourced from available information and have not been authenticated by any statutory authority. The author and Equitymaster do not claim it to be accurate nor accept any responsibility for the same. The views constitute only the opinions and do not constitute any guidelines or recommendation on any course of action to be followed by the reader. Please read the detailed Terms of Use of the web site.
More Views on News
Mar 22, 2018
Certain blue chips hold the potential of delivering returns comparable to small-cap stocks. With these stocks, you can get the best of both worlds.
Nov 29, 2017
Stocks that could beat Sensex returns in the long term.
Nov 16, 2018
Personalfn sheds light on why switching from old home loan to a new home loan isn't a good idea through a case study.
Nov 16, 2018
PersonalFN explains that to accomplish your financial dreams you do not have to be rich, all you need is a goal-based financial plan.
Nov 16, 2018
This player is gaining market share in a duopoly market. It has got a strong management and is set to grow in the coming years.
More Views on News
Most Popular
Nov 9, 2018
All blue chip companies are large caps but all large caps are not blue chips.
Nov 6, 2018
If you turn the clock back, the current macroeconomic climate is nothing new. The markets have seen them all, and every downcycle has been succeeded by gravity defying gains...more so in the small cap space. This time will be no different.
Nov 9, 2018
Investing in large caps is not always safe. Consider the right metrics to judge the safety and quality of large caps.
Nov 15, 2018
NBFC and IL&FS crisis have worsened the realty sector woes. Is there a light at the end of the tunnel for real estate sector?
Nov 6, 2018
Many investors prefer to invest in offshore funds because of the rupee depreciation and on-going downtrend in the markets, but it is to be invested only when there is no option available to invest in India.
More