How To Get Your Credit Score For Free!
How To Get Your Credit Score For Free!
Jun 16, 2017
Rahul, a 30-year-old artist, applied for a home-loan 3 months ago and though all the required documentation was complete, his loan application was dismissed. He was disheartened and sought to know the reason behind this. After constant follow-ups and nudging the bank manager, he was informed that the rejection of the loan application was due to a low credit score.
This was new to him, and he was curious to learn about credit scores.
For many of you, like Rahul, your Credit Score is a score that is assigned to you by a credit information company (for example companies such as CIBIL, Equifax, HighMark) to a prospective lending institution, indicating to the lender your history as a borrower-good and poor.
Credit Information Bureau (India) Limited (CIBIL), an independent credit information agency takes into consideration several factors when assigning credit scores, which include:
Payment history
Credit usage
Duration of the account
Type of loans (home loan, car loan, personal loan, consumer loan etc.)
Number of enquiries to avail credit
These factors influence the credit score you receive. The score you are assigned can range from 300-900. Higher the score, lower the risk involved in giving you credit. Usually, the score of 750 and above is considered very healthy. Hence, it becomes easy to apply for a loan and get it faster if you have a high credit score.
Wondering how you can get your credit score?
Cheer up! You have a reason to smile. Now you can easily access your credit score and report, and for free!
Want to know how? Just Read on...
You can now check your Credit Score by following these 5 easy steps:
STEP #1: Visit CIBIL.com
You need to first log on to: https://www.cibil.com
On the Home page, scroll down to the section where it's mentioned - "click here to get your Free Annual CIBIL score and annual report". This is a free annual report provided once a year. You can either apply for a free scorecard or a paid service.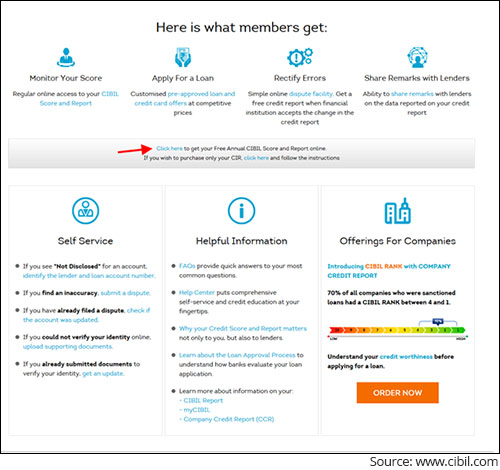 STEP #2: Register on "Get Your Free Annual CIBIL Score And Report Online"
In the free online order form, you need to fill in your personal details such as name, date of birth, PAN details, address, etc. Please fill it carefully.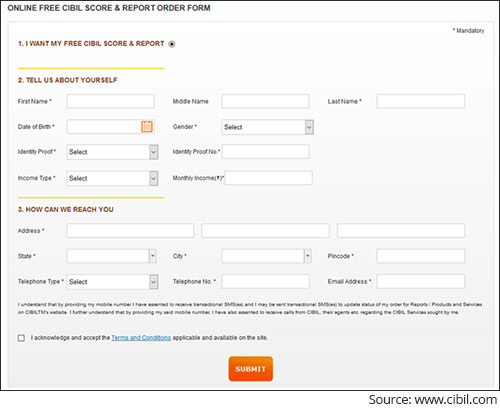 Ensure that you submit the correct mailing address and details. As this is an annual report from CIBIL, you can get access to only one free credit report a year. It will track all your past credit history and generate your credit score and report online.
STEP #3: On the Next Page, Click On "No Thanks" Option
Once you fill in all the details a pop-up suggesting subscription to CIBIL will appear. The CIBIL subscription offers more benefits as compared to your free copy. While the Free report offers single access, the subscription offers you regular online access to the report, where you can track changes in the credit account more frequently.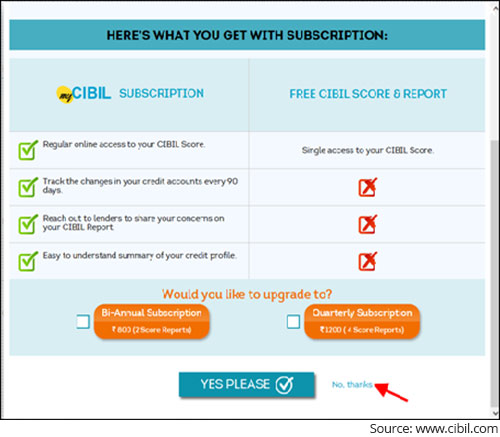 Opt for the premium subscription only if you are willing to pay. Alternatively, to receive your free CIBIL score and report, click on "No thanks" option and go ahead.
STEP #4: A Mail Will Be Sent To Your Registered Email Id.
Once all your details are submitted, you will receive a SMS about your credit score and an email will be sent to your registered email id, with a subject line 'CIBIL - Access myCIBIL for your CIBIL report'.
The mail carries the link to the mycibil login page and a one-time password.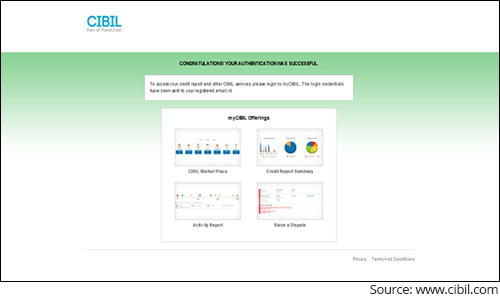 STEP #5: Use the Password and View Your Report
The mail will provide you with one-time password and a link that will direct you to myCIBIL login page.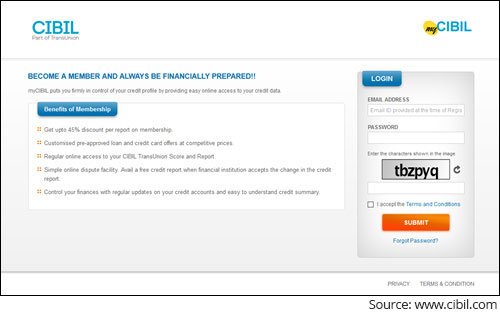 Type in the email id and one-time password you receive, confirm the captcha code, accept the terms and conditions, and click submit to view your credit score and report online. Be careful with the password as this is a one-time report. You can reset your password for future log-ins.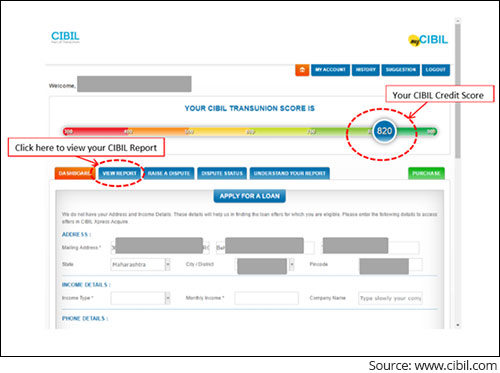 Now you can view your credit score on the screen. The View Report tab will take you to your report section. Check the Account Information for detailed report and your credit history.
The report contains your basic information such as name, date of birth, address, past payment history, overdue amounts if any, records of all the credit you have taken in the past, number of inquiries made by different lenders on you and so on. This information is useful to understand your credit worthiness.
For example, if there is a high number of inquiries made by different lenders on you, it shows that you may have approached multiple lenders for loans, if those loans have been taken or not. However, this is not a good thing.
As this is an online report, you will be unable to download or save this report. However, you can take a printout and keep it with you for future reference. You can even revisit your CIBIL score and the Free report by logging in to your CIBIL account in the future.
To Sum-up
So you see, it is very easy and simple to generate your CIBIL Transunion score and credit report.
Your credit score plays a critical role in the loan granting process. Based on your credit score, a bank will check your creditworthiness and may even decide the rate of interest to charge on the loan you have applied for.
Before the bank surprises you with a negative feedback on your credit score, it is recommended to keep a regular track of it and maintain a healthy creditworthiness.
PersonalFN is a Mumbai based personal finance firm offering Financial Planning and Mutual Fund Research services.
Disclaimer:
The views mentioned above are of the author only. Data and charts, if used, in the article have been sourced from available information and have not been authenticated by any statutory authority. The author and Equitymaster do not claim it to be accurate nor accept any responsibility for the same. The views constitute only the opinions and do not constitute any guidelines or recommendation on any course of action to be followed by the reader. Please read the detailed Terms of Use of the web site.
More Views on News
Apr 19, 2021
This is how the Nifty can hit 16,000.
Apr 19, 2021
Why I believe the best days lie ahead for Equitymaster and for you.
Apr 16, 2021
A look at what India's top equity mutual funds bought and sold in March 2021.
Apr 16, 2021
PersonalFN's analysis on the features and performance of Kotak India EQ Contra Fund.
Apr 16, 2021
Those who don't learn from financial history are doomed to lose their money.
More Views on News
Most Popular
Apr 13, 2021
Ajit Dayal on how India's vaccine strategy will impact the markets.
Apr 6, 2021
Rather than predicting the market, successful investing is more about preparing well and placing your bets accordingly.
Apr 15, 2021
Narayana Murthy was one of the first unicorn founders to get the backing of this entity...
Apr 13, 2021
In this video, I'll you what I think is the real reason behind yesterday's market crash.
Apr 12, 2021
This ignored sector could deliver big short-term profits.
More