Baroda Money Market Fund: Should You Park Your Short-Term Needs In It?
Baroda Money Market Fund: Should You Park Your Short-Term Needs In It?
Jun 17, 2019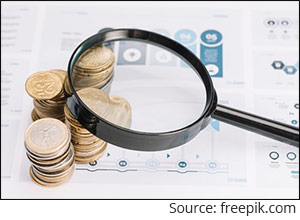 Recently, since the debacle of IL&FS and DHFL defaulting made news headlines, the investors became distraught. And it shattered their delusion of debt investment being safe. Wary investors are cautious with their hard-earned money and losing interest in investing in debt funds.
To prevent this from happening, several fund houses started offering debt schemes that have low risk and will invest in instruments having shorter maturity periods (up to one year).
Even Baroda Pioneer Mutual Fund launched Baroda Money Market Fund, an open-ended debt scheme that will invest in money market instruments predominantly.
A money market fund is a category of debt scheme, emerged after the SEBI reclassification, that will invest in Money Market instruments (up to 100 %) having a maturity of up to 1 year. A money market fund generally invests in high quality (credit rating) debt instruments like treasury bills, repurchase agreements, commercial papers or cash equivalents and tax exempting debentures.
---

Advertisement

---
Where Do We Ship Your Book?
We strongly believe our book – "50 Reasons Why The Rebirth of India Is Inevitable" – could rewrite the financial destiny of anyone who reads it and acts on the information.

Simply stated, the book reveals how to profit from the once-in-2000 years wealth building phenomenon we call the Rebirth of India.

And Modi's re-election could speed up the Rebirth of India greatly too. So don't delay.

This book is currently selling for Rs 1,950 on Amazon. But by acting fast, you could get a copy delivered to your address in India virtually FREE.

Over 1,000 copies of this hardbound book have been claimed already.

Click here to find out how to grab your virtually FREE copy now!
------------------------------
They appear attractive, as they are highly liquid, has less risk because they invest in high credit quality instruments, have no exit load and provide better returns than a bank savings account.
Graph: Indicative Risk Return Matrix -Debt Categories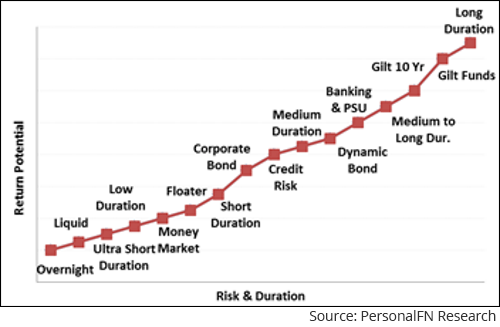 On the risk-return spectrum, money market funds are placed between low duration funds and floater funds. Since they usually hold instruments up to one year, may get affected by fluctuations in interest rate. And hence carries a moderately low amount of investment risk.
Hence, they are suitable for investors who are saving for an investment goal of up to one year (house renovation, planning a vacation, etc.), want to build a contingency fund or want to save if unsure about where to invest for a year.
Table 1: NFO Details
Type
An open-ended debt scheme investing in money market instruments.
Category
Money Market Fund
Investment Objective
To provide reasonable returns, commensurate with low risk while providing a high level of liquidity, through investments made in money market instruments.
There can be no assurance that the investment objective of the scheme will be realized
Min. Investment
Rs 5,000 and in multiples of Re 1 thereafter
Face Value
Rs 1,000 per unit
Plans
* Default option
Options
* Default option
Entry Load
Not Applicable
Exit Load
Nil
Fund Manager
Mr Alok Sahoo and Mr Karn Kumar
Benchmark Index
CRISIL Money Market index
Issue Opens:
June 13, 2019
Issue Closes:
June 18, 2019
(Source: Scheme Information Document)
How will Baroda Money Market Fund allocate its assets?
Under normal circumstances, the scheme's asset allocation pattern will be as under:
Table 2: BMMF's Asset Allocation
Instruments
Indicative allocations
(% of Total Assets)
Risk Profile
Minimum
Maximum
Money Market instruments
Up to 100%
Low to Medium
The Scheme will not have any exposure to debt derivatives, securitized debt, REITs and INViTs and foreign securities.The AMC shall ensure that the total exposure of the Scheme in a particular sector (excluding investments in Bank CDs, Triparty Repo, G-Secs, T-Bills short term deposits of scheduled commercial banks and AAA rated securities issued by Public Financial Institutions and Public Sector Banks) does not exceed 25% of the net assets of the Scheme. Also, an additional exposure to financial services sector (over and above the existing 25%) not exceeding 15% of the net assets of the Scheme will be allowed by way of increase in exposure to HFCs only, subject to the condition that such securities issued by HFCs are rated AA and above and these HFCs are registered with National Housing Bank (NHB). However, the total investment in HFCs cannot exceed 25% of the net assets of the Scheme.
(Source: Scheme Information Document)
What will be the Investment Strategy?
The Scheme is an open-ended debt scheme that seeks to generate regular income by investing in a portfolio consisting of money market instruments.
The key factors of the investment strategy of the Scheme are:
Identifying attractive opportunities based on government policies, economic development, monetary policy, research report and overall economic conditions and development.
The issuer/companies' selection for investment exposure would be based on financial parameters such as fundamentals of business, quality of management, turnover, financial strength of the company and the key earnings drivers, net worth, Interest coverage ratio, profitability track record and the liquidity of the securities /instruments.
Issuer/Companies, which meet the initial selection norms, are then evaluated on the financial norms for consideration in the investments.
The Scheme will emphasize on well managed, with above average growth prospects whose securities can be purchased at a good yield and whose debt securities will be mainly in securities listed as investments grade by a recognised authority like CRISIL, ICRA, CARE etc.
Investment in sovereign papers would be based on the interest rate expectations arising out of the macroeconomic analysis. This includes analysis of inflation data, & trends in macro variables such as credit growth, liquidity, money supply, fiscal numbers & global interest.
Who will manage the Baroda Money Market Fund?
The Baroda Money Market Fund will be managed by Mr Alok Sahoo and Mr Karn Kumar.
Mr Alok Sahoo is the Head of Fixed Income at Baroda Pioneer Asset Management Company Limited. He is a management graduate in Finance from XIM, Bhubaneswar, with a BE degree from NIT, Rourkela. He has been working in the investment area in asset management for over 18 years. Prior to joining the fund house, he was a fixed income fund manager at UTI Mutual Fund and at HSBC Mutual Fund. He was also the Fund Manager for the Employee Provident Fund at HSBC Asset Management. He has experience in the credit research of companies as well.
Currently, Mr Sahoo manages Baroda Pioneer Treasury Advantage Fund, Baroda Pioneer Short Term Bond Fund, Baroda Gilt Fund, Baroda Pioneer Dynamic Bond Fund, Baroda Pioneer Liquid Fund, Baroda Pioneer Credit Risk Fund, Baroda Ultra Short Duration Fund and Baroda Overnight Fund
Mr Karn Kumar has more than 13 years of work experience in Fixed Income, credit research and corporate finance. Prior to joining the AMC, he has worked with CRISIL Ltd. and ICICI Bank in areas of credit research and structured finance. He has also worked with Sterlite Industries Limited in the Corporate Finance team.
At the fund house, Mr Kumar manages only one scheme, i.e. Baroda Pioneer Credit Risk Fund.
The outlook for Baroda Money Market Fund:
Money markets in India essentially consist of the call money market (i.e. market for overnight and term money between banks and institutions), reverse repo transactions (temporary purchase with an agreement to sell the securities at a future date at a specified price), Commercial Papers, Certificate of Deposits (CDs issued by the Banks) and Treasury Bills (issued by RBI).
In the money market, activity levels of government and non-government debt vary from time to time. Instruments that comprise a major portion of money market activity include but are not limited to:
Overnight Rates;
Triparty Repo;
Reverse Repo Agreement;
Treasury Bills;
Government Securities with a residual maturity of <1 year;
Commercial Paper;
Certificate of Deposits.
Apart from these, there are some other options available for short-term investments like MIBOR linked debentures with periodic exit options and other such instruments.
So predominant risks in investing in money market mutual fund include interest rate risk and inflation risk. Any change in the interest rate or monetary policy leads to fluctuations in the rate of debt funds and affect overall yield.
Currently, the 10-yr G-Sec yield eased by good 38 bps in May 2019 and since the 1st bi-monthly monetary policy for 2019-20, by 32 bps. So far in 2019, the benchmark yield is down by 34 bps. As regards the liquidity conditions in the system, after remaining in deficit during April and most of May due to restrained government spending, it turned into an average daily surplus of Rs 660 billion in early June, the RBI observed.
The weighted average call money rate (WACR) remained broadly aligned with the policy repo rate: it traded above the policy repo rate (on an average) by 6 bps in April, but below the policy repo rate by 6 bps in May, the RBI observed.
In the 2nd bi-monthly monetary policy statement for 2019-20 (held in June 2019), the RBI predictably reduced policy rate by another 25 bps, placing the repo rate at 5.75% and consequently the reverse repo rate at 5.50%.
This was the third consecutive reduction in policy in 2019. Plus, the Monetary Policy Committee (MPC) decided to change the stance of monetary policy from neutral to accommodative and it reduces the scope of further reduction in policy rates by the RBI to accommodate growth concerns.
Hence the fate of the fund relies on the short-term money market instruments of varying ratings including unrated debt securities held. Avoid investing aggressively at the longer end of the yield curve,
[Read: Skip NFOs, Instead Consider Building A Strategic Mutual Fund Portfolio]
Editor's note: Very soon, we enter the 20th year of providing Unbiased Mutual Fund Research. And we'd like to celebrate this milestone with you, dear reader, to help us kick off the next decade.
Hence we present to you this Special Pre-Anniversary Offer only for our esteemed readers like yourself.

You still have a chance to invest in some of the most reliable schemes available in the market at present with our Fundselect Research Service that will help create wealth for you in the long run.
Trust us, you DO NOT WANT TO MISS THIS.
Author: Aditi Murkute
This article first appeared on PersonalFN here.
PersonalFN is a Mumbai based personal finance firm offering Financial Planning and Mutual Fund Research services.
Disclaimer:
The views mentioned above are of the author only. Data and charts, if used, in the article have been sourced from available information and have not been authenticated by any statutory authority. The author and Equitymaster do not claim it to be accurate nor accept any responsibility for the same. The views constitute only the opinions and do not constitute any guidelines or recommendation on any course of action to be followed by the reader. Please read the detailed Terms of Use of the web site.
More Views on News
Jul 19, 2019
PersonalFN's brief analysis on the features and performance of ABSL Equity Fund.
Jul 19, 2019
PersonalFN sheds insights about investors' abandonment of Debt Mutual Funds from the recently shared AMFI monthly data.
Jul 19, 2019
Readers share their views on our most recent recommendation which generated gains of 7.85% gains in 6 days.
Jul 19, 2019
Modi's anti-corruption stance will benefit the good guys the most.
Jul 18, 2019
Jalan Committee's recommendations could have a big impact on Modi 2.0's US$ 5 trillion GDP target.
More Views on News
Most Popular
Jul 9, 2019
As the sense of normalcy returns to the markets, the rebound in the quality smallcaps could be huge.
Jul 12, 2019
Despite the current fear prevailing in the markets, both these stocks have the potential to deliver in 4-5 years.
Jul 8, 2019
A new 'definition' of the stock universe that triggered the smallcap sell-off is back with the latest list...
Jul 10, 2019
There are some great buying opportunities in the market right now - and the small cap space is your best bet.
Jul 10, 2019
Affordable housing is one of the most straightforward growth stories in India. This will help the real estate sector to come out of the slump.
More