Best SIPs To Invest In When Planning For Your Retirement
Best SIPs To Invest In When Planning For Your Retirement
Jun 25, 2019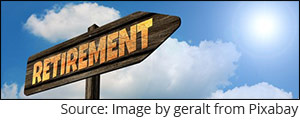 While going through my finances over the weekend, I started thinking about my retirement and was instantly reminded of a famous Aesop's fable I heard as a school kid-The ant and the grasshopper.
If you're familiar with the story, the ant worked hard during the summer to collect food for the winter, while the grasshopper made fun of him as there was plenty of time left for winter.
When the winter came, the ant lead a satisfied life as he had stored sufficient amount of food, while the grasshopper struggled to find food and ultimately had to borrow some food from the ant.
In real life, some of us lead life like the ant, while some prefer to live like the grasshopper. But one thing is certain, your winter years are inevitable, i.e. you will be a retiree sooner or later.
The way you manage your savings and investments today will determine how blissful your retirement will be. Delaying retirement planning will mean that you will have to depend on your children or other members of the family for your daily expenses post retirement.
---

Advertisement

---
Why This Could Be The Most Important Book You'll Ever Read…
If you're one of those who believes India is destined to become a global superpower, then here's some good news…

We believe a rare economic phenomenon could push the Sensex past 100,000 and give regular folks an opportunity to make BIG returns.

Our new hardbound book on it provides the full scoop. And for a limited time, you could get a copy of this book worth Rs 1,950 virtually FREE.

This could be the most important book you'll ever read.

And nearly 2,000 copies of it have been claimed already. So don't delay.

Click here for full details now…
------------------------------
Procrastination is the biggest hindrance to retirement planning. Many individuals do not start planning for their retirement until they are well into their late 40s. The focus in the early years remains mainly on buying a dream house, a car, or international vacations. Though it is important that you take out time to relax and enjoy life, it should not come at the expense of your future.
[Read: Why Starting Young to Plan Your Retirement Works!]
Time is on your side when you are young, which can enable better compounding of wealth if you invest wisely. With better earning potential, you are able to make investments that are in the moderate to high risk segment and create more wealth.
Your responsibility increases as you grow older and your risk-taking ability declines. It is therefore better to start early and invest in wealth-creating avenues to fulfil your retirement goal.
Before you start investing for your retirement, understand your current financial situation and calculate the amount you will need for the retirement corpus. Here are the factors to take into account:
The number of years left before you retire
Your life expectancy (an estimate, based on your family's medical history)
Your current basic monthly expenditure
Your existing assets and liabilities
Contingency reserve, if any
Your risk appetite
Whether you have adequate health insurance
Whether you have provided for other life goals
Inflation growth rate
[Read: Want To Retire Rich And Travel The World? Read This!]
People generally invest in public provident fund (PPF) and employee provident fund (EPF) to plan their retirement. PPF and EPF are good investment options as they offer you approximately 8% compounded annualised tax-free returns. But you cannot entirely depend on these avenues because inflation spirals at a greater pace and can result in a shortfall. Further, you cannot customise these schemes to suit your needs.
What you need instead is an investment tool that offers diversification, has wealth-building potential, can be customised to suit your needs, provides liquidity, and can counter inflation. One such investment avenue that provides all the above mentioned benefits is Mutual Funds.
[Read: Thinking Of A Blissful Retirement? Here's Why You Can't Ignore Investing In Mutual Funds]
With mutual funds, you can invest in diversified portfolios which are professionally managed. Mutual funds are divided into various categories and sub-categories so that you can choose the right type of fund based on your investment objective, risk appetite, and the time horizon to goal.
The best way to invest in mutual fund is through a Systematic investment plan (SIP), whereby you can invest a certain fixed amount regularly (weekly, monthly or quarterly). This instils a disciplined approach towards your financial plan. Patience and discipline is important to tide over market volatility.
When you invest in SIP, the cost of investment averages over time because you continue to invest regardless of the market conditions. Additionally, as you invest and earn returns, the returns are reinvested and thus your wealth grows in a better way through the power of compounding.
A proper allocation of assets must be made based on your financial circumstances and risk-return expectation so that you achieve your goals. When you are young, you can have a higher exposure to equity-oriented fund and lower exposure towards debt funds. As you age, the exposure to equity should be gradually reduced to have a higher allocation to debt.
Here are the types of mutual fund you can consider investing depending on your age to plan your retirement...
Table: Category wise asset allocation for retirement portfolio
| Age Group | 25-35 | 35-45 | 45-55 | 55-60 | Above 60 |
| --- | --- | --- | --- | --- | --- |
| Category | Very Aggressive | Aggressive | Moderate | Conservative | Very Conservative |
| Equity | 90%-100% | 75%-80% | 60%-70% | 40%-50% | 20%-30% |
| Large Cap Funds | 10%-15% | 10%-15% | 10%-15% | 15%-20% | 10%-15% |
| Midcap Funds | 20%-25% | 15%-20% | -- | -- | -- |
| Large & Midcap Funds | 20%-25% | 15%-20% | 10%-15% | -- | -- |
| Multi Cap Funds | 15%-20% | 15%-20% | 10%-15% | -- | -- |
| Value Style Funds | 15%-20% | 10%-15% | 10%-15% | 10%-15% | 0%-10% |
| Aggressive Hybrid Fund | -- | -- | 10%-15% | 15%-20% | 10%-15% |
| Debt | 0%-5% | 10%-15% | 20%-30% | 40%-50% | 70%-80% |
| Dynamic Bond Funds | 0%-5% | 10%-15% | 10%-15% | 20%-25% | 15%-20% |
| Short Duration / Corporate Bond Funds | -- | -- | 10%-15% | 20%-25% | 25%-30% |
| Liquid / Ultra Short Duration Funds | -- | -- | -- | 0%-10% | 20%-30% |
| Gold | 0%-5% | 5%-10% | 5%-10% | 5%-10% | 0%-5% |
| Gold Funds | 0%-5% | 5%-10% | 5%-10% | 5%-10% | 0%-5% |
| | 100.00% | 100.00% | 100.00% | 100.00% | 100.00% |
(Note: The table is for illustration purpose only)
Mutual funds also offer a solution-oriented scheme called `Retirement Fund' for the purpose of retirement planning. These schemes come with a lock-in period of five years or till retirement age, whichever is earlier.
As these schemes come with a lock-in period, you need to be careful while selecting it because if the scheme underperforms you will not be able to exit or switch during this time frame. You would be better off investing in diversified equity schemes to build your retirement corpus.
To determine if you are on the right track to achieving your goals, it is crucial to review the performance of your mutual fund portfolio. The review should be done at least once a year to find out any nonperformers and replace them with the better performing ones.
Lastly, don't be tempted to withdraw your retirement corpus to fulfil your short-term needs. It is also important that you retire debt-free as debt overhang will never allow you to lead a stress-free, blissful retired life.
Editor's note: Do you wish to live a comfortable life post-retirement?
Subscribe to PersonalFN's Retire Rich Service, a premium service offering exactly what you need for your dream retirement.
This is a DIY retirement solution whereby you can start planning for your retirement and potentially build a substantial corpus that could sustain you in the best days of your life.
It is not merely a list of funds or a particular investment idea.

It is a complete all-around solution to guide you with almost ALL necessary essentials of retirement planning. Subscribe now!
Author: Divya Grover
This article first appeared on PersonalFN here.
PersonalFN is a Mumbai based personal finance firm offering Financial Planning and Mutual Fund Research services.
Disclaimer:
The views mentioned above are of the author only. Data and charts, if used, in the article have been sourced from available information and have not been authenticated by any statutory authority. The author and Equitymaster do not claim it to be accurate nor accept any responsibility for the same. The views constitute only the opinions and do not constitute any guidelines or recommendation on any course of action to be followed by the reader. Please read the detailed Terms of Use of the web site.
More Views on News
Jul 22, 2019
Memory Effect in Hard Assets Markets.
Jul 22, 2019
PersonalFN stresses upon the importance of personalised asset allocation while investing in Mutual funds.
Jul 22, 2019
Personalfn sheds light on the recently launched Mirae Asset Midcap Fund. It briefly outlines its outlook based on the asset allocation and Investment strategy.
Jul 22, 2019
PersonalFN explains the features of flex SIP option of mutual funds.
Jul 22, 2019
This smallcap stock could help you ride the great aerospace and defense wave.
More Views on News
Most Popular
Jul 9, 2019
As the sense of normalcy returns to the markets, the rebound in the quality smallcaps could be huge.
Jul 12, 2019
Despite the current fear prevailing in the markets, both these stocks have the potential to deliver in 4-5 years.
Jul 15, 2019
While big auto makers are finding the transition difficult and crying foul, this small cap company is already leading and benefitting from the electric vehicle disruption in the auto sector.
Jul 18, 2019
Credit growth is likely to accelerate in India in the next decade. Here's how you can benefit from this megatrend.
Jul 10, 2019
Affordable housing is one of the most straightforward growth stories in India. This will help the real estate sector to come out of the slump.
More