Here's A Robo-Advisor Offering SOLID Mutual Fund Advice
Here's A Robo-Advisor Offering SOLID Mutual Fund Advice
Jul 3, 2018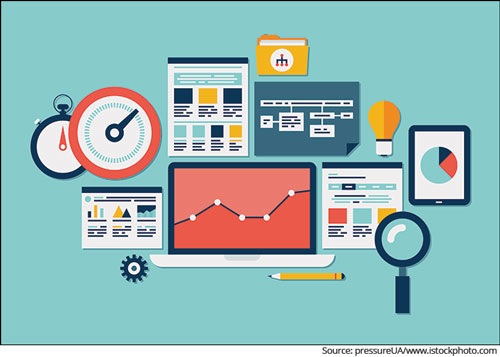 Mutual fund investors often struggle to find a trusted advisor.
You can't trust intermediaries working for commissions and novice advisors mimicking experts with their limited experience, can you?
And worthy human advisors, in most cases, are interested in offering advice only to High Net-worth Individuals (HNI).
HNIs pay big-fat fees.
On the contrary, retail investors invest smaller sums; and thus, don't make a 'good deal' for topline advisors.
So does that mean, retail mutual fund investors aren't entitled to good service and ace advice?
They certainly are.
This is where robo advisors step in; an automated and cost effective investment platform is the solution.
'PersonalFN Direct' an Ultra-Reliable Robo Advisor is here.
[Read: All You Need To Know About Robo-Investing]
Modern technology coupled with human skills and thorough research to back it, can work wonders for your investment portfolio.
But that does not mean you should trust every robo advisory platform.
As you may know, there are no free lunches. So, do not go with a robo-advisory platform that provides free advice; because it is highly probable that it may not be putting your interest at fore and working ONLY for commissions.
--- Advertisement ---


How Would You Feel if We Said…

You can now access cherry picked investment ideas from 8 of our most premium services that others pay Rs 314,000 per year for full access per year…

By paying JUST Rs 950 per month...

Now we know some will find this difficult to believe…and as a result may miss out this opportunity of a lifetime.

But if you are serious…

Here are full details of this extremely lucrative opportunity…
------------------------------
[Read: Why Robo Advisers Need To Put Your Interest First]
Oh, so even technology can't help?
Take it easy. PersonalFN has launched 'PersonalFN Direct' -India's only robo advisor powered by solid research experience.
But, how is it different from other robo advisory platforms?
#1: It offers only DIRECT PLANS (devoid of commissions)
#2: Offers customisable investment solutions based on your risk profiling
#3: It brings outstanding research experience of over 15 years.
#4: Minimal paperwork and ease of transacting
#5: It comes at a pocket-friendly price
PersonalFN is committed to present informed views and opinions on various personal finance issues that can impact your investments and finances.
PersonalFN has offered investment recommendations to more than 8,000 clients, and has created customised financial plans for more than 2,000 clients till date, helping them accomplish their vital financial goals.
PersonalFN also has a long track record in researching mutual funds, and offers its premium mutual fund research services to clients in India as well as abroad.
How is the track record?
It's impeccable, take a look at the graph below...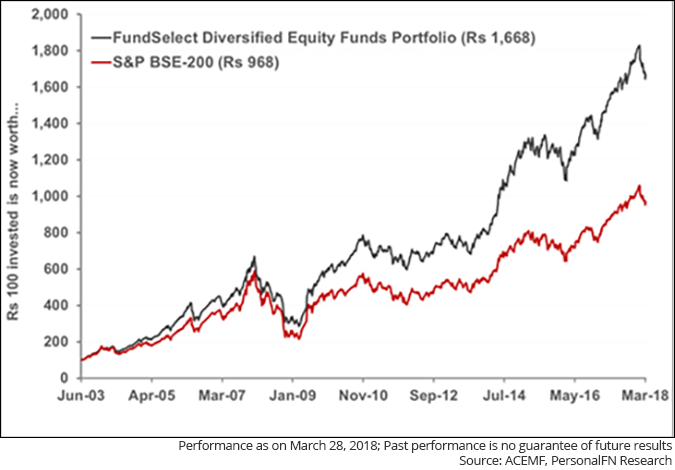 As per a study by PersonalFN's research team, as much as 32% of equity mutual funds are WORTHLESS investments. That means over one out of every four mutual funds you put your money in is unable to beat the stock market, namely the BSE-200 index.
At the same time, a handful of funds have the potential to routinely beat the market by a wide margin. They perform consistently across several market cycles and unlike the rest; these are long-term value creators for your money.
PersonalFN's flagship mutual fund research service, 'FundSelect', which has a track record of 15 years, helps in identifying such funds.
FundSelect uses a time-tested hard-core mutual fund research methodology that has so far helped to beat the market...by as much as 80%!
This is the pedigree of 'PersonalFN Direct' so you can imagine its performance potential.
PersonalFN has consciously tried to keep the whole process simple to invest on its robo-advisory platform, 'PersonalFN Direct'.
You just got to follow these simple steps:
✔ Complete the registration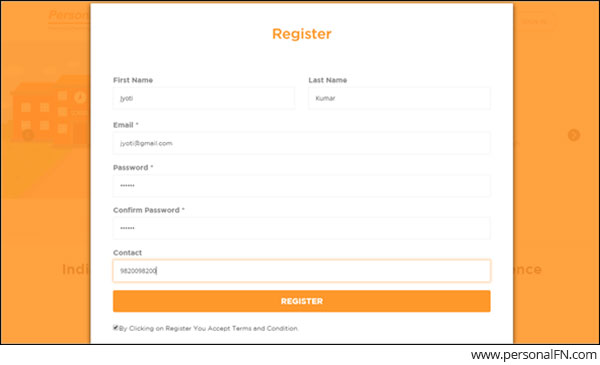 ✔ Log in with registered details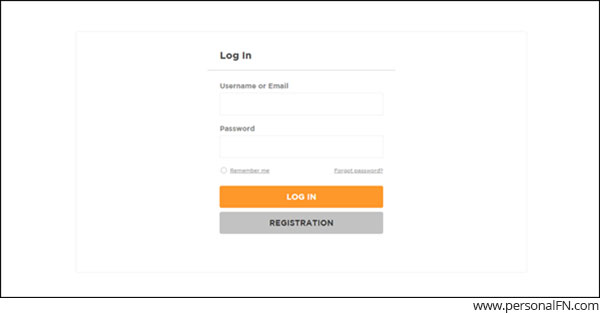 ✔ Assess your risk profile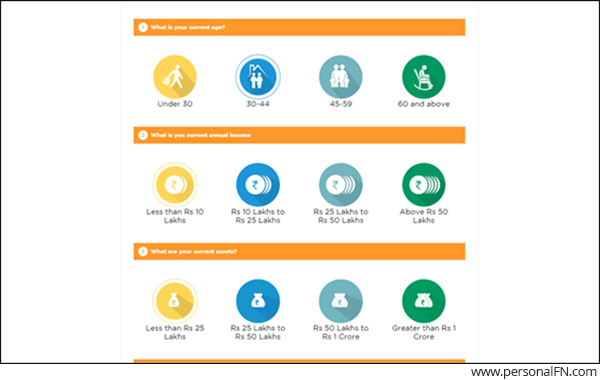 ✔ Set your goal parameters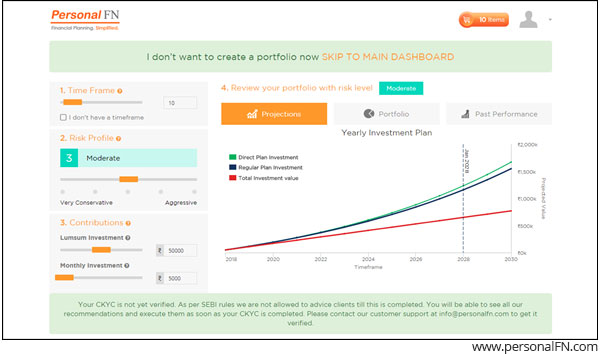 ✔ Get a recommended portfolio based on your inputs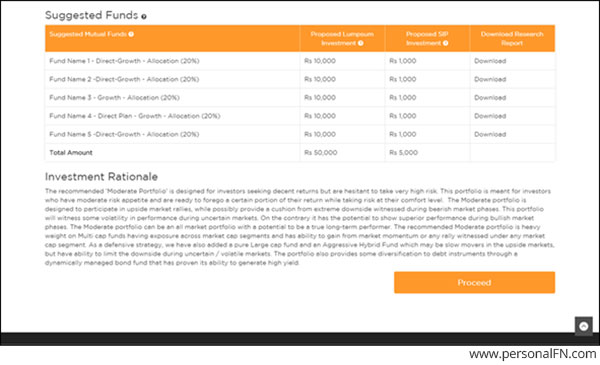 Click 'Proceed' to begin investing towards your goals.
Please note: To access this feature, your CKYC needs to be verified. As per capital market regulator's rule, PersonalFN is not allowed to advice clients till this is completed. You will be able to see all the recommendations and execute transactions as soon as your CKYC is completed.
And many investors may have this question: Can I invest in Systematic Investment Plans (SIPs) offered by mutual funds through PersonalFN Direct?
Yes! Sure, you can.
✔ Simply click on 'Add Lumpsum' or 'Add SIP'

✔ Fill in a short form as below and click on 'Add to Cart'
✔ The fund will display in your cart as below. Click 'Buy Now' to complete the transaction.

And if this isn't simple enough, be rest assured that PersonalFN's dedicated representatives will handhold you through the process.
Investing in mutual funds through PersonalFN Direct is simple, rewarding, and economical.
What are you waiting for?
Become a paid subscriber of PersonalFN Direct today and start your journey towards wealth creation.
This article first appeared on PersonalFN here.
PersonalFN is a Mumbai based personal finance firm offering Financial Planning and Mutual Fund Research services.
Disclaimer:
The views mentioned above are of the author only. Data and charts, if used, in the article have been sourced from available information and have not been authenticated by any statutory authority. The author and Equitymaster do not claim it to be accurate nor accept any responsibility for the same. The views constitute only the opinions and do not constitute any guidelines or recommendation on any course of action to be followed by the reader. Please read the detailed Terms of Use of the web site.
More Views on News
Mar 22, 2018
Certain blue chips hold the potential of delivering returns comparable to small-cap stocks. With these stocks, you can get the best of both worlds.
Dec 14, 2018
The state election results and the resignation of RBI governor, Urjit Patel, has made the market nervous. It is exactly in times like these, you can get to buy the best quality safe stocks at the right prices.
Dec 14, 2018
The election results, the RBI drama, the market volatility - they do nothing but distract us from true wealth building. It is exactly in times like these, you can and should buy the best quality safe stocks at the right prices.
Dec 13, 2018
Among the tax-saving products, ELSS is one of the most attractive options for investors having an appetite for high risk. It is also an avenue that has the shortest lock-in period of three years.
Dec 13, 2018
In volatile times like these in the run up to the 2019 elections, which should you look at?
More Views on News
Most Popular
Dec 3, 2018
Indian small cap space is offering a discount season. Make sure you do not get too late to scoop up the bargains.
Dec 6, 2018
My latest StockSelect recommendation ticks all the boxes of a great safe stock.
Dec 5, 2018
Credit disbursement to the productive sectors of the economy such as infrastructure, engineering, food processing, textiles, and chemicals, among others is rising.
Dec 3, 2018
After months of heavy FII selling, November witnessed a return on foreign money into Indian equities...
Dec 5, 2018
PersonalFN explains the probable reason as to why the capital market regulator has initiated DSP Mutual Fund's bond sale that caused DHFL stock to crash.
More