Can India Afford To Completely Decouple From China?
Can India Afford To Completely Decouple From China?
Jul 13, 2020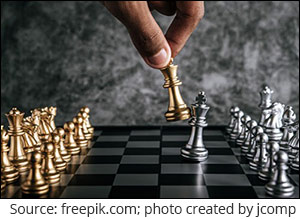 After the nasty standoff with China across the Line of Actual Control (and to some extent disengagement thereafter), the Modi-led-NDA government has banned 59 Chinese apps by invoking Section 69A of the Information Technology Act, 2000 citing threats to India's security, sovereignty as well as citizens' privacy.
Before carrying out this digital strike, the Ministry of Information Technology had received many complaints from various sources including several reports about the misuse of some mobile apps available on Android and iOS platforms for stealing and surreptitiously transmitting users' data in an unauthorized manner to servers which have locations outside India.
As you may be aware, when we download and use the app, we, as users, allow developers unrestrained access to our smartphone data--the information stored in it. This helps the app developer in data mining and profiling, who can then use it to display relevant advertisements (of goods and services) that may be of our interest. Some unethical app developers even put your valuable data up for sale. However, all this is a breach of privacy and potentially could expose you, the user, to cyber-attacks.
--- Advertisement ---
READ: FULL Transcript of Our Urgent Broadcast

The full transcript of our urgent broadcast on India's Revival is available for a limited time now.

In case you missed watching our broadcast LIVE...

You can see all the important highlights from our broadcast in this transcript.

Please note that we may take this transcript off the internet any minute.

So it is highly recommended you read it immediately.

Click Here to Read the Transcript NOW
------------------------------
So, in my view, the government banning the 59 Chinese apps (like TikTok, Shareit, WeChat, Likeee, UC Browser, DU battery saver, Virus Cleaner, to name a few), was a step in the right direction and much deserving!
The government also plans to bar Chinese firms from participating in the highway project in India and investing in Micro, Small & Medium Enterprises (MSMEs), going by the recent statement of Mr Nitin Gadkari, Union Minister for Road Transport & Highways, Shipping, and Micro, Small and Medium Enterprises.
The Indian Railway recently terminated a World Bank-funded Rs 470 crore 'signalling' contract given to a Chinese firm four years ago, for inordinate delay in the contract execution (although the timing of it came amidst India-China tensions). The Maharashtra government in consultation with the State government, too, has put three major agreements worth Rs 5,000 crore on hold.
The centre currently is reviewing around 50 investment proposals involving Chinese companies under the new screening policy, said three sources speaking to Reuters.
Anti-China sentiments are building up. There is now a movement to reduce the dependence on Chinese goods and encourage Indian ones. A wide range of trade policies are being discussed for this purpose.
The spotlights are turning on 'Atmanirbhar Bharat' or self-reliant India, a clarion call made by Prime Minister, Narendra Modi citing five pillars: the economy, infrastructure, systems, and vibrant democracy, and demand.
--- Advertisement ---
[Watch Now] 3 Little-known Stocks We are Super Bullish On




Click Here to Watch Now
------------------------------
Indian manufacturers and traders' body support the 'Atmanirbhar Bharat' clarion call and many are of the view that the entry of Chinese goods should be restricted. However, they are of the view that it should be done in a calibrated manner and not until alternatives are in place.
Currently, more than 14% of India's imports come from China. Besides, China is also an important destination for India's exports (earning US$ 15 billion by exporting goods to the dragon nation).
So, the question is: Can India really completely afford to decouple from China
When asked about auto sector imports from China (and Maruti Suzuki India in particular), Mr R.C. Bhargava, Chairman Maruti Suzuki India said, "We don't import because we like to, but because we have no choice".
Echoing Mr Bhargava's views, Vinnie Mehta, Director General at Auto Component Manufacturers' Association of India (ACMA) appealed, "We cannot have a knee-jerk reaction, especially when we are emerging from the disruption caused by the pandemic." He also suggested that some components that the auto industry imports are difficult to source from elsewhere. According to an ICRA report, India imports USD 4.8 billion worth auto components from India-27% of India's auto component imports.
The condition of the pharmaceutical industry isn't different.
The Indian pharmaceutical industry is the third-largest in the world. Nonetheless, approximately 2/3rd of Active Pharma Ingredients (APIs) consumed by the Indian pharmaceutical industry are imported from China. Many industry experts believe any sudden ban or restriction on API imports from China may cause supply disruptions and in turn, could result in price escalations as well.
Likewise, some popular e-commerce, digital payments, and ride-hailing apps in India are backed by Chinese investments.
Besides, India's dependence on China for consumer electronics, home appliances, electrical switchgear, lightings, furniture, smartphones, telecom equipment, toys, beauty products, is well known.
Moreover, India imports iron and steel from China (on which India recently slapped an anti-dumping import duty).
There are various other sectors and industries that still depend on China.
Until we are completely self-reliant, for good and services we depend on China today, an outright vetoing would prove disruptive and inflationary.
So far, thankfully, there's no knee-jerk response from the policymakers, beyond using trade as pressure tactics.
JUST IN: Limited-Time Access to Full Transcript of Our Urgent Broadcast on India's Revival
What should be done instead?
For India to be self-reliant, the confluence of five 'I''s---Intent, Inclusion, Innovation, Infrastructure, and Investments---as stated by Prime Minister, Narendra Modi recently while addressing CII's 125th Annual General Meeting to get India on the path of high growth will be necessary. Among these, infrastructure will play a key role so that investments follow and India fills in the gap.
Reducing dependency on Chinese imports isn't a new topic. In 2018, the Parliamentary Standing Committee on Commerce, under the chairmanship of Mr Naresh Gujaral (Shiromani Akali Dal's Rajya Sabha member), presented 145th report on "Impact of Chinese Goods on Indian Industry".
Some issues highlighted by the committee are noteworthy:
The committee observed that the unintended outcome of India's effort of promoting the Ease of Doing Business was rampant access given to Chinese producers, which in effect is discouraging Indian manufacturing industries.
The Committee also suspected massive under-invoicing of Chinese goods.
India lacked strong implementation of an anti-dumping framework which enabled unscrupulous players to import Chinese goods through misclassification.
Para 4.2 of the committee report made an interesting suggestion: It is important that public opinion is created in the country to discourage buying of sub-standard imported products. Industry forums have a greater responsibility to enlighten people about the dangers of buying sub-standard products. This seems to be subtly implemented by the Indian manufacturers at various levels.
The committee also clarified that it wasn't against trade with China, but it was in favour of complete protection to Indian industry against illegitimate, protectionist, and unfair trade practices of any country.
At present, encouraging domestic manufacturing (by pursuing tax-friendly policies) and creating domestic alternatives to Chinese imports is the only option to curb Chinese imports.
While India has brought import duties on par with those adopted in East Asia, the policies haven't encouraged cost-effective manufacturing in India. Between 2003 and 2019, India's imports from China went up nearly 20 times. State interests, over-lapping regulatory controls, challenges in land acquisition, project delays, higher cost of capital, and archaic labour laws among others have been major hurdles.
The government will have to look into these aspects to unshackle the constraints so that India leaps forward. Some State governments have been rolling out the red carpet for the industry to promote domestic manufacturing, altering labour laws, and offering tax sops. Yet, how effective these measures prove to be will depend on the Centre's stand on a variety of policy issues.
The government has shortlisted a few industries to promote domestic manufacturing and also looking at non-tariff interventions to encouraging import substitution. They include food processing, organic farming, industrial machinery, furniture, leather, textiles, masks, auto components, sanitizers, ventilators, masks, and coveralls among others.
Last month, the government announced a special package of Rs 13,760 crore to promote manufacturing of APIs in India, but experts believe these measures aren't enough. From being reasonably self-sufficient, India became heavily dependent on Chinese APIs due to price controls which discouraged Indian manufacturing, argued the Chairman of one of India's top-most pharma companies.
This suggests that despite vocal for local and Atmanirbhar Bharat, Chinese imports can be discouraged only gradually.
China's massive scale manufacturing, cost-efficiency, and timely delivery cannot be ignored; particularly when several sectors and industries are dependent- directly or indirectly.
For India to be the next manufacturing hub of the world, it will first need to build world-class infrastructure, make land acquisition easy, do away with deterring labour laws, increase the productivity of human capital, keep policy rates low, develop cost-effective supply chain logistics, and pursue tax-friendly policies.
India will one day need to overtake China and rely less on its imports. If we rely excessively on imports from one nation which shares hostile relations, the country's diplomatic and economic power stands to lose at the international landscape while dealing with that country.
How dependence on China affects your investments?
In the foreseeable future, two types of companies will be heavily affected-one, those relying heavily on Chinese components/imports; and two, which rely on niche components whose supply is dominated by China and cannot be easily substituted.
Until domestic capacities are developed or alternative sources are found without much escalation in cost, the cloud of uncertainty will continue to loom over such companies.
As India and China have resumed the process of de-escalation at the border, the further trade impediments may be limited. Will that give India the time needed to launch big bang reforms -legislative as well as non-legislative?
For you, as investors, this would be a crucial aspect to watch out for.
You should also check how the fund managers of the mutual fund schemes you have invested in are reacting to these on-going trade issues. Do they mention anything pertaining to trade-tensions in their monthly commentaries? What is the exposure of the scheme's portfolio to stocks affected/potentially affected by changing trade policies?
To minimise the impact of such uncertainties on your portfolio, I recommend following the `Core & Satellite' approach when investing in mutual funds. It is a time-tested strategy adopted by some of the most successful investors.
This strategy helps you concentrate on the stable schemes with a long-term view and at the same time take advantage of short-term opportunities.
The 'Core' holding should comprise around 65-70% of your equity mutual fund portfolio and consist of large-cap fund, multi-cap fund, and a value style fund.
Whereas, the 'Satellite' holdings of the portfolio can be around 30-35% comprising of a mid-cap fund, a large & mid-cap fund, and an aggressive hybrid fund.
The six advantages of 'Core & Satellite' Approach to investing are as under:
Provides optimal diversification;
Lowers the need for constant portfolio churning
Reduces the risk involved in your portfolio;
Helps you benefit from a variety of investment strategies;
Allows you to create wealth cushioning the downside; and
Holds the potential to outperform the market
If India attains its goal of reducing the trade deficit with China and manages to promote domestic manufacturing and exports, the industry and market may see a different tomorrow.
That said, given the uncertainty looming and the Indian equity market continuing to remain very volatile, prefer Systematic Investment Plan (SIP) route while you build the portfolio the equity mutual fund portfolio the 'Core and Satellite' way.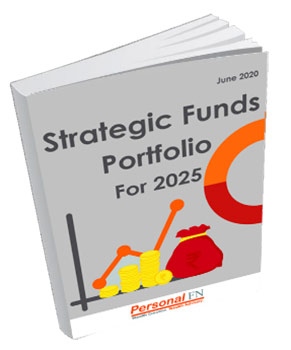 And remember to align your investments with your risk appetite, broader investment objective, financial goals, and time horizon to accomplish the envisioned financial goals.
If you wish to invest in a readymade portfolio of top recommended equity mutual funds based on the 'Core & Satellite' approach to investing, I recommend that you subscribe to PersonalFN's Premium Report, "The Strategic Funds Portfolio For 2025 (2020 Edition)". This premium report will help you build your optimum mutual funds portfolio for 2025 without any effort on your part. If you haven't subscribed yet, do it now!
Happy Investing!
Author: Rounaq Neroy
This article first appeared on PersonalFN here.
Join Now: PersonalFN is now on Telegram. Join FREE Today to get 'Daily Wealth Letter' and Exclusive Updates on Mutual Funds
PersonalFN is a Mumbai based personal finance firm offering Financial Planning and Mutual Fund Research services.
Disclaimer:
The views mentioned above are of the author only. Data and charts, if used, in the article have been sourced from available information and have not been authenticated by any statutory authority. The author and Equitymaster do not claim it to be accurate nor accept any responsibility for the same. The views constitute only the opinions and do not constitute any guidelines or recommendation on any course of action to be followed by the reader. Please read the detailed Terms of Use of the web site.
More Views on News
Apr 16, 2021
A look at what India's top equity mutual funds bought and sold in March 2021.
Apr 16, 2021
PersonalFN's analysis on the features and performance of Kotak India EQ Contra Fund.
Apr 16, 2021
Those who don't learn from financial history are doomed to lose their money.
Apr 16, 2021
There is no stopping this 11-bagger stock from significant upside.
Apr 15, 2021
Rahul Shah on whether another big crash is likely and the ideal strategy to counter it.
More Views on News
Most Popular
Apr 13, 2021
Ajit Dayal on how India's vaccine strategy will impact the markets.
Apr 6, 2021
Rather than predicting the market, successful investing is more about preparing well and placing your bets accordingly.
Apr 9, 2021
This could take India to the position of 3rd largest economy.
Apr 13, 2021
In this video, I'll you what I think is the real reason behind yesterday's market crash.
Apr 12, 2021
This ignored sector could deliver big short-term profits.
More