Mirae Asset Emerging Bluechip Fund: Balancing Growth and Risks
Mirae Asset Emerging Bluechip Fund: Balancing Growth and Risks
Jul 16, 2021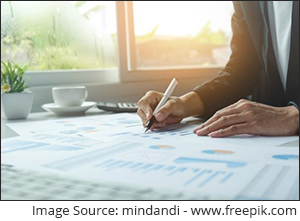 A Large-cap investment is considered to be relatively safer compared to a mid-cap and small-cap investment. This makes it suitable for investors with a lower risk appetite. The segment tends to be resilient when market conditions turn adverse. Therefore, investing in large-caps offers you steady returns over the long term.
If you prefer the stable growth of large-caps, but are willing to take slightly higher risks to boost your returns, the large & mid-cap funds category can be a good option. This category gives you the opportunity to invest in an optimum mix of the leaders of today and future leaders. Thus, you benefit from the stability of large-caps as well as high growth potential of mid-caps through a single fund.
--- Advertisement ---
Automobile Sector's Colossal Disruption Could Make You a Fortune

During any major disruption in a sector, fortunes are created.

And now, we are at the cusp of a major disruption that the automotive sector will experience.

It is the electric vehicles gold rush.

At Equitymaster, we have unearthed a hidden way to ride the 15x EV opportunity so that you could take home potentially life-changing gains in the long run.

You can get all details of the hidden way in our upcoming special online event.

YES, Register Me for FREE
------------------------------
When you invest in a large & mid-cap fund, you have two options: 1) A fund whose portfolio is skewed towards large-caps; and 2) Those skewed towards mid-caps. It is crucial to choose a suitable and worthy scheme as per your risk appetite.
Mirae Asset Emerging Bluechip Fund (MAEBF) is a popular scheme in the large & mid-cap fund. It has rewarded its investors with superior gains.
Graph 1: Growth of Rs 10,000 if invested in Mirae Asset Emerging Bluechip Fund 5 years ago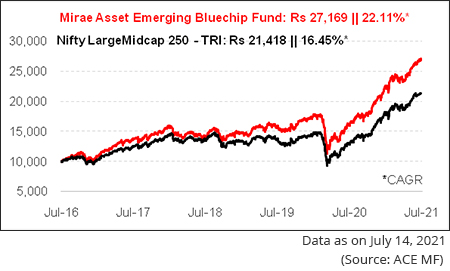 MAEBF is a large & mid-cap fund that holds a broader investment mandate. The fund looks to benefit from the growth of emerging companies. These are companies with the potential to be future bluechip companies. Its investment approach is aimed at participating in high-quality businesses available at reasonable prices and holding it over an extended period of time. MAEBF is known for its cautious investment approach. In the past, this strategy has helped it deliver superior risk-adjusted returns for its investors. To put a check on capacity, the fund house has suspended lump sum investments in the scheme since October 2016. It also restricted investments via SIP at Rs 2,500 per month. Over the last 5-year period, MAEBF outperformed the benchmark by about 6 percentage points in compounded returns. An investment of Rs 10,000 in MAEBF would have now appreciated to Rs 27,169. A simultaneous investment in its benchmark would have grown to Rs 21,418.
Table: Mirae Asset Emerging Bluechip Fund's performance vis-a-vis category peers
Returns are point to point and in %, calculated using Direct Plan - Growth option. Those depicted over 1-Yr are compounded annualised.
Data as on July 14, 2021
(Source: ACE MF)
*Please note, this table only represents the best performing funds based solely on past returns and is NOT a recommendation. Mutual Fund investments are subject to market risks. Read all scheme related documents carefully. Past performance is not an indicator for future returns. The percentage returns shown are only for indicative purposes.
MAEBF is one of those large & mid-cap funds that have constantly made it to the list of top quartile performers. The fund has built a superior track record in a short span of time and has been successful in delivering superior returns across market cycles. MAEBF's long term track record is exemplary. It has generated substantial alpha of 6-8 percentage points CAGR over the 5-year and 7-year period. At the same time it has outpaced most of its peers by a distinct margin. Even the short term track record of the fund is encouraging.
MAEBF's volatility (standard deviation) of 22.8% is competitive to its peers and slightly lower than the benchmark. The fund's Sharpe ratio of 0.24 is commendable; it is the highest in the category. With this, it more than compensates its investors in the form of superior risk-adjusted returns.
--- Advertisement ---
The Rebirth of India

India's leading research analyst, Tanushree Banerjee, will show our readers how an upcoming mega shift would drastically change the state of the Indian economy...

And how investing in three high-potential stocks at the heart of this rebirth...

...could potentially hand them 100%, 300%, 500%, even 1,000% or more in the long run.

Since you are one of our valued readers, we sincerely urge you to head over here for more details
------------------------------
Investment strategy of Mirae Asset Emerging Bluechip Fund
Classified under Large & Mid-cap Funds, MAEBF is mandated to invest minimum 35% its assets in stocks of large-cap companies along with a simultaneous investment of minimum 35% in mid-cap companies. MAEBF's inclination is more towards large-cap stocks that account for around 55% or more of its assets. The fund's flexibility to invest in larger mid-cap stocks and large-caps provides additional stability to the fund during extreme market conditions.
While picking stocks for the portfolio, MAEBF aims to hold a well-diversified portfolio without having any bias towards any particular theme, sector, or style. The fund follows a mix of the top-down and bottom-up approach to investing. The fund management invest in stocks of high-growth companies likely to benefit from macroeconomic, sectoral and industry trends. The fund looks for long-term investment opportunities in stocks of high quality businesses that are available at reasonable prices. It follows buy-and-hold investment strategy to derive the full potential of stocks. Notably, the turnover ratio of the fund has ranged between 75% to 95%.
Graph 2: Top portfolio holdings in Mirae Asset Emerging Bluechip Fund

As on June 30, 2021, MAEBF held a well-diversified portfolio of around 61 stocks spread across market capitalization, with some large cap names like ICICI Bank, HDFC Bank, Infosys, Axis Bank, SBI, etc. appearing among its top holdings. Notably, 4 out of its top 5 holdings are banks. The top 10 stocks in the portfolio together accounted for around 37.9% of the total assets. Some of its top stocks have been in the portfolio for well over two years now.
MAEBF has been riding on stocks like Infosys, ICICI Bank, HDFC Bank, Reliance Industries, Axis Bank, etc. that have been the major gainers in the portfolio together contributing around 20% to its returns in the last one year. It also benefitted from stocks like HCL Technologies, Motherson Sumi Systems, Bharat Electronics among others that turned out be the gainers in the portfolio.
While MAEBF's portfolio is majorly allocated towards cyclicals, it is fairly spread across defensive and sensitive sectors as well. Banks dominate MAEBF's portfolio with an allocation of 21.6%, while Finance stocks account for another 10.3% in the portfolio. The presence of Infotech, Pharmaceuticals, and Consumption, among the top sectors, indicates that the fund manager has kept a balanced portfolio with a defensive outlook, given the high market volatility. MAEBF's portfolio is fully invested and well positioned to ride the market highs and lows.
Join Today: Equitymaster is on Telegram. Join FREE Today for Exclusive market Updates
Suitability
MAEBF is a process-driven fund and has been agile enough to take advantage of various investment opportunities present in the mid-cap as well as large-cap segment. It aims to invest in growth-oriented stocks with an eye on valuations.
MAEBF does not resort to take aggressive calls, but maintains a diversified portfolio of quality stocks. This strategy of the fund house has enabled it to perform consistently across market cycles, while keeping the overall risk low. MAEBF has an experienced fund manager, Mr Neelesh Surana, who has been at the helm since the inception of the fund. He has been very successful in steering the fund out of rough market situations.
The aggressive investment mandate along with higher allocation to mid and small-caps makes MAEBF suitable for investors with higher risk appetite, looking to gradually invest (via SIP) in a reliable fund capable of creating decent wealth for its investors.
PS: If you wish to invest in a readymade portfolio of top recommended equity mutual funds based on the 'Core & Satellite' approach to investing, I suggest subscribing to PersonalFN's Premium Report, "The Strategic Funds Portfolio For 2025 (2021 Edition)".
This premium report will help you build an optimum equity mutual funds portfolio for 2025 without any effort on your part. If you haven't subscribed to PersonalFN's Premium Report, "The Strategic Funds Portfolio For 2025 (2021 Edition)" yet, do it now!
Note: This write up is for information purpose and does not constitute any kind of investment advice or a recommendation to Buy / Hold / Sell a fund. Returns mentioned herein are in no way a guarantee or promise of future returns. As an investor, you need to pick the right fund to meet your financial goals. If you are not sure about your risk appetite, do consult your investment consultant/advisor. Mutual Fund Investments are subject to market risks, read all scheme related documents carefully.
Author: Divya Grover
This article first appeared on PersonalFN here.
Join Now: PersonalFN is now on Telegram. Join FREE Today to get 'Daily Wealth Letter' and Exclusive Updates on Mutual Funds
PersonalFN is a Mumbai based personal finance firm offering Financial Planning and Mutual Fund Research services.
Disclaimer:
The views mentioned above are of the author only. Data and charts, if used, in the article have been sourced from available information and have not been authenticated by any statutory authority. The author and Equitymaster do not claim it to be accurate nor accept any responsibility for the same. The views constitute only the opinions and do not constitute any guidelines or recommendation on any course of action to be followed by the reader. Please read the detailed Terms of Use of the web site.
More Views on News
Oct 15, 2021
The government's plan to divest its stakes in PSUs could spark off a rally in these four stocks.
Oct 11, 2021
To corporatise the defence sector, the Ministry of Defence (MoD) has dissolved the 250-year-old Ordnance Factory Board (OFB).
Oct 7, 2021
Here's how you can invest in some of the most exciting start-ups of the decade.
Oct 16, 2021
In its latest meeting, the US Federal Bank said it would reduce the pace of its monthly asset purchases. Should investors be worried?
Oct 16, 2021
Rahul Shah on the surprising result while doing a study on buying high quality stocks.
More Views on News
Most Popular
Oct 11, 2021
Given the huge run up in Tata Power, does it make sense to switch to NTPC?
Oct 8, 2021
After months of research, I've come across few stocks that excite me far more than the mainstream electric vehicle companies.
Oct 8, 2021
These cryptos would have multiplied investors' wealth by as much as 10,000% in just nine months.
Oct 6, 2021
These companies are leading the Government's US$1 tn 'Digital India' initiative.
Oct 7, 2021
Here's how you can invest in some of the most exciting start-ups of the decade.
More