Why Isn't My Home Loan Rate Falling?
Why Isn't My Home Loan Rate Falling?
Jul 20, 2017
A recent gripe from a relative got me thinking...
He says the RBI has cut the repo rate (the rate at which banks lend money from the RBI) many times in the last four years, yet he does not see the change reflected in his home loan floating interest rate.
As discussed earlier, housing finance is an area of long-term growth in India. Housing finance loans are only about 10% of total bank credit, a relatively small number compared to China, the US, and the UK. Recently, there has been a lot of interest in this sector, which has been growing at 18% YoY. Part of the appeal is that the sector provides exposure financial services as well as Indian real estate.
Back to my relative... Let's call him Uncle. A little digging shows Uncle is right: The RBI repo rate has indeed been on a consistent decline.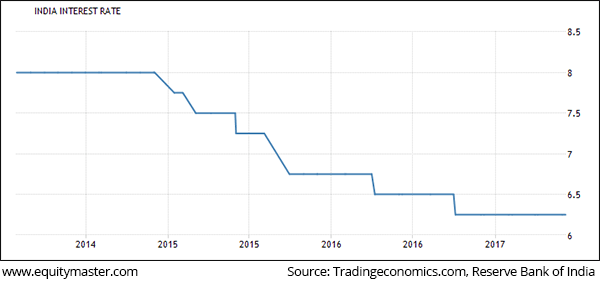 So what gives? Why hasn't the decrease in the cost of funds reached the customer?
In the 'base rate' lending mechanism, changes to the repo rate may or may not be translated to the customer. The decision lies with the bank. The RBI urges the banks to pass on the lower costs to customers. And we all hope that free markets and competition among banks will help drive the rates downward. But the mechanism has not been as effective or quick as the RBI or Uncle hoped.
This is partly because of penalties for switching loans or just stickiness to the original loan provider.
Marginal Cost Lending Rate (MCLR)
This lack of effective rate transmission is a problem for the central bank. Central banks try to affect money supply and credit growth by reducing interest rates. This tool is ineffective without a good transmission mechanism.
Enter the MCLR.
The MCLR is a new method to calculate the cost of funds. It is now mandatory for banks to include the RBI's latest repo rate when they calculate the cost of funds. MCLR has replaced the base rate system in April 2016. All loans after this date use MCLR to set the interest rate.
Uncle took his loan in 2014. This means, unless he refinances or pays a conversion fee, he is tied to the base rate system. His home loan rate is determined largely by the cost of bank deposits (interest given on customer deposits). Under the MCLR regime, however, the rate is decided by cost of bank deposits and the RBI's repo rate.
The new regime ensures the benefits of rate reductions are translated to the customer quickly. As per RBI guidelines, lending banks must calculate MCLR monthly. It's a great system for new borrowers...but too bad for Uncle.
Tenure - the dark horse
I want to share with you another aspect of the loan that can work in your advantage - the loan tenure.
Say Mr X has a Rs 30 lakh loan with fixed interest of 9% and a tenure of ten years. Mr Y has the same loan but with a twenty-year tenure. Both are paying out equated monthly installments (EMI). As time passes, the purchasing power of their EMIs will fall.
This is what inflation does. It erodes the value of money. At a modest inflation rate of 5%, the final EMI for Mr Y in the twentieth year is a third of the original amount. But the value of the house has almost tripled (assuming real estate prices keep pace with inflation).
Apart from this effect of inflation on the payments, the long tenure also provides a source of cheap financing. Any incremental savings (not used to close the loan) can be used to generate excess returns (above the lending rate)...assuming you follow good investment advice!
Debt can provide a boost to return on equity. But as Warrant Buffett says, 'When you combine ignorance and leverage, you get some pretty interesting results.' But it pays to remember that the tenure of your home loan can have a powerful impact on your wealth.
PS: Uncle has converted his home loan from base rate to MCLR. He is now much happier!
This column is authored by Nitin Gregory. Nitin, who graduated from IIM-Calcutta, is currently pursuing a finance role with an automotive major. He has a deep interest in Macroeconomics and pens a blog at Gregonomics.
Disclaimer:
The views mentioned above are of the author only. Data and charts, if used, in the article have been sourced from available information and have not been authenticated by any statutory authority. The author and Equitymaster do not claim it to be accurate nor accept any responsibility for the same. The views constitute only the opinions and do not constitute any guidelines or recommendation on any course of action to be followed by the reader. Please read the detailed Terms of Use of the web site.
More Views on News
Mar 22, 2018
Certain blue chips hold the potential of delivering returns comparable to small-cap stocks. With these stocks, you can get the best of both worlds.
Nov 29, 2017
Stocks that could beat Sensex returns in the long term.
Jul 18, 2018
PersonalFN explains why a mutual fund portfolio review is necessary, particularly after the regulator's mutual fund categorisation norms.
Jul 18, 2018
...
Jul 18, 2018
You are missing out big gains if you don't own these 8 stocks.
More Views on News
Most Popular
Jul 12, 2018
Blindly following super investors is a dangerous game to play. Here's how you can avoid such mistakes.
Jul 10, 2018
If you're worried about the markets - you are on the wrong track. This is opportunity - put your wealth-building hat on, instead - Richa shows you how...
Jul 11, 2018
The price signals that MSP sends out, creates its own set of problems.
Jul 6, 2018
ICICI AMC launches an open -ended equity fund following Pharma, Healthcare, Diagnostic and allied theme.
Jul 6, 2018
Buy Companies that can fight all kinds of Pandas and Bears in the long run.
More