Axis Long Term Equity Fund: Seeking Opportunities across Market Cap
Axis Long Term Equity Fund: Seeking Opportunities across Market Cap
Jul 23, 2021
Many of us delay our tax saving plans till the last quarter of the year. However, postponing it till the last moment is not a prudent practice. If you have not initiated your tax saving plan for the current financial year, start now, before it's too late.
Equity-linked saving schemes (ELSS) are equity-oriented mutual funds that offer tax saving benefits to investors. Popularly known as tax saving funds, the category predominantly invests in equities to generate growth by way of long-term capital appreciation for investors.
When you invest in a tax saving mutual fund, the amount invested (up to Rs 1.5 lakh in a financial year) is eligible for tax exemption under section 80C of the Income Tax Act. Moreover, these mutual funds come with a lock-in period of 3 years. The lock-in is lower in comparison to traditional tax-saving instruments such as Provident Fund, Bank Fixed Deposit, etc.
Axis Long Term Equity Fund is a popular tax saving mutual fund. The fund has been efficient in generating returns superior to its benchmark and the category peers. It also stands out for its ability to manage downside risk.
--- Advertisement ---
No crash, correction, or pandemic can STOP This...

At last, it's happening...

Right here in India...three hidden mega-trends are converging for the first time ever to trigger an economic boom of unparalleled proportions.

A boom so powerful - no crash, no correction, and no pandemic can STOP India from becoming the next economic superpower...

And those who take advantage of this mega shift could potentially generate massive wealth for themselves and their families in the long run.

We are talking about potential 1,000% gains...and perhaps even more over the long term.

But trust me, people who pass this opportunity will regret their decision in the years and decades to come...

So, if you want to save yourself from potential downsides of this mega shift...

...and instead, leverage on it for potential windfall gains...

Join us on 24th September at my special event...

Put your email in the box below and get your free ticket right away.
------------------------------
Graph 1: Growth of Rs 10,000 if invested in Axis Long Term Equity Fund 5 years ago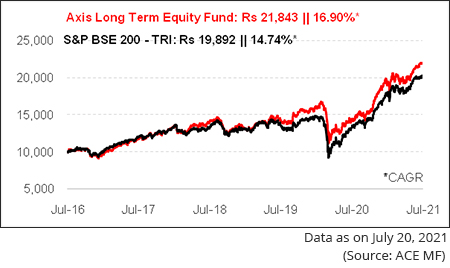 Axis Long Term Equity Fund is the most popular and largest fund in the ELSS category. Launched in December 2009, it has a track record of over a decade. The fund focuses on high-quality businesses having strong long term growth prospects. It seeks to invest in a well-diversified portfolio of companies having sustainable business models. Axis Long Term Equity Fund seeks opportunities predominantly in large-cap stocks. In addition, it has a significant allocation to mid-caps. Belonging to a process-driven fund house, the fund managed to limit downside during bear phases and it has participated well during upside rallies in the past. This has enabled it to generate significant gains for investors. Axis Long Term Equity Fund's NAV has doubled in the last five years growing at a compounded annualized growth rate (CAGR) of 16.9%. An investment of Rs 10,000 in the fund five years back would now have grown to Rs 21,843. A simultaneous investment in its benchmark would now be worth Rs 19,892.
Table: Axis Long Term Equity Fund's performance vis-a-vis category peers
Returns are point to point and in %, calculated using Direct Plan - Growth option. Those depicted over 1-Yr are compounded annualised.
Data as on July 20, 2021
(Source: ACE MF)
*Please note, this table only represents the best performing funds based solely on past returns and is NOT a recommendation. Mutual Fund investments are subject to market risks. Read all scheme related documents carefully. Past performance is not an indicator for future returns. The percentage returns shown are only for indicative purposes.
Axis Long Term Equity Fund has a very impressive long term record of generating superior returns compared to its benchmark and category peers. Even though the fund has significantly trailed the benchmark and the category average in the current bull phase, it has the ability to bounce back sharply. Its ability to efficiently contain the downside risk sets it apart from its peers. Over the long term horizon of 7-year period, the fund found its place among the top quartile performers in the category.
Axis Long Term Equity Fund has shown a fair level of stability in performance even in extreme conditions. The volatility registered by the fund is lower than many of its prominent peers as well as the benchmark. Its risk-adjusted return as denoted by Sharpe Ratio is well above the category average and the benchmark.
--- Advertisement ---
INSIDER SECRET: An Astonishingly Easy Way to Pile Up Potentially 40-60% Gains in Just 1 Year

India's most well-connected trader with over 35 years of experience just confessed...

"This Lucrative Market Segment Could Leapfrog Over Nifty in The Next 12-16 Months"

... thanks to a massive and irreversible mega-trend fueling its growth!

In fact, he and his partner have already identified 2 spectacular stocks from this segment... which are ready to rake in potentially 40-60% gains in just 1 year... and make you big, fat profits!

The best part of them all...

Their Details Are Packed in This Special Report (Discover How to Claim it for Free)
------------------------------
Investment strategy of Axis Long Term Equity Fund
Classified under ELSS Funds category, Axis Long Term Equity Fund has a mandate to invest at least 80% of its assets in equity and equity-related instruments. The scheme endeavours to remain fully invested in equity and equity-related instruments at all times. It has the flexibility to invest across the market cap spectrum. The fund maintains a large cap bias and looks to invest 50-100% of its assets in the segment. It also holds significant allocation in mid-caps, limiting the exposure to 50% of its assets. Though the funds benchmark is S&P BSE 200, the investment is not limited to the companies constituting the benchmark. The fund is completely benchmark agnostic when it comes to stock and sector selection.
While selecting stocks, Axis Long Term Equity Fund focuses on long term earnings growth prospects and quality as key criteria. Accordingly, it builds the portfolio utilising the bottom-up stock selection process, focusing on the appreciation potential of individual stocks from a fundamental perspective. While picking stocks, the fund management aims for companies that are high quality leaders, have solid growth, impeccable execution, strong finances, especially decent Operating Cash Flows, and less geared.
Graph 2: Top portfolio holdings in Axis Long Term Equity Fund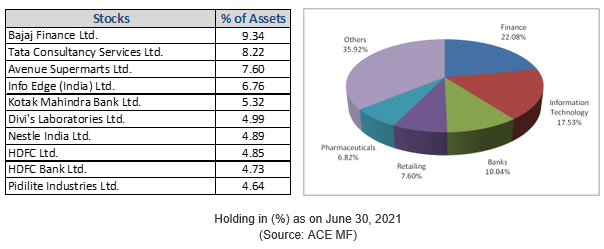 Despite having a large corpus of over Rs 30,500 crore, Axis Long Term Equity Fund holds a compact portfolio of 30-35 stocks. As on June 30, 2021, it held 29 high conviction stocks in its portfolio. The top 10 holdings in the portfolio accounted for 61.3% of its assets. Bajaj Finance is the top holding in the portfolio having an allocation of 9.3%, followed by TCS and Avenue Supermarts, with respective allocation of 8.2% and 7.6%. Most stocks in the portfolio have been part of its holding for more than two years.
REVEALED: 3 "Super Smallcaps" You Didn't Know About
In the last one year, the fund has benefited immensely from its significant holdings in companies like Bajaj Finance, Info Edge (India), TCS, Divi's Laboratories, Motherson Sumi Systems, Avenue Supermarts, HDFC Bank, Astral, Pidilite Industries, among others.
Axis Long Term Equity Fund invests in a mix of cyclicals and defensives. It has placed heavy bets on Banking and Finance that together account for nearly one third of its total assets. Infotech has the next highest allocation, followed by Retail, Pharma and Auto ancillaries.
Among the other prominent holdings are sectors like Consumption, Chemicals, Auto, and Power. These top 10 sectors constitute 87.6% of the portfolio. Axis as a fund house avoids investing in PSUs, highly cyclical, and highly regulated sectors.
Suitability
Axis Long Term Equity Fund has a long term record of superior returns compared to its benchmark and many of its category peers. The fund management resists from engaging in undue risk, which enables it to limit the downside risk during stressed market conditions. Its emphasis on picking quality stocks having high growth potential has resulted in healthy returns across market cycles in the past.
The fund has an experienced fund manager at helm, Mr Jinesh Gopani, whose convictions have played out well in the past. The fund employs prudent investment strategies and sound risk management techniques. This makes it suitable for investors looking for a relatively stable tax saving fund that has the potential to perform across market conditions and generate market beating returns in the long run.
PS: If you are looking for quality mutual fund schemes (including Equity-linked Saving Schemes) to add to your investment portfolio, I suggest you subscribe to PersonalFN's premium research service, FundSelect. PersonalFN's FundSelect service provides insightful and practical guidance on which mutual fund schemes to Buy, Hold, and Sell.
Currently, with the subscription to FundSelect, you could also get Free Bonus access to PersonalFN's Debt Fund recommendation service DebtSelect.
If you are serious about investing in a rewarding mutual fund scheme, subscribe now!
Note: This write up is for information purpose and does not constitute any kind of investment advice or a recommendation to Buy / Hold / Sell a fund. Returns mentioned herein are in no way a guarantee or promise of future returns. As an investor, you need to pick the right fund to meet your financial goals. If you are not sure about your risk appetite, do consult your investment consultant/advisor. Mutual Fund Investments are subject to market risks, read all scheme related documents carefully.
Author: Divya Grover
This article first appeared on PersonalFN here.
Join Now: PersonalFN is now on Telegram. Join FREE Today to get 'Daily Wealth Letter' and Exclusive Updates on Mutual Funds
PersonalFN is a Mumbai based personal finance firm offering Financial Planning and Mutual Fund Research services.
Disclaimer:
The views mentioned above are of the author only. Data and charts, if used, in the article have been sourced from available information and have not been authenticated by any statutory authority. The author and Equitymaster do not claim it to be accurate nor accept any responsibility for the same. The views constitute only the opinions and do not constitute any guidelines or recommendation on any course of action to be followed by the reader. Please read the detailed Terms of Use of the web site.
More Views on News
Aug 23, 2021
Interestingly, two Adani group companies top the list while a Tata group company also makes the cut.
Jun 28, 2021
Top agriculture stocks that should have your attention now.
Jun 21, 2021
List of stocks that have zero promoter holdings, where FPIs hold stake.
Sep 18, 2021
Rahul Shah on why he would invest in these unusual 20 small cap stocks
Sep 17, 2021
These specialty chemical stocks have surged 200% or more in the last year. Do you own any?
More Views on News
Most Popular
Sep 8, 2021
This IPO is a pure OFS and the company is looking to raise Rs 12.8 bn at the upper price band of Rs 744.
Sep 7, 2021
Patience is one of the biggest virtues you need to have if you want to become a crorepati in the stock market.
Sep 8, 2021
When I saw the list of so-called 'value stocks' published by a leading brokerage, my worst fears came true.
Sep 9, 2021
During the pandemic, India reported the highest increase in the use of AI at 45% compared to other major economies. AI has potential to add US$90 bn to the Indian economy by 2025.
Sep 10, 2021
My trading system that works in all kinds of markets.
More