Are You Storing Financial And Other Documents Wisely?
Are You Storing Financial And Other Documents Wisely?
Jul 26, 2019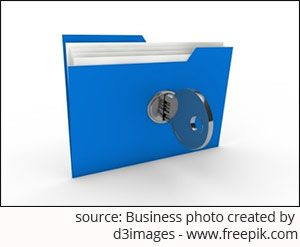 When we manage most of the finances, including paying utility bills, investments, insurance, other household expenses, etc., we maintain these records as per our convenience. Some of those who are disciplined and organised tend to store all their important financial and other documents safely.
But very often, these important documents are kept in a disorderly manner. Most people do not share the whereabouts of the documents with the other members of the family. During an emergency or in dire consequences, the family members have extreme hassles to retrieve them.
If you recollect the article about my friend Sonia and her fiance, Shantanu, understanding the need for a healthy discussion about personal finances before getting married.
--- Advertisement ---
On May 17, we are holding a FREE event to reveal Equitymaster's Great Indian Wealth Project

At this event, we'll reveal the details of your first stock for a potential Rs 7 crore in long-term wealth.

Since there are limited seats, we urge you to register at the earliest.

Click here for free sign-up
------------------------------
Having different financial upbringings, it was initially difficult for Sonia to deal with finances. However due to her husband's (Shantanu) unending support and love for her he manages their finances efficiently.
Being financially prudent, Shantanu made important financial decisions. He even maintains and stores important financial and other documents safely for the family. He always informed Sonia about where he was storing the documents. He wanted her to be aware and not face any difficulty in case an emergency arose.
Due to her attitude towards personal finances, Sonia turned a blind eye. But life is full of uncertainty and the unpredictable happened; Sonia learned the importance of these important financial documents the hard way.
One day on his way home from work Shantanu had an accident and had to undergo major surgery. Sonia was asked to pay a huge sum of money for the surgery by the hospital authorities as soon as possible.
She was in a situation where she had to withdraw surplus funds that had been saved as a contingency fund for situations just like this. Despite the money being available, the problem was that Sonia didn't know which bank to go to and where the bank details were stored in the house.
FREE Event: Discover Your First Stock for a Potential Rs 7 Crore in Long-term Wealth
Under severe stress, Sonia spent an entire day searching for the documents and bank details. When she finally found it, she rushed to the bank, but to her dismay, the bank was closed. So as soon as the bank opened the next day, she withdrew the money and went to the hospital.
Due to the delay in paying the hospital, the surgery was delayed, and Shantanu's condition became more critical.
Thankfully, the surgery was successful, and Shantanu returned home alive and safe.
From this episode, what do we learn?
The necessity to maintain financial investments and other important documents in an organised manner safely.
Share the location of the documents with family members so they can access it in times of emergency.
To keep the documents handy, so that family members can easily find it.
Do not disclose the vital information with anyone besides the close family members to avoid becoming a victim of scams and frauds.

How will you store the financial and other documents wisely?

Getting organized is an important step towards leading a financially fit lifestyle. Collect important documents and create a filing system to keep yourself organized. Create an organizer that mentions the location of the other important documents.

[Read: Are You Paying Attention To Your Financial Fitness?]

In the organizer, do not forget to mention some of these important details

Emergency contact numbers of the family doctor, tax consultant, financial planner, insurance agent;
Bank name/s, account number/s, number of FDs (with the maturity dates)
Card details (debit/credit card details)
Mutual fund investment documents (SID of a mutual fund, SIP details, etc)
Shareholding certificate details if invested in equities
Insurance policy name and type (Life and medical) with the maturity date
Any (home) loan-related documents (term of the loan, instalment amount)
Vehicle details (registration number, etc)

Try and avoid having too many paper documents, as it becomes easy to store less paper related documents. Instead choose to get a soft copy via emails that you can store digitally on the cloud or drive, so that you can access them from any place that has internet.

Ensure they are password-protected, that you can share with your spouse.

--- Advertisement ---
How to Earn a Fortune in Gold, the Smart Way

Gold is on 'the verge of a decadal run' says Vijay Bhambwani, India's #1 Trader and Editor of Fast Profits Daily at Equitymaster.

He says gold has the potential to generate staggering gains in the coming years...And those who are betting on gold right now will hit the jackpot.

But wait.

While gold is an attractive investment destination, there's a very specific way to play this opportunity...

A way that ensures you rake in maximum profit and perhaps hit the jackpot...while minimizing potential pitfalls. Thankfully, Vijay - India's #1 Trader - can guide you step-by-step in the upcoming gold rush and help hit the jackpot just at the right time.

Sure, you don't want to be an average trader. That's not how you make a fortune.

Here's how you can get Vijay's guidance...
------------------------------

You can scan the following details and save it virtually on the drive for instant access and save the original in safety box in the bank lockers or at home.

Personal Will
Spouse's Will
Insurance Policies
Invest. Papers
Property Records
Birth Certificate
PAN card
Aadhaar Card
Educational and work experience details
Marriage Certificate
Domicile Certificate
Important Agreements
Other Important Papers

If you think this is confusing with all the paper and electronic statements, agreements, receipts, and bills coming your way, you can try a little organizing exercise.

Classify the documents as per the following list, to help you get started

Table: Classification of documents

| | |
| --- | --- |
| Documents not required | Receipts, Bills of purchase from groceries, etc. |
| Documents to retain for a year | Credit/debit card statements, with the ATM Receipts to tally |
| Documents to retain for few years | Bank statements, Tax deductions, Income tax related details |
| Documents to retain until required. | Big purchases, Insurance papers, loan-related documents |
| Documents to keep forever | Personal details, wills, passport details, Pan card, Aadhaar. |

(Illustrative purpose)

To conclude:

Once you do this, you'll be prepared and feel in control, as it will help you manage your finances better. When you share this with your family members, in case when you aren't in a situation to handle the finances, they can handle the financial paperwork in a hassle-free manner

So if you ask me, in my opinion, organizing important financial/investment documents plays an important role in your financial wellbeing.

PS: Consider PersonalFN's flagship premium mutual fund research service-FundSelect, if you want insightful guidance and recommendations on some worthy funds having high growth potential, in the years to come.

If you haven't subscribed to FundSelect yet, you can do now!

Author: Aditi Murkute

This article first appeared on PersonalFN here.

PersonalFN is a Mumbai based personal finance firm offering Financial Planning and Mutual Fund Research services.

Disclaimer:

The views mentioned above are of the author only. Data and charts, if used, in the article have been sourced from available information and have not been authenticated by any statutory authority. The author and Equitymaster do not claim it to be accurate nor accept any responsibility for the same. The views constitute only the opinions and do not constitute any guidelines or recommendation on any course of action to be followed by the reader. Please read the detailed Terms of Use of the web site.

More Views on News

Apr 20, 2021

Here's the rundown on the company's latest quarterly results.

May 7, 2021

PersonalFN analyses the features of Tata Dividend Yield Fund and explains the potential this fund has to offer to its investors.

May 7, 2021

I've used this trading technique for many years with great success. I'm sharing it with you today.

May 7, 2021

Stocks you must consider investing in before buying your first electric vehicle.

May 6, 2021

PersonalFN analyses the features of Axis Healthcare ETF and explains the potential this fund has to offer to its investors.

More Views on News

Most Popular

Apr 30, 2021

In this video, I'll show you why I favour smallcaps over the Nifty.

Apr 30, 2021

Price is the only due diligence one might require to buy this business.

Apr 28, 2021

Does the concept of selling stocks in the month of May, work in the Indian market?

Apr 26, 2021

Should you invest with this Rockstar fund manager who has outperformed in a big way?

More