SEBI Proposes Swing Pricing for Mutual Funds: Will it Help Investors?
SEBI Proposes Swing Pricing for Mutual Funds: Will it Help Investors?
Jul 26, 2021
Market regulator SEBI has invited public comments/views on the proposal to introduce swing pricing for debt mutual fund schemes. The move is a part of SEBI's measures to prevent fiascos like Franklin Templeton mutual fund.
Swing pricing is an anti-dilution measure that involves adjusting a mutual fund's net asset value (NAV) if the net inflows or outflows are higher than the swing threshold.
Swing Pricing aims to deter investors from undertaking large redemption in time of crisis. In such a case, the mutual fund house will redeem a scheme by passing the cost of transaction to the investors initiating that activity instead of all existing customers. The move will allow fund managers to achieve equitable treatment of existing, entering, and exiting investors, especially during stressful market conditions.
Notably, the secondary bond market in India is not as liquid as the equity market. It can only absorb a limited amount of securities on any given day. Whenever there is redemption pressure, a scheme may have to sell its liquid assets to meet the redemption demand.
--- Advertisement ---
Revealed: A Massive 15x EV Opportunity

We concluded the EV Gold Rush special event yesterday.

And it was a mega success. Thousands of Indians had joined us LIVE.

But for some reason you couldn't make it to the event.

At the event, we revealed our complete research on this massive 15x opportunity in electric vehicles...

Including details of 3 EV stocks that could potentially offer you life-changing gains in the long run.

Click Here to Watch Full Details (Available for a limited time)
------------------------------
Therefore, the portfolio will then be left with higher exposure to less liquid assets. Furthermore, the actions of such investors could widen the price gap at which the trade is initiated and the actual price. Consequently, it affects the investors who choose to retain their investment /continue with their holding.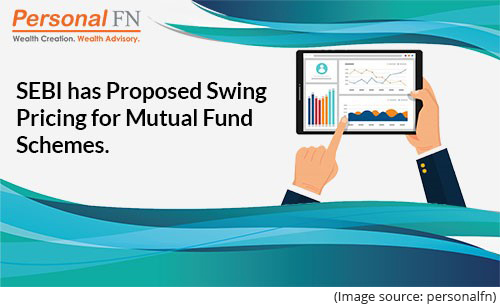 In such a scenario, if swing pricing is triggered, the NAV will be adjusted downwards so that exiting investors get a lower value than the prevailing NAV from their redemption. To this effect, SEBI anticipates that implementing the Swing Pricing measure will discourage redemptions.
Similarly, if the net inflows exceed the threshold, the NAV will be adjusted upwards. This will ensure that opportunistic investors receive lesser units.
SEBI illustrates it with the below example:
Consider a mutual fund scheme having NAV of Rs 100, swing factor of 1%, and Swing threshold of 5% (5% of net inflow or net outflow from the scheme), following is the NAV adjusted for swing pricing for three scenarios:

The adjusted NAV will then apply to all investors for a certain period. However, the swing price will be exempted for small investors redeeming up to Rs 2 lakh and Rs 5 lakh for senior citizens at mutual fund level.
--- Advertisement ---
[Alert] Sell These 3 Stocks Immediately

These 3 stocks are ticking time bombs in your portfolio.

It is very likely that you could be owning these 3 overvalued...

fundamentally weak... ready to crash stocks... in your portfolio today.

Because many stock brokers have painted rosy pictures of these stocks. But the reality is starkly different.

If the market crashes, then these stocks could wipe out your wealth.

You should get rid of these stocks as soon as possible.

Click her for full details of these 3 landmines
------------------------------
Swing pricing has two forms:
1) Full swing - NAV of the fund is adjusted every trading day regardless of the size of the investors dealing.
2) Partial swing - It is only invoked when net inflow or outflow is greater than a pre-determined threshold
SEBI has proposed a hybrid model, i.e. partial swing during normal times and a mandatory full swing during times of market dislocation.
Under normal circumstances, the applicability of swing pricing will be optional based on a pre-determined minimum swing threshold and maximum swing factor. The mutual fund scheme will have to disclose this information in the scheme information document (SID) along with details of the swing pricing policies and procedures.
SEBI proposes to mandate swing pricing during market dislocation in a phased manner. Initially it will apply to high or very high risk open-ended debt mutual fund schemes as per risk-o-meter. During liquidity-challenged environment all mutual fund schemes will have to give effect to swing pricing. A certain minimum uniform swing factor (as stipulated by SEBI) will be made applicable across the industry.
SEBI will determine market dislocation either based on the Association of Mutual Funds in India (AMFI)'s recommendation or on the combination of various factors like net redemption build up at industry level, global market indicators, Indian market indicators, as well as bond market indicators.
However, in case of scheme-level stress, the mutual fund manager will determine whether to apply swing factor or not.
Table: Minimum swing pricing as per risk class matrix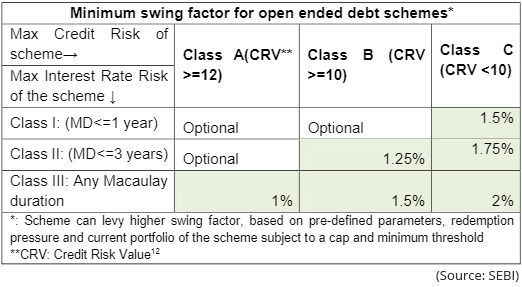 In the subsequent phases, it will examine the possibility of extending it to equity mutual fund, hybrid mutual fund schemes, solution-oriented mutual fund, and other schemes (Index funds, ETFs).
Notably, countries such as USA, UK, Singapore, France, Switzerland, among others have already implemented Swing pricing as a measure to deter large redemptions. According to SEBI, swing pricing could materially reduce the risk of run on the mutual fund and first-mover advantages. It could also potentially reduce redemption pressure because fund managers would be able to increase the cost of liquidity to be more in line with the other sources of liquidity.
Instant Updates: Join Our Telegram Channel and Get Instant Updates
The implementation of swing pricing can prove to be challenging. Some of the potential drawbacks, limitations, and challenges of swing pricing according to SEBI are listed below:
a) Swing pricing will have to fully reflect the cost the redeeming investors impose on the mutual fund scheme. This could present a challenge because liquidity costs may be difficult to ascertain in markets where secondary trading activity is typically thin and transparency is poor.
b) Mutual fund houses may find it challenging to determine appropriate parameters for swing pricing.
c) There is a risk that investors anticipate such a decision by the fund house and decide to redeem pre-emptively. This could affect all the mutual fund schemes and not only the ones perceived as more susceptible to the application of swing pricing.
Overall, SEBI's proposal can help mitigate risk during extreme market conditions by deterring large inflows/outflows. However, the actual implementation could involve lot of challenges. It now depends on how SEBI manages to clear these hurdles that will determine the success of swing pricing.
PS: If you are looking for quality mutual fund schemes to add to your investment portfolio, I suggest you subscribe to PersonalFN's premium research service, FundSelect. PersonalFN's FundSelect service provides insightful and practical guidance on which mutual fund schemes to Buy, Hold, and Sell.
Currently, with the subscription to FundSelect, you could also get Free Bonus access to PersonalFN's Debt Fund recommendation service DebtSelect.
If you are serious about investing in a rewarding mutual fund scheme, subscribe now!
Author: Divya Grover
This article first appeared on PersonalFN here.
Join Now: PersonalFN is now on Telegram. Join FREE Today to get 'Daily Wealth Letter' and Exclusive Updates on Mutual Funds
PersonalFN is a Mumbai based personal finance firm offering Financial Planning and Mutual Fund Research services.
Disclaimer:
The views mentioned above are of the author only. Data and charts, if used, in the article have been sourced from available information and have not been authenticated by any statutory authority. The author and Equitymaster do not claim it to be accurate nor accept any responsibility for the same. The views constitute only the opinions and do not constitute any guidelines or recommendation on any course of action to be followed by the reader. Please read the detailed Terms of Use of the web site.
More Views on News
Oct 15, 2021
The government's plan to divest its stakes in PSUs could spark off a rally in these four stocks.
Oct 11, 2021
To corporatise the defence sector, the Ministry of Defence (MoD) has dissolved the 250-year-old Ordnance Factory Board (OFB).
Oct 7, 2021
Here's how you can invest in some of the most exciting start-ups of the decade.
Oct 26, 2021
Can the dollar index tell us how the Nifty will move? Yes. Find out in this video...
Oct 26, 2021
As the EV transition happens this auto ancillary firm only stands to gain.
More Views on News
Most Popular
Oct 13, 2021
The excitement around green energy stocks has opened up a huge contrarian opportunity in the traditional energy space.
Oct 13, 2021
Why should investors take it for granted that India's Tesla will be one of the major auto stocks?
Oct 15, 2021
Tata group stocks are on fire. Find out which one deserves your attention.
Oct 13, 2021
Tata Motors zooms 23% after report of TPG investing Rs 75 bn in EV arm.
Oct 15, 2021
The government's plan to divest its stakes in PSUs could spark off a rally in these four stocks.
More