SEBI Proposes Swing Pricing for Mutual Funds: Will it Help Investors?
SEBI Proposes Swing Pricing for Mutual Funds: Will it Help Investors?
Jul 26, 2021
Market regulator SEBI has invited public comments/views on the proposal to introduce swing pricing for debt mutual fund schemes. The move is a part of SEBI's measures to prevent fiascos like Franklin Templeton mutual fund.
Swing pricing is an anti-dilution measure that involves adjusting a mutual fund's net asset value (NAV) if the net inflows or outflows are higher than the swing threshold.
Swing Pricing aims to deter investors from undertaking large redemption in time of crisis. In such a case, the mutual fund house will redeem a scheme by passing the cost of transaction to the investors initiating that activity instead of all existing customers. The move will allow fund managers to achieve equitable treatment of existing, entering, and exiting investors, especially during stressful market conditions.
Notably, the secondary bond market in India is not as liquid as the equity market. It can only absorb a limited amount of securities on any given day. Whenever there is redemption pressure, a scheme may have to sell its liquid assets to meet the redemption demand.
--- Advertisement ---
3 Hidden Forces are Converging for the First Time Ever...

This convergence is going to unleash a once-in-a-generation wealth boom.

A wealth boom that could potentially mint countless new dollar millionaires as the stocks at the heart of this event return thousands of percent over the long term.

It's a story of ground-breaking consequences that cannot be ignored.

Our co-head of research, Tanushree Banerjee, is going to reveal all about this historic event on the evening of September 24.

Tanushree believes, those who invest in the companies at the heart of this event could turn a small stake into generational wealth.

Just head to this page to get more details about this historic event...
------------------------------
Therefore, the portfolio will then be left with higher exposure to less liquid assets. Furthermore, the actions of such investors could widen the price gap at which the trade is initiated and the actual price. Consequently, it affects the investors who choose to retain their investment /continue with their holding.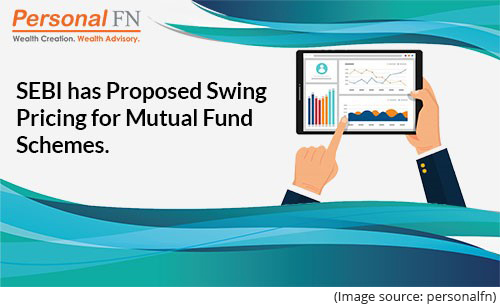 In such a scenario, if swing pricing is triggered, the NAV will be adjusted downwards so that exiting investors get a lower value than the prevailing NAV from their redemption. To this effect, SEBI anticipates that implementing the Swing Pricing measure will discourage redemptions.
Similarly, if the net inflows exceed the threshold, the NAV will be adjusted upwards. This will ensure that opportunistic investors receive lesser units.
SEBI illustrates it with the below example:
Consider a mutual fund scheme having NAV of Rs 100, swing factor of 1%, and Swing threshold of 5% (5% of net inflow or net outflow from the scheme), following is the NAV adjusted for swing pricing for three scenarios:

The adjusted NAV will then apply to all investors for a certain period. However, the swing price will be exempted for small investors redeeming up to Rs 2 lakh and Rs 5 lakh for senior citizens at mutual fund level.
--- Advertisement ---
SPECIAL REPORT REVEALS: Real Estate Success Secrets of India's Most Respected Traders...

• A Secret 33-Year-Old Pattern That Has Just Remerged to Practically Guarantee a Massive Bull Run in Real Estate Over the Coming Years!

• The #1 Trend You Need to Know Before Investing in Real Estate This Year (Even if You Deal with Traditional Real Estate Investing and Have Nothing to Do with Stocks, this is a MUST KNOW)

• INVESTING IN COMA: Why People Who Invested in Real Estate Before 2019 Didn't Make Any Money (and Why Now is The Right Time to Get Started)

Here's How to Grab a FREE COPY Today
------------------------------
Swing pricing has two forms:
1) Full swing - NAV of the fund is adjusted every trading day regardless of the size of the investors dealing.
2) Partial swing - It is only invoked when net inflow or outflow is greater than a pre-determined threshold
SEBI has proposed a hybrid model, i.e. partial swing during normal times and a mandatory full swing during times of market dislocation.
Under normal circumstances, the applicability of swing pricing will be optional based on a pre-determined minimum swing threshold and maximum swing factor. The mutual fund scheme will have to disclose this information in the scheme information document (SID) along with details of the swing pricing policies and procedures.
SEBI proposes to mandate swing pricing during market dislocation in a phased manner. Initially it will apply to high or very high risk open-ended debt mutual fund schemes as per risk-o-meter. During liquidity-challenged environment all mutual fund schemes will have to give effect to swing pricing. A certain minimum uniform swing factor (as stipulated by SEBI) will be made applicable across the industry.
SEBI will determine market dislocation either based on the Association of Mutual Funds in India (AMFI)'s recommendation or on the combination of various factors like net redemption build up at industry level, global market indicators, Indian market indicators, as well as bond market indicators.
However, in case of scheme-level stress, the mutual fund manager will determine whether to apply swing factor or not.
Table: Minimum swing pricing as per risk class matrix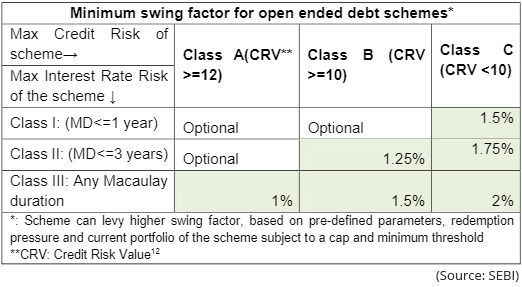 In the subsequent phases, it will examine the possibility of extending it to equity mutual fund, hybrid mutual fund schemes, solution-oriented mutual fund, and other schemes (Index funds, ETFs).
Notably, countries such as USA, UK, Singapore, France, Switzerland, among others have already implemented Swing pricing as a measure to deter large redemptions. According to SEBI, swing pricing could materially reduce the risk of run on the mutual fund and first-mover advantages. It could also potentially reduce redemption pressure because fund managers would be able to increase the cost of liquidity to be more in line with the other sources of liquidity.
REVEALED: Details of 3 "Super Smallcap" Stocks Nobody Tells You About...
The implementation of swing pricing can prove to be challenging. Some of the potential drawbacks, limitations, and challenges of swing pricing according to SEBI are listed below:
a) Swing pricing will have to fully reflect the cost the redeeming investors impose on the mutual fund scheme. This could present a challenge because liquidity costs may be difficult to ascertain in markets where secondary trading activity is typically thin and transparency is poor.
b) Mutual fund houses may find it challenging to determine appropriate parameters for swing pricing.
c) There is a risk that investors anticipate such a decision by the fund house and decide to redeem pre-emptively. This could affect all the mutual fund schemes and not only the ones perceived as more susceptible to the application of swing pricing.
Overall, SEBI's proposal can help mitigate risk during extreme market conditions by deterring large inflows/outflows. However, the actual implementation could involve lot of challenges. It now depends on how SEBI manages to clear these hurdles that will determine the success of swing pricing.
PS: If you are looking for quality mutual fund schemes to add to your investment portfolio, I suggest you subscribe to PersonalFN's premium research service, FundSelect. PersonalFN's FundSelect service provides insightful and practical guidance on which mutual fund schemes to Buy, Hold, and Sell.
Currently, with the subscription to FundSelect, you could also get Free Bonus access to PersonalFN's Debt Fund recommendation service DebtSelect.
If you are serious about investing in a rewarding mutual fund scheme, subscribe now!
Author: Divya Grover
This article first appeared on PersonalFN here.
Join Now: PersonalFN is now on Telegram. Join FREE Today to get 'Daily Wealth Letter' and Exclusive Updates on Mutual Funds
PersonalFN is a Mumbai based personal finance firm offering Financial Planning and Mutual Fund Research services.
Disclaimer:
The views mentioned above are of the author only. Data and charts, if used, in the article have been sourced from available information and have not been authenticated by any statutory authority. The author and Equitymaster do not claim it to be accurate nor accept any responsibility for the same. The views constitute only the opinions and do not constitute any guidelines or recommendation on any course of action to be followed by the reader. Please read the detailed Terms of Use of the web site.
More Views on News
Aug 23, 2021
Interestingly, two Adani group companies top the list while a Tata group company also makes the cut.
Jun 28, 2021
Top agriculture stocks that should have your attention now.
Jun 21, 2021
List of stocks that have zero promoter holdings, where FPIs hold stake.
Sep 17, 2021
These stocks will give you better yields than bank deposits.
Sep 17, 2021
Is the worst over for the stock of ITC?
More Views on News
Most Popular
Sep 8, 2021
This IPO is a pure OFS and the company is looking to raise Rs 12.8 bn at the upper price band of Rs 744.
Sep 7, 2021
Patience is one of the biggest virtues you need to have if you want to become a crorepati in the stock market.
Sep 8, 2021
When I saw the list of so-called 'value stocks' published by a leading brokerage, my worst fears came true.
Sep 9, 2021
During the pandemic, India reported the highest increase in the use of AI at 45% compared to other major economies. AI has potential to add US$90 bn to the Indian economy by 2025.
Sep 4, 2021
The term 'revenge travel' refers to the desire of going on a vacation after an extended period of lockdown.
More