Is Investing in IPOs a Good Idea for Pension Funds?
Is Investing in IPOs a Good Idea for Pension Funds?
Jul 27, 2021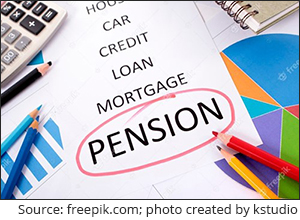 The primary markets in India are firing on all cylinders these days.
Companies such as GR Infra Projects and Clean Science & Technology listed at a nearly 100% premium over their issue price.
Similarly, the loss-making Zomato Ltd. IPO that attracted marquee investors, despite expensive valuations, listed with a gain of more than 50% on the stock exchanges over its issue price of Rs 76 per share. According to the National Stock Exchange (NSE) data, 69.48 crore shares were traded on day one which amounted to a total traded transaction value of Rs 8,625 crore.
Such massive trading volumes are hard to imagine without the participation of institutional investors. And this has left retail investors to wonder how do IPOs work, and how do they command a premium. A fact is, like retail investors, even institutional investors have bought into certain IPOs regardless of their valuations.
And noting the success of IPOs over the last 12-15 months, the Pension Fund Regulatory and Development Authority (PFRDA) is now tempted to participate in the primary markets.
--- Advertisement ---
Automobile Sector's Colossal Disruption Could Make You a Fortune

During any major disruption in a sector, fortunes are created.

And now, we are at the cusp of a major disruption that the automotive sector will experience.

It is the electric vehicles gold rush.

At Equitymaster, we have unearthed a hidden way to ride the 15x EV opportunity so that you could take home potentially life-changing gains in the long run.

You can get all details of the hidden way in our upcoming special online event.

YES, Register Me for FREE
------------------------------
Currently, PFRDA doesn't permit pension funds to invest in IPOs. But going forward, pension money may be invested in IPOs.
While speaking to the media, PFRDA chairman, Supratim Bandyopadhyay expressed that, "Pension funds have been missing out on good opportunities to invest in IPOs. We have seen good companies coming out with their IPOs that provide an opportunity to invest at an early stage and benefit from their growth."
The PFRDA guidelines, currently allow equity investments by a pension fund up to 15% of its assets in:
The shares of listed companies on which derivatives are available
The companies having at least Rs 5,000 crore of market capitalization
Unit of equity mutual funds listed on exchanges
Exchange-Traded Funds (ETFs) replicating the S&P BSE Sensex or Nifty 50
ETFs launched by SEBI regulated mutual fund houses exclusively for investing in companies forming the part of the government's disinvestment programme
SEBI-regulated Exchange Traded Derivatives on a permitted stock or an index for the purpose of hedging only
The investment in derivatives up to 5% of the portfolio
The PFRDA has about 4.24 crore subscribers as of March 31, 2021. Of these, 1.44 crore are under the National Pension System (NPS), and the remaining are under the Atal Pension Yojana (APY). For the purpose of further discussion, let's exclude the subscribers of APY, since that is a guaranteed benefit scheme.
The Asset Under Management (AUM) of PFRDA (excluding that under APY) as of March 31, 2021, was Rs 5.63 lakh crore. Against this, the returns generated on the equity component of pension funds has been around 11% CAGR returns over the last 12 years.
--- Advertisement ---
The Rebirth of India

India's leading research analyst, Tanushree Banerjee, will show our readers how an upcoming mega shift would drastically change the state of the Indian economy...

And how investing in three high-potential stocks at the heart of this rebirth...

...could potentially hand them 100%, 300%, 500%, even 1,000% or more in the long run.

Since you are one of our valued readers, we sincerely urge you to head over here for more details
------------------------------
How safe is it to allow pension money or retirement funds into IPOs?
Well, the Pension Fund Regulator has not come up with a framework to invest in IPOs so far. The comprehensive guidelines are expected in a week or two. After that some clarity will prevail on the criteria pensions funds will follow to invest in IPOs.
In my view, the following criteria must be taken into consideration among others:
The number of years of a company's existence
Valuations
The company's profitability
The dividend track record
The corporate governance
You see, there have been enough instances of the effervescence of IPOs lulling soon after their listing. IPOs of companies such as, DLF, Gammon Infrastructure, and Reliance power, as you may know, had a big following. Many investors put most of their savings to subscribe and bought these shares at the time of IPOs. However, they have been miserably let down over the years.
Whether we run such risks at this juncture? Maybe, yes!
Since we are in a risk-on-investment environment, companies launching IPOs, including the profit-making ones, are demanding expensive valuations. Zomato's success might have opened the floodgates of capital markets to other loss-making start-ups, but that does not make a case to invest in many of them. In my view, equity investments particularly in IPOs should be done very carefully, especially when it's your retirement fund.
Besides IPOs, PFRDA is also evaluating the possibilities of allowing pension funds to invest in Real Estate Investment Trusts (REITs) and Infrastructure Investment Trust (InvITs). These asset classes are considered relatively stable since they generate regular income and carry lower risk as compared to equity assets. Once the proposed changes get implemented, the chances of NPS generating higher returns may improve.
At this stage, I would like to ask you a simple question. Do you think you can entirely rely on pension funds to generate an adequate retirement savings corpus?
In my view, no one can solely depend on pension funds given the rising inflation and decreasing career spans to generate a respectable retirement corpus. Previous generations worked until 60 years, but nowadays we often hear people talking about retiring in their early 50s. The life expectancy has consistently increased with access to better healthcare plus rising awareness, and therefore, ensuring your retirement money lasts for golden years is essential.
Join Today: Equitymaster is on Telegram. Join FREE Today for Exclusive market Updates
Here's a 7-step approach to plan your retirement better:
Step #1 - Decide when you wish to retire - at what age, although 60 is usually the norm
Step #2 - Determine your retirement corpus prudently
Step #3 - List down all your assets and liabilities to know where you stand today and plan accordingly
Step #4 - Compute the amount you need to save; then plan your investments smartly and systematically (SIP into mutual funds)
Step #5 - Hold an adequate amount as a contingency reserve to handle unexpected expenses
Step #6 - Get started with executing your retirement plan right away
Step #7 - Review your retirement plan regularly to make sure you are on track to a blissful retired life.
Also, watch this video on Calculating Your Retirement Corpus
"As in all successful ventures, the foundation of a good retirement is planning." - Earl Nightingale
To build wealth for your retirement, you may choose equity-oriented mutual fund schemes as long as you have a high-risk appetite and more than 5 years before you hang up your work boots.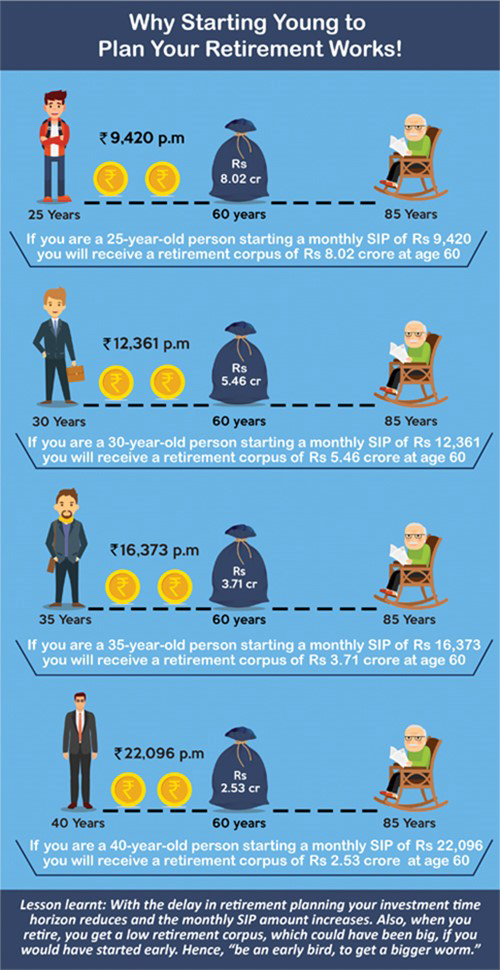 The best way to invest in equity-oriented mutual funds is through a Systematic investment plan (SIP), where you can invest a certain fixed amount regularly (weekly, monthly or quarterly). This will instil the necessary discipline to build a respectable corpus for your retirement.
When you invest in SIP, the inherent rupee-cost averaging feature will enable you to mitigate the volatility better and focus on 'time in the market'. Additionally, as you invest and earn returns, the returns will be reinvested and thus your wealth would grow powered by the process of compounding.
Remember, patience and discipline are important to tide over market volatility and build wealth.
If you too want to retire blissfully and rich, don't miss out on PersonalFN's Retire Rich service. This is an exclusive service with the sole intent of securing your retirement.
You will gain the benefit of investing in Top Mutual Fund schemes along with a DIY (Do It Yourself) retirement solution, where you can start planning for your retirement and potentially build a substantial corpus that could sustain you in the golden years of your life.
Happy Investing!
Author: Rounaq Neroy
This article first appeared on PersonalFN here.
Join Now: PersonalFN is now on Telegram. Join FREE Today to get 'Daily Wealth Letter' and Exclusive Updates on Mutual Funds
PersonalFN is a Mumbai based personal finance firm offering Financial Planning and Mutual Fund Research services.
Disclaimer:
The views mentioned above are of the author only. Data and charts, if used, in the article have been sourced from available information and have not been authenticated by any statutory authority. The author and Equitymaster do not claim it to be accurate nor accept any responsibility for the same. The views constitute only the opinions and do not constitute any guidelines or recommendation on any course of action to be followed by the reader. Please read the detailed Terms of Use of the web site.
More Views on News
Oct 15, 2021
The government's plan to divest its stakes in PSUs could spark off a rally in these four stocks.
Oct 11, 2021
To corporatise the defence sector, the Ministry of Defence (MoD) has dissolved the 250-year-old Ordnance Factory Board (OFB).
Oct 7, 2021
Here's how you can invest in some of the most exciting start-ups of the decade.
Oct 16, 2021
In its latest meeting, the US Federal Bank said it would reduce the pace of its monthly asset purchases. Should investors be worried?
Oct 16, 2021
Rahul Shah on the surprising result while doing a study on buying high quality stocks.
More Views on News
Most Popular
Oct 11, 2021
Given the huge run up in Tata Power, does it make sense to switch to NTPC?
Oct 8, 2021
After months of research, I've come across few stocks that excite me far more than the mainstream electric vehicle companies.
Oct 8, 2021
These cryptos would have multiplied investors' wealth by as much as 10,000% in just nine months.
Oct 6, 2021
These companies are leading the Government's US$1 tn 'Digital India' initiative.
Oct 7, 2021
Here's how you can invest in some of the most exciting start-ups of the decade.
More