Are You Planning to Sell Some Gold at A Market High? Here Are the Tax Implications
Are You Planning to Sell Some Gold at A Market High? Here Are the Tax Implications
Jul 29, 2020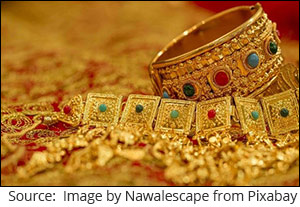 Gold has always been handy to rescue someone from stressful times over the years, due to its ability to act as a hedge. Gold is the only asset that is treated differently...
It has proven itself to be symbolic of wealth that carries immense value
Highly liquid asset
Can deliver better long-term, risk-adjusted returns
An effective diversifier than other commodities
Outperforms in low inflation periods
Gold has lower volatility
Gold does not degrade over time, unlike several traditional commodities
Recognising the true intrinsic worth of gold investment, it is not restricted to only physical investment because of pandemic lockdown.
Gold retail demand slumped due to the disruption to the gold supply chain and certain issues pertaining to physical gold, such as gauging purity, different vendors offering different prices, lack of having secure storage facility, and the disappointment at the resale price of gold investors are offered.
But gold investment increased in non-physical form and the gold index has sky rocketed highlights effective nature of gold as an asset having a negative correlation with other assets during risk-off periods, protecting the investors' capital against tail risks and other events that have an adverse impact on capital or wealth.
--------Advt---------
Gold is unstoppable.
Will the yellow metal cross the ?75,000 mark? What should be your next move?
Get the answers at our Exclusive Webinar on Gold - Is Gold ? 75,000 Around the Corner?, on July 31, 6:00 p.m.
Register for free to Join Chirag Mehta, our Speaker for this event, as he talks about the benefits of investing in Gold during these unnerving times.
------------------------
When economic conditions are benign, there is slower consumer growth and inflationary pressure, which works in gold's favour. During these times, however, market participants try to safeguard their capital against extreme losses and choose assets like gold. This increases gold investment demand and drives up the gold prices. That's why from an investment standpoint, it is one of the most sought after safe-haven investment options.
The COVID-19 pandemic has affected peoples' income as well due to job losses and/or pay cuts. During such adversity, people are dipping into to their savings, emergency pools, investments, and selling of the gold.
[Read: How to Optimally Manage Cash in Times of COVID-19]
In India, gold has been a part of the family heirloom that's passed down from generations and symbolic of wealth. In current times, many individuals who are in need of cash are selling gold because the value of gold has appreciated manifolds and can help them to deal with their financial crisis.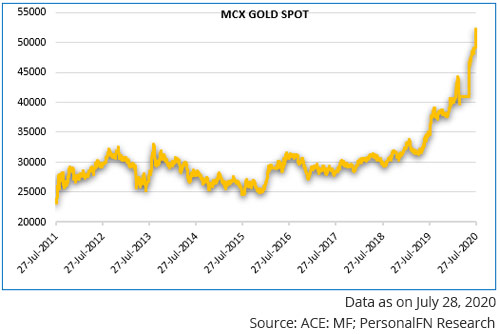 If you are thinking of selling your gold or redeeming your gold investments. Read further to understand the tax implications.
Physical Gold (Coins, Bar, Jewellery, etc.):



When you buy physical gold, a 3% GST is levied, when you sell to the same jeweller it was bought from because the retailer will give the similar rate for the same purity at which it was sold. But it's not possible always to do so because much of the inherited jewellery may have been bought somewhere else or decades back. So depending on the presence of hallmark certification of purity, the rate is manipulated, differs from retailer to retailer and is, generally, lower.

When you sell off your physical gold, depending on the period of holding, either a Short-Term Capital Gains Tax or Long-Term Capital Gain Tax, as the case may be, applies only on the gains made.

If the product is sold before 3 years from the date of purchase, it will be taxed under Short term Capital gains and will be as per the income tax slab (by including the gains in the Gross Total Income). Whereas if you sell it after 3 years or more it is taxed under Longer term capital gains. It will be taxed @20% (with indexation benefit available) + applicable surcharge + 4% cess.

Paper Gold (Gold ETF, Gold Savings Fund, and Sovereign Gold Bonds)

Gold Funds (Gold ETF, Gold Savings Fund)



Gold ETFs and a Gold Savings Fund are smart ways to invest in gold without tangibly holding it, so you do not have to face storage problems or worry about theft. Gold ETFs trade on the cash market of the National Stock Exchange, like any other company stock, and these can be bought and sold continuously at market prices.

Gold Savings Fund is basically a fund of fund scheme that invests its corpus into an underlying Gold ETF, which benchmarks the performance against the physical prices of gold. Hence, by doing so the returns closely correspond to the one clocked by the underlying gold ETF.

Since they are traded funds on the stock exchanges at the prevailing market price, no tax is applied at the time of purchase. However, when redeem your units from a tax perspective, it is like that of physical gold. If you sell a Gold Fund unit within three years, there will be a short term capital gains (STCG) tax applicable based on your income tax slab.

However, if a Gold Fund unit sold after 3 years, a 20% long term capital gains (LTCG) tax with indexation, i.e. adjusting for inflation on capital gains including the surcharge + 4% cess is applicable.

Sovereign Gold Bonds



The Bonds are issued in denominations of one gram of gold and in multiples thereof. Minimum investment in the Bond shall be one gram, with a maximum limit of subscription of 4 kg for individuals.

These bonds are sold through offices or branches of Nationalised Banks, Scheduled Private Banks, Scheduled Foreign Banks, designated Post Offices, Stock Holding Corporation of India Ltd. (SHCIL), and the authorised stock exchanges, either directly or through their agents.

For subscription to SGB, the government issues it in the form of a series of tranches for an initial investment amount of Rs 20,000. However, one can purchase units from the secondary market as well. Hence, no tax levied at the time of issue.

The interest earned on the Bonds will be taxable under "Income from Other Sources" as per the provision of Income Tax Act, 1961 and taxed as per one's income-tax slab. Whereas at the time of sale at maturity, i.e. at the end of 8 years, it is exempt from capital gain tax.

While if the bonds are sold before maturity, i.e. after the end of lock-in period of 5 years but before 8-year, a Long Term Capital Gain (LTCG) tax @ 20% (with indexation benefit) + applicable surcharge and 4% cess will be applicable.

Digital Gold



A product that is distributed through the digital platforms of banks, broking and fintech companies and others appointed by the vendors to invest in physical gold form digitally.

The prices are decided by the issuers or vendors. The rate is based on international price of gold, the USD-INR exchange rate and customs duty that is currently applicable. Hence, it is taxed as same as physical gold.
Conclusion:
Before selling your Gold heirloom or redeeming your gold investments, do evaluate the tax implications involved as mentioned above. Remember gold's traditional role as a safe-haven asset means it can demonstrate its qualities during times of high risk.
[Read: Things to Keep in Mind As You Handle Your Personal Finances in July]
It helps deal with systemic risk, during stressful times. Gold as an asset has a negative correlation with other assets during risk-off periods, protecting the investors' capital against tail risks, and other events that have an adverse impact on capital or wealth. This safety of cap is not present in other commodities or assets.
Gold's dual appeal as an investment and a consumer good means it can generate positive returns in good times too.
Be wise when dealing with gold.
PS: The last few years have not been among the best for equity mutual funds. While most funds have underperformed or are struggling to match the returns of the benchmark, there are few funds that have the potential to constantly generate alpha for its investors. We have identified five such high alpha generating funds, in our latest report 'The Alpha Funds Report 2020'. Click here to get access to the report.
Join Now: PersonalFN is now on Telegram. Join FREE Today to get 'Daily Wealth Letter' and Exclusive Updates on Mutual Funds
PersonalFN is a Mumbai based personal finance firm offering Financial Planning and Mutual Fund Research services.
Disclaimer:
The views mentioned above are of the author only. Data and charts, if used, in the article have been sourced from available information and have not been authenticated by any statutory authority. The author and Equitymaster do not claim it to be accurate nor accept any responsibility for the same. The views constitute only the opinions and do not constitute any guidelines or recommendation on any course of action to be followed by the reader. Please read the detailed Terms of Use of the web site.
More Views on News
Apr 14, 2021
In this video, I'll tell you how the RBI's new quantitative easing program could affect the stock market.
Apr 14, 2021
Will apps like Netflix deal a death blow to theatres? Find out here...
Apr 13, 2021
PersonalFN explains the outlook for Banking & PSU Debt funds and the best Banking & PSU Debt funds that can be considered for investment in 2021.
Apr 13, 2021
Ajit Dayal on how India's vaccine strategy will impact the markets.
Apr 13, 2021
In this video, I'll you what I think is the real reason behind yesterday's market crash.
More Views on News
Most Popular
Apr 6, 2021
Rather than predicting the market, successful investing is more about preparing well and placing your bets accordingly.
Apr 1, 2021
What should you do if the market falls? In this video, I'll tell you what I will do.
Apr 1, 2021
A favourable demand supply scenario makes a strong case for real estate prices.
Apr 13, 2021
Ajit Dayal on how India's vaccine strategy will impact the markets.
Apr 1, 2021
Rahul Shah on whether Bharti Airtel will emerge as the next big thing in the Indian stock market
More