SBI Focused Equity Fund: Benefitting from Focused Attention
SBI Focused Equity Fund: Benefitting from Focused Attention
Jul 30, 2021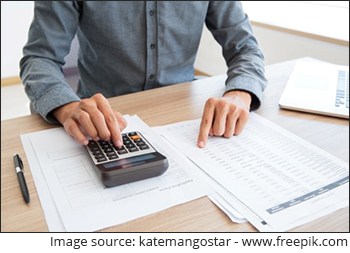 The investment universe of a mutual fund scheme may comprise over 200-300 stocks. From this the fund managers usually select 50-60 stocks that become part of the final portfolio. However, focused funds have the mandate to limit their holding to not more than 30 stocks. Focused funds aim to use the fund manager's expertise in stock picking, along with ability to generate high alpha. They have the potential to offer investors market-beating returns in the long run.
A focused fund's strategy is based on the assumption that a higher allocation to select conviction stocks usually pays off in the long run. The concentrated nature of a focused fund exposes it to concentration risk. However, the fund managers try to mitigate this risk by diversifying across market caps and sectors.
In the current market scenario where the market is trading at all-time high levels, only a few high quality stocks can be expected to perform well on a sustainable basis. Therefore, when you invest in a focused fund, stick with experienced fund managers who have proven their ability to take timely calls and have been capable of generating significant alpha for investors.
SBI Focused Equity Fund is a popular focused fund that has displayed superior performance over longer time periods and generated reasonable risk-adjusted returns for its investors.
--- Advertisement ---
[Alert] Sell These 3 Stocks Immediately

These 3 stocks are ticking time bombs in your portfolio.

It is very likely that you could be owning these 3 overvalued...

fundamentally weak... ready to crash stocks... in your portfolio today.

Because many stock brokers have painted rosy pictures of these stocks. But the reality is starkly different.

If the market crashes, then these stocks could wipe out your wealth.

You should get rid of these stocks as soon as possible.

We are going to reveal details of these 3 landmines at our upcoming special event at 5 pm on September 24.

You can click here to sign-up. It's free
------------------------------
Graph 1: Growth of Rs 10,000 if invested in SBI Focused Equity Fund 5 years ago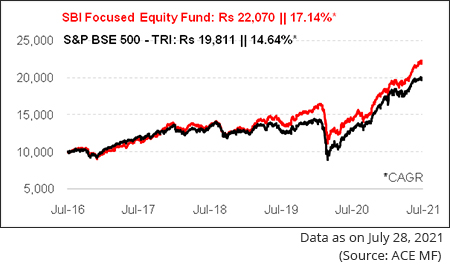 SBI Focused Equity Fund aims to benefit from the fund managers' focused attention and future potential of high conviction stocks. Accordingly, it invests in a concentrated portfolio of 30 high quality stocks. Earlier, known as SBI Emerging Businesses Fund, it had the mandate of investing in high growth-oriented mid and small-cap stocks. However, after SEBI implemented re-categorisation norms in 2018, the scheme was classified as Focused Fund and renamed as SBI Focused Equity Fund. SBI Focused Equity Fund still has significant exposure to mid-cap and small-cap stocks. However, its predominant allocation to large-caps helps to keep the risk low. The fund's ability to restrict losses stands out when compared to its peers and the benchmark. Moreover, the fund has done well during market rallies too. In the last five years SBI Focused Equity Fund has generated a compounded annualised return of around 17.1%. During this period it has outpaced its benchmark S&P BSE 500 - TRI index by a CAGR of around 2.5 percentage points.
Table: SBI Focused Equity Fund's performance vis-a-vis category peers
Returns are point to point and in %, calculated using Direct Plan - Growth option. Those depicted over 1-Yr are compounded annualized
Data as on July 28, 2021
(Source: ACE MF)
*Please note, this table only represents the best performing funds based solely on past returns and is NOT a recommendation. Mutual Fund investments are subject to market risks. Read all scheme related documents carefully. Past performance is not an indicator for future returns. The percentage returns shown are only for indicative purposes.
SBI Focused Equity Fund is a well-managed scheme that holds spot among the top quartile performers over longer time periods. The fund has distinctly outperformed its benchmark S&P BSE 500 - TRI across periods. Over the 5-year and 7-year duration, SBI Focused Equity Fund has managed to generate an alpha of 2.5-4 percentage points over the benchmark index and outpaced many of its peers. On a shorter 1-year to 3-year period the fund has managed to outpace the index and the category average by a noticeable margin.
With a standard deviation of 20.84%, SBI Focused Equity Fund has shown lower volatility compared to the benchmark and the category average. Its Sharpe Ratio of 0.19 is ahead of the benchmark and the category average, indicating its ability to generate decent premium for the level of risk taken. With this the fund has generated reasonable risk-adjusted returns for its investors.
REVEALED: 3 "Super Smallcaps" You Didn't Know About
Investment strategy of SBI Focused Equity Fund
Being a focused fund, SBI Focused Equity Fund has a mandate to take high conviction bets, where the total number of securities in the portfolio would be equal to or under 30. It can invest minimum 65% of its assets in equity and equity related instruments. It has the flexibility to invest up to 35% of its assets in debt and money market instruments. However, the fund has avoided maintaining higher allocation in this asset class. The fund also holds the flexibility to invest up to 35% of its assets in foreign securities.
SBI Focused Equity Fund follows the bottom-up approach to stock picking and takes high conviction bets in high growth-oriented companies. Its portfolio is spread across market capitalisation, sectors, and geographies. Aiming to benefit from high growth-oriented opportunities, the fund manager at times churns a significant portion of the portfolio.
In the last one year, the fund held an allocation of about 50% to 60% of its assets in large caps, along with a combined allocation of about 20-35% in mid caps and up to 5% in small caps. In addition to this, it held up to 10% of its assets in overseas equities.
Graph 2: Top portfolio holdings in SBI Focused Equity Fund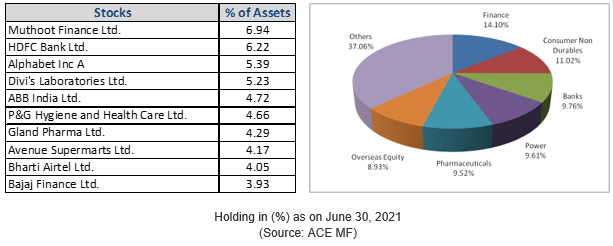 As on June 30, 2021, SBI Focused Equity Fund held a compact portfolio of 24 stocks diversified across various sectors. The top 10 stocks constitute names like Muthoot Finance, HDFC Bank, Divi's Laboratories, ABB India, P&G Hygiene and Healthcare, among others. The fund also holds two overseas stocks viz. Alphabet Inc. and NVIDIA Corporation. Of these, Alphabet Inc. currently forms part of the fund's top 10 holdings.
Stocks like Bajaj Finance, Divi's Laboratories, HDFC Bank, Hatsun Agro Products, Tube Investments of India, Relaxo Footwears, etc. contributed the most to the fund's gain in the last one year. The fund has also benefitted from its holdings in P&G Hygiene & Healthcare, Page Industries, Solar Industries (India), Kotak Mahindra Bank, Torrent Power, ABB India, among others.
SBI Focused Equity Fund's portfolio is currently diversified across host of cyclical and defensive sectors. Nearly, one-fourth of its portfolio is allocated to stocks in the Banking and Financial sector, followed by Consumption having an allocation of 11%. Pharma, Consumer Durables, Engineering, Retail, Telecom services, and Chemicals stood among other prominent sectors, with an exposure of around 3% or more in each.
--- Advertisement ---
INSIDER SECRET: An Astonishingly Easy Way to Pile Up Potentially 40-60% Gains in Just 1 Year

India's most well-connected trader with over 35 years of experience just confessed...

"This Lucrative Market Segment Could Leapfrog Over Nifty in The Next 12-16 Months"

... thanks to a massive and irreversible mega-trend fueling its growth!

In fact, he and his partner have already identified 2 spectacular stocks from this segment... which are ready to rake in potentially 40-60% gains in just 1 year... and make you big, fat profits!

The best part of them all...

Their Details Are Packed in This Special Report (Discover How to Claim it for Free)
------------------------------
Suitability
Belonging to a fund house that follows prudent investment strategies and risk management processes, the fund has a track record of timely identifying fundamentally sound stocks which has helped reward its investors well in the past. The fund not only has the ability to protect the downside in depressed market conditions, but can also participate well in recovery and market rally.
SBI Focused Equity Fund invests across market caps along with exposure to international equities. Such diversification enables the fund to do well across market conditions. Mr R Srinivasan has been managing SBI Focused Equity Fund for over a decade now. His adherence to picking high conviction multibagger stocks has helped the fund generate market-beating returns across market cycles.
The aggressive investment mandate along with significant allocation to mid and small-caps makes SBI Focused Equity Fund suitable only for investors having a higher risk tolerance and a longer investment horizon of 5-7 years.
PS: If you are looking for quality mutual fund schemes (including Equity-linked Saving Schemes) to add to your investment portfolio, I suggest you subscribe to PersonalFN's premium research service, FundSelect. PersonalFN's FundSelect service provides insightful and practical guidance on which mutual fund schemes to Buy, Hold, and Sell.
Currently, with the subscription to FundSelect, you could also get Free Bonus access to PersonalFN's Debt Fund recommendation service DebtSelect.
If you are serious about investing in a rewarding mutual fund scheme, subscribe now!
Note: This write up is for information purpose and does not constitute any kind of investment advice or a recommendation to Buy / Hold / Sell a fund. Returns mentioned herein are in no way a guarantee or promise of future returns. As an investor, you need to pick the right fund to meet your financial goals. If you are not sure about your risk appetite, do consult your investment consultant/advisor. Mutual Fund Investments are subject to market risks, read all scheme related documents carefully.
Author: Divya Grover
This article first appeared on PersonalFN here.
Join Now: PersonalFN is now on Telegram. Join FREE Today to get 'Daily Wealth Letter' and Exclusive Updates on Mutual Funds
PersonalFN is a Mumbai based personal finance firm offering Financial Planning and Mutual Fund Research services.
Disclaimer:
The views mentioned above are of the author only. Data and charts, if used, in the article have been sourced from available information and have not been authenticated by any statutory authority. The author and Equitymaster do not claim it to be accurate nor accept any responsibility for the same. The views constitute only the opinions and do not constitute any guidelines or recommendation on any course of action to be followed by the reader. Please read the detailed Terms of Use of the web site.
More Views on News
Aug 23, 2021
Interestingly, two Adani group companies top the list while a Tata group company also makes the cut.
Jun 28, 2021
Top agriculture stocks that should have your attention now.
Jun 21, 2021
List of stocks that have zero promoter holdings, where FPIs hold stake.
Sep 16, 2021
P/E ratio is deceptively simple tool for valuations. Here's how not to read it, and make use of it for better investing decisions.
Sep 16, 2021
PersonalFN explains how important it is to look at expense ratio when selecting a mutual fund for your portfolio.
More Views on News
Most Popular
Sep 3, 2021
In this article, you will get a list of 5 debt free small-cap companies that are worth tracking.
Sep 8, 2021
This IPO is a pure OFS and the company is looking to raise Rs 12.8 bn at the upper price band of Rs 744.
Sep 7, 2021
Patience is one of the biggest virtues you need to have if you want to become a crorepati in the stock market.
Sep 3, 2021
A handy checklist to find multibagger smallcaps.
Sep 8, 2021
When I saw the list of so-called 'value stocks' published by a leading brokerage, my worst fears came true.
More