Invesco India Tax Plan: Tax Saving With Long Term Growth
Invesco India Tax Plan: Tax Saving With Long Term Growth
Aug 17, 2020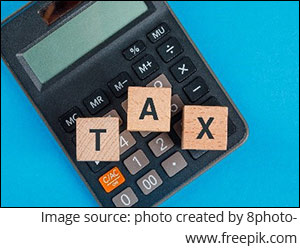 Investors who want to save tax and have opted for the old tax regime can choose from various tax-saving instruments such as provident fund, national pension system, tax saving mutual funds (ELSS), etc. Investing in ELSS can reduce your tax liability and potentially generate gains for the long term.
Currently, many are hesitant about investing in mutual funds given the uncertain economic conditions. However, those looking to invest for the long term need not worry about such short term market fluctuations and can invest in mutual funds.
In case of ELSS, you are likely to earn healthy returns if you stay invested beyond the mandatory 3-year lock-in period, while reaping benefits in the form of tax saving.
Invesco India Tax Plan (IITP) is one such well-managed tax saving fund that has distinguished itself from its popular large-sized peers by rewarding long-term investors well, without taking unnecessary risk.
--- Advertisement ---
3 Stocks for Potentially Massive Gains

COVID-19 has triggered a fundamental shift in the global economic and geopolitical map.

This reshuffling of the geopolitical map is just ONE of the forces fuelling the great Indian revival.

A revival that will restore the power, wealth, and influence we once enjoyed.

And, those who invest in the companies at the heart of this revival could turn a small stake into generational wealth.

Our co-head of research, Tanushree Banerjee, has narrowed down on 3 specific stocks.

She strongly believes, these 3 "revival stocks" could potentially offer massive gains.

Click here to learn more about this mega opportunity
------------------------------
Graph 1: Growth of Rs 10,000 if invested in Invesco India Tax Plan 5 years ago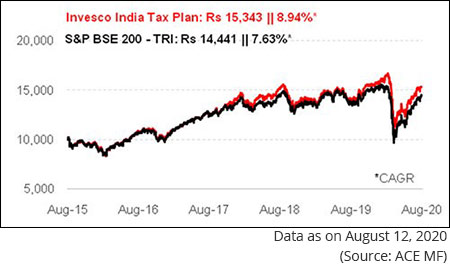 Despite having a track record of more than a decade, IITP is less popular among investors. This small-sized tax saving fund carries a decade long track record of superior performance and deserves (much needed) attention from investors. IITP stands strong in terms of performance and has steadily beaten the benchmark and the category average across time-frames. In the last 5 years, IITP has generated returns of around 8.9% CAGR, as against 7.6% CAGR generated by its benchmark S&P BSE 200-TRI index. An investment of Rs 10,000 in the fund 5 years back would have now grown to Rs 15,343. A simultaneous investment in its benchmark would have been valued at Rs 14,441. IITP has maintained a steady lead over the benchmark and has turned out to be a top quartile performer.
Table: Invesco India Tax Plan's performance vis-a-vis category peers
Returns are point to point and in %, calculated using Direct Plan - Growth option. Those depicted over 1-Yr are compounded annualised.
Data as on August 12, 2020
(Source: ACE MF)
*Please note, this table only represents the best performing funds based solely on past returns and is NOT a recommendation. Mutual Fund investments are subject to market risks. Read all scheme related documents carefully. Past performance is not an indicator for future returns. The percentage returns shown are only for indicative purposes.
The overall performance track record of IITP is encouraging. The fund has rewarded its long term investors on the returns front and has done reasonably well to generate a significant alpha over the benchmark as well as many of its category peers. In the last 1 year, IITP generated an impressive absolute return of 8%, much ahead of many of the category average and benchmark. Even on the longer time horizon of 3 years and 5 years, IITP maintained a decent lead over the benchmark and category average. On a 7-year-return basis, the margin of outperformance has been around 5 percentage points.
In terms of the risk-reward relationship, IITP seems to be quite reliable. While the level of volatility the fund registered has been among the lowest in the category, the risk-adjusted return generated by the fund denoted by its Sharpe ratio has been superior, compared to its benchmark and most of the category peers. The fund has managed to reward its investors well for the level of risk taken.
Revealed: 3 Stocks for Potentially Massive Gains
Investment strategy of Invesco India Tax Plan
Being a process-driven fund house, Invesco India Mutual Fund follows proprietary investment framework implemented since the inception of the organization. It uses a stock categorization framework to break/bucket stocks into growth and value style of investment. IITP mainly adopts buy-and-hold investment strategy to realise and benefit from the full growth potential of the stocks in its portfolio.
The fund scouts for buys across market capitalisations and therefore follows a multi-cap approach. It holds a pre-dominant large cap portfolio, where at least 65% of its asset is invested into large caps and maximum 35% into mid-caps and small-caps.
Overall, IITP is managed with a long-term perspective and has a balanced and fairly diversified portfolio with significant exposure to midcaps that could boost overall returns.
Graph 2: Top portfolio holdings in Invesco India Tax Plan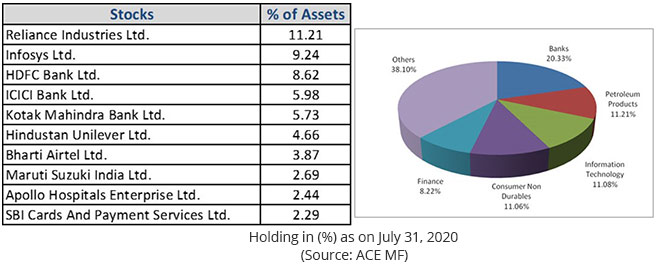 IITP usually holds a compact portfolio of 30 to 40 stocks. As on July 31, 2020, the fund held 36 stocks in its portfolio. Reliance Industries, Infosys, and HDFC Bank top the list of stocks with an exposure of around 8% to 11% each. ICICI Bank, Kotak Mahindra Bank, HUL, and Bharti Airtel follow closely behind with an allocation of about 4%-6% each. The top 10 stock holdings in the portfolio account for around 56.7% of the total assets.
IITP's major exposure in Reliance Industries benefitted it immensely in the last one year. The fund also gained from its holdings in Coromandel International, Bharti Airtel, HUL, Torrent Pharma, etc. It booked profit in stocks like Cholamandalam Investment, Mishra Dhatu Nigam, Abbott India, Divi's Lab, Infosys, Gujarat Gas, Voltas, among others.
In terms of sector allocation, Banking and Finance stocks hold a combined weightage of around 28.5% in the portfolio, followed by Petroleum Products, Infotech, Consumption, and Auto together holding another 38% allocation in the portfolio. Notably, around 80% of the fund's portfolio is exposed to top 10 sectors. While the major allocation of the portfolio is into cyclicals, it holds significant allocation to defensives and sensitive sectors as well.
Suitability
IITP has consistently beaten the benchmark and category peers across market phases while keeping risk in check. It appears to be well placed in terms of its portfolio management strategies and identifying high growth stocks across sectors and market caps. IITP's bet on fundamentally sound stocks in the large cap space has benefited the fund so far, while its significant exposure to midcaps has helped handsomely reward its long-term investors. However, the higher allocation to mid-caps and small-caps may attract some volatility in performance during uncertain times. This makes IITP suitable for aggressive investors with a long-term investment horizon.
Editor's note: The last few years have not been among the best for equity mutual funds. While most funds have underperformed or are struggling to match the returns of the benchmark, there are few funds that have the potential to constantly generate alpha for its investors. And we have identified five such high alpha generating funds, in our latest report 'The Alpha Funds Report 2020'. Do not miss our latest research finding. Get your access to this exclusive report, right here!
Note: This write up is for information purpose and does not constitute any kind of investment advice or a recommendation to Buy / Hold / Sell a fund. Returns mentioned herein are in no way a guarantee or promise of future returns. As an investor, you need to pick the right fund to meet your financial goals. If you are not sure about your risk appetite, do consult your investment consultant/advisor. Mutual Fund Investments are subject to market risks, read all scheme related documents carefully.
Author: Divya Grover
This article first appeared on PersonalFN here.
Join Now: PersonalFN is now on Telegram. Join FREE Today to get 'Daily Wealth Letter' and Exclusive Updates on Mutual Funds
PersonalFN is a Mumbai based personal finance firm offering Financial Planning and Mutual Fund Research services.
Disclaimer:
The views mentioned above are of the author only. Data and charts, if used, in the article have been sourced from available information and have not been authenticated by any statutory authority. The author and Equitymaster do not claim it to be accurate nor accept any responsibility for the same. The views constitute only the opinions and do not constitute any guidelines or recommendation on any course of action to be followed by the reader. Please read the detailed Terms of Use of the web site.
More Views on News
Apr 12, 2021
PersonalFN explains whether the second wave of COVID-19 infections impact your mutual fund investments.
Apr 12, 2021
This ignored sector could deliver big short-term profits.
Apr 12, 2021
A tiny chemical company, started in the Licence Raj era, is a great example of a new wealth creating opportunity.
Apr 9, 2021
PersonalFN's analysis on the features and performance of Mirae Asset Tax Saver Fund.
Apr 9, 2021
The Indian government recently announced cut backs on crude oil imports from Saudi Arabia. Does this change our crude oil trading blueprint. Find out...
More Views on News
Most Popular
Mar 30, 2021
In this video, I'll tell you why I am recommending caution in the market at this time.
Mar 31, 2021
A tiny chemical company, started in the Licence Raj era, is a great example of a new wealth creating opportunity.
Mar 31, 2021
In this video I'll show you exactly how I go about picking stocks for trading.
Mar 30, 2021
100 baggers of the last decade share this common trait. Here's how to use it to nail future multibaggers.
More