Should You Be Investing In Less-Risky Funds Now? Read This!
Should You Be Investing In Less-Risky Funds Now? Read This!
Aug 21, 2019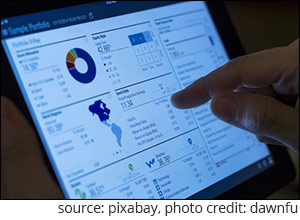 Indian markets have failed to sustain the momentum post June and plummeted by 6 % till July end, due to the budget announcements on July 5, 2019, in addition to the woes of US-China trade talks, geopolitical tensions, corporate governance issues, central bankers' commentary, currency wars that capped the upside, sluggish growth of the economy, and lower consumerism.
Graph 1: Plummeting S&P BSE SENSEX - TRI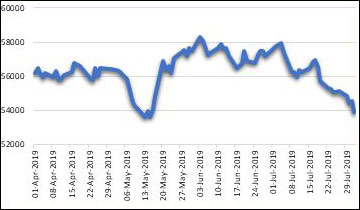 Data for a period of April 1, 2019 to Aug 1, 2019
(Source: ACE MF)
Despite experts claiming that the markets' trajectory will be guided by earnings recovery, the June quarter earnings have largely been muted to further dampen the markets.
--- Advertisement ---
Ex-Swiss Investment Banker Reveals His Biggest Investment Strategy in 4 Free Video Classes

Rahul Shah, ex-Swiss investment banker and Co-Head of Research at Equitymaster, is hosting a series of 4 free video classes for his readers, where he will reveal the details of something he's been working on for years…

The Double Income Project…

Rahul will show his readers, step-by-step, how to dramatically increase their income, potentially even double it…in what he believes is the earliest amount of time possible. a few short years.

For instance, if you make Rs 50,000 a month…Rahul's goal is to show you how to take it to Rs 100,000 in the long run.

Or if you make Rs 100,000…Rahul will show you how you could potentially increase it to Rs 200,000 in the long run.

This is different from anything Rahul Shah has ever done before – there's nothing to pay, no service to subscribe to and no forms to fill to attend these classes.

Just click here to sign up for the free video classes.
------------------------------
However, when the Association of Mutual Funds in India (AMFI), released its monthly data, the figures were astounding. In the falling market environment, investors took the SIP route and invested heavily in equity mutual funds.
Graph 2: Equity inflow growing steadily... (Rs in Crore)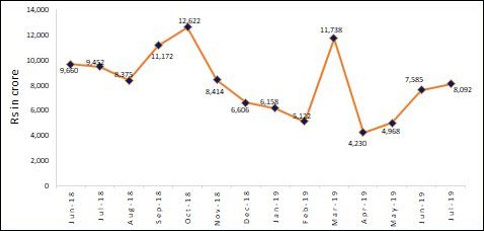 Data as of July 30, 2019
(Source: www.amfiindia.com)
As seen from the graph, the net equity inflow has been going strong. It grew by 6.7% over previous month to touch Rs 8,092 crore. With this the total count of equity folios increased to 59.4 million (5.9 crores) for the month of July and the total number of folios rose to 84.8 million (8.48 crore).
Table 1: Rise in Number of Folios
| | | | | | |
| --- | --- | --- | --- | --- | --- |
| Months | Mar-19 | Apr-19 | May-19 | Jun-19 | Jul-19 |
| No of folios | 8.25 | 8.27 | 8.32 | 8.37 | 8.48 |
Data as of July 30, 2019
(Source: www.amfiindia.com)
Within the open-ended equity segment; Large Cap Funds, Focused Funds, and Mid Cap Funds witnessed heavy inflows of Rs 1,915 crore, Rs 1,873 crore, and Rs 1,394 crore respectively as compared to the previous month.
The Double Income Project: The Lazy Man's Guide to Doubling Your Income in The Long Term
Graph 3: Monthly inflows in open-ended Equity Oriented Schemes (Rs in Crore)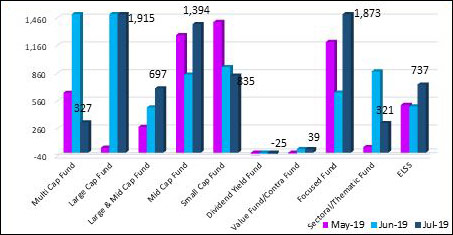 Data as of July 30, 2019
(Source: www.amfiindia.com)
As reported by moneycontrol, 'Commenting on July 2019 MF data, Mr N S Venkatesh, Chief Executive, AMFI said, "Despite difficult month and volatile market conditions, the overall sentiment towards debt, equity and hybrid mutual fund schemes has been positive, and equity SIP contributions are at all time high over last three years. This conveys signs of maturity on the part of retail investors and is reflective of continued investor trust on the Indian MF Industry."
During times of volatility, investors choosing to invest in mutual funds through systematic investment plans is a tell-tale sign of the shift in investment preferences. From the data, it suggests, that investors are now moving from traditional avenues of investment towards goal-based and staggering type of investment option, such as SIP.
--- Advertisement ---
Watch this Video Now And You Will Stop Worrying About Money...

If you are concerned about money, then you MUST watch this exclusive video right now.

Because in this video, Richa Agarwal, Head of Small Cap Research, talks about stocks that have made a select group of people Crorepatis.

They invested in just one stock and ended up becoming Crorepatis in the long run.

In this video, Richa also reveals her unique formula to identify such potential RARE stocks.

Plus, she also discusses her special report, 'One Stock Crorepati: How to Get Rich With This Little-Known Indian Stock'.

This video is now available for your viewing...

This video could be taken down any time soon. So, hurry…

Click here to watch the video right away…
------------------------------
Despite the fall in markets, investors are seeking the advantages of rupee-cost averaging and long-term benefit equity offers via SIP. Hence, the data shows that most investors were unperturbed by any short-term aberrations in equity markets and have entrusted their hard-earned money into their newfound choice of investment vehicle (Mutual Funds).
As seen from the SIP inflow data below, on an average, 9.54 lacs SIP accounts have been added each month during the FY 2019-20, with an average SIP size of about Rs 3,000 per SIP account.
Graph 4: Monthly SIP inflow going strong... (Rs in crore)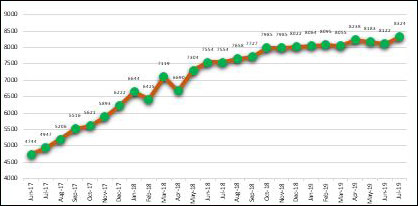 Data as of July 30, 2019
(Source: www.amfiindia.com)
This gradual shift in investment is indicative that the Mutual Fund industry is headed for an uptrend driven by structural factors.
The pie of retail investors has grown with an average ticket for equity-oriented schemes is Rs 1.25 lakh as on June 30.
Graph 5: Accounts Across Investor Types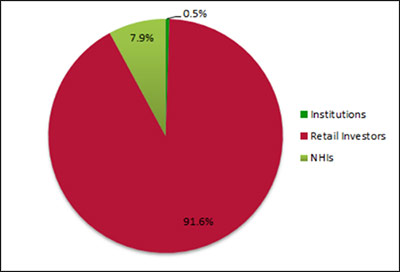 Data as on June 30, 2019
(Source: www.amfiindia.com)
In conclusion, PersonalFN is of the view that investors are becoming smarter and wiser in terms of the investment decisions for their long-term benefit.
But when the markets are volatile, going gung-ho and investing heavily in extremely risky equity funds can be hazardous for the investors' investment portfolios. Due to the market corrections in Small cap space, they are available at attractive valuations. But, mind you, what looks like a lucrative investment may not necessarily be a safe one.
Instead investors should consider building an investment portfolio that offers an opportunity to invest in funds in cognisance with their risk appetite. Primarily in large cap funds, as these comprise of stocks of those companies that feature on the large caps' list, as per market capitalisation. These stocks are established names and the biggest advantage of having them is the stability they can provide to the portfolio.
[Read: Looking for the Best Large Cap Funds 2019? Find Out Here ]
Value funds are less risky as compared to funds that chase aggressive growth. Value style investing involves identifying fundamentally sound stocks that are trading at a discount to their fair value and is more concerned with business fundamentals than factors affecting the markets' sentiment. So,invest in value funds if your investment time horizon is at least five years and you have the stomach for high risk.
[Read: Looking for The Best 'Value Funds' For 2019? Find Out Here]
Large cap and value funds along with multi-cap funds could form a core part (60%) of your portfolio which will help you deal well with the downside risks involved. And allocate a smaller portion (40%), the satellite part, to mid-cap fund, large & mid-cap fund, and aggressive hybrid kind of funds.
But if you are looking for tactical asset allocation and to benefit from equity and debt as an asset class. Consider hybrid funds because though these types of funds do not qualify as equity funds, these have a balanced exposure to equity and debt instruments.
In times of volatility, hybrid funds (excluding aggressive hybrid) provide a tactical allocation to equity and debt. When the equity turns volatile, debt plays its role to accomplish the stated investment objective of the scheme.
However, remember to have a clear investment objective in mind, know your financial goals,, risk profile, and the time horizon you have for each financial goals before you invest your hard-earned money. Accordingly, you need to invest based on your personalised asset allocation and choose the fund based on the qualitative and quantitative parameters.
Prudent investing and financial discipline are vital measures for your long-term financial well-being.
Editor's Note: If you wish to select the worthy mutual fund schemes --both, equity and debt mutual fund schemes -- to address your future financial needs, I recommend that you subscribe to PersonalFN's unbiased premium research service, FundSelect.

With FundSelect, you get access to high quality and reliable funds picked by our research team using their comprehensive S.M.A.R.T. score fund selection matrix.
Each fund recommended under FundSelect goes through our stringent process, where they are assessed on both quantitative as well as qualitative parameters.
Every month, PersonalFN's FundSelect service will provide you with insightful and practical guidance on equity mutual funds and debt mutual fund scheme --- the ones to Buy, Hold, or Sell.
If you are serious about investing in rewarding mutual fund schemes, subscribe to PersonalFN's flagship mutual fund research service FundSelect today!
Happy Investing!
Author: Aditi Murkute
This article first appeared on PersonalFN here.
PersonalFN is a Mumbai based personal finance firm offering Financial Planning and Mutual Fund Research services.
Disclaimer:
The views mentioned above are of the author only. Data and charts, if used, in the article have been sourced from available information and have not been authenticated by any statutory authority. The author and Equitymaster do not claim it to be accurate nor accept any responsibility for the same. The views constitute only the opinions and do not constitute any guidelines or recommendation on any course of action to be followed by the reader. Please read the detailed Terms of Use of the web site.
More Views on News
Sep 19, 2019
PersonalFN explains whether actively managed funds can outperform passively managed funds.
Sep 19, 2019
Is the auto sector down with cancer or is it just a mild fever which will go away soon?
Sep 19, 2019
The India we knew is changing. Here's how you can benefit from this change.
Sep 18, 2019
The positive side of technological disruptions and rebound opportunities in blue-chip stocks.
Sep 18, 2019
PersonalFN explains what you should do if you hold non-performing funds in your portfolio.
More Views on News
Most Popular
Sep 12, 2019
News headlines predict gloom and doom for India these days. You should ignore them.
Sep 10, 2019
Usually, the typical horizon period for my smallcap recommendations is 3 to 5 years. But if you ask me, this could be one business that you could own and pass on to future generations.
Sep 16, 2019
The stock market today is throwing up a great opportunity to pile on quality stocks.
Sep 11, 2019
How financial inclusion provides a big runway for this stock recommendation.
Sep 13, 2019
These 10 auto stocks should be in your watchlist for the next 32 months. Paste them on your workstation NOW.
More