Has The Rupee Really Depreciated The Way It Looks? Know Here...
Has The Rupee Really Depreciated The Way It Looks? Know Here...
Sep 6, 2018
At 71.37 against the US Dollar (US$), Indian Rupee (INR) fell to its all-time low recently. Over the last one year, INR has slumped over 11% against US$.
INR: constantly losing ground for last 1 year...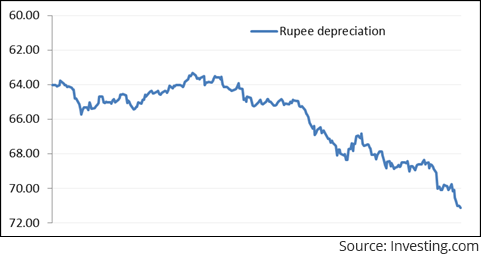 This extent of depreciation in the value of domestic currency doesn't bode well for any country; particularly if the country has a huge dependence on imports.
As you might be aware, imports account for 80% of India's total crude oil demand. And this, falling currency adds to the inflation trend in India.
However, not everything's lost with falling currency.
INR depreciation is beneficial to Indian exporters.
As expected, in political circles the blame game has started. Debates such as UPA-time-lows of currency v/s current lows appear shallow and more politically motivated. While the jury is still out on INR depreciation and its impact on India economy, it would be imperative to understand what might be in store for Indian consumers, businesses, and investors.
--- Advertisement ---


Special Report Available For Instant Download!

Our special report titled, "3 Stocks To Grow Your Wealth", is available for instant download now.

If you're interested in growing your wealth through high-potential small caps that are leaders in their tiny niche, then we believe this report and the 3 stocks in it are a must-have.

To find out how you could claim your copy of the report, just click here…
------------------------------
Story in detail...
Rising US$ and falling emerging-market currencies has been a global phenomenon, hence the slump in INR hasn't been worrying the experts who believe that despite the current fall, Indian Rupee is overvalued at least 5%-7%.
In other words, INR may further depreciate to 75 against US$ and that would still be acceptable.
You must have been reading about economic fragility of Turkey in newspapers. Owing to bad economic policies and a huge burden of foreign debt on its balance sheet, Turkish Lira has nosedived nearly 40% in 2018 against US$. In fact, the economies of Latin American countries such as Venezuela and Argentina have been under pressure and are vulnerable to catastrophic shocks from the rising US$.
Mr Joy Rankothge, Vice President - Senior Analyst at Moody's, cautioned about the potential worsening of India's external economy, "India's current account deficit is likely to widen to 2.5 per cent in FY 2018-19, up from 1.5 per cent in fiscal 2017 due to higher oil prices and strong non-oil import demand as domestic demand accelerates."
Usually the RBI intervenes in the forex market to support depreciating Rupee; at present, this looks unlikely.
Comments of Economic Affairs secretary Subhash Chandra Garg are loud and clear. "As currencies of other economies are also depreciating, intervention by the Reserve Bank of India, by selling dollars in the country, will not help much at this stage for stabilizing the rupee." He indirectly hinted at the new-normal level, the government might be comfortable with, "Even if the rupee falls to 80, it will not be a concern provided all other currencies depreciate."
What are the implications of allowing currency to depreciate?
Compared to other emerging market countries, inflation is high in India. Rising inflation will weigh heavily on India's competitive advantage, dragging it down further.
[Read: The Good, Bad, And Ugly Of Inflation]
Inflation outlook isn't encouraging either. Cognizant of the potential adverse impact inflation can create, the RBI increased policy rates twice in FY 2017-18. The market regulator had set the medium-term inflation target of 4%. In other words, whenever it sees a potential threat of inflation rising above its comfort zone, it will hike policy rates.
Falling currency and rising crude oil prices will affect the country's math. If the Current Account Deficit (CAD) breaches the level of 2.5% of GDP, INR will come under severe pressure.
India has a huge trade surplus with the U.S. And the government has already made clear that it will expect only U.N. sanctions on Iran.
At present, the U.S. has unilaterally imposed sanctions on Iran and set the November deadline for other countries to honour these sanctions. With India and China, two major importers of Iran refusing to accept this raw deal, India might have to face the world's largest economy, which is also its ally.
Considering the financial crisis-like situation in many emerging economies, rising US$, rising crude oil prices, and the overhang of trade war concerns, India worries appear to be far from over.
As a consequence of it, if the U.S. makes it difficult for Indian exports to sell their goods and services in the U.S., our depreciating INR would be a double whammy for it.
What to expect?
At present, the falling INR isn't worrying markets much but as soon as other macroeconomic indicators such as inflation and CAD start turning negative, Indian markets might witness a sharp sell-off.
What you should do?
Stop chasing the markets. If you invest a lump sum amount in equities, directly or through mutual funds, you are likely to be disappointed. You should avoid investing in close-ended funds and any New Fund Offer (NFO).
[Read: Will SEBI Shut Down The Close-ended NFO Factory?]
Here's a right investment approach...
Before you invest in markets, you shouldn't ask how the markets are doing nowadays. On the contrary, you should consider the following factors:
Your current financial situation
Your financial goals
Time left before goals befall
Risk appetite
Based on the factors above, take the time to chalk out a personalised asset allocation plan. Asset Allocation is nothing but the proportion in which you invest in various asset classes such as equity, fixed income, gold, and real estate, among others.
Investing in equity-oriented mutual funds through Systematic Investment Plans (SIPs) may help you achieve your long-term financial goals.
When you invest in mutual funds, you don't have to bother about falling rupee, rising inflation or cooling economic growth. Professional fund managers assess the situation and take prudent investment decisions.
However, it's important you invest in mutual funds that have a proven track record of performance and come from a mutual fund house which follows robust investment systems and processes.

Editor's note:
Are you wondering which mutual funds would be ideal to accomplish your financial goals?
PersonalFN can do this job for you.
In fact, PersonalFN's unbiased premium research service - FundSelect is for investors just like you-who don't have the time, expertise, or both to select worthy mutual fund schemes.
PersonalFN's FundSelect has 15+ years of impeccable track record.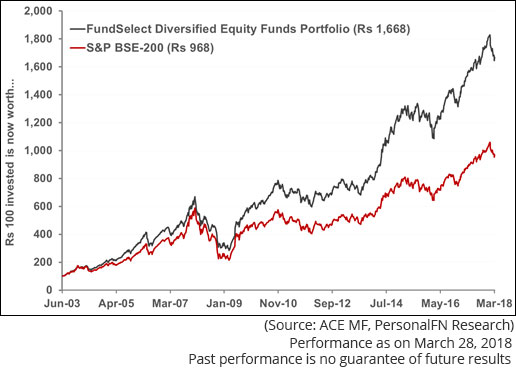 PersonalFN follows the S.M.A.R.T. score matrix:
S - Systems and Processes
M - Market Cycle Performance
A - Asset Management Style
R - Risk-Reward Ratios
T - Performance Track Record
FundSelect has one simple motto: "Be steady. Be alert. Be winning."
Every month, our FundSelect service will provide you with insightful and practical guidance on equity funds and debt schemes - the ones to buy, hold, or sell. We aim to assist you in creating the ultimate portfolio that has the potential to beat the market. Subscribe to FundSelect today!
Happy Investing!
Author: PersonalFN Content & Research Team
This article first appeared on PersonalFN here.
PersonalFN is a Mumbai based personal finance firm offering Financial Planning and Mutual Fund Research services.
Disclaimer:
The views mentioned above are of the author only. Data and charts, if used, in the article have been sourced from available information and have not been authenticated by any statutory authority. The author and Equitymaster do not claim it to be accurate nor accept any responsibility for the same. The views constitute only the opinions and do not constitute any guidelines or recommendation on any course of action to be followed by the reader. Please read the detailed Terms of Use of the web site.
More Views on News
Apr 20, 2021
Here's the rundown on the company's latest quarterly results.
Apr 21, 2021
PersonalFN explains the outlook for Balanced Advantage Funds and the best Balanced Advantage Funds that can be considered for investment in 2021.
Apr 21, 2021
In this video I'll tell you why trading commodities will make you a better trader.
Apr 21, 2021
The guiding light of Equitymaster for two and half decades.
Apr 20, 2021
PersonalFN analyses the features of TRUSTMF Liquid Fund and explains the potential this fund has to offer to its investors.
More Views on News
Most Popular
Apr 13, 2021
Ajit Dayal on how India's vaccine strategy will impact the markets.
Apr 15, 2021
Narayana Murthy was one of the first unicorn founders to get the backing of this entity...
Apr 16, 2021
There is no stopping this 11-bagger stock from significant upside.
Apr 20, 2021
In this video I tell you the three Nifty ETFs I think are the best.
Apr 13, 2021
In this video, I'll you what I think is the real reason behind yesterday's market crash.
More