The Secret Of Mirae Asset India Equity Fund's Increasing Popularity
The Secret Of Mirae Asset India Equity Fund's Increasing Popularity
Sep 7, 2018
Mirae Asset India Equity Fund (erstwhile Mirae Asset India Opportunities Fund) is the flagship fund of Mirae Asset Mutual Fund. Though classified under Multi Cap Funds category, it is primarily an opportunities style fund that has flexibility to invest in stocks of companies across market capitalizations and sectors depending on their attractiveness. The fund aims to help investors gain from sector or stock specific opportunities. The prudent investment strategies followed by the fund has earned it a tag of being a consistent performer that has rewarded long-term investors well across market cycles.
Launched just ahead of the 2008 subprime crisis, Mirae Asset India Equity Fund suffered a huge loss in its initial year itself, dragging down the funds NAV to as low as Rs 5.48 (on 09 March 2009), a loss of about 45% on its face value. However, the fund was quick to recover its losses in the swift market rally that followed. Despite being in existence for over 10 years now, the fund seems to have started gaining popularity only in the last couple of years. While it took almost 7 years for the fund to reach the 1,000 crore mark, the funds AUM has grown 8 folds in the last 3 years. This clearly indicates that not many investors identified the true potential of the fund, until it made a mark for itself through its remarkable performance.
The fund manager Neelesh Surana aims to outperform the benchmark and follows a rigorous investment process that leads to alpha generation. He looks at business on various quantitative and qualitative parameters and gives high importance to quality and scalable business run by credible management. He looks for growth businesses, but then again evaluates the value before buying into them. Managing Mirae Asset India Equity Fund since August 2014, Neelesh has done well to meet the expectations of its investors in terms of returns.
Fund Facts - Mirae Asset India Equity Fund
| | | | |
| --- | --- | --- | --- |
| Category | Multi Cap Fund | Style | Blend |
| Type | Open ended scheme | Market Cap Bias | Multi Cap Fund |
| Launch Date | 9-Apr-08 | SI Return (CAGR) | 16.70% |
| Corpus (Cr) | Rs 8,531 | Min./Add. Inv. | Rs 5,000 / Rs 1,000 |
| Expense Ratio (Dir/Reg) | 1.32% / 2.10% | Exit Load | 1% |
Portfolio Data as on July 31, 2018
SI Return as on September 04, 2018
(Source: ACE MF)
Growth Of Rs 10,000, Invested In Mirae Asset India Equity Fund 5 Years Ago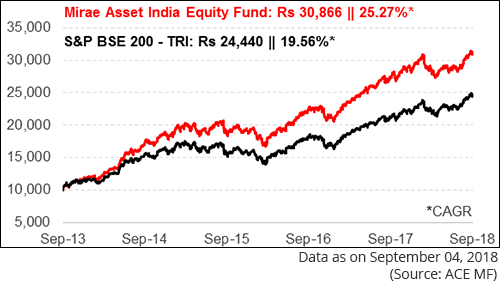 Mirae Asset India Equity Fund has been a steady long term performer. Its performance over the last 5 years has been commendable. With a CAGR of over 25% in the last 5 years, the fund has outperformed the benchmark S&P BSE 200-TRI by about 6 percentage points. Rs 10,000 invested in the fund five years back would have by now tripled to Rs 30,886, while a similar investment in its benchmark would have been valued at Rs 24,440. The funds focus on holding quality stocks in its portfolio has helped it stay much ahead of its benchmark.
Mirae Asset India Equity Fund: Year-on-Year Performance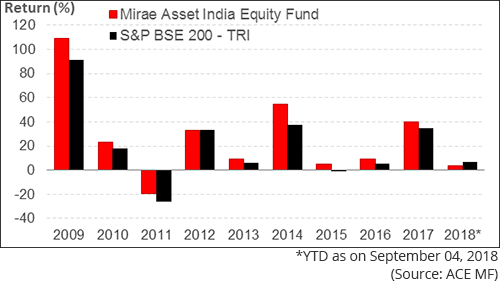 What makes Mirae Asset India Equity Fund stand out is its consistency to perform across market conditions. While it has delivered superior returns during market rallies, the fund has proven its ability to cap losses during market downturns. This trend is clearly visible in its year on year performance track record. Mirae Asset India Equity Fund has beaten the benchmark S&P BSE 200 - TRI in 9 out of the last 10 calendar years. However, in the current calendar year the fund has been going through a tough phase where it has trailed the benchmark by about 3 percentage points. This seems to be a temporary underperformance, given its ability to outperform the index consistently. Barring the current calendar year, the fund has delivered better returns than its benchmark in almost all the years since its inception.
Mirae Asset India Equity Fund: Performance vis-a-vis Category Peers
Scheme Name
Corpus
(Rs Cr)
1 Year (%)
2 Year (%)
3 Year (%)
5 Year (%)
Std Dev
Sharpe
Motilal Oswal Multicap 35 Fund
13,861
22.62
24.56
19.35
--
14.06
0.16
Principal Multi Cap Growth Fund
690
25.38
25.38
16.22
22.60
16.34
0.17
Aditya Birla SL Equity Fund
9,749
17.85
23.02
15.92
23.63
13.59
0.17
SBI Magnum Multicap Fund
5,850
20.54
20.54
15.91
22.59
12.95
0.17
Invesco India Multicap Fund
551
23.26
21.63
15.36
26.68
15.26
0.14
Kotak Standard Multicap Fund
21,271
19.00
21.44
15.22
22.50
12.60
0.19
Mirae Asset India Equity Fund
8,531
21.50
21.97
14.97
22.40
13.30
0.19
Parag Parikh Long Term Equity Fund
1,186
21.55
18.35
14.06
20.59
9.85
0.23
BNP Paribas Multi Cap Fund
891
21.29
20.15
14.02
20.62
14.08
0.10
Edelweiss Multi-Cap Fund
102
25.74
21.96
13.56
--
14.67
0.14
ICICI Pru Multicap Fund
2,888
15.16
18.13
12.98
20.16
12.57
0.15
DSP Equity Fund
2,672
19.21
20.12
12.33
19.18
14.91
0.12
Franklin India Equity Fund
11,832
16.09
16.17
12.20
20.45
11.73
0.12
HSBC Multi Cap Equity Fund
637
18.93
19.55
12.14
20.77
14.68
0.13
IDFC Multi Cap Fund
5,678
18.49
15.92
11.39
21.21
13.49
0.07
L&T Equity Fund
2,798
18.67
18.19
11.23
18.84
13.14
0.11
HDFC Equity Fund
21,754
17.98
20.31
10.89
18.68
16.76
0.11
IDBI Diversified Equity Fund
372
18.19
14.88
10.88
--
12.14
0.06
UTI Equity Fund
8,521
19.31
15.89
10.33
17.92
12.40
0.15
Canara Rob Equity Diver Fund
939
20.99
18.26
10.15
16.20
14.07
0.11
Baroda Pioneer Multi Cap Fund
723
16.51
16.82
9.98
16.60
13.42
0.07
Reliance Multi Cap Fund
9,732
19.71
15.61
8.79
18.51
15.17
0.04
Taurus Starshare (Multi Cap) Fund
222
14.68
15.32
8.38
14.88
14.28
0.04
Union Equity Fund
221
14.58
14.27
6.43
13.24
12.73
0.05
LIC MF Multi Cap Fund
275
11.14
11.47
4.65
12.24
15.51
-0.01
S&P BSE 200 - TRI
19.86
18.81
11.37
16.41
13.11
0.10
Returns are on a rolling basis and those depicted over 1-Yr are compounded annualised.
Data as on September 04, 2018
(Source: ACE MF)
*Please note, this table only represents the best performing funds based solely on past returns and is NOT a recommendation. Mutual Fund investments are subject to market risks. Read all scheme related documents carefully. Past performance is not an indicator for future returns. The percentage returns shown are only for indicative purposes.
Mirae Asset India Equity Fund has been a top quartile performer. It consistently ranked among the top funds in its previous opportunities style category, while its ranking in the current multi-cap funds category is not bad either. Despite being aggressive in nature, the funds ability to limit downside and perform well even in depressing conditions differentiated it from the rest.
With a Standard Deviation of 13.30, the funds volatility has been nearly in line with the benchmark (13.11), but reasonable when compared to its category peers. Moreover, the Sharpe Ratio of the fund at 0.19 has been one of the best in the category and much ahead of its benchmark (0.10). Its ability to deliver superior risk-adjusted returns for its investors has been commendable.
Investment Strategy of Mirae Asset India Equity Fund
Mirae Asset India Equity Fund follows a combination of top down and bottom up approach to stock picking and endeavours to invest in companies which have a chance of benefiting from economic growth and structural changes happening in the country. The fund has proven its ability to timely identify sector and stock specific opportunities.
The fund usually holds a large cap bias with some allocation towards mid cap stocks and invests in a well-diversified portfolio of about 55-65 stocks. Mirae Asset India Equity Fund has a tendency to vary its investment strategies depending on the external factors. It resists from following any market momentum and stays fully invested at most of the times. The fund has a history of taking timely sector bets. The cyclical bets taken by the fund manager has helped increase the return generated by the fund during economic recoveries.
Mirae Asset India Equity Fund - Portfolio Allocation and Market Capitalisation Trends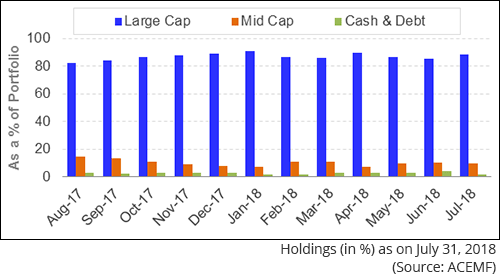 Its classification under Multi cap funds category provides Mirae Asset India Equity Fund a flexibility to move across market caps depending on their valuation. However, the fund's portfolio remains inclined towards large caps (about 75%-90% of its assets) which provides the much needed stability to the fund. Over the last one year, the large-cap allocation in the fund's portfolio has ranged between 80%-90% of its assets, while the allocation to mid-caps has been in the range of 7%-15%. The fund resits from holding any exposure to small caps. Despite being a multicap fund, Mirae Asset India Equity Fund operates more like a large cap fund and holds negligible exposure to other market caps.
Mirae Asset India Equity Fund - Top Portfolio Holdings
Top 10 Stocks
| Stocks | % of Assets |
| --- | --- |
| HDFC Bank Ltd. | 8.60 |
| Reliance Industries Ltd. | 6.00 |
| ICICI Bank Ltd. | 4.65 |
| Infosys Ltd. | 4.29 |
| State Bank Of India | 3.84 |
| ITC Ltd. | 3.75 |
| Kotak Mahindra Bank Ltd. | 3.62 |
| HDFC Ltd. | 3.37 |
| Larsen & Toubro Ltd. | 3.17 |
| Maruti Suzuki India Ltd. | 2.91 |
Top 5 Sectors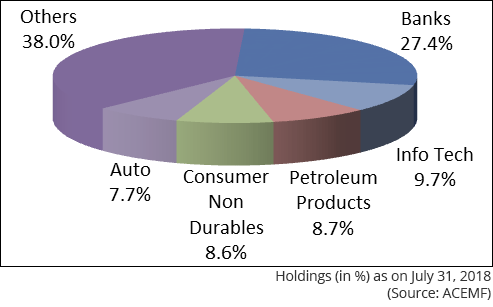 In terms of portfolio holdings, Mirae Asset India Equity Fund holds a well-diversified portfolio of about 67 stocks. The fund is not completely benchmark agnostic, as it does not deviate significantly from its benchmark. Out of 67 stocks in the portfolio at present, 58 belong to the S&P BSE 200 universe. These 58 stocks carry about 71% weightage in the index, while about 92% weightage in the portfolio.
As of July 31, 2018, the fund held its major exposure in highly liquid stocks like HDFC Bank, Reliance Industries, ICICI Bank, Infosys, SBI, ITC, Kotak Mahindra Bank, HDFC Ltd., L&T and Maruti Suzuki together accounting for about 44% of its assets. Most of these names have been prominent holdings in the fund's portfolio for well over 2 years now.
About one fourth of the fund's portfolio is skewed towards Banking, followed by I.T., Petroleum Products, Consumption and Auto together accounting for around 62% of the portfolio. The remaining portion of the fund's portfolio is diversified across range of sectors like Financials, Pharma, Engineering, Energy, Cement, Metals, Chemicals and so on. While the fund has increased its allocation to Petroleum Products, Consumption, Financials, Metals and I.T., it has reduced allocation to Transportation, Mining, Auto Ancillaries, Telecom, Cement and Power.
Major Gainers: The holdings in the Mirae Asset India Equity Funds portfolio have shown a mixed trend, in the last one year. Stocks like TCS, Hindustan Unilever, Reliance Industries, Tata Global Beverages, Info Edge (India), Dabur India, Infosys, Havells India, GAIL, Exide Industries, Kotak Mahindra Bank and Asian Paints have been amongst the major gainers in the portfolio that have appreciated in the range of 25-56% in a year's time.
Major Losers: While there were no many losers in the portfolio, few names like Tata Motors, Ceat, HPCL, JK Cement, Apollo Hospitals, The Federal Bank, Vedanta and Lupin are down 20%-40% in the last one year. However, the fund hardly held over 2% exposure in any of these stocks.
Suitability of Mirae Asset India Equity Fund
Mirae Asset India Equity Fund superior performance and consistent track record has helped it gain investor's attention. Being a prudently managed fund focusing on quality, the fund deserves decent time for it to reward its investors. While Mirae Asset India Equity Fund holds flexibility to invest across market caps, it has always held a large cap biased portfolio. Although multi-cap mandate demands slightly shift in exposure from large caps to other market caps, the fund still adheres to the mandate with a large cap bias as there being no minimum threshold to any market cap for multicap funds. Mirae Asset India Equity Funds ability to timely identify prevailing opportunities and participate in good quality businesses has helped it provide decent growth to its long term investors. However, it may disappoint investors who expect proper diversification across market caps, from a multicap fund.
Wondering which are the right mutual funds to invest in?
Well it is not any easy task to get your hands on the best mutual funds. It requires a different set of skill and evaluation methodology to shortlist reliable funds from the universe of over thousand funds out there.
And PersonalFN's mutual fund research service 'FundSelect' does exactly that.
It not only offers honest and unbiased recommendations on which equity mutual funds to buy, but it also tells you which are fund that you should stay away from.
P.S.: FundSelect has a track record of over 15 years and carries a success rate record of a whopping 74%. If you haven't tried FundSelect yet, you can try the service right away and also get one full year of access to FundSelect, virtually Free!
Note: This write up is for information purpose and not a recommendation to buy or sell the mutual fund scheme. As an investor, you need to pick the right fund to meet your financial goals. If you are not sure about your risk appetite, do consult your financial planner or investment advisor.
Author: Vivek Chaurasia

This article first appeared on PersonalFN here.
PersonalFN is a Mumbai based personal finance firm offering Financial Planning and Mutual Fund Research services.
Disclaimer:
The views mentioned above are of the author only. Data and charts, if used, in the article have been sourced from available information and have not been authenticated by any statutory authority. The author and Equitymaster do not claim it to be accurate nor accept any responsibility for the same. The views constitute only the opinions and do not constitute any guidelines or recommendation on any course of action to be followed by the reader. Please read the detailed Terms of Use of the web site.
More Views on News
Apr 19, 2019
When elections come around, liquor flows like water and everyone gets drunk with power...what does this mean for liquor stocks? Read one to find out from our very own election trading analyst, Vijay Bhambwani.
Apr 18, 2019
As compared to net inflows of Rs 3,948 crore in the equity category during February 2019, the inflows for March 2019 were strong at Rs 9,014 crore.
Apr 18, 2019
When goods are handed out by benevolent politicians during election, aspirational goods such as two wheelers often end up winners, says our very own trading analyst, Vijay Bhambwani.
Apr 17, 2019
If you engage in Tax planning from the beginning of the year you will not do ad hoc investments.
Apr 17, 2019
20% of all the traders bring in 80% of the money. Watch these 20% and you get a working idea of which way the wind is blowing.
More Views on News
Most Popular
Apr 9, 2019
It's a matter of time before the stocks catch the fancy of the markets and big investors.
Apr 10, 2019
We have identified 3 stocks with huge wealth building potential which meet our 'Click of a Button' criteria.
Apr 10, 2019
How Dell got its mojo back.
Apr 12, 2019
This critical business strategy has enabled companies to scale their operations faster.
Apr 12, 2019
Here's how one could have generated gains of Rs 59,250 in 10 days by trading HDFC and HDFC Bank with a capital of Rs 4 lakh.
More