Mirae Asset Large Cap Fund: Tiding Over The Market Gloom
Mirae Asset Large Cap Fund: Tiding Over The Market Gloom
Sep 10, 2019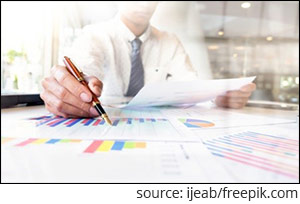 The Indian economy is showing clear signs of a slowdown. This has in turn impacted the returns on equity investments, especially in the mid and small cap category.
Large caps are better placed to handle economic shocks as these companies have strong business models and sustainable competitive advantage. These companies have the potential to grow despite challenges.
One such fund which looks to capitalise on this growth potential is Mirae Asset Large Cap Fund.
--- Advertisement ---
Ex-Swiss Investment Banker Reveals His Biggest Investment Strategy in 4 Free Video Classes

Rahul Shah, ex-Swiss investment banker and Co-Head of Research at Equitymaster, is hosting a series of 4 free video classes for his readers, where he will reveal the details of something he's been working on for years…

The Double Income Project…

Rahul will show his readers, step-by-step, how to dramatically increase their income, potentially even double it…in what he believes is the earliest amount of time possible. a few short years.

For instance, if you make Rs 50,000 a month…Rahul's goal is to show you how to take it to Rs 100,000 in the long run.

Or if you make Rs 100,000…Rahul will show you how you could potentially increase it to Rs 200,000 in the long run.

This is different from anything Rahul Shah has ever done before – there's nothing to pay, no service to subscribe to and no forms to fill to attend these classes.

Just click here to sign up for the free video classes.
------------------------------
The fund was launched in April 2008 and has total asset under management of Rs 13,492 crore. MALCF was earlier known as Mirae Asset India Equity Fund and was categorised as a multi-cap fund, though it always maintained a large cap bias.
The fund is managed by Mr Neelesh Surana (since May 2008), Mr Harshad Borawake (since May 2017) and Mr Gaurav Misra (since January 2019).
Investment objective: MALCF aims to generate long term capital appreciation by capitalising on the potential investment opportunities by predominantly investing in equities of large cap companies.
Graph 1: Growth of Rs 10,000, If Invested In Mirae Asset Large Cap Fund 5 Years Ago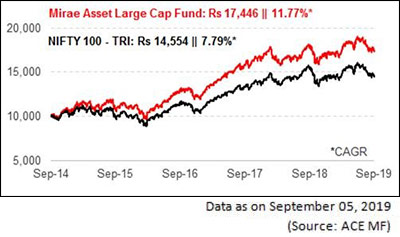 Had you invested Rs 10,000 in MALCF five years back on September 04, 2014, it would have grown to Rs 17,446 as on September 04, 2019. This translates into compounded annualised growth rate of 11.77%. In comparison a simultaneous investment of Rs 10,000 in its benchmark Nifty 100 - TRI would now be worth Rs 14,554 (a CAGR of 7.79%). As can be seen in the chart above, the fund generated significant lead over the benchmark in the last five years.
Graph 2: Mirae Asset Large Cap Fund Year-on-Year Performance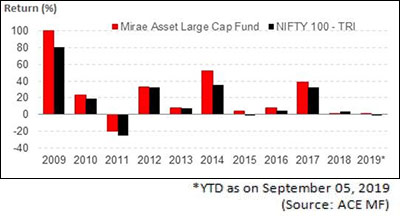 Launched in April 2008, the fund has a track record of over 11 years. The year-on-year performance comparison of MALCF vis-a-vis its benchmark Nifty 100 - TRI shows that the fund has performed exemplarily well over the years. It outperformed the index in all the last 10 calendar years, except in CY 2018 where it lagged the benchmark. Majority of alpha was generated in CY 2009 and CY 2014, whereas in CY 2011 it managed to cushion the downside. In the current year, the fund has generated positive returns even as the benchmark registered negative returns.
The Double Income Project: The Lazy Man's Guide to Doubling Your Income in The Long Term
Table 1: Mirae Asset Large Cap Fund Year-on-Year Performance
Returns are on a rolling basis and in %, calculated using Direct Plan - Growth option. Those depicted over 1-Yr are compounded annualised.
(Data as on September 05, 2019)
(Source: ACE MF)
*Please note, this table only represents the best performing funds based solely on past returns and is NOT a recommendation. Mutual Fund investments are subject to market risks. Read all scheme related documents carefully. Past performance is not an indicator for future returns. The percentage returns shown are only for indicative purposes.
MALCF has outperformed average category returns and benchmark across rolling periods. The fund outpaced the average category returns and benchmark with significant margin in the 3-year and 5-year rolling period.
On a 3-year and 5-year rolling return basis, the fund stood as the category topper. Axis Bluechip Fund and Reliance Large Cap Fund were other top performers on a 3-year rolling return basis.
In terms of risk-return parameters, MALCF undertook reasonable amount of risk but has delivered superior risk-adjusted returns compared to benchmark and many category peers.
--- Advertisement ---
Watch this Video Now And You Will Stop Worrying About Money...

If you are concerned about money, then you MUST watch this exclusive video right now.

Because in this video, Richa Agarwal, Head of Small Cap Research, talks about stocks that have made a select group of people Crorepatis.

They invested in just one stock and ended up becoming Crorepatis in the long run.

In this video, Richa also reveals her unique formula to identify such potential RARE stocks.

Plus, she also discusses her special report, 'One Stock Crorepati: How to Get Rich With This Little-Known Indian Stock'.

This video is now available for your viewing...

This video could be taken down any time soon. So, hurry…

Click here to watch the video right away…
------------------------------
Investment Strategy of Mirae Asset Large Cap Fund
MALCF aims to generate long-term capital appreciation by capitalising on potential investment opportunities by predominantly investing in equities of large cap companies, yet it may invest up to 20% in non-large cap companies.
It has the flexibility to invest across sectors and themes. The fund aims to combine consistency of large caps with few conviction ideas across mid-caps and small caps. The fund tries to identify companies which have sustainable competitive advantage and is available at reasonable price to hold it over an extended period of time.
The fund manager of the scheme follows a top down approach to invest in companies that benefit from macroeconomic, industry and sectoral trends after doing bottom up analysis and due diligence.
The fund may invest in equity derivatives to hedge and balance the portfolio and optimize the returns.
Graph 3: Mirae Asset Large Cap Fund Portfolio Allocation And Market Capitalisation Trend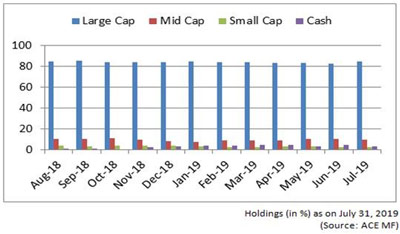 MALCF is mandated to invest 80% of its assets in equity and equity related instruments of large cap companies. The fund allocates 82-85% of its assets towards large caps. The balance is allocated towards mid-caps in the range of 8-10% and small caps in the range of 3-4%. It maintains up to 4% of its holdings in the form of cash. The fund has avoided investing in debt instruments.
Graph 4: Kotak Standard Multi-cap Fund Top Portfolio Holdings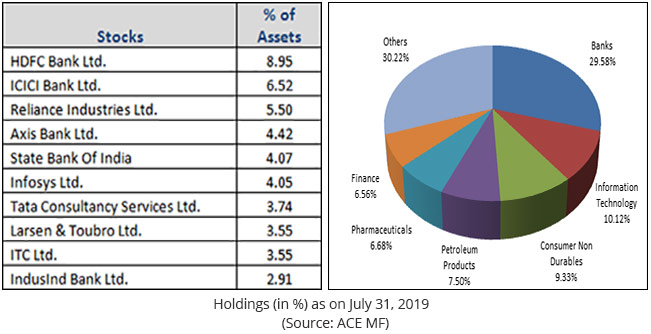 As on July 31, 2019, MALCF held 61 stocks in its portfolio, diversified across various sectors. The top 10 stocks constitute 47.3% of the total holdings and are mainly concentrated towards the banking sector. HDFC Bank has the highest allocation of 9% in the portfolio, followed by ICICI Bank (6.5%) and Reliance Industries (5.5%). The other stocks in the top 10 holdings have allocation in the range of 3-4% each.
In terms of sector wise holdings, the fund has the maximum exposure to Banks at 29.6%. Infotech and Consumer Non-durables have the next highest allocation with exposure of 10.1% and 9.3%, respectively. Petroleum Products (7.5%), Pharmaceuticals (6.7%) and Finance (6.6%) follow closely behind. The other prominent sectors in the portfolio are Engineering, Auto, Power and Consumer Durables.
Suitability of Mirae Asset Large Cap Fund
MALCF is a large cap fund investing across sectors and themes. It aims to maximise long term capital appreciation by finding investment opportunities resulting from Indian economic growth and structural shifts through investments in equity and equity related instruments with risk mitigation and control measures.
Over 90% of the fund's holding is invested in equities with majority of it allocated towards large caps. It also looks to tap opportunities in mid and small caps. Thus, the fund has the potential to appreciate wealth with an element of stability, making it suitable for moderately high-risk takers with an investment horizon of 5 years or more.
The fund has rewarded investors by performing exceptionally well across periods and delivering significant alpha over the benchmark and many of its category peers.
Before investing you must weigh all the options and make a prudent choice. The scheme should match your risk profile and should be suitable to meet your investment goals as per the set time period.
Note: This write up is for information purpose and does not constitute any kind of investment advice or a recommendation to Buy / Hold / Sell a fund. Returns mentioned herein are in no way a guarantee or promise of future returns. As an investor, you need to pick the right fund to meet your financial goals. If you are not sure about your risk appetite, do consult your investment consultant/advisor. Mutual Fund Investments are subject to market risks, read all scheme related documents carefully.
Editor's note: The last few years have not been among the best for equity mutual funds. While most funds have underperformed or are struggling to match the returns of the benchmark, there are few funds that have the potential to constantly generate alpha for its investors. And we have recently identified five such high alpha generating funds, in our latest report 'The Alpha Funds Report 2019'. Do not miss our latest research finding. Get your access to this exclusive report, right here!
Author: Divya Grover
This article first appeared on PersonalFN here.
PersonalFN is a Mumbai based personal finance firm offering Financial Planning and Mutual Fund Research services.
Disclaimer:
The views mentioned above are of the author only. Data and charts, if used, in the article have been sourced from available information and have not been authenticated by any statutory authority. The author and Equitymaster do not claim it to be accurate nor accept any responsibility for the same. The views constitute only the opinions and do not constitute any guidelines or recommendation on any course of action to be followed by the reader. Please read the detailed Terms of Use of the web site.
More Views on News
Sep 20, 2019
In investing, as in everyday life, buying more of the same quality product is a good strategy.
Sep 19, 2019
PersonalFN explains whether actively managed funds can outperform passively managed funds.
Sep 19, 2019
Is the auto sector down with cancer or is it just a mild fever which will go away soon?
Sep 19, 2019
The India we knew is changing. Here's how you can benefit from this change.
Sep 18, 2019
The positive side of technological disruptions and rebound opportunities in blue-chip stocks.
More Views on News
Most Popular
Sep 12, 2019
News headlines predict gloom and doom for India these days. You should ignore them.
Sep 10, 2019
Usually, the typical horizon period for my smallcap recommendations is 3 to 5 years. But if you ask me, this could be one business that you could own and pass on to future generations.
Sep 16, 2019
The stock market today is throwing up a great opportunity to pile on quality stocks.
Sep 11, 2019
How financial inclusion provides a big runway for this stock recommendation.
Sep 13, 2019
These 10 auto stocks should be in your watchlist for the next 32 months. Paste them on your workstation NOW.
More