Should A Weak Rupee Nudge You To Look At Offshore Mutual Funds?
Should A Weak Rupee Nudge You To Look At Offshore Mutual Funds?
Sep 10, 2019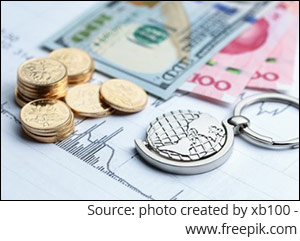 The Indian Rupee has been depreciating over the past few weeks and settled to its lowest this year on September 03, 2019 as it crossed the 72 per US Dollar mark. The decline was in tandem with other emerging economies as trade tensions between the US and China escalated and triggered weakening of Chinese Yuan. Investors thus turned to safe havens.
[Read: How A Weak Rupee Impacts Your Investments]
Meanwhile, the domestic environment was not conducive either. Foreign portfolio investors turned net sellers from July 2019 onwards as the government imposed higher tax surcharge on investment gains, causing the Rupee to tumble. Though the provision was later withdrawn, it did not have any significant impact on the Rupee.
Further, the government's move to revoke special status given to the state of Jammu & Kashmir exposed India to political risk. To add to the woes, the country's economy is showing clear signs of a slowdown. At 5%, the GDP growth in June 2019 quarter was at its six-year low.
--- Advertisement ---
Ex-Swiss Investment Banker Reveals His Biggest Investment Strategy in 4 Free Video Classes

Rahul Shah, ex-Swiss investment banker and Co-Head of Research at Equitymaster, is hosting a series of 4 free video classes for his readers, where he will reveal the details of something he's been working on for years…

The Double Income Project…

Rahul will show his readers, step-by-step, how to dramatically increase their income, potentially even double it…in what he believes is the earliest amount of time possible. a few short years.

For instance, if you make Rs 50,000 a month…Rahul's goal is to show you how to take it to Rs 100,000 in the long run.

Or if you make Rs 100,000…Rahul will show you how you could potentially increase it to Rs 200,000 in the long run.

This is different from anything Rahul Shah has ever done before – there's nothing to pay, no service to subscribe to and no forms to fill to attend these classes.

Just click here to sign up for the free video classes.
------------------------------
[Read: Is Your Mutual Fund Portfolio Strategically Placed As The Economy Slows?]
Here are the factors which point to the poor health of the economy:
Muted investments
Weak consumption
Low earnings growth of corporates
Decline in GVA from agriculture and manufacturing
Rising unemployment rate
Liquidity crisis in NBFCs
Global and domestic economic slowdown does not bode well for the Rupee and the capital markets.
Chart: Rupee-Dollar exchange rate in last 1 year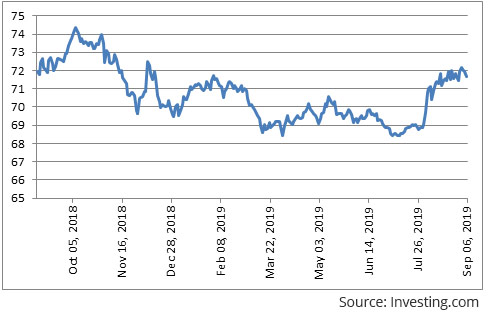 When market conditions in the domestic market are unattractive, investors look for opportunities in the overseas market. This enables them to gain higher returns if the global markets are performing better than the Indian markets and to take advantage of exchange rate difference.
[Read: Why You Should Not Ignore Worthy 'Value Funds' Now]
One can gain from some investment opportunities only available in a particular international market when they invest in offshore funds. Further, low correlation of domestic market with offshore market can enable diversification of the investment portfolio.
The Double Income Project: The Lazy Man's Guide to Doubling Your Income in The Long Term
However, investment in offshore funds can expose you to several risks. The performance of your funds will be impacted by the various micro and macro-economic factors affecting the country towards which your fund is focused. Any changes in regulations and policies relating to trade, companies, industries, investments, and so on may put your investments at risk.
As international investments have exposure to foreign currencies, fluctuations in exchange rate can expose you to currency risk. Unfavourable political environment in a foreign country can also negatively impact your investments.
Additionally, it is important to know the tax implications of investments. For taxation purpose, a fund can qualify as an equity mutual fund if it invests more than 65% of its assets in Indian equities. Thus, if an offshore fund invests more than 35% of its assets abroad, it will qualify as a non-equity fund.
This means that short-term capital gains will be taxed as per the income tax slab applicable to the investor, whereas long-term capital gains will be taxed at 20% with indexation benefits or 10% without availing indexation benefit.
If the offshore fund invests 65% of its assets in India to qualify as an equity fund in India, it will defeat the purpose of diversification.
--- Advertisement ---
Watch this Video Now And You Will Stop Worrying About Money...

If you are concerned about money, then you MUST watch this exclusive video right now.

Because in this video, Richa Agarwal, Head of Small Cap Research, talks about stocks that have made a select group of people Crorepatis.

They invested in just one stock and ended up becoming Crorepatis in the long run.

In this video, Richa also reveals her unique formula to identify such potential RARE stocks.

Plus, she also discusses her special report, 'One Stock Crorepati: How to Get Rich With This Little-Known Indian Stock'.

This video is now available for your viewing...

This video could be taken down any time soon. So, hurry…

Click here to watch the video right away…
------------------------------
Should you invest in offshore funds?
You should invest in offshore funds only if domestic investment does not provide enough opportunities for diversification of the portfolio.
Remember that recent slowdown and a weak Rupee does not mean that India's growth story is over. The government and the RBI have been taking measures to push economy back to growth and more measures are expected to be announced soon. These actions may start showing results in the medium to long term. On the other hand, all eyes will be on the outcome of the trade talks between theUS and China to be held in October 2019.
The Rupee could continue to be under pressure in the near term.
To be able to tide over the current volatility in the market and slowdown in the economy, you should invest in a diversified portfolio of equity funds. Domestic mutual funds provide enough options that can help you in diversification of your portfolio and select schemes that can generate alpha.
You should select mutual fund based on your financial goals, risk appetite, and investment horizon, and not based on the current economic conditions.
Opt for the systematic investment plan (SIP) route to reduce volatility and take advantage of rupee-cost averaging. Additionally, you cannot ignore the need for a personalised asset allocation. Select the right fund after evaluating your needs and comparing the fund's performance based on quantitative and qualitative parameters.
Editor's note: The last few years have not been among the best for equity mutual funds. While most funds have underperformed or are struggling to match the returns of the benchmark, there are few funds that have the potential to constantly generate alpha for its investors.

And we have recently identified five such high alpha generating funds, in our latest report 'The Alpha Funds Report 2019'. Do not miss our latest research finding. Get your access to this exclusive report, right here!
Author: Divya Grover
This article first appeared on Certified Financial Guardian.
PersonalFN is a Mumbai based personal finance firm offering Financial Planning and Mutual Fund Research services.
Disclaimer:
The views mentioned above are of the author only. Data and charts, if used, in the article have been sourced from available information and have not been authenticated by any statutory authority. The author and Equitymaster do not claim it to be accurate nor accept any responsibility for the same. The views constitute only the opinions and do not constitute any guidelines or recommendation on any course of action to be followed by the reader. Please read the detailed Terms of Use of the web site.
More Views on News
Sep 20, 2019
In investing, as in everyday life, buying more of the same quality product is a good strategy.
Sep 19, 2019
PersonalFN explains whether actively managed funds can outperform passively managed funds.
Sep 19, 2019
Is the auto sector down with cancer or is it just a mild fever which will go away soon?
Sep 19, 2019
The India we knew is changing. Here's how you can benefit from this change.
Sep 18, 2019
The positive side of technological disruptions and rebound opportunities in blue-chip stocks.
More Views on News
Most Popular
Sep 12, 2019
News headlines predict gloom and doom for India these days. You should ignore them.
Sep 10, 2019
Usually, the typical horizon period for my smallcap recommendations is 3 to 5 years. But if you ask me, this could be one business that you could own and pass on to future generations.
Sep 16, 2019
The stock market today is throwing up a great opportunity to pile on quality stocks.
Sep 11, 2019
How financial inclusion provides a big runway for this stock recommendation.
Sep 13, 2019
These 10 auto stocks should be in your watchlist for the next 32 months. Paste them on your workstation NOW.
More