Are You Blindly Investing In Equities? Read This...
Are You Blindly Investing In Equities? Read This...
Sep 11, 2018
My neighbour, Mr Sharma is employed in a private company at a senior position.
His son Sid is an IT professional who works for a reputed IT company. Sid is ambitious and always looking out for shortcuts in life.
He has seen his father set aside some portion of his salary in safe investment instruments such as fixed deposits and recurring deposits.
Sid had heard his colleagues talking about creating quick money from stock markets.
Being an impatient person, Sid wanted to earn money quickly. So, he used his entire savings to trade in equity shares and tried to time the market movements through Nifty Futures.
Though his initial trades were profitable, this strategy did not work for him. Instead of making a profit, he lost a huge chunk of his money in the market correction.
He wondered what went wrong. Even after following the stock tips from some known personalities on business channels, he couldn't make a fortune out of it.
He decided to talk to his father who is an avid saver, about it.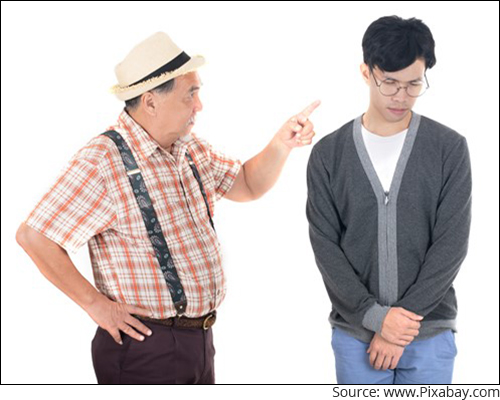 Often, Mr Sharma and Sid discuss various matters, sometimes with completely opposing views, but this time their discussion was about his bad investments.
Mr Sharma advised him to stay away from stock markets and instead invest his savings in bank fixed deposits, recurring deposits, and other small saving schemes as he had done all his life.
But somehow, Sid was not ready to accept his father's investment decision, which bothered Mr Sharma.
When I met Mr Sharma on my morning walk, he spoke about Sid's repeated losses to build wealth by taking shortcuts.
Since I work in a financial company and Sid and I are childhood friends, Mr Sharma asked me to have a word with Sid.
So, I helped Sid realise that investing is about making money and investment decisions should not be irrational and impulsive. We decided to list down the investing mistakes he made.
--- Advertisement ---


One Would Be A LOT Richer Today If He Had Done THIS Earlier…

Majority of investors out there think about investing in companies like Titan, MRF and Pidilite only after they've turned big. But for a second, imagine a person had invested in them when they were small and relatively unknown.

Yes! Doing that back then would have made him a LOT richer today. But it's not too late yet.

In our latest special report we unveil 3 small companies that have taken the market by storm and are well on their way to becoming blue-chips in their segments. So don't let this opportunity go.

Click here to find out how you can get our latest report containing full details on these 3 stocks and more for virtually FREE!
------------------------------
Being a first-time investor, he has made these common mistakes equity investors make.
Random Betting:

For a first-time investor, trading with a lack of knowledge is equivalent to random betting. A person trying to make profits on the erratic momentum of the market's highs and lows without understanding how it works can easily lose his wealth and health. This is akin to gambling, hoping to have luck and not thinking clearly or having a sound investment strategy. Given his nature, his only objective is to earn profits quickly. To generate wealth, investing must involve goals followed by prudent financial planning and with proper research.

Put All the Eggs in One Basket:

Do not invest all your savings in just one type of stocks or equities. Diversification can reduce the risk of losing the entire amount. You should think of diversifying your investment across various asset classes and not stick to just one form.

Instruments like mutual funds offer you various choices of investing in a mix of assets like equity, debt, gold, etc. Apart from the benefit of diversification, these are professionally managed by experienced fund managers who have a team of research analyst to back their investment strategies.

Trying to Time the Market:

Even an experienced trader cannot time the market correctly always. Timing the market is incredibly difficult as it does not work in one's favour. Equity investing should not be based on timing, but time based. It is usually seen that in equity investing if you remain invested for longer durations, you eventually earn returns. And if you invest according to the time horizon of your financial goal, market timing does not matter. Invest via Systematic Investment Plan (SIP) and you won't have to worry about timing the market. You will see your wealth grow gradually over time.

Following One's Advice Blindly:

What suits a professional stock trader may not suit you, as there isn't a one-size-fits-all type of investment. So, to follow a known professional blindly would be a big mistake. You should understand your needs and risk ability before you invest.

Similarly, to follow the herd, business news or advice from a friend or family can also be risky for your investments. Only you can make decisions about your investments, as you are the only one who is fully aware of your financial situation.

Reviewing your investments timely can ensure that you are on the correct path to financial freedom.
[Read: 8 Key Lessons On Financial Freedom From 'Rich Dad, Poor Dad']
Investing is not about beating the market or anybody else, it is about building wealth with common sense, logical thinking, patience, perseverance, mental balance, emotional intelligence, and performance under stress, etc.
Once you break away from negative traits and master your own mind, you will become a successful investor.
Sid realised his mistake and agreed to let go of his impulsive equity investment habit, but he still did not like the idea of investing in bank fixed deposits like his father. So, I explained to him how equity mutual funds work. He understood that the money invested is diversified, professionally managed, and gives decent returns too.
Further, I informed Mr Sharma about the investment mistake he was making. Small saving schemes and fixed deposits earn a low real rate of returns and won't help in creating wealth for his peaceful retired life. Even the interest he earns is taxable.
Source: PersonalFN
PersonalFN has a long track record of offering unbiased mutual fund research services. It analyses thousands of data points to shortlist schemes and applies a whole host of qualitative parameters to select only a handful of schemes for your portfolio.
PersonalFN follows a SMART score matrix:
S - Systems and Processes

M - Market Cycle Performance

A - Asset Management Style

R - Risk-Reward Ratios

T - Performance Track Record
Want to know of a time-tested strategy to invest in equities as the Sensex touches a new-high?
PersonalFN offers you this great opportunity:
The 2018 Edition of PersonalFN's Premium Report, "The Strategic Funds Portfolio For 2025"

If you're looking for "high investment gains at a relatively moderate risk", this report is extremely worthy.
In this report, PersonalFN provides you with a ready-made portfolio of its top equity mutual funds schemes for 2025 that have the ability to generate lucrative returns over the long term.
PersonalFN's "The Strategic Funds Portfolio for 2025" is geared to potentially multiply your wealth in the years to come. Subscribe now!
To sum up....
Equity 'trading' is injurious to your wealth and health in the long run. On the contrary, 'investing' as per timely set financial goals helps you achieve financial freedom. So, adhere to your financial plan diligently with sensible and systematic investments and do not heed any market turbulence.
The best time to invest is to start early, as time allows your wealth to grow exponentially with the power of compounding.
Happy Investing!
Author: Aditi Murkute
This article first appeared on PersonalFN here.
PersonalFN is a Mumbai based personal finance firm offering Financial Planning and Mutual Fund Research services.
Disclaimer:
The views mentioned above are of the author only. Data and charts, if used, in the article have been sourced from available information and have not been authenticated by any statutory authority. The author and Equitymaster do not claim it to be accurate nor accept any responsibility for the same. The views constitute only the opinions and do not constitute any guidelines or recommendation on any course of action to be followed by the reader. Please read the detailed Terms of Use of the web site.
More Views on News
Mar 22, 2019
Perosnalfn explains why shouldn't you be holding Index Funds as a core part of your investment portfolio.
Mar 22, 2019
FIIs pump in Rs 27,000 crore in Indian stock markets. What will you buy as the markets surge ahead of elections?
Mar 22, 2019
Private participation in defence is expected to open up huge opportunities for certain Indian companies in this space.
Mar 20, 2019
If the ongoing rally has any further steam left in it, then mid and small cap mutual funds is the place to be for intelligent investors right now.
Mar 20, 2019
Vivek dwells into a new YouTube phenomenon.
More Views on News
Most Popular
Mar 19, 2019
The urgency to privatise India's defence sector to make India self-reliant was never as strong as it is today.
Mar 15, 2019
5 fundamentally strong stocks one could buy to trade in this market right now. Make sure you grab the chance this strongly rallying market offers.
Mar 19, 2019
If you are still waiting for signals, remember, there is no correct timing, only right time to Buy stocks. For select small caps, that time is now.
Mar 13, 2019
Ajit Dayal shows us why from the point of view of the Indian economy, elections don't matter.
Mar 13, 2019
The elements that fueled profit growth for these two companies led to a surge in their stock prices.
More