Investors Are Redeeming From Equity Mutual Funds Now. Should You?
Investors Are Redeeming From Equity Mutual Funds Now. Should You?
Sep 12, 2018
Is the party for mutual funds over?
In April 2018, the mutual fund industry received new monthly inflows of Rs 15,909 crore for all equity-oriented schemes combined. By August 2018, however, the net monthly inflows reduced 46% to Rs 8,553 crore.
What's making mutual funds unpopular nowadays?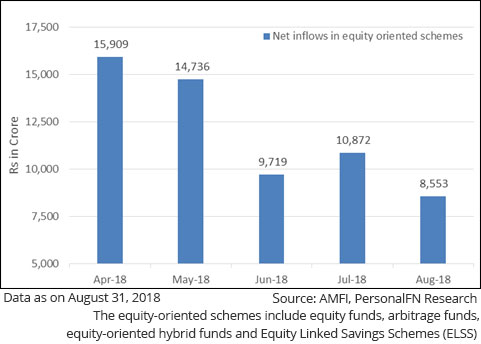 And net inflows in pure equity-oriented mutual fund schemes dropped for the fifth month straight as on August 2018. That has started worrying some industry players.
In fact, net monthly inflows in equity-oriented funds are ebbing because of higher redemptions.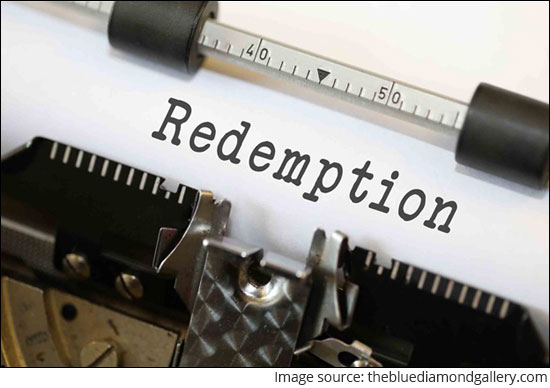 Is this just a momentary blip, or an indication of a major change for the mutual fund industry? And more importantly, how is this shift going to affect your investments?
Let's discuss this...
As on July 31, 2018, the industry has recorded a rise in mutual fund accounts for the 50th month. Moreover, investments through Systematic Investment Plans (SIPs) also increased. Data from the Association of Mutual Funds in India (AMFI) suggests that on an average 9.92 lakh new SIP registrations were activated every month (upto July) in FY 2018-19.
Therefore, it's very unlikely that mutual funds will become unpopular anytime soon. Investors have been rational to take the SIP route to invest in mutual funds.
--- Advertisement ---


One Would Be A LOT Richer Today If He Had Done THIS Earlier…

Majority of investors out there think about investing in companies like Titan, MRF and Pidilite only after they've turned big. But for a second, imagine a person had invested in them when they were small and relatively unknown.

Yes! Doing that back then would have made him a LOT richer today. But it's not too late yet.

In our latest special report we unveil 3 small companies that have taken the market by storm and are well on their way to becoming blue-chips in their segments. So don't let this opportunity go.

Click here to find out how you can get our latest report containing full details on these 3 stocks and more for virtually FREE!
------------------------------
But what's prompting higher redemptions?
As per AMFI data, Assets Under Management (AUM) of the mutual fund industry have expanded at 24.8% compounded annualised rate over the last five years. As on July 31, 2013, the industry's AUM was Rs 7.61 lakh crore which jumped to Rs 23.06 lakh crore by July 31, 2018. During this time period, S&P BSE Sensex has generated over 90% absolute returns-a significant jump for a majority of investors who had started investing in mutual funds in 2013 and 2014.
In other words, investors who are sitting on hefty profits could be booking some profits now.
[Read: Markets On A High Again. Here's A Strategy To Follow Now]
Factors leading to redemption are:
The equity market indices are near their all-time highs.
In the absence of rapid earnings growth, valuations appear extremely stretched.
Falling rupee fall is making investors jittery.
Soaring oil prices have a bearing on inflation, India's current account deficit and fiscal deficit, and may weigh on India's growth prospects.
As we are approaching Lok Sabha elections, market participants are expecting volatility to rise in coming months.
Long Term Capital Gains Tax (LTCG) imposed by the government from FY 2018-19 onwards is affecting the sentiments of High Net Worth Individual (HNI) investors.
The lump sum investments have also become hard to come by and many investors are now opting for STP (Systematic Transfer Plan).
Mutual fund categorisation has affected the performance of some mutual fund categories. For example, small and mid-cap stock universe has become unattractive for many mutual fund schemes. A sharp drop in the NAV of many mid and small-cap schemes has deterred investors from staying invested in them.
It's still ambiguous if the capital market regulator's reclassification and re-categorisation drive will bring passive investment options such as index funds and Exchange Traded Funds (ETFs) at par with active investment options.
Many industry experts believe that the regulator's decision to make it mandatory for mutual fund houses to compare the performance of their offerings against the Total Return Index (TER) is likely to make many mutual funds unattractive.
As reported by Economic Times dated August 10, 2018, nearly 77% equity mutual fund schemes have underperformed their respective benchmark indices on 1-year time frame.
What should you do?
There could be several reasons why you would want to sell your mutual fund units. But, you need to have sound reasoning behind your decision.
Selling your mutual fund units based on market direction is imprudent and it could lead to suboptimal returns.
In the past, PersonalFN has often highlighted that you as an investor, should adopt a prudent and well-planned approach to investing. You need to avoid ad hoc investment decisions, both while buying and selling mutual fund units.
While market levels define the value of your investment, due to volatility, the value will always fluctuate. But solely looking at market movements, it is difficult to ascertain to pick the best time to sell, as the market may move higher or lower over the short term.
Hence, the best time to sell your mutual fund investments is when:
Your financial goal is falling due for fulfilment - For example, you invested in mutual fund schemes to finance the higher studies of your child. In the next six months, your child is applying for a post-graduate programme. You should start redeeming your mutual fund investments under such circumstances to fulfil your goal.
When your asset allocation has deviated significantly from your original allocation - For instance, you originally invested 60% of your investable corpus in equity mutual funds, 30% in fixed income instruments, and 10% in gold. But last month you discovered that the proportion of your equity assets in your portfolio has gone up 80%. Under such circumstances, you might book some profit in mutual funds and reduce the weight of equity assets to 60%.

[Read: Why You Should Not Ignore Personalized Asset Allocation While Investing]
When mutual fund schemes in your portfolio have been consistently underperforming their benchmark and peers - You recently found that a mutual fund scheme in your portfolio has been underperforming its benchmark and the category peers consistently across time periods: 6-months, 1-year, 2-years and 3-years. Perhaps this is the time to eliminate these schemes from your portfolio and replace them with better alternatives.
The fundamental attributes such as risk profile, investment preferences of the schemes have changed - Assume, after the implementation of the capital market regulator's reclassification norms, a mutual fund scheme decided to convert its mid-cap oriented scheme in a multi-cap oriented scheme. You being an aggressive investor, the fund might have become unattractive to you. Under such circumstances, you might redeem a mutual fund scheme.
PersonalFN believe it is not only important to carefully select the mutual funds but to know which funds suit your portfolio best.
[Read: Your Mutual Fund Portfolio Should Be Like A Thali - Offering Variety And A Balanced Diet!]
Before you invest in mutual funds, you should know:
The age bracket you are in
Your current financial health
Your risk profile
The estimated ballpark figure for your financial goal/s
Time horizon in hand before financial goals befall
Chart out a personalised asset allocation chart (based on the above factors)
Performance track record across timeframes and market phases to invest in best mutual fund schemes
[Read: Investing In Mutual Funds Can Help You Achieve Your Financial Goals]
Aren't sure which mutual fund scheme you should invest in? Watch this video:
The key to your investment success is quality advice and astute selection of mutual fund schemes.

Editor's note:
Your search for the most personalised investment advice might end at 'PersonalFN Direct'-PersonalFN's robo advisory platform. It is India's only robo advisor powered by solid research experience.
But, how is it different from other robo advisory platforms?
#1: It offers only DIRECT PLANS (devoid of commissions)
#2: Offers customisable investment solutions based on your risk profiling
#3: It brings outstanding research experience of over 15 years
#4: Minimal paperwork and ease of transacting
#5: It comes at a pocket-friendly price
Investing in mutual funds through PersonalFN Direct is simple, rewarding, and economical. To know more, click here.
What are you waiting for?
Become a paid subscriber of PersonalFN Direct today and start your journey towards wealth creation.
Happy Investing!
Author: PersonalFN Content & Research Team
This article first appeared on PersonalFN here.
PersonalFN is a Mumbai based personal finance firm offering Financial Planning and Mutual Fund Research services.
Disclaimer:
The views mentioned above are of the author only. Data and charts, if used, in the article have been sourced from available information and have not been authenticated by any statutory authority. The author and Equitymaster do not claim it to be accurate nor accept any responsibility for the same. The views constitute only the opinions and do not constitute any guidelines or recommendation on any course of action to be followed by the reader. Please read the detailed Terms of Use of the web site.
More Views on News
Apr 19, 2019
When elections come around, liquor flows like water and everyone gets drunk with power...what does this mean for liquor stocks? Read one to find out from our very own election trading analyst, Vijay Bhambwani.
Apr 18, 2019
As compared to net inflows of Rs 3,948 crore in the equity category during February 2019, the inflows for March 2019 were strong at Rs 9,014 crore.
Apr 18, 2019
When goods are handed out by benevolent politicians during election, aspirational goods such as two wheelers often end up winners, says our very own trading analyst, Vijay Bhambwani.
Apr 17, 2019
If you engage in Tax planning from the beginning of the year you will not do ad hoc investments.
Apr 17, 2019
20% of all the traders bring in 80% of the money. Watch these 20% and you get a working idea of which way the wind is blowing.
More Views on News
Most Popular
Apr 9, 2019
It's a matter of time before the stocks catch the fancy of the markets and big investors.
Apr 10, 2019
We have identified 3 stocks with huge wealth building potential which meet our 'Click of a Button' criteria.
Apr 10, 2019
How Dell got its mojo back.
Apr 12, 2019
This critical business strategy has enabled companies to scale their operations faster.
Apr 12, 2019
Here's how one could have generated gains of Rs 59,250 in 10 days by trading HDFC and HDFC Bank with a capital of Rs 4 lakh.
More