Axis Bluechip Fund: Aiming for Consistent Returns
Axis Bluechip Fund: Aiming for Consistent Returns
Sep 17, 2021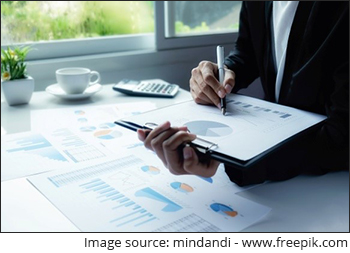 The momentum in the Indian equity market is still intact as the S&P BSE Sensex has breached the 59,000 mark, scaling fresh life time high. High liquidity in the market, strong corporate earnings, growth measures from the government, hopes of economic recovery are among the factors fuelling the market rally.
Even though there are concerns about high valuations in the market, there is a possibility of further upside because of high participation from retail investors and liquidity support. However, any unexpected or adverse event can lead to correction in the market.
Investing in large-cap mutual funds provide better protection against volatility compared to mid-cap funds and small-cap funds in case of market correction. You also benefit from the steady growth of capital over the long term. Therefore, large-cap funds should ideally form part of the core portfolio of any investor.
Axis Bluechip Fund is a large-cap fund that has generated superior returns in the last few years by focusing on growth-oriented and high quality stocks.
--- Advertisement ---
Replay Available: The EV Gold Rush

Get the details of 3 EV stocks to potentially make life-changing gains in the long term

Catch a FREE REPLAY Here
------------------------------
Graph 1: Growth of Rs 10,000 if invested in Axis Bluechip Fund 5 years ago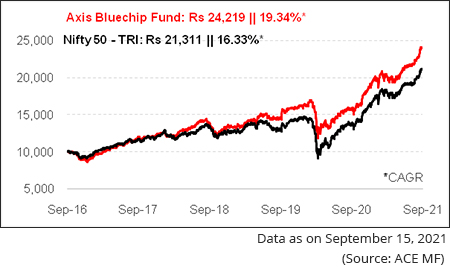 Axis Bluechip Fund is the largest fund in the large-cap funds category. The fund endeavours to invest in a diversified portfolio predominantly consisting of large-cap stocks. It holds negligible exposure in stocks of mid-cap and small-cap companies. Axis Bluechip Fund selects stocks based on their ability to grow earnings on a sustainable basis from a medium term perspective. In the market crash of 2020, wherein prominent large cap funds found it difficult to keep pace with the indices, Axis Bluechip Fund managed to outperform the benchmark Nifty 50 - TRI and the category peers by a significant margin. However, the fund couldn't fully participate the swift recovery phase that was largely driven by momentum stocks. Nonetheless, it is not expected to have a lasting impact on its long term fundamentals. In the last 5 years, Axis Bluechip Fund has generated returns at a CAGR of around 19.3% as compared to 16.3% CAGR delivered by the benchmark Nifty 50 - TRI index, thus rewarding investors with an alpha of around 3 percentage points.
Table: Axis Bluechip Fund's performance vis-a-vis category peers
Returns are point to point and in %, calculated using Direct Plan - Growth option. Those depicted over 1-Yr are compounded annualized
Data as on September 15, 2021
(Source: ACE MF)
*Please note, this table only represents the best performing funds based solely on past returns and is NOT a recommendation. Mutual Fund investments are subject to market risks. Read all scheme related documents carefully. Past performance is not an indicator for future returns. The percentage returns shown are only for indicative purposes.
Axis Bluechip Fund has done exceedingly well over the last few years, that has helped scale up its returns across time periods. Even though the fund has slightly trailed the benchmark and some of its peers in the last 1 year period, over the longer time horizon it has not only managed to generate significant alpha but has even evolved as a category outperformer. Over the longer time period of 5-years and 7-years, the fund stands among the toppers in the category and much ahead of the benchmark.
The volatility registered by the fund is the lowest in the large cap funds category. Moreover, the Sharpe Ratio of the fund is currently among the best in the category and significantly ahead of its benchmark. Overall, Axis Bluechip Fund has been a clear outperformer and has rewarded investors with superior risk-adjusted returns.
--- Advertisement ---
[Alert] Sell These 3 Stocks Immediately

These 3 stocks are ticking time bombs in your portfolio.

It is very likely that you could be owning these 3 overvalued...

fundamentally weak... ready to crash stocks... in your portfolio today.

Because many stock brokers have painted rosy pictures of these stocks. But the reality is starkly different.

If the market crashes, then these stocks could wipe out your wealth.

You should get rid of these stocks as soon as possible.

Click her for full details of these 3 landmines
------------------------------
Investment strategy of Axis Bluechip Fund
Categorised under large cap funds, Axis Bluechip Fund is mandated to hold over 80% allocation to large caps, while the remaining can be in mid and small-caps. Axis Bluechip Fund is a growth oriented large-cap biased fund that primarily follows the bottom-up approach to pick stocks, with some tactical and structural calls to benefit from price corrections.
Belonging to a process driven fund house, Axis Bluechip Fund focuses on investing in high quality stocks in the large cap segment having potential to grow cash flows over the medium to long term. Its portfolio is built utilising the bottom-up approach, focusing on appreciation potential of individual stocks from a fundamental perspective. It employs a `Fair value based' research process to analyse the growth potential of stocks. The stocks are carefully selected to include companies having robust business models and enjoying sustainable competitive advantage as compared to their competitors.
Unlike its peers that hold 45-50 stocks, Axis Bluechip Fund holds a compact portfolio of just around 30-35 stocks. Rather than adding too many names, the fund management believes in staying with known quality names and look for corporate governance, strong management, scalable and secular business model where they can invest for at least 3 to 5 years.
Graph 2: Top portfolio holdings in Axis Bluechip Fund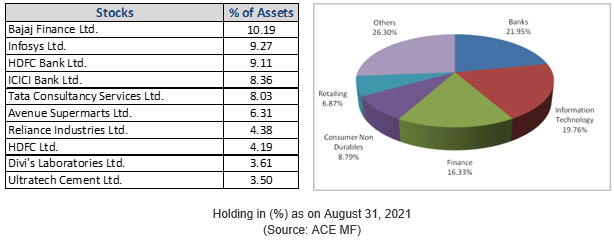 Axis Bluechip Fund is selective while picking stocks for the portfolio and usually holds around 35 stocks in the investment portfolio. As of August 31, 2021, Axis Bluechip Fund held a compact portfolio of 34 stocks. Names like Bajaj Finance, Infosys, HDFC Bank, ICICI Bank, and TCS currently figure among top holdings in the fund's portfolio with an allocation in the range of 8% to 10% each. Avenue Supermarts, Reliance Industries, HDFC Ltd., Divi's Laboratories, and Ultratech Cement stood among the other top holdings in the fund's portfolio.
Axis Bluechip Fund's top stock holdings like Bajaj Finance, Infosys, ICICI Bank, HDFC Bank, TCS, and Avenue Supermarts, contributed immensely to its performance in the last one year. It has also benefited from its holdings in stocks like Divi's Laboratories, Asian Paints, Kotak Mahindra Bank, etc. that stood among other top gainers in the portfolio.
Though Axis Bluechip Fund's portfolio is skewed towards cyclicals, it is fairly diversified towards defensives. Around 38.3% of Axis Bluechip Fund's portfolio is exposed to Banking and Finance stocks, followed by Infotech and Consumption adding another 28.6% to its portfolio allocation. The remaining part of the portfolio is diversified across Retail, Pharma, Cement, Petroleum, Telecom, Auto & Auto Ancillaries, among others.
Watch Now: A Massive 15x Opportunity in Electric Vehicles
Suitability
Axis as a mutual fund house resists from investing in momentum stocks and focuses on growth-oriented quality stocks. Axis Bluechip Fund aims to outperform the benchmark while undertaking risk that is lower than the benchmark. Its current fund manager - Mr Shreyash Devalkar has done a phenomenal job to turn around the fortune of the fund.
Notably, Axis Bluechip Fund holds a compact portfolio concentrated towards few selected sectors like financials and stocks within those sectors. The concentrated nature of the fund may result in high volatility if any of the underlying stocks or sectors come under pressure.
This makes Axis Bluechip Fund suitable for investors looking for stability of the portfolio and capital appreciation over a longer time period of 5 years or more.
PS: If you are looking for quality mutual fund schemes (including Equity-linked Saving Schemes) to add to your investment portfolio, I suggest you subscribe to PersonalFN's premium research service, FundSelect. PersonalFN's FundSelect service provides insightful and practical guidance on which mutual fund schemes to Buy, Hold, and Sell.
Currently, with the subscription to FundSelect, you could also get Free Bonus access to PersonalFN's Debt Fund recommendation service DebtSelect.
If you are serious about investing in a rewarding mutual fund scheme, subscribe now!
Note: This write up is for information purpose and does not constitute any kind of investment advice or a recommendation to Buy / Hold / Sell a fund. Returns mentioned herein are in no way a guarantee or promise of future returns. As an investor, you need to pick the right fund to meet your financial goals. If you are not sure about your risk appetite, do consult your investment consultant/advisor. Mutual Fund Investments are subject to market risks, read all scheme related documents carefully.
Author: Divya Grover
This article first appeared on PersonalFN here.
Join Now: PersonalFN is now on Telegram. Join FREE Today to get 'Daily Wealth Letter' and Exclusive Updates on Mutual Funds
PersonalFN is a Mumbai based personal finance firm offering Financial Planning and Mutual Fund Research services.
Disclaimer:
The views mentioned above are of the author only. Data and charts, if used, in the article have been sourced from available information and have not been authenticated by any statutory authority. The author and Equitymaster do not claim it to be accurate nor accept any responsibility for the same. The views constitute only the opinions and do not constitute any guidelines or recommendation on any course of action to be followed by the reader. Please read the detailed Terms of Use of the web site.
More Views on News
Oct 15, 2021
The government's plan to divest its stakes in PSUs could spark off a rally in these four stocks.
Oct 11, 2021
To corporatise the defence sector, the Ministry of Defence (MoD) has dissolved the 250-year-old Ordnance Factory Board (OFB).
Oct 7, 2021
Here's how you can invest in some of the most exciting start-ups of the decade.
Oct 25, 2021
This is what you need to know before applying for Nykaa's public issue.
Oct 25, 2021
By customising your investment as per your needs you will be able to earn decent alpha from your equity mutual funds without taking excess risk.
More Views on News
Most Popular
Oct 13, 2021
The excitement around green energy stocks has opened up a huge contrarian opportunity in the traditional energy space.
Oct 13, 2021
Why should investors take it for granted that India's Tesla will be one of the major auto stocks?
Oct 15, 2021
Tata group stocks are on fire. Find out which one deserves your attention.
Oct 13, 2021
Tata Motors zooms 23% after report of TPG investing Rs 75 bn in EV arm.
Oct 15, 2021
The government's plan to divest its stakes in PSUs could spark off a rally in these four stocks.
More