Is Mirae Asset Ultra Short Duration Fund a Right Solution for Your Short Term Needs?
Is Mirae Asset Ultra Short Duration Fund a Right Solution for Your Short Term Needs?
Sep 30, 2020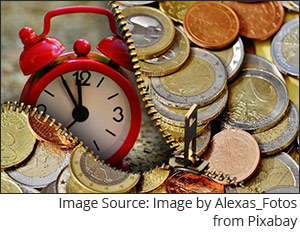 Due to the RBI's consecutive rate cut the repo rate has dropped to 4%, a multi-year low and subsequently the 10-year gsec bond yield softened. For the Indian debt market, the yield of 10-year gsec is indicative of a growing economy or the slowing down of it and currently it doesn't paint a good picture. However, it moves in tandem with the government policies of borrowing, open market auctions, selling, and its debt load.
The bond yields fell the most in last three months, after the Reserve Bank of India (RBI) announced measures to allay the market fears over rising yields and higher borrowing programmes. In fact, the bond yield and prices move in opposite directions. This happens largely because the bond market is driven by the supply and demand of capital into the system.
Advertisement
India's Next War
Recently, both China and Pakistan have started amping up tensions at the border.

So, now India faces a possible 2-front war scenario.

And this calls for a heavy deployment of future-ready and highly advanced weapons at our borders.

We are talking next generation tanks, guns and even high-tech equipment like drones.

Now unlike in the past where all this money was spent with foreign companies, now, it's being redirected to Indian companies.

For a few Indian defence companies...this is a mega growth opportunity.

And for investors... it's a rare opportunity to make potentially huge gains as select defence companies see their growth, and therefore stock prices, potentially shoot up.

To learn everything about this new, and huge, opportunity, Click Here to join Equitymaster's Explosive Profits Summit.

At this exclusive summit, you will also get to access details of what we call our #1 defence stock pick.

It's a potential 10x opportunity in the long term.
Since the bond price and yields are inversely proportional to each other, the fall in the yields favoured the bond prices to make debt fund investment lucrative. The debt funds having a higher maturity that are at the longer end of the yield curve--gilt funds and long-term bond funds benefited the most due to the fall in the bond yields but they are extremely sensitive to the interest rate movement as compared to short term papers.
[Read: Long Duration Funds are offering Double-digit Returns. Should You Invest?]
Most of the rally at the longer end of the yield curve has already come about since the time RBI started reducing policy rates. So, the longer end of the yield curve thus could prove less rewarding and riskier (may encounter high volatility) in the foreseeable future.
Sensing this and keeping in mind the wave of credit crisis fiasco that rattled debt fund investments, there was a leeway to launch debt funds; that would be more liquid and offer an opportunity to park money for short term requirements in an array of debt and money market instruments having maturity of atleast 6 months.
Hence even Mirae Asset Mutual Fund launched an open-ended debt scheme, Mirae Asset Ultra Short Duration Fund (MAUSDF) that will be investing in instruments such that the Macaulay Duration of the portfolio is between 3 months to 6 months.
#1 Small-Cap Stock: Biggest Opportunity in the Indian FMCG Market
What is an ultra-short duration fund?
Ultra-short-term funds invest primarily in debt and money market instruments such that the Macaulay duration of the portfolio is between 3 months to 6 months. Compared to a liquid fund, an ultra-short-term fund invests in higher maturity debt papers and money market instruments.
Note that the bond prices are inversely related to the interest rates. Hence, a bond that has a longer maturity is extremely price-sensitive to changes in the interest rate as compared to bonds having a short duration. An ultra-short-term fund help investor reduces this interest rate risks and offers better returns than most money market instruments.
The Macaulay duration measures the weighted average term to maturity of the bond's cash flow. The weights in this weighted average are the present value of each cash flow as a per cent of the present value of all the bond's cash flows.
Macaulay's Duration is linked to the price volatility of a bond. Duration is the fund manager's tool for structuring a portfolio of bonds to have the desired sensitivity to maintain between the time interval of invested bonds. As per the mandate, MAUSDF will allocate all its assets in debt securities having a duration of 3 to 6 months within the prescribed limits.
From the risk-return standpoint, MAUSDF is a relatively moderately low risk-return. If you are planning for short-term goals, to where the money is required in 6 months, the ultra-short-term fund may be considered.
Table 1: Mirae Asset Ultra Short Duration Fund Details
Type
An Open ended ultra-short term debt scheme investing in instruments such that the Macaulay duration of the portfolio is between 3 months to 6 months
Category
Ultra-Short Duration Fund
Investment Objective
To generate regular income and provide liquidity by investing primarily in a portfolio comprising of debt & money market instruments.
There is no assurance or guarantee that the investment objective of the scheme will be realized.
Min. Investment
Rs 5,000 and in multiples of Re 1 thereafter
Face Value
Rs 10 per unit
Plans
Options

Growth (default option)
Dividend

Pay-out
Re-investment (default option)

Entry Load
Not Applicable
Exit Load
Nil
Fund Manager
Mr Mahendra Kumar Jajoo
Benchmark Index
NIFTY Ultra Short Duration Debt Index
Issue Opens:
28/09/2020
Issue Closes:
06/10/2020
(Source: Scheme Information Document)
How will Mirae Asset Ultra Short Duration Fund allocate its assets?
Under normal circumstances, the asset allocation pattern will be as under:
Table 2: MAUSDF's Asset Allocation
Types of Instruments
Normal Allocation
(% of Net Assets)
Risk Profile
Minimum
Maximum
Debt and Money Market Instruments such that Macaulay duration* of the portfolio is between 3 months to 6 months
0
100
Low to Medium
Units issued by REITs & InvITs
0
10
Medium to High
* Macaulay Duration of the portfolio shall be between 3 months and 6 months.
The Scheme may invest in securitised debt upto a maximum of 50% of its net assets.
The Scheme may invest in Structured Obligations / Credit Enhancements not exceeding 10% of the debt portfolio of the scheme and the group exposure in such instruments shall not exceed 5% of the debt portfolio of the scheme.
The Scheme may invest in derivatives up to 50% of the net assets of the Scheme for the purpose of hedging and portfolio balancing purposes.
The cumulative gross exposure through debt, money market, units issued by REITs & InvITs and derivative positions should not exceed 100% of the net assets of the Scheme.
The scheme may participate in repo in corporate debt securities.
The exposure to Repo in corporate bonds would be limited to 10% of net assets of the concerned scheme.
A maximum of 10% of net assets may be deployed in REITs and InvITs and the maximum single issuer exposure may be restricted to 5% of net assets or upto the limits permitted by SEBI from time to time.
The Scheme shall not participate in Credit Default Swaps.
(Source: Scheme Information Document)
What will be the Investment Strategy?
The Scheme seeks to generate returns and reduce interest rate risk by keeping the portfolio Macaulay duration between 3 months and 6 months. The maturity profile of debt instruments may be selected in accordance with the fund manager's view regarding market conditions, interest rate outlook and rating.
Though every endeavour will be made to achieve the objective of the Scheme, the AMC / Sponsors / Trustee do not guarantee that the investment objective of the Scheme will be achieved. No guaranteed returns are being offered under the Scheme.
Who will manage the Mirae Asset Ultra Short Duration Fund?
The Mirae Asset Ultra Short Duration Fund will be managed by Mr Mahendra Kumar Jajoo.
Mr Mahendra Jajoo is the Head of Fixed Income at the Mirae Asset AMC. He holds over 27 years of experience in the field of financial services including 13 years of experience in Fixed Income fund management. Mr Jajoo is a Chartered Accountant (CA), Company Secretary (ACS) and Chartered Financial Analyst (CFA)
At Mirae Asset Mutual Fund, Mr Jajoo is responsible for supervising all the debt schemes of the fund house. Prior to joining the AMC, Mr Jajoo was a Director with AUM Capital Markets Ltd. He has also been associated with organizations like Pramerica Mutual Fund (now known as DHFL Pramerica Mutual Fund), Tata Mutual Fund, ABN AMRO Asset Management Ltd and ICICI Group.
Currently, at Mirae Asset Mutual Fund he co-manages/manages Mirae Asset Savings Fund, Mirae Asset Cash Management Fund, Mirae Asset Dynamic Bond Fund, Mirae Asset Hybrid Equity Fund (debt portion), Mirae Asset Fixed Maturity Plan - Series III - 1122 days, Mirae Asset Equity Savings Fund (debt portion), Mirae Asset Arbitrage Fund, Mirae Asset Overnight Fund and Mirae Asset Banking and PSU Debt Fund.
Table 3: Performance of schemes managed by Mr Jajoo
Data as on September 28, 2020
(Source: ACE:MF; PersonalFN Research)
As seen from the above table, most of the schemes managed by Mr Jajoo have been trailing behind their respective benchmark index. This doesn't give in much confidence of fund management to investors.
Outlook for Mirae Asset Ultra Short Duration Fund
With the intent to achieve the investment objective, fund manager of the Mirae Asset Ultra Short Duration Scheme will actively manage the scheme and invest accordingly in debt and money market instruments. The major players in the Indian debt markets today are banks, financial institutions, insurance companies and mutual funds. The instruments in the market can be broadly categorised as those issued by corporates, banks, financial institutions and those issued by state / central governments.
In India, RBI operates both as the monetary authority and the debt manager to the government. In its role as a monetary authority, the RBI participates in the money market through open-market operations as well as through Liquidity Adjustment Facility (LAF) to regulate the money supply and inflation.
The risks associated with any debt fund investment are - credit risk, interest rate risk and liquidity risk. But RBI has successively cut interest rates to boost the waning economy, especially inflation. In the falling interest rate scenario, these funds benefitted from capital appreciation.
[Read: Is It Worthwhile Investing in Debt Mutual Funds As the Indian Economy Sags?]
COVID-19 has likely put a burden on debt servicing, especially private issuers. The extended lock down has disrupted their business line proceedings and revenues resulting in an increased pressure, and chances of default.
The RBI announced loan moratoriums and further decided not to classify them as NPA. Moreover, providing a window for loan recasting in order to boost the economy by infusing liquidity.
On the backdrop of the uncertainty surrounding the inflation outlook and taking into consideration the extremely weak state of the economy amid an unprecedented shock from the ongoing pandemic, the Monetary Policy Committee of the RBI chose to pause the rate cuts and remain watchful of incoming inflation data.
The statement said that while the space for further monetary policy action in support of this stance is available, it is important to use it judiciously and opportunistically to maximise the beneficial effects for underlying economic activity. The MPC is conscious that its primary mandate is to achieve the medium-term target for CPI inflation of 4 per cent within a band of +/- 2.00%.
Going forward, if inflation mellows down, the policy rates may move lower a bit (maybe by around 25-50 bps) given the accommodative stance to address growth concerns. Hence, it's crucial to see how a fund manager will assess these aspects during portfolio construction. Thus, the fortune of MAUSDF will be hinged on the quality of paper of money market instruments and debt securities held in its portfolio.
Editor's note: If you wish to select worthy mutual fund schemes, I recommend subscribing to PersonalFN's unbiased premium research service, FundSelect.
Additionally, as a bonus, you get access to PersonalFN's popular debt mutual fund service, DebtSelect.
Each fund recommended under FundSelect goes through our stringent process, where they are tested on both quantitative as well as qualitative parameters.
Every month, PersonalFN's FundSelect service will provide you with insightful and practical guidance on equity mutual funds and debt schemes - the ones to Buy, Hold, or Sell.
If you are serious about investing in a rewarding mutual fund scheme, Subscribe now!
Author: Aditi Murkute
This article first appeared on PersonalFN here.
Join Now: PersonalFN is now on Telegram. Join FREE Today to get 'Daily Wealth Letter' and Exclusive Updates on Mutual Funds
PersonalFN is a Mumbai based personal finance firm offering Financial Planning and Mutual Fund Research services.
Disclaimer:
The views mentioned above are of the author only. Data and charts, if used, in the article have been sourced from available information and have not been authenticated by any statutory authority. The author and Equitymaster do not claim it to be accurate nor accept any responsibility for the same. The views constitute only the opinions and do not constitute any guidelines or recommendation on any course of action to be followed by the reader. Please read the detailed Terms of Use of the web site.
More Views on News
Oct 19, 2020 | Updated on Oct 19, 2020
The BSE Sensex Surged 505 Points; ONGC Among Top Gainers. Find the latest update, special reports and news on all time high gainers of BSE Sensex at equitymaster.com.
Oct 19, 2020
Has the market changed its opinion on PSUs?
Oct 19, 2020
On October 12, 2020, the government came up with a stimulus package to give a boost to consumption which has taken a hit due to the COVID-19 pandemic.
Oct 19, 2020
The set up that made Jim Rogers famous is now up for grabs in India.
Oct 16, 2020
The one sector that you should be looking at to make good profits.
More Views on News
Most Popular
Oct 9, 2020
How I picked an exciting stock using trends from both the commodity and equity markets.
Oct 12, 2020
Is ITC an investment or a speculation at current levels?
Oct 7, 2020
In this video, I'll show you how to identify a confluence of factors in the market which will point you to the best stocks to trade.
Oct 9, 2020
Few Indian defence companies could use their engineering capabilities to eventually become global leaders.
More