Nippon India Nifty Smallcap 250 Index Fund: High Risk in Passive Mode
Nippon India Nifty Smallcap 250 Index Fund: High Risk in Passive Mode
Oct 1, 2020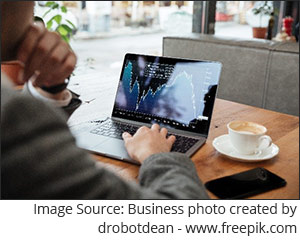 The small cap index which suffered the most during the market crash outperformed its large-cap and mid-cap counterparts during a recent rally. Since the government's decision in June to permit businesses to open in a phased manner, they have gradually begun to cope with losses.
On the plus side, these economic times are prime conditions for value buying opportunities, which were incognito to fund managers across the fund houses. Extreme volatility make active funds management challenging for many fund managers and investors distraught over their loss of capital.
To ease investors' apprehensions, several fund houses have launched schemes for passively managed funds. Nippon India Mutual Fund has launched Nippon India Nifty Smallcap250 Index Fund.
--- Advertisement ---
India's Secret Plan to Beat China Takes Shape

China is playing dirty since the past few months.

Under the garb of military exercises, they shored up their troops at the border region in Ladakh.

What do they want? A war with India?

If that's the case, then India needs to be more ready than ever before.

India has already started deploying high-tech weapons at our borders.

It is estimated that the Indian government could spend over Rs 4 lakh crore on such defence equipment over next 5-7 years...

Pumping hundreds or even thousands of crores into a few Indian defence companies in the coming years...

As a result, select Indian defence companies could benefit in a huge way... and their stock prices could shoot up like never before...

Especially this one stock, which we call India's #1 defence stock.

It's a potential 10x opportunity in the long term.

We'll reveal all the details about this huge opportunity at our Explosive Profits Summit.

Click here to sign-up instantly here. It's free.
------------------------------
As you know, index funds basically, as per the categorisation norms, are described as funds that will invest a minimum 95% of total assets of the scheme in securities of a particular index. An index fund does not attempt to outperform the benchmark index, it aims to replicate the index. They have a portfolio comprising of stocks of securities in line (weightage composition-wise) with that of the tracking index.
Nippon India Mutual Fund house believes that tracking Nifty Small cap 250 Index provides good potential because it is a part of a big universe of Nifty500 Index. Smallcaps can successfully migrate to become future midcaps.
Image 1: Evolution story of Small caps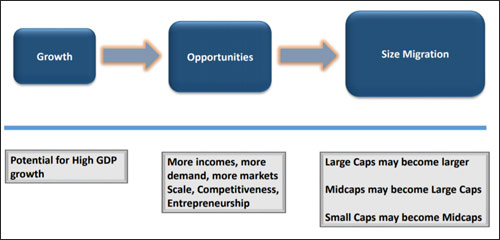 (Source: Nippon India Nifty Smallcap 250 Index Fund's Presentation)
However, remember Nippon India Nifty Smallcap 250 Index Fund being a small-cap focused index fund, it will be an extremely high -risk investment proposition.
Table 1: Details of Nippon India Nifty Smallcap 250 Index Fund
Type
An open ended scheme replicating/tracking Nifty Smallcap 250 Index
Category
Index funds- domestic
Investment Objective
To provide investment returns closely corresponding to the total returns of the securities as represented by the Nifty Smallcap 250 Index before expenses, subject to tracking errors.
However, there can be no assurance or guarantee that the investment objective of the Scheme will be achieved.
Min. Investment
Rs 5,000 and in multiples of Re 1 thereafter
Face Value
Rs 10 per unit
Plans
*default
Options

Growth
Dividend (Payout and Reinvestment)

Entry Load
Not Applicable
Exit Load
Nil
Fund Manager
Mr Mehul Dama
Benchmark Index
Nifty Smallcap 250 TRI
Issue Opens:
September 28, 2020
Issue Closes:
October 09, 2020
(Source: Scheme Information Document)
NEW: 5 Pandemic-Proof Smallcaps You Should Know About...
How will Nippon India Nifty Smallcap 250 Index Fund allocate its assets?
The asset allocation pattern of the scheme would be as follows:
Table 2: Nippon India Nifty Smallcap 250 Index Fund's Asset Allocation
Instruments
Indicative Allocation
(% of net assets)
Risk Profile
High/Medium/Low
Minimum
Maximum
Securities constituting Nifty Smallcap 250 Index
95
100
High
Money Market instruments, Reverse repo and / or Tri-Party Repo and/or Schemes which invest predominantly in the money market securities or Liquid Schemes*
0
5
Low to Medium
*The Fund Manager may invest in Liquid Schemes of Nippon India Mutual Fund. However, the Fund Manager may invest in any other scheme of mutual fund registered with SEBI, which invest predominantly in the money market securities.
The above stated percentages are indicative and not absolute. The Scheme will not invest in securitized debt, ADR, GDR, foreign securities, structured obligations nor will it engage in short selling and Repo in corporate debt.
As the Nifty Smallcap 250 Index is an Equity index, the constituents of the index do not include debt Securities. The Fund Manager would monitor the Tracking Error of the Scheme on an ongoing basis and would seek to minimize the Tracking Error to the maximum extent possible.
Under normal circumstances, the AMC shall endeavour that the Tracking Error of the Scheme shall not exceed 2% per annum. There can be no assurance or guarantee that the Scheme will achieve any particular level of Tracking Error relative to performance of the underlying Index.
(Source: Scheme Information Document)
What is the Investment Strategy?
Nippon India Nifty Smallcap 250 Index Fund is a passively managed index fund that will employ an investment approach designed to track the performance of Nifty Smallcap 250 TRI.
The Scheme seeks to achieve this goal by investing in securities constituting the Nifty Smallcap 250 Index in same proportion as in the Index. The AMC does not make any judgments about the investment merit of Nifty Smallcap 250 Index nor will it attempt to apply any economic, financial or market analysis.
This would be done by investing in almost all the stocks comprising the Nifty Smallcap 250 Index in approximately the same weightage that they represent in Nifty Smallcap 250 Index.
The Scheme will invest at least 95% of its total assets in the securities comprising the Underlying Index. The Scheme may also invest in money market instruments to meet the liquidity and expense requirements.
The fund is ideal for those investors who would like to participate in the India growth story by passively investing in a well-diversified portfolio of well-known companies as approximately represented by Nifty Smallcap 250 Index.
--- Advertisement ---
Top 3 Stocks for 2020 and Beyond

We've uncovered 3 high-potential tech stocks after years of research.

These 3 cutting edge tech stocks could potentially create a wave of Indian millionaires.

First one is present in the sector which is expected to GROW over 300 times by 2030.

Second one is one of the leading players in Artificial Intelligence technology.

And the third one is involved in putting up a global safety net to save the world from cyber criminals.

These 3 tech stocks have the potential to offer life-changing gains in the long run.

Click here to get the details...
------------------------------
Who will manage the Nippon India Nifty Smallcap 250 Index Fund?
Mr Mehul Dama is the dedicated fund manager to handle the Nippon India Nifty Smallcap 250 Index Fund passively.
Mr Dama is a Commerce Graduate and a CA having 14 years of work experience. Currently he is a Fund Manager & Dealer of ETF at Nippon India Asset Management Company. Before joining the AMC in November 2016 as a Lead of Finance (ETF) who further got promoted, Mr Dama was a Vice President - Controllers at Goldman Sachs Asset Management (India) Private Limite for 5.5 years. For a year and a half, he was at Benchmark Asset Management Company Private Limited as an Assistant Vice President - Operations / Controllers and for 5.5 years at Lovelock & Lewes as Assistant Manager.
Some of the schemes Mr Dama manages at the fund house are:
Nippon India ETF Consumption,
Nippon India ETF Dividend Opportunities,
Nippon India ETF Gold BeES,
Nippon India ETF Infra BeES,
Nippon India ETF Nifty 100,
Nippon India ETF PSU Bank BeES,
Nippon India ETF Sensex,
Nippon India ETF Shariah BeES,
Nippon India Index Fund - Sensex Plan,
Nippon India Index Fund - Nifty Plan,
Nippon India Gold Savings Fund,
Nippon India ETF Nifty Smallcap 250,
Nippon India ETF NV20,
Nippon India Junior BeES FoF,
Nippon India ETF Sensex Next 50,
Nippon India ETF Nifty IT
Outlook for Nippon India Nifty Smallcap 250 Index Fund:
Index funds are good investment avenues for mature markets like the US, where to generate an Alpha is not possible because it has reached its stagnation. But for markets like India, there are opportunities for value buying, as government initiatives like 'Make in India' and recent banning of Chinese apps provide room for various companies to widen their horizons for growth and development.
Considering the current markets conditions, there are value buying opportunities in several small caps at their fair valuations. In order to achieve the objective of the scheme, i.e. the scheme seeks investment returns that correspond to the performance of Nifty Smallcap 250 Index, the fund house believes that the selected index is highly diversified, making it the right choice to invest in.
Graph: Industry Allocation of the underlying index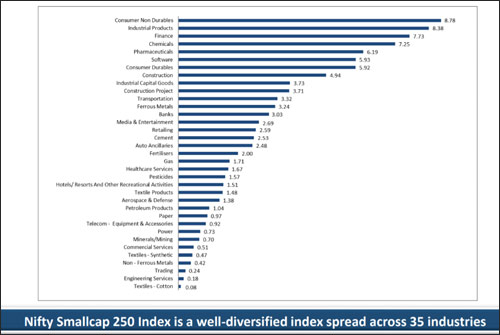 Note: Data as on September 15, 2020
(Source: Scheme Information Document)
Hence the fortune of the Nippon India Nifty Smallcap 250 Index Fund will be as per the performance of the underlying index, ie. Nifty Smallcap 250 Index that comprises of small caps.
Table 3: Performance of index
Benchmark
Absolute
CAGR
6 Months
9 Months
1 Year
3 Years
5 Years
10 Years
NIFTY 500 - TRI
33.71
-5.16
0.19
3.89
8.57
7.8
Nifty Smallcap 250 - TRI
58.23
5.37
6.95
-5.41
4.58
6.04
S&P BSE 250 Small Cap - TRI
56.95
5.19
5.82
-4.88
5.11
3.05
Data as on September 30, 2020
(Source: ACE MF; PersonalFN Research)
But small caps usually face survival risk during economic downturn along with liquidity risk, as the limited number of shares makes it difficult for investors to promptly buy and/or sell. That said, a strong business helmed by a well-built management team along with the availability of stock at a reasonable price can make it a very attractive investment.
Remember small-cap funds are a very high-risk-high-return investment proposition; the stocks of such companies are highly volatile. Going gung-ho and investing in the small cap funds could prove to be an imprudent decision. Advisably, you must tread cautiously with focus on your long-term financial goals and aim to consistently invest in funds that optimise returns for the level of risk they expose you to.
Editor's note:
If you wish to invest in a readymade portfolio of top recommended equity mutual funds based on the 'Core & Satellite' approach to investing, I recommend subscribing to PersonalFN's Premium Report, "The Strategic Funds Portfolio For 2025 (2020 Edition)". This premium report will help you build your optimum mutual funds portfolio for 2025 with no effort on your part. If you haven't subscribed yet, do it now!
Author: Aditi Murkute
This article first appeared on PersonalFN here.
Join Now: PersonalFN is now on Telegram. Join FREE Today to get 'Daily Wealth Letter' and Exclusive Updates on Mutual Funds
PersonalFN is a Mumbai based personal finance firm offering Financial Planning and Mutual Fund Research services.
Disclaimer:
The views mentioned above are of the author only. Data and charts, if used, in the article have been sourced from available information and have not been authenticated by any statutory authority. The author and Equitymaster do not claim it to be accurate nor accept any responsibility for the same. The views constitute only the opinions and do not constitute any guidelines or recommendation on any course of action to be followed by the reader. Please read the detailed Terms of Use of the web site.
More Views on News
Oct 20, 2020
Retail inflation is at 7.34% but fixed deposit rates are below 6%. What should you do?
Oct 20, 2020
The Chinese drone market is 14 times that of India's. Billions may flow into Indian drone companies too. Don't miss out on this wealth creating opportunity.
Oct 20, 2020
SEBI has restored the cut-off timing for subscription and redemption in mutual fund schemes with effect from October 19, 2020, except for debt and conservative hybrid schemes.
Oct 19, 2020
Has the market changed its opinion on PSUs?
Oct 19, 2020
On October 12, 2020, the government came up with a stimulus package to give a boost to consumption which has taken a hit due to the COVID-19 pandemic.
More Views on News
Most Popular
Oct 9, 2020
How I picked an exciting stock using trends from both the commodity and equity markets.
Oct 12, 2020
Is ITC an investment or a speculation at current levels?
Oct 7, 2020
In this video, I'll show you how to identify a confluence of factors in the market which will point you to the best stocks to trade.
Oct 9, 2020
Few Indian defence companies could use their engineering capabilities to eventually become global leaders.
More