Why Are Investors In Sundaram Small Cap Fund Anxious
Why Are Investors In Sundaram Small Cap Fund Anxious
Oct 3, 2018
Small caps have been clearly on a losing streak this year. The loss of over 20% in this segment, has kept many investors in this space nervous. Small cap universe being fairly under researched, the stocks in this segment tend to easily lose sentiment and are hit harder in difficult conditions like these. But they also have the ability to steal the show when the stock market's rebound for a longer rally.
Small caps are not every ones cup of tea and may be an unchartered territory for many. One need to be ready to take big risk that comes along. Accordingly funds that focus on small cap stocks come with higher risk, although with a potential to generate extra-ordinary returns for investors. Sundaram Small Cap Fund is one such scheme from the stable of Sundaram Mutual Fund. Earlier known as Sundaram S.M.I.L.E Fund, the scheme was categorised under small and mid cap funds. However, with further refining in its investment strategy, the scheme has been renamed as Sundaram Small Cap Fund, while its market-cap bias will now remain purely towards small-cap stocks. It has been mandated to invest largely in companies beyond the top 250 companies by market capitalization. Launched way back in February 2005, Sundaram Small Cap Fund has a track record of over 13 years to its credit.
Fund Facts - Sundaram Small Cap Fund
| | | | |
| --- | --- | --- | --- |
| Category | Small cap Fund | Style | Growth |
| Type | Open ended scheme | Market Cap Bias | Small cap Fund |
| Launch Date | 16-Feb-05 | SI Return (CAGR) | 16.56% |
| Corpus (Cr) | Rs 1,192 | Min./Add. Inv. | Rs 5,000 / Rs 500 |
| Expense Ratio (Dir/Reg) | 1.64% / 2.38% | Exit Load | 1% |
Portfolio Data as on August 31, 2018.
SI Return as on September 19, 2018.
(Source: ACE MF)
Growth Of Rs 10,000, Invested In Sundaram Small Cap Fund 5 Year Back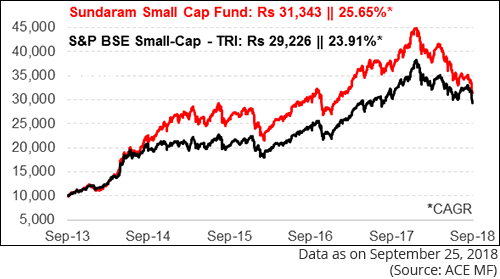 Over the past five years, Sundaram Small Cap Fund has generated a compounded annualised return of 25.6%, in comparison to the benchmark return of 23.9% CAGR; thereby outperforming the S&P BSE Small-Cap - TRI index by around 1.7 percentage points. An investment of Rs 10,000 in the fund in September 2013 would now be worth Rs 31,343, while a similar investment in its benchmark would have been valued at Rs 29,226. Though the fund managed to maintain a fair lead over the benchmark for most of the period, its margin of outperformance reduced significantly in the last one year. Sundaram Small Cap Fund has lost much more than the benchmark in the recent sell-off in the small cap space.
Sundaram Small Cap Fund: Year-on-Year Performance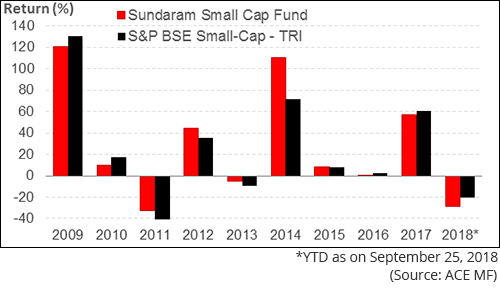 Over the last 10 calendar years, Sundaram Small Cap Fund has managed to outperform the benchmark S&P BSE Small-Cap - TRI index in 5 calendar years. Notably the margin of outperformance has been superior compared to the margin of underperformance. The performance of the fund was superior compared to the benchmark from CY 2011 to CY 2014. It did well to contain the losses and outperformed the benchmark by a decent margin in the bull market that followed. However, after outperforming the index by a healthy margin of around 40% in CY 2014, the fund has struggled to keep pace with the index and has constantly trailed the benchmark in 3 consecutive calendar years. In the small cap correction seen in 2018, the fund has underperformed the benchmark by an absolute margin of 8.3%. The mixed performance trend shown by Sundaram Small Cap Fund has been a concern for its investors.
--- Advertisement ---


IMPORTANT: Do Not Buy This from Amazon…

Equitymaster's Secrets is our most popular book ever – with over 20,000 copies in circulation.

It is a book we believe every serious investor should have a copy of.

And even though this book is available on Amazon for Rs 1,450…as an Equitymaster reader, we don't want you to have to pay for the book.

Instead, we'll send you the latest edition – virtually free – wherever you want (within India).

Just cover postage and handling charges – a minimal Rs 199, and your hardbound, limited-edition book will be in the mail the very next day! Click here to claim this book.
------------------------------
Sundaram Small Cap Fund: Performance vis-a-vis Category Peers
Returns are on a rolling basis and those depicted over 1-Yr are compounded annualised.
Data as on September 25, 2018
(Source: ACE MF)
*Please note, this table only represents the best performing funds based solely on past returns and is NOT a recommendation. Mutual Fund investments are subject to market risks. Read all scheme related documents carefully. Past performance is not an indicator for future returns. The percentage returns shown are only for indicative purposes.
Sundaram Small Cap Fund was once a superior performer in the small cap funds category, where it outperformed the benchmark and many of its category peers by a decent margin. However, the fund's performance has changed drastically in the last 3 years.
While the fund has managed to outperform its benchmark over longer rolling periods of 5 years, it has significantly underperformed the index in shorter rolling periods. In the 1-year rolling periods, the fund trailed the benchmark by over 6 percentage points, while many of its small cap peers have delivered a far better performance. Moreover, the volatility of the fund has been much higher than the benchmark and its peers, resulting in inadequate risk-adjusted returns for its investors. Sundaram Small Cap Fund has slowly moved down the ranks, turning out to be a disappointment for its investors.
Investment Strategy of Sundaram Small Cap Fund
Aiming to achieve capital appreciation by investing in diversified stocks that are generally termed as small and mid-caps, Sundaram Small Cap Fund traditionally holds stocks from the small and mid cap domains. The funds primary focus has been on small cap stocks with market cap of upto Rs 5,000 crore. Continuing with its strategy, the fund now needs to primarily hunt for stocks from the small cap universe as defined by SEBI, i.e. 251st stock onwards, on full market capitalization basis. While picking stocks, the fund follows bottom-up approach using in-house research, which focuses on good businesses run by good management and with an aim to stay invested through the growth phase of these businesses. It follows aggressive management style to capitalise on emerging opportunities and invests in companies promoted by first gen entrepreneurs.
Sundaram Small Cap Fund - Portfolio Allocation and Market Capitalisation Trends
Sundaram Small Cap Fund has been primarily focused on small caps, with slight diversification into mid caps. The fund resists from taking any exposure to large caps. In the last 12 months, its allocation to small-caps has been in the range of 50% to 70% of its assets, while midcaps have ranged between 30% to 45%. The fund resists from increasing its cash level and stays fully invested, even if it may result in temporary loss. In the last 12 months too, the debt and cash levels in the fund's portfolio has been well below the 5% mark. As on August 31, 2018, Sundaram Small Cap Fund maintained an exposure of 65.6% in small caps and 33.9% in mid caps, while its exposure to cash and debt accounted for just about 0.5% of its assets.
Sundaram Small Cap Fund - Top Portfolio Holdings
Top 10 Stocks
| Stocks | % of Assets |
| --- | --- |
| Navin Fluorine International Ltd. | 4.05 |
| Rane Holdings Ltd. | 3.93 |
| V-Guard Industries Ltd. | 3.92 |
| NRB Bearings Ltd. | 3.68 |
| Thyrocare Technologies Ltd. | 3.27 |
| Heritage Foods Ltd. | 3.12 |
| JK Cement Ltd. | 3.06 |
| PNC Infratech Ltd. | 2.92 |
| Ashoka Buildcon Ltd. | 2.91 |
| DCB Bank Ltd. | 2.90 |
Top 5 Sectors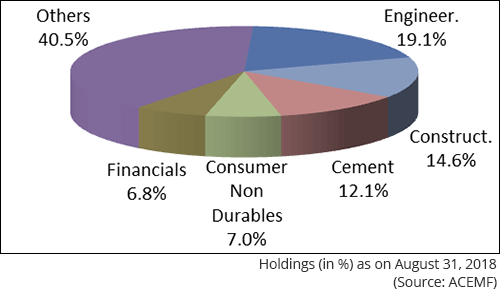 Sundaram Small Cap Fund aims to invest in attractively valued high growth stocks which stand to benefit on account of economic upturn, and holds about 45 to 50 stocks in its portfolio. As on August 31, 2018, Sundaram Small Cap Fund held 51 stocks in its portfolio, with its concentration to a single stock capped within the 5% mark. About 10 stocks in the portfolio command a weightage of less than 1%.
Navin Fluorine, Rane Holdings, V-Guard Industries, NRB Bearings and Thyrocare Technologies were among the top 5 holdings in the fund's portfolio, together commanding about 19% of its assets. The top 10 holdings held a combined exposure of about 34%.
Engineering, Construction and Cement occupy about 46% of the funds sector allocation. The remaining portfolio is diversified across host of sectors like Consumption, Banking and Finance, Healthcare Services, Chemicals, Infotech, Textiles, Power, Auto Ancillaries, Hotels, Media& Entertainment and so on. In the last one year the fund has gradually increased exposure to Healthcare Services, Infotech, Engineering and Consumer Durables while its exposure to Pharma, Transportation, Banks and Consumer Non Durables has reduced significantly.
Major Gainers: In the last one year, Sundaram Small Cap Funds has held about 62 distinct stocks in its portfolio, of which 40 stocks have been in the portfolio for over a year now. With gains in the range of 40%-50%, stocks like LG Balakrishnan & Brothers, Take Solutions and NRB Bearings have been the major gainers in the portfolio. Other portfolio holdings like Heidelberg Cement, Taj GVK Hotels & Resorts, PNC Infratech, Praj Industries and V-Guard Industries are up 20%-35% in the last one year.
Major Losers: The number of losers in Sundaram Small Cap Funds portfolio is much higher than the number of gainers. With a loss of over 55% in the last one year, SREI Infrastructure Finance has been the major loser in the fund's portfolio. Asian Granito India, TD Power Systems, VA Tech Wabag are other stocks in the portfolio that lost around 35% to 50% in value. The India Cements, Redington (India), Astra Microwave Products, Karur Vysya Bank, JK Cement and Brigade Enterprises present in the fund's portfolio are down 20%-30% in the last one year.
Suitability of Sundaram Small Cap Fund
Mutual funds focusing on small-caps could be an ideal choice only for aggressive investors who would like to explore the money making potential in this space, although at a higher risk level. But not all small cap funds make the cut to be in one's portfolio. In terms of consistency, Sundaram Small Cap Fund does not hold a very impressive track record. The sharp fall in its value (about 29%) in the current calendar year, raises doubts about its ability to limit downside and provide some safety to investors. Moreover, the volatility registered by the fund is well beyond ones comfort zone. Although Sundaram Small Cap Fund has shown some potential to participate in the upside small cap rallies, but whenever the small cap runs into a rough phase, investors in the fund tend to end up on the losing side making them anxious.
Editor's Note: Our latest special report '5 Undiscovered Equity Funds with High Growth Potential', tells you about 5 well managed equity funds that are capable of generating big gains, but are still less known to investors. Surprisingly almost nobody is talking about them.
These are 5 hidden gems that most investors have probably never heard of, but still carry commendable management qualities and portfolio features and have superior potential to become category outperformers in the long run.
This report is very exclusive, so do not miss it for anything. Get access to these 5 undiscovered funds right now.
Note: This write up is for information purpose and not a recommendation to buy or sell the mutual fund scheme. As an investor, you need to pick the right fund to meet your financial goals. If you are not sure about your risk appetite, do consult your financial planner or investment advisor.
Author: Vivek Chaurasia
This article first appeared on PersonalFN here.

PersonalFN is a Mumbai based personal finance firm offering Financial Planning and Mutual Fund Research services.
Disclaimer:
The views mentioned above are of the author only. Data and charts, if used, in the article have been sourced from available information and have not been authenticated by any statutory authority. The author and Equitymaster do not claim it to be accurate nor accept any responsibility for the same. The views constitute only the opinions and do not constitute any guidelines or recommendation on any course of action to be followed by the reader. Please read the detailed Terms of Use of the web site.
More Views on News
Apr 22, 2019
Mutual fund investment plan for aggressive investors.
Apr 22, 2019
A highly successful trader with over three decades of rich experience, is ready to share his weekly cash strategy and you can't afford to miss it.
Apr 22, 2019
Ajit Dayal believes L&T is taking a risky path and risking not only the culture established at MindTree but the fragile eco system that could endanger the lives of millions of residents in Mumbai.
Apr 22, 2019
A highly successful trader with over three decades of rich experience, is ready to share his weekly cash strategy and you can't afford to miss it.
Apr 22, 2019
Experts expect the RBI to cut policy rates further this financial year. At this juncture, the BIG question is: Is it a right time to invest in dynamic bond funds?
More Views on News
Most Popular
Apr 9, 2019
It's a matter of time before the stocks catch the fancy of the markets and big investors.
Apr 10, 2019
We have identified 3 stocks with huge wealth building potential which meet our 'Click of a Button' criteria.
Apr 10, 2019
How Dell got its mojo back.
Apr 12, 2019
This critical business strategy has enabled companies to scale their operations faster.
Apr 12, 2019
Here's how one could have generated gains of Rs 59,250 in 10 days by trading HDFC and HDFC Bank with a capital of Rs 4 lakh.
More