Invesco India Contra Fund: Moving Against The Herd
Invesco India Contra Fund: Moving Against The Herd
Oct 4, 2019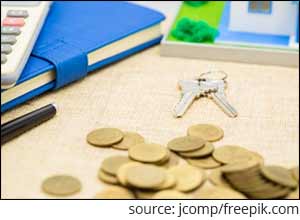 Equities are usually driven by prevailing sentiments in the market. These sentiments may cause some fundamentally sound stocks to be inappropriately priced in the short run. Investors usually tend to avoid such stocks due to fear of losing out. However, in the long run some of these stocks may grow to reflect its true value and reward investors for their patience.
Contra funds seek to find opportunities in such stocks that are currently out of favour with potential to gain in the future. Invesco India Contra Fund is one such fund which looks to identify such hidden opportunities and bet against the herd.
Launched in April 2007, IICF has a corpus of Rs 3,992 crore, which makes it the largest fund in its category. The fund is managed by Mr Amit Ganatra (since August 2012) and Mr Taher Badshah (since January 2017).
--- Advertisement ---
"We Just Gave a Go Ahead to a Very Controversial Summit…"

We predict that a lot of people out there will NOT like us revealing the idea of "Rebirth of India".

And in the process, We fear that this MEGA SUMMIT initiative is likely to generate its fair share of controversy.

But…We have decided to go ahead with it anyway.

And that's because Senior Analyst and Co-head of Research, Tanushree Banerjee, has solid evidence that makes is very clear that…

The "Rebirth of India" is happening right now…

And here's why this is very urgent…

If you don't hurry up now, you stand to miss out a once-in-a-generation opportunity to potentially make a massive fortune.
------------------------------
Investment objective: Invesco India Contra Fund aims to generate capital appreciation by investing predominantly in equity and equity related instruments through contrarian investing.
Graph 1: Growth of Rs 10,000, if invested in IICF 5 years ago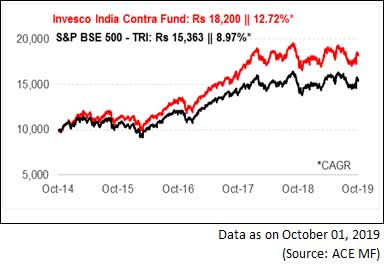 Had you invested Rs 10,000 in IICF five years back on October 01, 2014, it would have grown to Rs 18,200 as on October 01, 2019. This translates into compounded annualised growth rate of 12.72%. In comparison a simultaneous investment of Rs 10,000 in its benchmark S&P BSE 500 - TRI would now be worth Rs 15,363 (a CAGR 8.97%). As can be seen in the chart alongside, the fund has generated significant alpha over its benchmark in the last five years.
Graph 2: IICF Year-on-Year Performance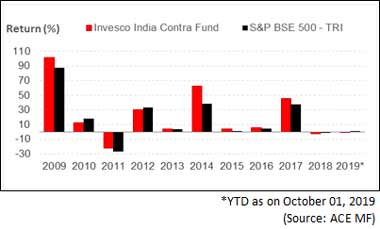 The year-on-year performance comparison of IICF vis-a-vis its benchmark S&P BSE 500 - TRI shows that the fund outperformed the benchmark in 6 out of last 10 calendar years. The fund performed better than the benchmark in CY 2009, CY 2011 and CY 2014 to CY 2017. Its performance was nearly in line with the benchmark in CY 2013. However, in CY 2018 and in the current year the fund has registered negative returns and trailed the benchmark.
Table 1: IICF Performance vis-a-vis category peers
Returns are on a rolling basis and in %, calculated using Direct Plan - Growth option. Those depicted over 1-Yr are compounded annualised.
Data as on October 1, 2019
(Source: ACE MF)
*Please note, this table only represents the best performing funds based solely on past returns and is NOT a recommendation. Mutual Fund investments are subject to market risks. Read all scheme related documents carefully. Past performance is not an indicator for future returns. The percentage returns shown are only for indicative purposes.
The universe of contra funds is fairly small with just three funds in the category. IICF outperformed the benchmark in 2-year, 3-year and 5-year rolling period but trailed in the 1-year rolling period.
While IICF stood as the category topper on a 3-year and 5-year rolling return basis, it stood behind Kotak India EQ Contra Fund in 1-year and 2-year rolling periods. However, the fund fared far better than SBI Contra Fund during this period.
In terms of risk-return parameters, IICF registered higher volatility as compared to the benchmark and average category peers. Nevertheless, it has managed to deliver decent risk-adjusted returns for the investors.
--- Advertisement ---
Our Latest Report… (Download Free)

We at Equitymaster have just published this report…

Rebirth of India: The First Step to the Biggest Investment Opportunity of Your Lifetime

…it's perhaps the most important work we have published ever, yet.

We strongly urge you to download it…and read it right away.

After all, it has the potential to dramatically change your life…for the better.

Here's an additional benefit…

As soon as you download, we will also automatically block a seat for you at the Rebirth of India MEGA SUMMIT.

At the Summit, Senior Analyst and Co-head of Research, Tanushree Banerjee, will reveal full details about Rebirth of India… including specific opportunities to profit from it.
------------------------------
Investment strategy of IICF
Being a contra fund, IICF is mandated to invest at least 65% of its assets in equity and equity related instruments following a contrarian investment strategy. IICF looks to find hidden opportunities backed by research and expertise. It aims to select mispriced and out of favour stocks of fundamentally sound companies that have potential to grow in the long-term and stay invested until full potential is realized.
The fund follows bottom-up approach to select companies trading below fundamental value, companies in turnaround phase and growth companies available at attractive valuations.
It takes active overweight/underweight sector positions w.r.t. the benchmark, based on the top-down view and valuation opportunities. The fund invests across market capitalisation and sectors.
Graph 3: IICF Portfolio Allocation And Market Capitalisation Trend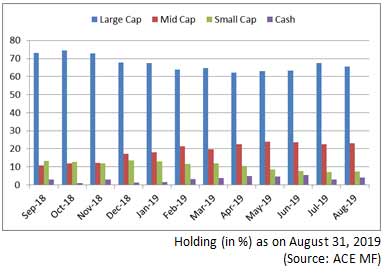 IICF has the flexibility to invest across market capitalisation. The fund stays fully invested in equities with major exposure to large caps along with significant allocation in mid and small caps. The fund has reduced its exposure to large caps from around 75% a year ago to around 62% at present. Meanwhile, allocation towards mid-caps has been increased gradually from around 10% a year ago to around 23% at present. The average holding in small caps in the last one year is around 11%. Rest of the holdings is maintained in the form of cash equivalents.
Graph 4: IICF Top Portfolio Holdings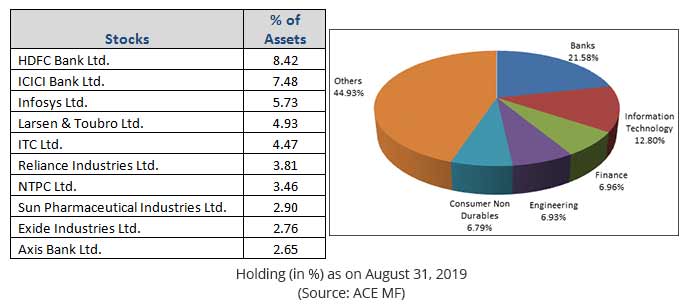 IICF held 48 stocks in its portfolio as on August 31, 2019 diversified across sectors. The top 10 stocks constitute 46.6% of the total holdings. HDFC Bank tops the list with an allocation of 8.4%, followed by ICICI Bank (7.5%), Infosys (5.7%), Larsen & Toubro (4.9%) and ITC (4.5%). Rest of the stocks in the top 10 holdings have an allocation of around 3-4% each.
In terms of sector wise holdings, the fund has highest exposure to Banking at 21.6%, with another 7% in Finance. Infotech (12.8%) has the next highest allocation in the portfolio while Engineering and Consumption follow behind with an allocation of around 7% each. Auto and ancillaries, Pharmaceuticals, Petroleum Products and Power are the other prominent sectors in the portfolio.
Top Contributors
Among the stocks in the portfolio, ICICI Bank contributed the most to the fund's return in the last one year with a weighted return of 1.1%. Infosys, Apollo Hospitals Enterprise, HDFC Bank and Gujarat State Petronet were the other top contributors to the portfolio gains.
The stocks that eroded portfolio gains the most were ITC, Mahindra & Mahindra, Exide Industries, Equitas Holdings, and NALCO.
Suitability of IICF
IICF remains fully invested in equities, with its portfolio diversified across sectors and market capitalisation. Being a contra fund the scheme takes opposing view than the general popular opinion. Hence the fund may at times underperform over shorter time period. It is suitable for investors having tolerance to volatility and high risk appetite with an investment horizon of 5 years or more.
The fund has performed well, especially during longer time frames and has delivered decent risk-adjusted returns for its investors.
Note: This write up is for information purpose and does not constitute any kind of investment advice or a recommendation to Buy / Hold / Sell a fund. Returns mentioned herein are in no way a guarantee or promise of future returns. As an investor, you need to pick the right fund to meet your financial goals. If you are not sure about your risk appetite, do consult your investment consultant/advisor. Mutual Fund Investments are subject to market risks, read all scheme related documents carefully.
Editor's note: The last few years have not been among the best for equity mutual funds. While most funds have underperformed or are struggling to match the returns of the benchmark, there are few funds that have the potential to constantly generate alpha for its investors. And we have recently identified five such high alpha generating funds, in our latest report 'The Alpha Funds Report 2019'. Do not miss our latest research finding. Get your access to this exclusive report, right here!
Author: Divya Grover
This article first appeared on PersonalFN here.
PersonalFN is a Mumbai based personal finance firm offering Financial Planning and Mutual Fund Research services.
Disclaimer:
The views mentioned above are of the author only. Data and charts, if used, in the article have been sourced from available information and have not been authenticated by any statutory authority. The author and Equitymaster do not claim it to be accurate nor accept any responsibility for the same. The views constitute only the opinions and do not constitute any guidelines or recommendation on any course of action to be followed by the reader. Please read the detailed Terms of Use of the web site.
More Views on News
Oct 17, 2019
What does Saudi Aramco IPO mean for crude oil prices?
Oct 17, 2019
PersonalFN explains whether SIP investment can lead you accurately to achieve your goals.
Oct 17, 2019
PersonalFN explains how the merger of Bank of Baroda and BNP Paribas' asset management units impact investors.
Oct 17, 2019
These 5 stocks will gain big time when the markets begin rising.
Oct 17, 2019
The top down and the bottom up implications of investing in a recommendation like HDIL.
More Views on News
Most Popular
Oct 14, 2019
This is once in a decade opportunity to make a killing from smallcap rebound.
Oct 7, 2019
Here's what every individual investor must know about Yes Bank...
Oct 11, 2019
Discounts are not just limited to E-tailers. You can buy stocks at 50% off too. Here are two stocks to buy now.
Oct 10, 2019
There are rare periods in markets when you get good quality stocks at attractive valuations. Is this one such period?
Oct 11, 2019
Now is the time to put money in these 5 stocks to take advantage of the recovery in the economy and the markets.
More