L&T Midcap Fund: Exploring High Growth Potential Midcaps
L&T Midcap Fund: Exploring High Growth Potential Midcaps
Oct 6, 2020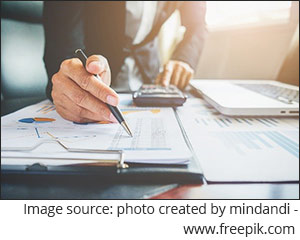 Business sentiments showed an improvement in September quarter, after it hit record low levels in the June quarter, as the economic activities started to gradually unlock. With festive season just around the corner, business activities are set to improve further.
However, it remains to be seen if consumer confidence shows improvement considering the impact on incomes and rising unemployment due to the pandemic. Nonetheless, as and when demand revives mid and small caps could be the major beneficiaries and may even outperform the large caps.
Do note that the risk is substantially higher in midcaps as compared to large caps and one should invest in it only if they have the appetite to bear short term volatility.
L&T Midcap Fund (LTMF) is one of the popular schemes in the midcap funds category that has performed exceedingly well over longer time periods and rewarded investors with superior risk adjusted returns.
--- Advertisement ---
New FREE Guide on Big Opportunity in Defence


Tanushree Banerjee, the co-head of research, recently released er latest guide:

The Explosive Rs.4 Lakh Crore Opportunity: How to Tap into India's Surging Defence Sector for Potentially Huge Profits

And she has agreed to make it available for free for a limited time.

If you've not claimed your free copy, then do so now. It might not remain free for long. One more thing...

Tanushree has also discovered one stock from defence sector... which she believes has the potential to multiply invested money 10-times in the long run.

She will reveal more details about this stock at her upcoming online special event.

Click Here to Download the Guide & Block Your Seat Now. It's Free.
------------------------------
Graph 1: Growth of Rs 10,000 if invested in L&T Midcap Fund 5 years ago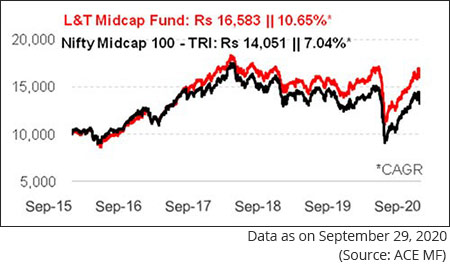 L&T Midcap Fund (LTMF) is an aggressively managed scheme in the mid cap funds category having a track record spanning over fifteen years. While LTMF has shown spectacular performance during midcap-driven market rallies, it has the tendency to plunge more in conditions where the midcaps are under pressure. Nevertheless, the fund has proven its ability to make a strong comeback by fully participating the market recoveries and reward investors over complete market cycle. Over the past 5 years, LTMF has rewarded investors with a compounded annualised return of around 10.7%, as against 7.0% CAGR by its benchmark Nifty Midcap 100 - TRI, registering an outperformance of around 3.5 percentage points over the benchmark. Despite deep correction in mid and small caps, the value of Rs 10,000 invested in the fund 5 years back would have appreciated to Rs 16,583, as against Rs 14,051 in the benchmark.
New: 5 Pandemic-Proof Smallcaps You Should Know About...
Table: L&T Midcap Fund's performance vis-a-vis category peers
Returns are point to point and in %, calculated using Direct Plan - Growth option. Those depicted over 1-Yr are compounded annualised.
Data as on September 29, 2020
(Source: ACE MF)
*Please note, this table only represents the best performing funds based solely on past returns and is NOT a recommendation. Mutual Fund investments are subject to market risks. Read all scheme related documents carefully. Past performance is not an indicator for future returns. The percentage returns shown are only for indicative purposes.
LTMF has been a top quartile performer that has dominated the mid cap space across longer time periods in the past. The fund has outperformed its benchmark by a margin of about 3-4 percentage points over the last 1-year to 3-year time periods, though it has trailed the category average. On a 5 year and 7 year returns basis, it stands among the category toppers generating superior lead over the benchmark Nifty Midcap 100 - TRI and the category average.
What is more important, the fund has achieved this feat at a reasonable risk, thus delivering competitive risk adjusted returns as well.
Investment strategy of L&T Midcap Fund
LTMF holds no sector or style bias. The fund invests minimum 65% of its assets in stocks of midcap companies, while the remaining portion is predominantly invested in small caps.
While creating its investment portfolio, LTMF follows the bottom-up approach to stock picking. The fund house's proprietary GEM investment approach (i.e. Generate Idea, Evaluate Business and Manage Business) helps it determine the investment portfolio. The fund invests 70% of its portfolio in high quality mid cap stocks (i.e. companies with good moats, scalable business, available at a decent price) which is a core long term strategy, while 30% of the portfolio is in companies with a deep value (multi-baggers) to generate alpha. LTMF uses diversification as a tool to control the downside risk and usually holds a well-diversified portfolio spread across stocks and sectors.
Graph 2: Top portfolio holdings in L&T Midcap Fund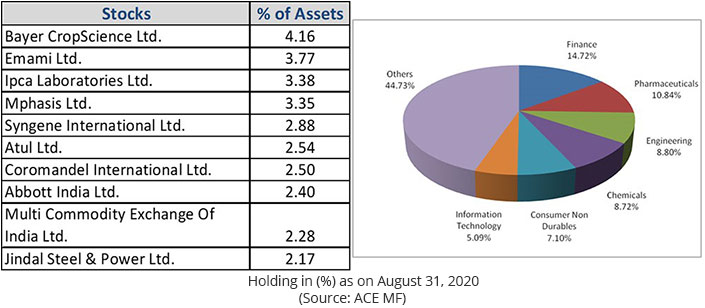 As on August 31, 2020, LTMF held a well-diversified portfolio of as many as 64 stocks, with midcap names like Bayer CropScience, Emami, Ipca Laboratories, Mphasis, and Syngene International making to the list of its top holdings. The top 10 holdings accounted for about 29.4% of its total assets, with exposure to single stock being well within the 4% mark.
In the last one year stocks like Abbott India, ICICI Securities, Affle (India), Bayer CropScience, Coromandel International, Multi Commodity Exchange of India, Deepak Nitrite, etc. contributed the most to the fund's gains. However, stocks like City Union Bank, EIH, Oberoi Realty, The Federal Bank, The Indian Hotels Company, among others, eroded some of its gains.
LTMF held its top exposure in Finance and Pharmaceutical sector with allocation of 14.7% and 10.8%, respectively. Notably, it has significantly increased exposure in Financials that have the advantage of being the early beneficiaries of pick-up in overall economic activity. The fund also has significant weightage in Engineering, Chemicals, Consumption, Infotech, among others.
Suitability
LTMF is a process-driven fund and has been agile enough to take advantage of various investment opportunities present in the midcap segment. The fund usually maintains a diversified portfolio of quality mid cap stocks and aims to invest in high growth-oriented stocks, but is watchful of the price it pays to acquire such stocks. This strategy has enabled the fund reward investors handsomely over longer time periods in the past. With two experienced fund managers at the helm, its stock convictions have played out well over a period of 3 to 5 years, and has the potential to do so in future as well. This makes LTMF suitable for investors with high risk appetite and investment horizon of at least 5 years.
Editor's note: The last few years have not been among the best for equity mutual funds. While most funds have underperformed or are struggling to match the returns of the benchmark, there are few funds that have the potential to constantly generate alpha for its investors. And we have identified five such high alpha generating funds, in our latest report 'The Alpha Funds Report 2020'. Do not miss our latest research finding. Get your access to this exclusive report, right here!
Note: This write up is for information purpose and does not constitute any kind of investment advice or a recommendation to Buy / Hold / Sell a fund. Returns mentioned herein are in no way a guarantee or promise of future returns. As an investor, you need to pick the right fund to meet your financial goals. If you are not sure about your risk appetite, do consult your investment consultant/advisor. Mutual Fund Investments are subject to market risks, read all scheme related documents carefully.
Author: Divya Grover
This article first appeared on PersonalFN here.
Join Now: PersonalFN is now on Telegram. Join FREE Today to get 'Daily Wealth Letter' and Exclusive Updates on Mutual Funds
PersonalFN is a Mumbai based personal finance firm offering Financial Planning and Mutual Fund Research services.
Disclaimer:
The views mentioned above are of the author only. Data and charts, if used, in the article have been sourced from available information and have not been authenticated by any statutory authority. The author and Equitymaster do not claim it to be accurate nor accept any responsibility for the same. The views constitute only the opinions and do not constitute any guidelines or recommendation on any course of action to be followed by the reader. Please read the detailed Terms of Use of the web site.
More Views on News
Nov 27, 2020
In my first video on Equitymaster, I want to introduce you my proprietary greed and fear index. It's telling us to book some profits in the market.
Nov 27, 2020
PersonalFN's analysis on the features and performance of Mirae Asset Large Cap Fund.
Nov 27, 2020
The Chinese drone market is 14 times that of India's. Billions may flow into Indian drone companies too. Don't miss out on this wealth creating opportunity.
Nov 26, 2020
In this video, I'll have an update for you on gold and the new member of my team.
Nov 26, 2020
Rahul Shah discusses the hype around Adani Green Energy and analyses whether it is justified.
More Views on News
Most Popular
Nov 17, 2020
If the markets become volatile over the next few months, do this.
Nov 25, 2020
India's drones directorate signals the next big defence tech multibaggers.
Nov 25, 2020
The new rules on margins will come into effect from 1st December. Are you ready?
Nov 20, 2020
In this video, I'll show you how to make the best trading system.
Nov 17, 2020
Ajit Dayal on the road ahead for the world after covid.
More