Service Sector Fund Or A Strategic Portfolio - What Makes Sense Now?
Service Sector Fund Or A Strategic Portfolio - What Makes Sense Now?
Oct 10, 2018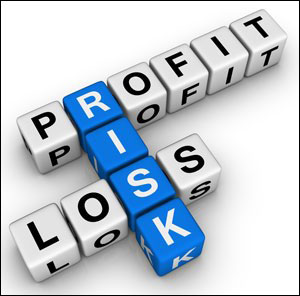 Falling stock markets has become an everyday sight in India nowadays. Domestic investors have started shying away from the markets and Foreign Institutional Investors (FIIs) too have been pulling out money.
But the worrisome factor is Foreign Direct Investment (FDI) route which is more stable and dependable in nature has also come under pressure of late.
In the Financial Year (FY) 2017-18 FDI investments in India hit a five-year low. The services sector was severely affected as the FDI flows fell 23% on the Year-on-Year basis.
But falling markets can offer you great investment opportunities.
And you need not be even worried about FDI trends as well.
Has India's services sector become unattractive to investors?
Or the on-going market correction has made the valuation of many services companies reasonable?
What should be your strategy to invest in India's services sector?
'Core and Satellite strategy' is the answer.
The 'Core and satellite' investing is a time-tested strategy to build your investment portfolio. For the mutual fund investors, the 'core portfolio' should consist of large-cap, multi-cap, and value funds, and the 'satellite portfolio' should include mid-and-small cap funds and opportunities style funds.
Opportunities funds and value funds may help you benefit from the cheap valuations of some companies at this juncture. Moreover, their diversified nature would lower the risks associated with thematic funds focused on the services sector.
You can further enhance the effectiveness of the 'core and satellite' strategy by starting a SIP (Systematic Investment Plan) in each shortlisted scheme.
--- Advertisement ---


IMPORTANT: Do Not Buy This from Amazon…

Equitymaster's Secrets is our most popular book ever – with over 20,000 copies in circulation.

It is a book we believe every serious investor should have a copy of.

And even though this book is available on Amazon for Rs 1,450…as an Equitymaster reader, we don't want you to have to pay for the book.

Instead, we'll send you the latest edition – virtually free – wherever you want (within India).

Just cover postage and handling charges – a minimal Rs 199, and your hardbound, limited-edition book will be in the mail the very next day!

Click here to claim this book.
------------------------------
Services sector: the backbone of the Indian economy
Services sector not only has a dominant share in India's GDP but has also been a source of mass-level employment. According, India Brand Equity Foundation, services industries collectively put up 54% India's Gross Domestic Value-Added (GVA) and provides employment to over 28% of India's population.
Services sector in India...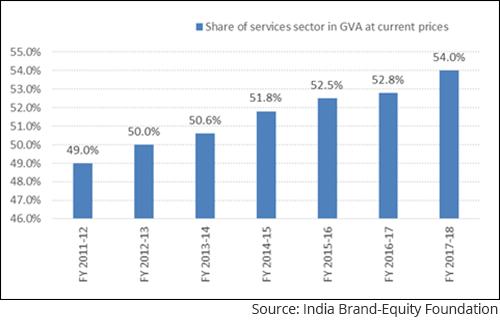 According to the Economic Survey 2017-18, services sector in India has been growing at a faster pace than India's overall GDP. Export-oriented services industries have been witnessing even rapid growth. Various government initiatives such as according infrastructure stats to logistics, digitalisation of services and implementation of Goods and Services Tax (GST) have contributed to the impressive performance of services sector in India.
The seasonally adjusted Nikkei India Services Business Activity Index suggest that, India's services sector activity jumped to a 21-month high in July.
Services can be broadly classified into:
Trade, repair, hotels and restaurants
Transport, storage, communication & services related to broadcasting
Financial services
Real estate, ownership of dwelling & professional services
What might drive services sector growth going forward?
Growing trend of digitalisation
Changing lifestyles and growing aspirations
India's cost-effectiveness and global trends in outsourcing
Under-penetration of financial services
The question is should you invest in services sector funds?
A one word answer is, No! PersonalFN reiterates, you should never invest in a sector or thematic fund. Let's assume, India's services sector is going to thrive even in future, but, do you need a thematic fund to benefit from such opportunities?
Logically, any diversified multi-cap mutual fund scheme can invest in companies belonging to the services industries. Nothing stops them from this.
What should you do?
Instead of investing in services sector funds, consider worthy diversified mutual fund schemes that have a proven track record and come from mutual fund houses following sound investment systems and process.
Before you invest in any mutual fund scheme, it's imperative to take into account your financial goals, time horizon and your risk appetite. Based on these factors, you should chalk out a personalised asset allocation plan.
[Read: Why You Should Not Ignore Personalized Asset Allocation While Investing]
Editor's note:
PersonalFN offers you a great opportunity if you're looking for "high investment gains at relatively moderate risk".
Based on the 'core and satellite' approach to investing, here's PersonalFN's premium report: The Strategic Funds Portfolio For 2025 (2018 Edition).
In this report, PersonalFN will provide you with a ready-made portfolio of its top equity mutual funds schemes for 2025 that have the ability to generate lucrative returns over the long term.
PersonalFN's "The Strategic Funds Portfolio for 2025" is geared to potentially multiply your wealth in the years to come. Subscribe now!

Happy Investing!
PersonalFN Content & Research Team
This article first appeared on PersonalFN here.
PersonalFN is a Mumbai based personal finance firm offering Financial Planning and Mutual Fund Research services.
Disclaimer:
The views mentioned above are of the author only. Data and charts, if used, in the article have been sourced from available information and have not been authenticated by any statutory authority. The author and Equitymaster do not claim it to be accurate nor accept any responsibility for the same. The views constitute only the opinions and do not constitute any guidelines or recommendation on any course of action to be followed by the reader. Please read the detailed Terms of Use of the web site.
More Views on News
Apr 19, 2019
When elections come around, liquor flows like water and everyone gets drunk with power...what does this mean for liquor stocks? Read one to find out from our very own election trading analyst, Vijay Bhambwani.
Apr 18, 2019
As compared to net inflows of Rs 3,948 crore in the equity category during February 2019, the inflows for March 2019 were strong at Rs 9,014 crore.
Apr 18, 2019
When goods are handed out by benevolent politicians during election, aspirational goods such as two wheelers often end up winners, says our very own trading analyst, Vijay Bhambwani.
Apr 17, 2019
If you engage in Tax planning from the beginning of the year you will not do ad hoc investments.
Apr 17, 2019
20% of all the traders bring in 80% of the money. Watch these 20% and you get a working idea of which way the wind is blowing.
More Views on News
Most Popular
Apr 9, 2019
It's a matter of time before the stocks catch the fancy of the markets and big investors.
Apr 10, 2019
We have identified 3 stocks with huge wealth building potential which meet our 'Click of a Button' criteria.
Apr 10, 2019
How Dell got its mojo back.
Apr 12, 2019
This critical business strategy has enabled companies to scale their operations faster.
Apr 12, 2019
Here's how one could have generated gains of Rs 59,250 in 10 days by trading HDFC and HDFC Bank with a capital of Rs 4 lakh.
More