How A Lazy Person Can Invest For A Prosperous Future?
How A Lazy Person Can Invest For A Prosperous Future?
Oct 11, 2018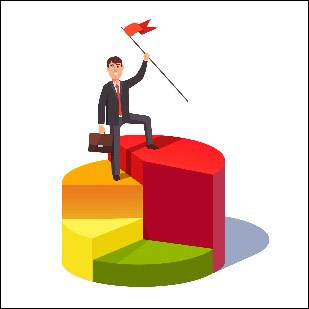 "Being lazy is the key to success" says Michael Lewis, an American non-fiction author and a financial journalist.
Really?
Personally, I don't completely agree with that.
Because these traits of a lazy person can get in the way of success:
Procrastinates more often;
Often complains of not having enough time (and money);
Lacks motivation;
Isn't inclined to taking efforts;
Boredom sets in too soon while handling important aspects such as investments;
Has no control over personal finances.
The next time you become lackadaisical about your financial planning, remember you are robbing yourself of the time and opportunities to create wealth and achieve your financial goals.
However, despite being a lazy person, you can still have financial success and lead a prosperous life in the future. All you need to do is seek professional help from unbiased and independent advisers who can guide you on planning financial goals and execute a solid investment plan with a sound strategy.
Yes, saving enough and investing your hard-earned money wisely in productive investment avenues that counter inflation effectively can lead to a secure financial future and help you attain financial freedom.
--- Advertisement ---


The No. 1 Book on Investing That May Never Be Printed Again…

Equitymaster's Secrets is the No. 1 book on investing you'll find anywhere – if you ask us.

Not only does it contain investing wisdom and secrets no one else will ever tell you…

…it also reveals the exact strategies behind our most successful stock picks!

This is a book no serious investor can do without!

If you want a copy for yourself, just let us know, and we'll have a hardbound copy sent over wherever you like (as long as it is within India) – virtually for free.

Click here for details.

We have very few copies of this book left, however – and we have no plans of printing any more. Please claim your copy ASAP if you don't want to miss out.
------------------------------
[Read: 8 Key Lessons On Financial Freedom From 'Rich Dad, Poor Dad']
Investment is a boring and individualistic exercise - and there's no point aping your next-door neighbour or relative; because one man's meat could be other man's poison.
If you are a lazy person, consider investing in mutual funds. In the long-run, mutual funds could help you in the journey of wealth creation fuelled by the power of compounding.
Here are a few benefits of investing in mutual funds...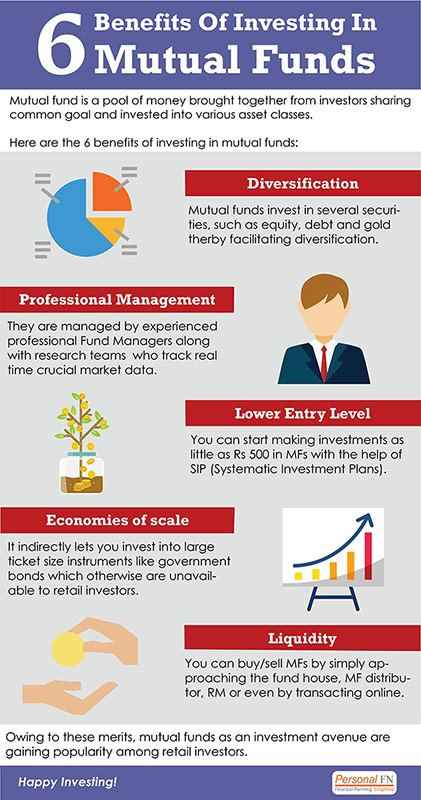 However, selecting winning mutual funds is the key! Not all funds are worth your hard-earned money.
And if you are worried about the turbulence of the market (as seen in recent times), don't be; because you have the option to mitigate this risk by investing systematically vide a Systematic Investment Plans (SIPs), a mode of investing in mutual funds.
[Read: All You Need To Know About SIPs]
In my view, the current market conditions offer you one of the best investments environment but deploying your hard-earned money with a prudent investment plan and strategy in place is imperative.
Going all out and investing only in mid-and small-caps in these uncertain market conditions can prove to be a foolish move. You are likely to lose more than you gain if the markets continue to slide.
Likewise, totally skewing your portfolio toward large-caps would possibly mean losing out on the additional return potential, if the market scales up swiftly from here on.
You need to strike the correct balance in diversification across investment style as well as calculate the risk-return trade-off. Moreover, invest with a long-term investment horizon in mind. Short-term gains may be hard to come and put your capital at risk.
So, what if I tell you that a lazy person can create an all-weather portfolio using a 'core and satellite approach' that could reap rewards as well as provide stability to your investments. But it is not easy - it's a tedious task which could be daunting for anybody.
Yes, that's right! And I have a solution for you.
You can rely on PersonalFN's mutual fund research expertise to own a ready-made strategic portfolio of best mutual funds.
PersonalFN offers you a great opportunity if you're looking for "high investment gains at relatively moderate risk".
Based on the 'core and satellite' approach to investing, here's PersonalFN's premium report: The Strategic Funds Portfolio For 2025 (2018 Edition).

In this report, PersonalFN will provide you with a ready-made portfolio of its top equity mutual funds schemes for 2025 that have the ability to generate lucrative returns over the long term.
The 'Core and Satellite' investing is a time-tested strategy to build your investment portfolio. For the mutual fund investors, the 'core portfolio' should consist of large-cap, multi-cap, and value funds, and the 'satellite portfolio' should include mid-and-small cap funds and opportunities style funds.
The term 'Core' applies to the more stable, long-term holdings of the portfolio; while the term 'Satellite' applies to the strategic portion that would help raise the overall returns of the portfolio, across market conditions.
Our strategy aims to provide you with the best of both worlds, i.e. short-term high-rewarding opportunities and long-term steady-return investing.
This is a good thing!
Why?
Simply because it works!
Below are the benefits of following the core and satellite approach:
Facilitates optimal diversification;
Reduces the need for constant churning;
Reduces the risk to your portfolio;
Enables you to benefit from a variety of investment opportunities;
Aims to create wealth, cushioning the downside; and
Offers the potential to outperform the market;

At PersonalFN, we believe that core holdings should form 60% of your mutual fund portfolio and the rest 40% should consist of satellite holdings. The weightage of each portfolio constituent in both 'Core' and 'Satellite' categories can make a huge difference in the end.

What matters the most is the art of astutely structuring the portfolio by assigning weightage to each category of mutual funds and schemes picked for the portfolio.

Constructing a portfolio that has a stable core composition of long-term investments, along with the opportunity to support the core by actively making decisions based on extensive research through the satellite approach are the potential benefits of strategic asset allocation.

PersonalFN's "The Strategic Funds Portfolio for 2025" is geared to potentially multiply your wealth in the years to come. Subscribe now!

The 'Core and Satellite' investment strategy offers you a higher chance of outperforming the market in the long run. Be a smart investor; own a ready-made strategy portfolio today!

Happy Investing!

Author: Aditi Murkute

This article first appeared on PersonalFN here.

PersonalFN is a Mumbai based personal finance firm offering Financial Planning and Mutual Fund Research services.

Disclaimer:

The views mentioned above are of the author only. Data and charts, if used, in the article have been sourced from available information and have not been authenticated by any statutory authority. The author and Equitymaster do not claim it to be accurate nor accept any responsibility for the same. The views constitute only the opinions and do not constitute any guidelines or recommendation on any course of action to be followed by the reader. Please read the detailed Terms of Use of the web site.

More Views on News

Apr 19, 2019

When elections come around, liquor flows like water and everyone gets drunk with power...what does this mean for liquor stocks? Read one to find out from our very own election trading analyst, Vijay Bhambwani.

Apr 18, 2019

As compared to net inflows of Rs 3,948 crore in the equity category during February 2019, the inflows for March 2019 were strong at Rs 9,014 crore.

Apr 18, 2019

When goods are handed out by benevolent politicians during election, aspirational goods such as two wheelers often end up winners, says our very own trading analyst, Vijay Bhambwani.

Apr 17, 2019

If you engage in Tax planning from the beginning of the year you will not do ad hoc investments.

Apr 17, 2019

20% of all the traders bring in 80% of the money. Watch these 20% and you get a working idea of which way the wind is blowing.

More Views on News

Most Popular

Apr 9, 2019

It's a matter of time before the stocks catch the fancy of the markets and big investors.

Apr 10, 2019

We have identified 3 stocks with huge wealth building potential which meet our 'Click of a Button' criteria.

Apr 10, 2019

How Dell got its mojo back.

Apr 12, 2019

This critical business strategy has enabled companies to scale their operations faster.

Apr 12, 2019

Here's how one could have generated gains of Rs 59,250 in 10 days by trading HDFC and HDFC Bank with a capital of Rs 4 lakh.

More