SBI Launches Two New ETFs
SBI Launches Two New ETFs
Oct 12, 2020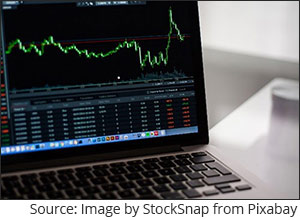 The markets are largely like a rollercoaster with more downs, due to the global pandemic and there seems to be no respite soon enough. Since March, work from home has become new normal for many companies to survive the impact of COVID-19 pandemic, this is an opportunity for various firms to expand their horizons further.
Thus, there has been a steep correction in all segments of the market cap. However, investors are anxious and reluctant to bear any more risk for higher returns, preferring moderate returns in line with the benchmark index instead through passive management, i.e. in Exchange-Traded Funds (EFT). Thus, actively managed funds seem like they have taken a backseat for now.
Considering the current environment of uncertainty, Banking and IT sector is where growth opportunities could be. But stock picking is difficult...
[Read: Why Are Fund Houses Introducing Passively Managed Funds Now]
Therefore, SBI Mutual Fund has launched two ETFs.
SBI ETF Private Bank
SBI ETF IT
As you are aware an ETF tracks an underlying index or a benchmark, each of the ETF will tracks a different benchmark. For instance, SBI Private Bank ETF will be tracking Nifty Private Bank TRI and SBI IT ETF will track/ replicate Nifty IT TRI to generate returns.
--- Advertisement ---
[REVEALED] Rahul Shah's Most Successful Income-Boosting Strategy


Have you ever wanted to increase your income and achieve financial independence from your boss...

But didn't know how to do so?

Good News:

Our top-analyst Rahul Shah has agreed to reveal his famous 'Automatic Income' strategy to the general public... in the form of a FREE Masterclass.

Spread over 4 short videos, this FREE MASTERCLASS reveals his most successful income boosting strategy...

But hurry. Because the your FREE Pass Will Expire Very Soon.

Click Here to Grab it
------------------------------
As per the respective Scheme Information Document (SID), the objective of each is as follows:
SBI ETF Private Bank: It is to provide returns that closely correspond to the total returns of the securities as represented by the underlying index, subject to tracking error. However, there can be no assurance or guarantee that the investment objective of the Scheme would be achieved.
SBI ETF IT: To provide return that closely correspond to the total returns of the securities as represented by the underlying index, subject to tracking error. However, there is no guarantee or assurance that the investment objective of the scheme will be achieved.
About the benchmark indices:
SBI ETF Private Bank will track The NIFTY Private Bank Index that is designed to reflect the behaviour and performance of the banks from private sector. The index comprises of 10 stocks and weights of each company in the index were capped at 25% (until March 29, 2019).
Image 1: Banks weight distribution in the Index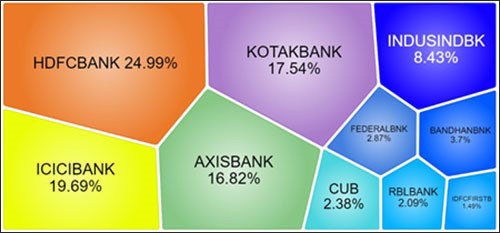 (Source: Nifty Private Bank Index)
SBI ETF IT will Track Nifty IT TRI. It was chosen because this Scheme primarily invests in securities that are constituents of Nifty IT TRI. The index is designed to reflect the behaviour of companies engaged into activities such as IT infrastructure, IT education, and software training, networking infrastructure, software development, hardware, IT support, and maintenance etc. The index comprised of 20 companies. The base value of the index was revised from 1000 to 100 with effect from May 28, 2004.
Image 2: Top IT companies weight distribution in the Index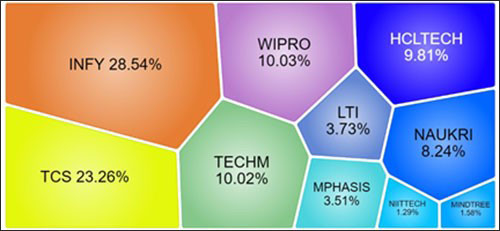 (Source: Nifty IT Index )
To be considered for inclusion in NIFTY sectoral companies must form part of eligible universe. For companies to be a part of the universe of NIFTY IT and NIFTY Private Bank, a preference shall be given to companies that are available for trading in NSE's Futures & Options segment at the time of final selection.
REVEALED: How to Unlock Almost 3x More Gains Post the Corona-Crisis...
Asset allocation and risk...
As per the mandate, both the schemes, SBI ETF Private Bank and SBI ETF IT will invest a minimum 95% of total assets of the scheme in securities of their respective tracking index.
As ETFs or exchange-traded funds both comprise of stocks that will replicate the composition of its benchmark index to provide the investor to hold a diversified portfolio of well-known companies and on a real-time basis at lower costs.
However, since the schemes are purely equity-based, the risk involved is extremely high concentration and the fund manager will not do any analysis and will track the index closely. So, only investors who have the stomach for high risk and an investment time horizon of at least 5 years should consider them.
--- Advertisement ---
Last Day: Get the Details of India's #1 Defence Stock

This single stock could possibly multiply invested money 10-times in the long run.

We revealed the details of this stock at our recently conducted Explosive Profits summit.

Thousands of Indians like you had joined us to learn about this rare and big opportunity.

If you missed it for some reason, then you can still watch the replay.

Watch this video to learn everything about this huge opportunity in defence...




And one more thing, tomorrow midnight we will take the contents of this summit down.

After which, you may lose access to the details of India's #1 defence stock forever.

So, you've got only two days.

Get the Details of India's #1 Defence Stock Now
------------------------------
What is the Investment Strategy?
For both the schemes, SBI ETF Private Bank and SBI ETF IT, the investment strategy will be alike except the difference in the underlying index.
The SBI ETF Private Bank will track Nifty Private Bank Index and SBI ETF IT will track Nifty IT Index and will use a "passive" or indexing approach to endeavour to achieve scheme's investment objective. Unlike other funds, the schemes will not try to "beat" the market it tracks and do not seek temporary defensive positions when market decline or appear overvalued.
The AMC does not make any judgments about the investment merit of a particular security nor will it attempt to apply any economic, financial or market analysis. Indexing eliminates active management risks with regard to over/ underperformance vis-a-vis a benchmark. Since the schemes are exchange traded funds, the schemes will only invest in the securities constituting the underlying index.
However, due to changes in the underlying indices, the schemes may temporarily hold securities which are not part of the indices. For example, the portfolio may hold securities not included in the respective underlying index as result of certain changes in the underlying index such as reconstitution, addition, deletion, etc.
The fund manager's endeavour would be to rebalance the portfolio in order to mirror the indices; however, there may be a short period where the constituents of the portfolios may differ from that of the underlying indices. These investments which fall outside the underlying indices as mentioned above shall be rebalanced within a period of 7 days.
Fund manager
Both the schemes will be managed by Mr Harsh Sethi. He has done his BCom with Honors, is a CA and CS.
Mr Sethi is the Equity Dealer since February 2017. Harsh joined SBIFMPL in May 2007 as Product Manager and was responsible for product development and management. Prior to joining SBIFMPL, he was working with J. P. Mangal & Co. as Senior Assistant from March 2005 to March 2007 handling Audit & Taxation.
Additional Information for both the ETFs
Opening Date: October 06, 2020
Closing Date: October 13, 2020
Min. Investment: Rs 5,000 and of Re 1 thereafter allowed for investment for both the schemes
Exit load: No exit load will be levied for both the schemes
Plans: No plans options offered for both the schemes.
Outlook:
A. SBI ETF Private Bank
In order to achieve the stated objective of the scheme to generate wealth the fund manager will only mirror the underlying index of 10 stocks without any analysis. Since the underlying index is a private banking index, there is a pressure on the private banking sector due to the pandemic effect. Most of the banks are to witness a steep rise in non-performing assets and increase in number of unpaid loans.
So the fortune of the fund will rest on the performance of 10 stocks of the underlying index.
B. SBI ETF IT
In an endeavour to achieve the stated objective of the scheme, the fund manager will track/replicate the underlying index. Since SBI ETF IT does not involve active management it will invest in 10 IT stocks only as per the index.
But in current environment of global economic slowdown, ETFs have gained some traction because stock picking has been difficult given the extreme volatility and uncertainty in the Equity markets. Most of the IT companies listed on Nifty IT Index have a global presence making them established players of the industry. Technology has become and is going to be an integral part of the new normal world for most necessities.
The fund house is of the view that SBI ETF IT provides investors an opportunity to invest in this dynamic and fast-paced sector. Being passively managed, the fund manager will not conduct any analysis on the stocks and will only try to mirror the index. So, the performance of the ETF will rely solely on the performance of the underlying index.
Table 3: Performance of underlying Indices
Index name
Absolute returns(%)
CAGR (%)
6 Months
9 Months
1 Year
3 Years
5 Years
NIFTY 500 - TRI
31.64
-1.13
7.31
4.67
8.65
NIFTY IT - TRI
73
39.01
47.74
29.49
15.36
Nifty Private Bank - TRI
23.53
-25.59
-17.89
-0.92
7.21
Data as on October 9, 2020
(Source: ACE MF; PersonalFn Research)
PS : Most of the equity funds have failed to beat the markets in the last two years. Our Head of Research, Vivek Chaurasia believes it is the right time to get your hands-on high alpha generating funds before the markets bounce back. Click here to know more about 'The Alpha Booster Strategy'.
Author: Aditi Murkute
This article first appeared on PersonalFN here.
PersonalFN is a Mumbai based personal finance firm offering Financial Planning and Mutual Fund Research services.
Disclaimer:
The views mentioned above are of the author only. Data and charts, if used, in the article have been sourced from available information and have not been authenticated by any statutory authority. The author and Equitymaster do not claim it to be accurate nor accept any responsibility for the same. The views constitute only the opinions and do not constitute any guidelines or recommendation on any course of action to be followed by the reader. Please read the detailed Terms of Use of the web site.
More Views on News
Dec 4, 2020 | Updated on Dec 4, 2020
The BSE Sensex is trading at its all-time high of 44,994 (up 0.8%). Among the top gainers in the BSE Sensex today are ULTRATECH CEMENT. In the meantime, the NSE Nifty is trading at 13,239 (up 0.8%).
Dec 4, 2020
In this video, I'll share my views on becoming a successful trader.
Dec 4, 2020
If you're interested in doubling your income you absolutely need to listen to this man.
Dec 4, 2020
PersonalFN's analysis on the features and performance of Canara Robeco Emerging Equities Fund.
Dec 3, 2020
To win big as a trader in the market, you need the right mindset. I tell you all about it...
More Views on News
Most Popular
Nov 25, 2020
India's drones directorate signals the next big defence tech multibaggers.
Nov 27, 2020
In my first video on Equitymaster, I want to introduce you my proprietary greed and fear index. It's telling us to book some profits in the market.
Nov 25, 2020
The new rules on margins will come into effect from 1st December. Are you ready?
Nov 27, 2020
The Chinese drone market is 14 times that of India's. Billions may flow into Indian drone companies too. Don't miss out on this wealth creating opportunity.
More