Will Blackstone Group Manage L&T Mutual Fund's Assets Successfully?
Will Blackstone Group Manage L&T Mutual Fund's Assets Successfully?
Oct 22, 2020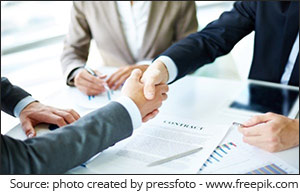 One of the world's leading private equity firm Blackstone's negotiations to acquire L&T Mutual Fund has reportedly reached advanced stages. US-based Blackstone is looking to acquire 100% stake in the AMC for Rs 3,200 crore. If the talks prove to be fruitful, an announcement could be expected soon.
L&T Mutual Fund is the 12th largest asset management company (AMC) in India having total asset under management (AUM) worth Rs 64,692 crore as of September 30, 2020. The AMC has 58 open-ended and close-ended schemes, which includes 14 equity schemes constituting around 27,947 crore of its total AUM and 39 debt schemes accounting for Rs 28,814 crore. L&T has appointed JP Morgan as the merchant bank to advise them on the sale of the mutual fund business.
L&T is looking to put its mutual fund arm on the block as a part of its drive to monetise its non-core businesses and become a leaner conglomerate.
--- Advertisement ---
Today at 5pm, Get the Details of India's #1 Defence Stock

Today's the big day.

At 5 PM sharp, our Explosive Profits Summit will go LIVE... where Tanushree Banerjee, our co-head of research, will reveal the details of India's #1 defence stock.

It's a potential 10x opportunity in the long term.

Please watch this short video message from Tanushree.




Watch Now
------------------------------
On the other hand, Blackstone is looking to ramp up its scale of operation in India, especially in the financial services space, as it sees India as one of the strongest performers in the world. Back in March, it had said in an interview with media that it is optimistic on the growth prospects of India. It added that the company, which has invested over $6 billion in India in the past 2 years, is scouting for buyout opportunities which have arisen out of economic slowdown coupled with the credit crisis. Acquiring L&T MF is one such opportunity it is keen on.
However, getting SEBI's nod for the same can prove to be a hurdle. As per SEBI's regulation, PE firms are restricted from acquiring more than 39.99% stake in an AMC. To be able to become a mutual fund sponsor and set up an AMC, an entity needs to have a stake of 40% or more and comply with other eligibility norms as stipulated by SEBI.
New: 5 Pandemic-Proof Smallcaps You Should Know About...
Will Blackstone prove to be a successful asset manager?
Though the company does not have experience in mutual fund management, media reports suggest that to build a case for SEBI's approval, Blackstone will be showcasing its track record in managing public investments through its various product offerings such as hedge fund solutions, alternative asset management, and managing real estate investment trust (REITs) to be able to get complete ownership of the AMC.
Notably, barring a couple of schemes, L&T MF's performance across most equity and debt schemes has been mediocre in the last few years. The performance of most schemes as compared to the respective benchmark and category peers across different time frames have been average or below average.
It remains to be seen if Blackstone gets the reigns of L&T MF's business and what the new management brings to the table in terms of systems, investment processes, and risk management.
--- Advertisement ---
REVEALED: How India's Best Investors Are Planning For 2021 and Beyond...

Are you an active investor looking to grow and protect your wealth in 2021 and beyond?

Then you must Register for The Equitymaster Conference Right Now.

Because for the first time ever, this conference is going fully virtual.

That means you can listen to the biggest investment minds of this generation - right from the safety and comfort of your home.

So don't wait...

Grab Your Conference Ticket Right Now
------------------------------
Blackstone is one of the world's leading investment firms specializing in private equity, alternative asset management, non-investment grade credit, real estate and hedge fund investment strategies. If Blackstone becomes successful in bringing its rich experience in international investment and businesses to its asset management business in India, it can help improve the performance of L&T Mutual Fund. Once it gets an approval, Blackstone will become the first major foreign private equity firm to enter the Indian mutual fund industry.
That said, the history of management of Indian AMC business by foreign companies has not always been smooth. In the past few years, foreign entities like Morgan Stanley, ING, PineBridge, Deutsche, Goldman Sachs, JP Morgan, and Black Rock have exited the mutual fund business.
Therefore, it remains to be seen if Blackstone will remain committed to Indian AMC business for the long haul, if and when it received SEBI's approval. A stable fund management team is important for the smooth management of business operation and preservation of investors' hard-earned money.
What should investors do in the event of change in management?
A change in management does not warrant a reshuffling of your investment portfolio. You should only look for alternatives if you find the performance of a fund unsatisfactory over a longer duration, based on qualitative and quantitative parameters.
[Read: Make Mindful Choices of Mutual Fund investments in Current times]
Apart from the consistent underperformance of the scheme, listed below are the other circumstances when one can consider exiting their equity mutual fund scheme:
Your investment has grown to the desired corpus
To gradually shift to safer avenues when your financial goal is approaching
During portfolio rebalancing to maintain the desired asset allocation
The fund objective changes and is no longer in congruence with your own objective
The fund risk profile changes and doesn't match your current risk appetite
In case of a financial emergency when you have no other option
You wish to adopt change in investment style (value, growth, blend, aggressive, conservative, etc.)
It is important to understand the investment philosophy of the fund house and investment processes they follow. Only process-driven fund houses can give you consistent performers over the long term.
Further, before taking any investment decisions evaluate your investment objective, risk appetite, and investment horizon to select the appropriate scheme based on unbiased research.
If you wish to select worthy mutual fund schemes, I recommend that you subscribe to PersonalFN's unbiased premium research service, FundSelect.
Additionally, as a bonus, you get access to PersonalFN's popular debt mutual fund service, DebtSelect.
PersonalFN recommendations go through our stringent process that assesses both quantitative and qualitative parameters, providing you with Buy, Hold, and Sell recommendations on equity and debt mutual fund schemes.
If you are serious about investing in a rewarding mutual fund scheme, Subscribe now!
Author: Divya Grover
This article first appeared on PersonalFN here.
Join Now: PersonalFN is now on Telegram. Join FREE Today to get 'Daily Wealth Letter' and Exclusive Updates on Mutual Funds
PersonalFN is a Mumbai based personal finance firm offering Financial Planning and Mutual Fund Research services.
Disclaimer:
The views mentioned above are of the author only. Data and charts, if used, in the article have been sourced from available information and have not been authenticated by any statutory authority. The author and Equitymaster do not claim it to be accurate nor accept any responsibility for the same. The views constitute only the opinions and do not constitute any guidelines or recommendation on any course of action to be followed by the reader. Please read the detailed Terms of Use of the web site.
More Views on News
Nov 27, 2020
In my first video on Equitymaster, I want to introduce you my proprietary greed and fear index. It's telling us to book some profits in the market.
Nov 27, 2020
PersonalFN's analysis on the features and performance of Mirae Asset Large Cap Fund.
Nov 27, 2020
The Chinese drone market is 14 times that of India's. Billions may flow into Indian drone companies too. Don't miss out on this wealth creating opportunity.
Nov 26, 2020
In this video, I'll have an update for you on gold and the new member of my team.
Nov 26, 2020
Rahul Shah discusses the hype around Adani Green Energy and analyses whether it is justified.
More Views on News
Most Popular
Nov 25, 2020
India's drones directorate signals the next big defence tech multibaggers.
Nov 17, 2020
If the markets become volatile over the next few months, do this.
Nov 27, 2020
In my first video on Equitymaster, I want to introduce you my proprietary greed and fear index. It's telling us to book some profits in the market.
Nov 25, 2020
The new rules on margins will come into effect from 1st December. Are you ready?
Nov 17, 2020
Ajit Dayal on the road ahead for the world after covid.
More