Mutual Fund Regular Plan Or Direct Plan: Which to choose?
Mutual Fund Regular Plan Or Direct Plan: Which to choose?
Oct 26, 2017
Today, when you invest in mutual funds you have broadly two plans: Regular Plan and Direct Plan. The latter was introduced by the Indian mutual fund industry a few years ago.
Let's understand each of these in detail...
Regular Plan - This is the conventional kind of plan, where you invest/transact through your mutual fund distributor / agent / relationship manager. The recommendations are usually guided by the mutual fund distributor / investment advisor / relationship manager, and there is after-sales support and service. Indirectly, commission is paid by the fund house on the money you invest through distributors / relationship managers. Hence, due to the distribution cost involved, you incur a higher expenses ratio in a regular plan.
Direct Plan - By opting for the Direct Plan, you eliminate the services of a mutual fund distributor / agent / relationship manager. There is no guidance. You do your own research or bank on mutual fund research reports to invest. The transactions can be performed online or even physically by visiting the registrar's or the asset management company's office. And since, transactions are routed directly; no commissions are paid by the fund house on the money you invest. Hence, the expense ratio for a Direct Plan is lower compared to Regular Plan.
Benefits of Direct Plan...
One of the advantages of a Direct Plan is you circumvent the rampant mis-selling that goes on to earn commissions. You will agree that today the scenario is at odds. It's rare to find a 'financial guardian' whom you can trust for sound advice on investing and wealth creation. There are only a few who render a financial advice diligently and ethically. This is precisely why inflows under Direct Plans are witnessing a steady rise, especially from cities such as Delhi, Mumbai, Chennai, Bangalore, Pune, and Chandigarh.
Over last few years, almost all fund houses have managed to generate higher returns on assets of the same scheme coming through Direct Plans. This is because, beside the fact that market are in uptrend, Direct Plans make a positive difference to your investments every year. You earn approximately 0.5% - 1.0% additional returns every year by investing in Direct Plans, abetted by a lower expense ratio. This appears small to the eye at the outset; but over a span of a 15-20 year investment horizon, it will reap you rich harvest. This will enable you to fulfil the envisioned financial goals such as buying a dream home, a car, children's education, their marriage expenses, and your own retirement among others.
Direct Plan: Reaping The Long-Term Benefits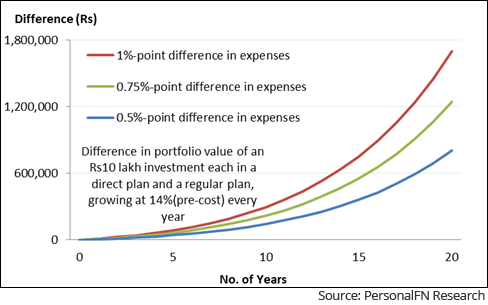 As can be seen in the chart above, a small difference in costs can result in savings anywhere between Rs 8 -17 lakh over 20 years, on a Rs 10 lakh investment. Yes, you can earn an additional amount of as much as Rs 17 lakh, if the difference in costs is as much as 1% point. The final portfolio value varies with the magnitude of difference in expenses. Every 0.25% point difference in the expense ratio works out to an additional earning of Rs 4.50 lakh in 20 years' time, if Rs 10 lakh is invested.
Hence, sow the seeds of these small savings to reap a sweet fruit powered by the benefit of compounding. Remember, the additional savings can go a long way in accomplishing vital financial goals.
Do Regular Plans and Direct Plans of mutual fund scheme have different portfolios?
No, the portfolio is the same for a Direct Plan and for a Regular Plan of a mutual fund scheme.
The mutual fund scheme constructs its portfolio as per a detail invest mandate cited in its offer document. The fund manager and his research team are expected to follow the investment mandate to meet the set out investment objectives.
Is Direct Plan suitable for naive investors?
The time-consuming and tedious task of selecting the best mutual fund schemes deters many individuals to opt for Direct Plans. But today, there are a variety of readymade tools to compare funds just at a click and control of the mouse.
Besides, there's PersonalFN to your help, who can power your investment decisions with unbiased research recommendations on mutual funds. PersonalFN follows a rigorous research process to help you, investors, select the best mutual fund schemes for your investment portfolio. At PersonalFN, along with quantitative parameters such as performance, qualitative parameters such as portfolio characteristics are considered while analysing mutual fund schemes. With over decades of experience, PersonalFN has put together a research report on potentially the best mutual fund SIPs for your long-term portfolio - The Super Investment Portfolio - For SIP Investors. Under this, we conduct a detailed analysis on how SIPs in the top shortlisted mutual fund schemes have performed, across multiple market conditions and timeframes. Only those funds that successfully pass this evaluation are chosen. Don't miss out on early bird discounts. Subscribe to the report here.
For investors looking for readymade solutions, there's PersonalFN's FundSelect Plus, a comprehensive portfolio service to benefit from SEVEN time-tested, readymade equity and debt mutual fund portfolios. Based on your risk profile and investment horizon, you can choose from three equity portfolios and three debt portfolios. In addition, you get a readymade tax-saving portfolio as well. This service has a decade-long market-beating track record. Don't miss out on exclusive discounts available, subscribe now!
Some may ask, "Why can't I simply go by star-rated mutual funds?" Well, you could to begin there -a good starting point, but it is inconclusive. PersonalFN is of the view that you as an investor should not blindly go by star ratings. Attempt to delve deeper into understanding the methodology used for rating funds. Often the highest weightage is assigned to the recent performance and only quantitative parameters are considered for rating funds. As a result, you find a 5-star fund pushed down to a 3-star or 2-star, few months down the line. In our view, both quantitative and qualitative parameters need to be judge to rate mutual fund schemes. Qualitative parameters form an inseparable part of the analysis of mutual funds, while the quantitative parameters form only the outer layer of a scheme. Qualitative parameters are able to produce more robust ratings as it takes into account a host of factors viz. fund manager's experience, number of scheme to fund manager ratio, the proportion of AUM performing, unique scheme, and investment processes & systems followed by the mutual fund house.
If you require some handholding in the path to wealth creation, with a customised investment portfolio, and need a financial plan in place; seek guidance from our Certified Financial Guardian who can guide you in an unbiased, objective manner. Schedule a call with our Financial Guardian here for superlative guidance. Our 'financial guardian' will help you build a portfolio recognising your risk appetite, investment objectives, investment horizon, and financial goals. He/she will help you manage your hard earned money with as much care as he manages his own.
At PersonalFN, we put your, the investor's, interest before our own, recommend Direct Plans to invest in mutual funds, and follow high fiduciary standards. So, naive investors can consider opting for PersonalFN's services.
The time has come to ask yourself and judge: Are you compromising on long-term returns for a little comfort in the short-term by availing services of mutual fund distributors, or is there a real value? Similarly, when investing online through robo-advisory platforms, make sure they are transparent and you are getting best advice before it's too late.
Happy Investing!
This article first appeared on PersonalFN here.
PersonalFN is a Mumbai based personal finance firm offering Financial Planning and Mutual Fund Research services.
Disclaimer:
The views mentioned above are of the author only. Data and charts, if used, in the article have been sourced from available information and have not been authenticated by any statutory authority. The author and Equitymaster do not claim it to be accurate nor accept any responsibility for the same. The views constitute only the opinions and do not constitute any guidelines or recommendation on any course of action to be followed by the reader. Please read the detailed Terms of Use of the web site.
More Views on News
Mar 22, 2018
Certain blue chips hold the potential of delivering returns comparable to small-cap stocks. With these stocks, you can get the best of both worlds.
Nov 29, 2017
Stocks that could beat Sensex returns in the long term.
Jul 16, 2018
PersonalFN explains how to identify the symptoms of bad financial health, and how to address them in the interest of your long-term financial well-being.
Jul 16, 2018
This simple secret earned more than 4x the Sensex since the turn of the century.
Jul 16, 2018
How I side-stepped a big mistake made by a super investor.
More Views on News
Most Popular
Jul 4, 2018
The FDI numbers do not look very impressive once we adjust for repatriations as well as the overall growth in the economy.
Jul 12, 2018
Blindly following super investors is a dangerous game to play. Here's how you can avoid such mistakes.
Jul 10, 2018
If you're worried about the markets - you are on the wrong track. This is opportunity - put your wealth-building hat on, instead - Richa shows you how...
Jul 6, 2018
ICICI AMC launches an open -ended equity fund following Pharma, Healthcare, Diagnostic and allied theme.
Jul 6, 2018
Buy Companies that can fight all kinds of Pandas and Bears in the long run.
More