Invesco India Contra Fund: Identifying Turnaround Opportunities
Invesco India Contra Fund: Identifying Turnaround Opportunities
Nov 6, 2020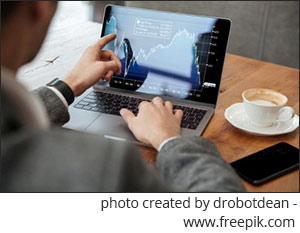 Prevailing market sentiments predominantly drive stocks, which may cause the inappropriate pricing of some fundamentally sound stocks in the short run, discouraging potential investors.
However in the long run, some of these stocks may grow to reflect their true value and reward investors for their patience. Such stocks could be major beneficiaries of economic recovery.
Contra funds category follows an "against the tide" approach to invest in neglected stocks available at discounted valuations with strong fundamentals. The contrarian investment strategy enables these funds to seek opportunities in high-growth potential stocks that are currently out of favour and stocks in the turnaround phase to reward investors with superior gains.
The strategy assumes that once the short-term distortions in valuation become irrelevant or are completely eliminated, the stocks will bounce back to its real value.
Invesco India Contra Fund (IICF) is one such contra fund; it is one of the prominent players in the contra fund category working to identify such hidden opportunities and bet against the herd.
--- Advertisement ---
[Alert] Sell These 3 Stocks Immediately

These 3 stocks are ticking time bombs in your portfolio.

It is very likely that you could be owning these 3 overvalued... fundamentally weak... ready to crash stocks... in your portfolio today.

Because many stock brokers have painted rosy pictures of these stocks.

But the reality is starkly different.

If the market crashes, then these stocks could wipe out your wealth.

You should get rid of these stocks as soon as possible.

We are going to reveal details of these 3 landmines at our upcoming special event.

You can click here to sign-up in 1-click. It's free.
------------------------------
Graph 1: Growth of Rs 10,000 if invested in Invesco India Contra Fund 5 years ago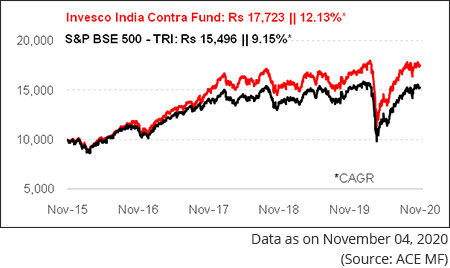 IICF is a contra style fund that follows against-the-tide kind of investing approach. It takes contrarian bets to invest in sectors and stocks that are temporarily out of favour and available at significant discount to their fair valuation. While investing, the fund manager has conviction in the fundamentals of such stocks and believes they could perform well in the long run. As contra funds invest in 'out-of-flavour' themes, they may temporarily underperform in the short term, and hence deserve patience. Launched in April 2007, the fund remained unnoticed for years. However, its spectacular performance in the bull rally of 2016-2017 caught the attention of investors. An investment of Rs 10,000 made in IICF 5 years back would have appreciated by about 12.1% CAGR to Rs 17,723. On the other hand, a similar investment in the benchmark S&P BSE 500 - TRI would have been valued at Rs 15,496 (9.2% CAGR).
India's Revival: A Once-in-a-Generation Wealth Making Opportunity
Table: Invesco India Contra Fund's performance vis-a-vis category peers
| Scheme Name | Corpus (Cr.) | 1 Year (%) | 2 Year (%) | 3 Year (%) | 5 Year (%) | 7 Year (%) | Std Dev | Sharpe |
| --- | --- | --- | --- | --- | --- | --- | --- | --- |
| Kotak India EQ Contra Fund | 813 | 1.66 | 7.58 | 5.86 | 11.18 | 13.61 | 21.19 | 0.04 |
| Invesco India Contra Fund | 4,988 | 5.82 | 7.13 | 5.59 | 12.11 | 18.74 | 22.02 | 0.044 |
| SBI Contra Fund | 1,290 | 5.48 | 2.73 | -2.07 | 5.35 | 10.6 | 22.67 | -0.051 |
| S&P BSE 500 - TRI | | 1.69 | 6.14 | 3.17 | 9.14 | 11.89 | 21.85 | 0.012 |
Returns are point to point and in %, calculated using Direct Plan - Growth option. Those depicted over 1-Yr are compounded annualized
Data as on November 04, 2020
(Source: ACE MF)
*Please note, this table only represents the best performing funds based solely on past returns and is NOT a recommendation. Mutual Fund investments are subject to market risks. Read all scheme related documents carefully. Past performance is not an indicator for future returns. The percentage returns shown are only for indicative purposes.
With superior returns over the last few years, IICF is a true outperformer. It is a top quartile performer among diversified equity funds and maintains its spot as a top contender in the contra funds category. The fund has distinctly outperformed its benchmark S&P BSE 500 - TRI across time periods. IICF's returns over the longer time frames of 3-year and 5-year have been remarkable, where it has generated an alpha of around 2-3 percentage points.
IICF has impressed on the risk-reward front as well, generating superior risk adjusted returns for its long-term investors. The fund's Sharpe ratio of 0.04 is far ahead of its benchmark.
--- Advertisement ---
[Watch Now] 3 Little-known Stocks We are Super Bullish On




Click Here to Watch Now
------------------------------
Investment strategy of Invesco India Contra Fund
IICF follows a contrarian strategy where the fund managers pick 'neglected stocks' with strong asset values while focusing on under-owned sectors carrying high potential. The aim is to have a first mover advantage by investing in out of favour sectors/stocks, thus increasing out-performance prospects. In terms of asset allocation, the fund is mandated to invest a minimum 65% of its assets in equity. The fund maintains a large cap bias where it invests around 65% of its assets while it also holds significant exposure to mid and small cap stocks, which together account for around 30% of its holdings.
While managing IICF, the fund managers focus on undervalued stocks trading at a significant discount to their fair valuation with an aim to hold them in the portfolio until their intrinsic value is achieved. Accordingly, the fund managers identify and invest in potentially undervalued stocks across sectors utilizing the top-down and bottom-up approach. They believe in incubating such stocks for a while before they find favour with rest of the market. While the fund managers are in a constant hunt for stocks available at cheap valuations and look at timely entry and exit, moderate churning in IICF's portfolio cannot be ruled out.
Graph 2: Top portfolio holdings in Invesco India Contra Fund

IICF usually holds a well-diversified portfolio of 45-55 stocks at any point of time. As on September 30, 2020, IICF held a fairly diversified portfolio of 45 stocks, with the top 10 stock holdings accounting for close to 52% of its assets. Highly liquid names like Reliance Industries, HDFC Bank, Infosys, and ICICI Bank currently appear among its top holdings in the fund's portfolio. Most of them have been among the core contenders in IICF's portfolio for a long time.
IICF has been riding on stocks like Reliance Industries, Infosys, Ajanta Pharma, HCL Technologies, Sun Pharma, etc. that have been the major gainers in the portfolio together contributing around 7% to its returns in the last one year. It also benefitted from stocks like Escorts, BhartiAirtel, Mishra Dhatu Nigam, Tech Mahindra, among others.
In terms of sector concentration, the top five sectors in IICF's portfolio accounted for around 59% of its assets. The fund held higher weightage to Banking (19.1%) followed by Infotech (13.1%), Petroleum Products (12.6%), Finance (8.1%) and Pharma (6.3%). Telecom, Auto, Power, Engineering, Consumption, Consumer Durables, and Construction are among the other prominent sectors in the fund's portfolio.
Suitability
Through the years, it has delivered consistent returns across time periods and market cycles. The fund gives high weightage to fundamentals, long-term price momentum, and outlook of stocks in its portfolio, which even helps it maintain a lead over its peers. Its fund managers keep a strong focus on fundamentals and those stocks that are likely to show sharp earnings recovery.
Being a contra fund, the fund takes an opposing view to the general popular opinion. Hence, the fund may at times underperform over shorter periods. It is suitable for investors having tolerance to volatility and high risk appetite with an investment horizon of 5 years or more.
Editor's note: The last few years have not been among the best for equity mutual funds. While most funds have underperformed or are struggling to match the returns of the benchmark, there are few funds that have the potential to constantly generate alpha for its investors. And we have identified five such high alpha generating funds, in our latest report 'The Alpha Funds Report 2020'. Do not miss our latest research finding. Get your access to this exclusive report, right here!
Note: This write up is for information purpose and does not constitute any kind of investment advice or a recommendation to Buy / Hold / Sell a fund. Returns mentioned herein are in no way a guarantee or promise of future returns. As an investor, you need to pick the right fund to meet your financial goals. If you are not sure about your risk appetite, do consult your investment consultant/advisor. Mutual Fund Investments are subject to market risks, read all scheme related documents carefully.
Author: Divya Grover
This article first appeared on PersonalFN here.
Join Now: PersonalFN is now on Telegram. Join FREE Today to get 'Daily Wealth Letter' and Exclusive Updates on Mutual Funds
PersonalFN is a Mumbai based personal finance firm offering Financial Planning and Mutual Fund Research services.
Disclaimer:
The views mentioned above are of the author only. Data and charts, if used, in the article have been sourced from available information and have not been authenticated by any statutory authority. The author and Equitymaster do not claim it to be accurate nor accept any responsibility for the same. The views constitute only the opinions and do not constitute any guidelines or recommendation on any course of action to be followed by the reader. Please read the detailed Terms of Use of the web site.
More Views on News
Apr 13, 2021
PersonalFN explains the outlook for Banking & PSU Debt funds and the best Banking & PSU Debt funds that can be considered for investment in 2021.
Apr 13, 2021
Ajit Dayal on how India's vaccine strategy will impact the markets.
Apr 13, 2021
In this video, I'll you what I think is the real reason behind yesterday's market crash.
Apr 13, 2021
Price is the only due diligence one might require to buy this business.
Apr 12, 2021
PersonalFN explains whether the second wave of COVID-19 infections impact your mutual fund investments.
More Views on News
Most Popular
Mar 31, 2021
A tiny chemical company, started in the Licence Raj era, is a great example of a new wealth creating opportunity.
Mar 31, 2021
In this video I'll show you exactly how I go about picking stocks for trading.
Apr 6, 2021
Rather than predicting the market, successful investing is more about preparing well and placing your bets accordingly.
Apr 1, 2021
What should you do if the market falls? In this video, I'll tell you what I will do.
Apr 13, 2021
Ajit Dayal on how India's vaccine strategy will impact the markets.
More