Why You Should Be Careful About Investing In NFOs
Why You Should Be Careful About Investing In NFOs
Nov 8, 2017
Never make commitments when your emotions are high.
Market success excites investors. And unseasoned investors often commit big-ticket fresh investments when they can't decide what's appropriate for their financial future.
What we see is history repeating itself!
With stock indices touching the sky nowadays, investors are boisterously bullish on the potential of the Indian equity markets. Good time for mutual fund houses to come up with New Fool Offers (NFOs). Don't get it wrong - that's not the financial nomenclature.
"NFO" stands for "New Fund Offer". But, mutual fund houses try to lure investors into new offerings by launching them at a time when it's easy to convince them about the future returns.
NFOs are being launched at a time when mutual fund houses are expected to merge similar schemes. But it seems they have figured loopholes in the current regulations to keep their NFO factories alive and running at their optimal capacity. Like always, fund houses are offering high incentives to distributors to persuade investors to invest in NFOs.
Recently, guidelines on mutual fund classification were released. The move was intended to rationalise the product bouquet of the mutual fund industry and bring discipline in the approach of all industry players.
Along with broad categories, the guidelines also indicated subcategories for the better classification. Mutual fund houses aren't allowed to offer more than a scheme for each category. To avoid product duplication, it also restricted mutual fund houses from offering products in specific subcategories, if they have a product in the alternative subcategory. For example, a fund house offering a contra scheme can't simultaneously offer a value-oriented scheme.
Looking at the recent NFO launches, it seems mutual fund houses have misinterpreted the guidelines. They have launched new schemes, almost implying that it is mandatory for each fund house to have a scheme in each subcategory.
A few fund houses are launching multi-cap schemes, while others are betting on focused schemes. Launching a "close-ended fund" is still the preferred option of a few fund houses, as the new guidelines on mutual fund classifications aren't applicable to them.
5 Reasons for avoiding NFOs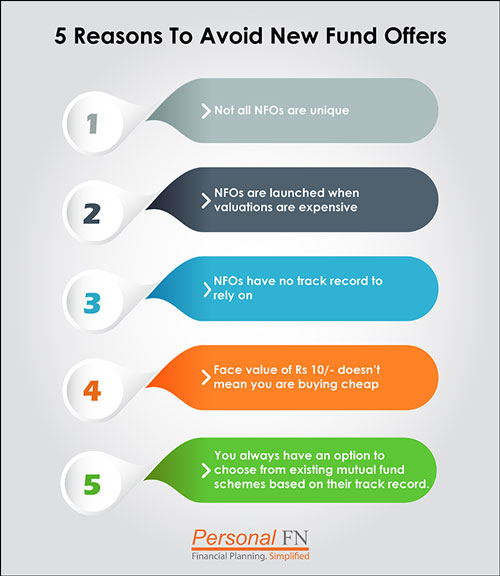 More often than not, NFOs don't offer anything new. They just re-bundle ready-made products. For example, a diversified equity scheme can choose not to have any bias towards market capitalisation and invest as per the attractiveness of opportunities. Yet fund houses come up with multi cap funds, flexi cap funds, small and midcap funds, small cap funds, and even micro-cap funds.
Usually, NFOs are launched when valuations are expensive; markets are nearly at an all-time high, and the investors' sentiment is positive. This limits the chance of fund managers getting good bargains while constructing a portfolio and due to overzealous inflows into equity schemes, fund managers are forced to invest despite unattractive fundamentals.
Mutual fund NFOs with the Net Asset Value (NAV) of Rs 10 are still sold as "cheaper offerings" as compared the existing schemes with higher NAVs.
NFOs have no track record to rely on.
You always have an option to choose a scheme from the existing ones based on their track record. You can't gain a good opportunity from NFOs unless they have an extraordinary feature, which is rare to find.
PersonalFN is of the view that, investors need to outsmart opportunistic fund houses that want to grow their business without bothering about your interest. Of course, not all fund houses are alike. Some of them manage their assets meticulously and avoid repetition of products. While choosing a fund for your portfolio, you shouldn't forget to pay close attention the traits of a fund house.
What mutual fund investors do?
Never try to time the market.
Invest as per customised asset allocation plan that considers personal financial goals and the risk appetite of the investor.
Never speculate on the macroeconomic or corporate events such as industrial growth, GDP growth, and corporate earnings, etc.
Prefer the Systematic Investment Plan (SIP) route to invest in equity-oriented schemes.
For superlative research-backed guidance to select best mutual funds, count on PersonalFN's unbiased mutual fund research services. FundSelect Plus, PersonalFN's model mutual fund portfolio service has a decade-long market-beating track record. You get access to 7 high-performing, time-tested readymade portfolios.
Apart from four equity-oriented portfolios, you get access to three readymade debt mutual portfolios. The debt portfolios have been formulated with the investment tenure as the cornerstone. Depending on your investment horizon - less than 3 months, 3-12 months, or more than 12 months, you can choose the portfolio.
PersonalFN's track record speaks for itself. The three portfolios have comfortably outperformed their respective benchmarks. Don't miss the Special Anniversary Discount. Subscribe now!
PersonalFN is a Mumbai based personal finance firm offering Financial Planning and Mutual Fund Research services.
Disclaimer:
The views mentioned above are of the author only. Data and charts, if used, in the article have been sourced from available information and have not been authenticated by any statutory authority. The author and Equitymaster do not claim it to be accurate nor accept any responsibility for the same. The views constitute only the opinions and do not constitute any guidelines or recommendation on any course of action to be followed by the reader. Please read the detailed Terms of Use of the web site.
More Views on News
Mar 22, 2018
Certain blue chips hold the potential of delivering returns comparable to small-cap stocks. With these stocks, you can get the best of both worlds.
Nov 29, 2017
Stocks that could beat Sensex returns in the long term.
Jul 17, 2018
Tanushree Banerjee bets you would not want to leave your money with these unsafe banks...
Jul 17, 2018
And there will be no getting trapped with Amtek, Vakrangee, or Manpasand like stocks.
Jul 17, 2018
Evidence from around the world shows that populism can only lead to more populism and this is clearly not good news for the Indian economy.
More Views on News
Most Popular
Jul 4, 2018
The FDI numbers do not look very impressive once we adjust for repatriations as well as the overall growth in the economy.
Jul 12, 2018
Blindly following super investors is a dangerous game to play. Here's how you can avoid such mistakes.
Jul 10, 2018
If you're worried about the markets - you are on the wrong track. This is opportunity - put your wealth-building hat on, instead - Richa shows you how...
Jul 6, 2018
ICICI AMC launches an open -ended equity fund following Pharma, Healthcare, Diagnostic and allied theme.
Jul 6, 2018
Buy Companies that can fight all kinds of Pandas and Bears in the long run.
More