Which Equity Mutual Funds to Buy Now?
Which Equity Mutual Funds to Buy Now?
Nov 13, 2018
I'm sure many of you recognise the benefit of investing in mutual funds as a worthy investment avenue that creates wealth to accomplish your financial goals.
But has your portfolio rewarded you well recently?
Perhaps, it has not.
Here's how you can change that.
First, I recommend that you review your investment portfolio -- particularly now that the Indian equity market is going through turbulence -- before you add more mutual fund schemes to your portfolio.
[Read: Unsure When To Review Your Mutual Fund Portfolio? Read This...]
And if you are planning to discontinue investing in SIPs because you are too frenzied about the falling market, let me apprise you that it would be a grave mistake.
I completely understand the dilemma you are facing. From the beginning of 2018, the Indian stock market has been mercurial, making new day-highs and day-lows. Especially since September onwards, the Indian equity market has hit a rough patch; almost every investor in the Indian equity markets has suffered either a realized loss or a notional loss.The small and mid-cap segment of the market, in particular, has been hammered over a period of one year.
The current liquidity crunch and weak rupee-a concern. Moreover, the recent tussle between the RBI and government invoking section 7(1) of the Reserve Bank of India Act has brewed murkier conditions.
These factors among a host of others have pulled down the BSE Mid-cap index by a little over 22% from its January high, while BSE Small-cap index declined 31% from its 2018 peak. Many individual stocks have plunged in the range of about 40%-70%.
--- Advertisement ---


Be Greedy When Everyone Else Is Fearful…

The current market crash is indeed a cause of concern for most investors.

But if you're an opportunist, it could be a blessing in disguise.

Tanushree Banerjee, our Safe-Stocks Expert, has carefully picked 7 Blue chip stocks for her loyal subscribers and they're now available at bargain prices.

But these stocks may not be available at such attractive valuations for long.

So before it's too late, click here to claim our special report on 7 stocks To Profit From This Market Crash.
------------------------------
Table 1: How have various categories of equity mutual funds performed?
Type of Funds
Absolute average returns (%)
CAGR (%)
01/Jan/18
To 09/Nov/18
1 Year
3 Years
5 Years
Market Cap Fund
Large-cap
-3.8
-1.0
10.9
14.9
Mid-cap
-13.1
-7.1
11.1
21.8
Small-cap
-17.9
-10.5
11.7
23.1
Large and Mid-cap
-8.4
-4.0
12.2
18.6
Thematic
-5.5
-0.9
13.3
18.4
Value
-9.7
-5.8
12.2
19.6
Focused Fund
-6.9
-3.0
11.9
17.8
Aggressive Hybrid Fund
-3.9
-1.5
10.3
15.3
(Data as on 9th November 2018)
(Source: ACE MF)
As a result, the small-cap funds and mid-cap funds have seen the short end of the stick on a year-to-date basis (See table above).
I believe naive investors, who invested or bought small and mid-cap funds on misinformation and invested lump sum, have seen one of the biggest losses in their investment history. The ones who had opted for the Systematic Investment Plans (SIPs), which is a mode of investing in mutual funds, are perhaps better off.
On the other hand, the market setback has facilitated a seasoned investor to look at these times as the ripe opportunities to invest.
However, are you holding the right mutual fund schemes in your portfolio?
If you recall in our recent article: "Why You Should Not Stop Investing in Turbulent Times", we highlighted that not investing during tough market conditions or bringing it to a halt would be a blunder because this can get in the way of compounding that works for your envisioned financial goals.
In my view, at these levels the valuations are fairly placed and provide you with the margin of safety.
There is no denying that the shockwave hasn't passed through completely yet and still there is more to come; the outcome of the Reserve Bank of India's autonomy is to be decided soon.
Additionally, with the probable chances of US Federal Reserve's rate hike, the monetary policy is likely to become tight and drive the market into another round of correction.
However, if you have a time horizon of three years or more, are willing to take risk, and want to create wealth that counters inflation effectively, there are certain categories of equity mutual funds appropriate for your equity mutual fund portfolio.
So, if you invest now, when the market is in a correction mode, you can invest with low corpus at an affordable price. And if you remain invested for a longer time horizon, you can clock a substantial real rate of return to grow your wealth across different market cycles.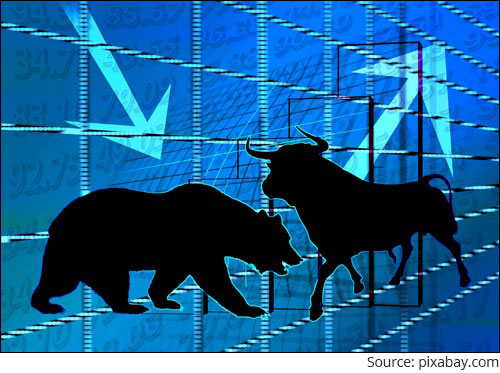 Do not worry about short-term volatility/turbulence - that's the very nature of the equity market.
Hence, I would suggest you to not give up on investing in equity mutual funds now.
Graph1: Equity Risk-Return Potential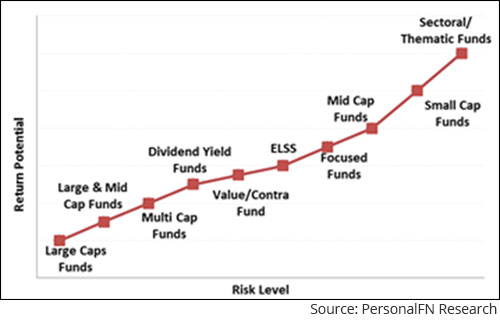 Among all the equity-oriented funds, large-cap funds are the safest, while mid-cap funds and small-cap funds carry very high risk.
Table 2: Allocate in equity mutual funds optimally recognising your risk profile
Category
Very
Aggressive
Aggressive
Moderate
Conservative
Very
Conservative
Equity
90% to 100%
75% to 80%
60% to 70%
40% to 50%
20% to 30%
Large Cap Funds
10% to 15%
10% to 15%
10% to 15%
15% to 20%
10% to 15%
Midcap Funds
20% to 25%
15% to 20%
--
--
--
Large & Midcap Funds
20% to 25%
15% to 20%
10% to 15%
--
--
Multi Cap Funds
15% to 20%
15% to 20%
10% to 15%
--
--
Value Style Funds
15% to 20%
10% to 15%
10% to 15%
10% to 15%
0% to 10%
Aggressive Hybrid Fund
--
--
10% to 15%
15% to 20%
10% to 15%
Debt
0% to 5%
10% to 15%
20% to 30%
40% to 50%
70% to 80%
Dynamic Bond Funds
0% to 5%
10% to 15%
10% to 15%
20% to 25%
15% to 20%
Short Duration / Corporate Bond Funds
--
--
10% to 15%
20% to 25%
25% to 30%
Liquid / Ultra Short Duration Funds
--
--
--
0% to 10%
20% to 30%
Gold
0% to 5%
5% to 10%
5% to 10%
5% to 10%
0% to 5%
Gold Funds
0% to 5%
5% to 10%
5% to 10%
5% to 10%
0% to 5%
100.0%
100.0%
100.0%
100.0%
100.0%
Source: PersonalFN Research
This table is for illustration purpose only.
Remember that as per your level of risks, you should invest in schemes that have a proven track record of performance across market cycles and timeframes. While rebuilding your mutual fund portfolio, choose a combination of funds--equity, debt, hybrid, and gold---in accordance with your risk profile.
Picking the right mutual fund is challenging because there are over 2,000 plus mutual fund schemes in the market (and growing). Past returns are a good starting point; though this is not the only criteria investors should look at.
If you have noticed in Table 1 above that the Large and Mid-cap funds have been performing consistently to provide decent long-term returns, in rising as well as falling markets.
Hence, be prudent and do not chase momentum or follow the herd because "one man's meat is another man's poison". Evaluate your selection based on qualitative and quantitative parameters to choose a mutual fund scheme for your portfolio.
Quantitative parameters:
Return analysis across time frames
Studying the risk ratios to evaluate the level of risk the fund would expose you to
The effective risk-adjusted returns
Performance across market cycles, i.e. bull and bear phases
Qualitative parameters:
The fund manager's work experience from process-driven fund houses backed by the experienced research team
Low portfolio churning to ensure low costs
Number of schemes managed by the fund manager
Adequate Diversification, i.e. exposure to the top 10 holdings should not be more than 50% of the total equity portfolio.
Selecting the most appropriate mutual fund scheme is the key to generating superior returns consistently. And invest directly (vide Direct Plan) and regularly via SIP to mitigate the risk involved (facilitated by rupee-cost averaging) as well as to benefit from the power of compounding. You can evaluate and create a portfolio of 7-10 funds to construct a winning portfolio.
Editor's note:
If you want to add SOLID mutual funds to your portfolio that could help you create wealth in the long run?
But don't have time and skills to select worthy mutual fund schemes; don't lose heart. PersonalFN's unbiased premium research service-FundSelect is meant to assist investors in selecting worthy mutual fund schemes.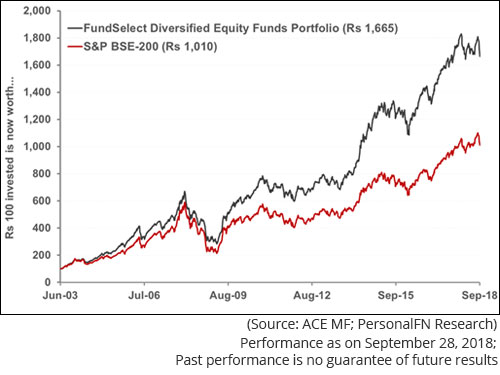 PersonalFN's FundSelect has 15+ years of an impeccable track record. FundSelect has been based on one simple motto: "Be steady. Be alert. Be winning."
With FundSelect, you get access to high quality and reliable funds picked by our research team using their comprehensive S.M.A.R.T. score fund selection matrix.
S - Systems and Processes
M - Market Cycle Performance
A - Asset Management Style
R - Risk-Reward Ratios
T - Performance Track Record
So if you are serious about investing in a rewarding fund, try PersonalFN's flagship mutual fund research service FundSelect.
Every month, PersonalFN's FundSelect service will provide you with an insightful and practical guidance on equity funds and debt schemes - the ones to buy, hold, or sell, therefore assisting you in creating the ultimate portfolio that has the potential to top the market. Subscribe to FundSelect today!

Happy Investing!
Author: Aditi Murkute
This article first appeared on PersonalFN here.
PersonalFN is a Mumbai based personal finance firm offering Financial Planning and Mutual Fund Research services.
Disclaimer:
The views mentioned above are of the author only. Data and charts, if used, in the article have been sourced from available information and have not been authenticated by any statutory authority. The author and Equitymaster do not claim it to be accurate nor accept any responsibility for the same. The views constitute only the opinions and do not constitute any guidelines or recommendation on any course of action to be followed by the reader. Please read the detailed Terms of Use of the web site.
More Views on News
Mar 22, 2018
Certain blue chips hold the potential of delivering returns comparable to small-cap stocks. With these stocks, you can get the best of both worlds.
Dec 17, 2018
PersonalFn explains that going ahead, why the markets may face turbulence.
Dec 17, 2018
These 4 safe small caps offer a once-in-a-lifetime opportunity to build significant lasting wealth - but the index is turning up so this opportunity won't last long...
Dec 17, 2018
With the general elections approaching in a few months, there could be heightened volatility in the markets.
Dec 14, 2018
The state election results and the resignation of RBI governor, Urjit Patel, has made the market nervous. It is exactly in times like these, you can get to buy the best quality safe stocks at the right prices.
More Views on News
Most Popular
Dec 6, 2018
My latest StockSelect recommendation ticks all the boxes of a great safe stock.
Dec 11, 2018
RBI Governor's resignation is a statement of dissent with the way government is handling the economy's affairs and could lead to some serious market correction. Here's how to make the most of it.
Dec 7, 2018
This stock has corrected 30% from peak and looks attractive at these valuations.
Dec 5, 2018
Credit disbursement to the productive sectors of the economy such as infrastructure, engineering, food processing, textiles, and chemicals, among others is rising.
Dec 5, 2018
PersonalFN explains the probable reason as to why the capital market regulator has initiated DSP Mutual Fund's bond sale that caused DHFL stock to crash.
More