4 Smart Ways To Invest in Gold
4 Smart Ways To Invest in Gold
Nov 23, 2017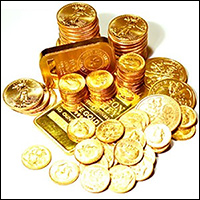 We Indians have insatiable appetite for gold. We keep buying the precious yellow metal for a variety of reason and on various occasions. For over decades, gold has been considered a traditional safe haven, a currency of choice, a store of value, a hedge...and hence one cannot abjure owning it in the investment portfolio.
Many investors prefer to invest in gold the conventional way. Yes, you got it right - by purchasing gold in a physical form i.e. in the form of gold jewellery or coins or bars - as buying into the precious yellow metal is driven by emotions. The only advantage of purchasing physical gold is that you can touch, feel and see. But it is noteworthy that, by buying physical gold comes at a price, as there are some major disadvantages of buying and holding gold in a physical form. They are:
Holding cost: Holding cost refers to the cost of holding a security for instance, the locker rent.
Quality: If you buy a certain amount of gold from your jeweller and sell the same piece of gold (either coins or bars or jewellery) to another jeweller, then the quality of your gold will always be questioned.
Premium: Very often jewellers and banks sell gold coins and bars at a premium, to the market price. So, the pricing of gold varies depending on the vendor. Ultimately you always pay a higher price to acquire your gold in the physical form.
Resale Value: Often jeweller doubts the quality of gold held by you - and therefore pays you a less price, while in case of jewellery, deducts making charges which are added while buying gold). And as regards banks are concerned, they refuse to buy back gold (due to RBI regulation).
Tax: In order to be eligible for long term capital gains, you need to hold your physical gold for more than 3 years. Thus, if you were to sell your gold holdings within 3 years you would be liable to capital gains tax based the tax slab under which you fall.
However, today in the "E- world" where everything is available with one click from the comfort of your home, gold too can be purchased in most unconventional ways. Gone are the days when gold was purchased only in conventional form. Thanks to technology, you can buy gold just like you would buy a branded bag - online.
The unconventional way of buying gold facilitates you to invest in gold in a non-physical form i.e., either through paper form or even in non-paper form (which is electronic form), but they offer the advantages of investing in gold.
Here are the 4 smart and unconventional ways of investing in gold:
To Conclude:
Buying the yellow metal in paper form has many advantages that are missed when you buy gold in a physical form.
Holding gold in non-physical form will provide relief to you in terms of the security aspects which typically associated with holding physical gold. Another big advantage is that you do not have to worry about the quality of the gold. Transacting in Gold ETFs is at the prevailing market rate, while for a gold fund, it is at the NAV. Thus, there is no question of you shelling out more to fill the pockets of anyone who is selling gold - be it a gold merchant or banks.
Gold is essentially an asset that allows you to counterbalance the risk of other asset classes. But avoid a speculative approach while investing in gold. Look at it as a portfolio diversifier and a monetary asset (rather than a mere commodity). Remember, gold can reduce the overall risk in your portfolio, especially in times of uncertainties. The current geo-political crisis and economic uncertainties will instil a fear induced demand for this precious metal, as smart investors take refuge.
Currently there are compelling reasons to invest in gold...
Geopolitical tensions have amplified (North Korea continues to test bombs and missiles into the Pacific Ocean. It even test fired a missile over Japan. India too encounters a state of worry and urgency from Chinese troops at the border, the Naga insurgents along the India-Myanmar border, and the situation in the J&K valley is volatile);
There are doubts about the Donald Trump's untested policies;
The Federal Reserve has refrained from hike interest rates aggressively;
The Brexit process is underway;
China's macroeconomic indicators are wobbly;
India's economic growth rate is dwindling after demonetisation and shoddy implementation of GST;
Inflation is inching up yet again; and
India may breach fiscal deficit targets

Recognising the systemic risk involved, even then central banks across the globe aren't taking any chances. Most have increased their gold reserves, while many others are maintaining their positions.

Therefore, rather than to accelerate profits, you should treat gold as a diversifier asset. And ideally, invest in gold with a longer investment horizon.

PersonalFN advises you to be smart investor. Allocate at least 10%-15% of your entire portfolio to gold and holding it with a long-term investment horizon --this will prove to be prudent strategy.

Watch this video to learn how to smarty invest in gold.

Happy investing!

This article first appeared on PersonalFN here.

PersonalFN is a Mumbai based personal finance firm offering Financial Planning and Mutual Fund Research services.

Disclaimer:

The views mentioned above are of the author only. Data and charts, if used, in the article have been sourced from available information and have not been authenticated by any statutory authority. The author and Equitymaster do not claim it to be accurate nor accept any responsibility for the same. The views constitute only the opinions and do not constitute any guidelines or recommendation on any course of action to be followed by the reader. Please read the detailed Terms of Use of the web site.

More Views on News

Apr 13, 2021

PersonalFN explains the outlook for Banking & PSU Debt funds and the best Banking & PSU Debt funds that can be considered for investment in 2021.

Apr 13, 2021

Ajit Dayal on how India's vaccine strategy will impact the markets.

Apr 13, 2021

In this video, I'll you what I think is the real reason behind yesterday's market crash.

Apr 13, 2021

Price is the only due diligence one might require to buy this business.

Apr 12, 2021

PersonalFN explains whether the second wave of COVID-19 infections impact your mutual fund investments.

More Views on News

Most Popular

Mar 31, 2021

A tiny chemical company, started in the Licence Raj era, is a great example of a new wealth creating opportunity.

Mar 31, 2021

In this video I'll show you exactly how I go about picking stocks for trading.

Apr 6, 2021

Rather than predicting the market, successful investing is more about preparing well and placing your bets accordingly.

Apr 1, 2021

What should you do if the market falls? In this video, I'll tell you what I will do.

Apr 13, 2021

Ajit Dayal on how India's vaccine strategy will impact the markets.

More