DSP Healthcare Fund - A Healthy Proposition For Your Portfolio?
DSP Healthcare Fund - A Healthy Proposition For Your Portfolio?
Nov 23, 2018
DSP Mutual Fund has launched another sectoral scheme, DSP Healthcare Fund (DSPHF). The fund house has a reputation of launching sectoral schemes aligned to seek gains from government reforms to push growth of a particular sector.
A sectoral fund is sub-category of equity mutual fund that invests in companies of one particular sector of the market. Sector funds are a very-high risk-very high return investment proposition, as the fortune of the fund is closely linked to the undercurrents of a specific sector, although it could invest across market capitalization spectrum.
This year two initiatives under Ayushman Bharat were announced by government to improve health care system holistically. As the overall healthcare industry is showing signs of improvement and Indian Pharma companies are faring well globally too. DSPHF seeks to gain benefits from such improvements in healthcare and pharma sector.
DSPHF will mainly aim to invest in companies that are from pharmaceutical and healthcare domain but may take a smaller exposure to equity and equity-related securities of other companies, debt and money market Securities, and Units issued by REITs & InvITs.
Table 1: NFO Details
Type
An open-ended equity scheme investing in healthcare and pharmaceutical sector
Category
Thematic/Sector (following healthcare and pharmaceutical sector)
Investment Objective
The primary investment objective of the scheme is to seek to generate consistent returns by predominantly investing in equity and equity-related securities of pharmaceutical and healthcare companies.
However, there can be no assurance that the investment objective of the scheme will be realized.
Min. Investment
Rs 500 and any amount thereafter
Face Value
Rs 10 per unit
Plans
Options

Growth (Option A) *
Dividend (Option B)

Payout Dividend
Reinvest Dividend

* default option

Entry Load
Nil
Exit Load
Holding period from the date of allotment (as a % of Applicable NAV):
<= 12 month: 1%
> 12 months: Nil
Fund Manager
Aditya Khemka, Vinit Sambre and Jay Kothari (Dedicated Fund Manager for overseas investments)
Benchmark Index
S&P BSE Healthcare Index
Issue Opens
November 12, 2018
Issue Closes
November 26, 2018
(Source: Scheme Information Document)
--- Advertisement ---


A Business that Offers Infinite Returns?

The editor of Smart Money Secrets calls this an 'Infinite Return Business'.

Why?

You'll find full details in the recommendation report…

It will be released to subscribers this Monday.

Click here to get access now.
------------------------------
What is the Asset Allocation of DSP Healthcare Fund?
Under normal circumstances, the scheme's asset allocation or asset distribution weight will be as under.
Table 2: DSP Healthcare Fund's Asset Allocation
Instruments
Indicative allocations
(% of Total Assets)
Risk Profile
Minimum
Maximum
Equity and equity-related securities of pharmaceutical and healthcare companies
80
100
Medium to High
Equity and Equity related securities of other Companies
0
20
Medium to High
Debt, securitized debt and Money Market Securities
0
20
Low to Medium
Units issued by REITs & InvITs
0
10
Medium to High
(Source: Scheme Information Document)
The Investment Manager will apply the following limits, should it desire to engage in Stock Lending:
Not more than 20% of the net assets of a Scheme can generally be deployed in Stock Lending.
Not more than 5% of the net assets of a Scheme can generally be deployed in Stock Lending to any single counterparty.
[Read: Why You Should Not Ignore Personalized Asset Allocation While Investing]
What is the Investment Strategy of the Scheme?
DSPHF will adopt a top-down approach while investing in equity and equity-related securities. This approach encompasses an evaluation of key economic trends and a diligent study of various investment opportunities within the specified sectors in each Scheme.
In picking out individual investment opportunities for the portfolio, the Investment Manager will conduct an in-house research to identify, both growth and value.
Value is discerned when the Investment Manager believes that the inherent worth or long-term growth potential of a company is not fully reflected in the share price of the company.
Growth stocks, as the term suggests, are those stocks that are currently in the growth phase. Such growth in earnings could be due to a new product, a new process, growing market share, stronger brand equity, technological breakthrough and unique or predominant position in a market, among other factors.
The Investment Manager will conduct in-house research in order to identify value and growth stocks. The analysis will focus, on:
The historical and current financial condition of the company;
Capital structure;
Business prospects;
Strength of management;
Responsiveness to business conditions;
Product profile;
Brand equity;
Market share, competitive edge, research and technological know-how; and
Transparency in corporate governance. The quality or strength or management would be a key focus area.
The managers may choose to break-up the portfolio investments in across market cap including the US markets to reap stable gains within the healthcare domain. Following break-up indicates probable asset allocation investment across the market capitalisation.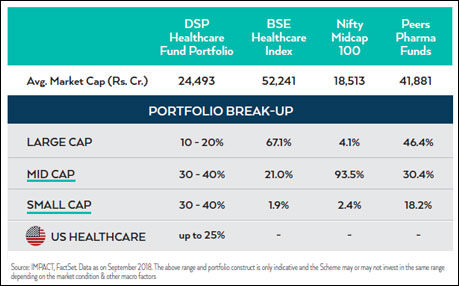 (Source: DSP Healthcare Fund - Story Dec)
Who will manage DSP Healthcare Fund?
The DSP Healthcare Fund will be managed by Aditya Khemka, Vinit Sambre and Jay Kothari (Dedicated Fund Manager for overseas investments).
Mr Aditya Khemka joined as the Assistant Vice President at DSPIM and has over 11 years of experience in financial analysis of pharma sector. He is a commerce graduate (B. Com) and has to his credit a master's degree in finance (MSc Finance), plus an MBA from MDI, Gurgaon.
Before joining DSP, Mr Khemka worked as a Pharma Analyst at Nomura Structured Financial Services for 5 years. Later he joined Antique Stock Broking as Pharma Analyst for a year, followed by six months experience at Ambit Capital Private Limited.
Mr Vinit Sambre is currently the Vice President and Head-Equities at DSPIM and has over 19 years of experience in financial analysis of pharma sector. Besides a graduate in commerce, he is Chartered Accountant (FCA).
Mr Sambre worked as an Analyst with Credit Rating Information Services of India Limited (CRISIL) on retainership basis for 6 months, then as an Equity Research Analyst at KR Choksey Shares & Securities Pvt. Ltd. for more than a year. Further, he worked as a Manager of Equity Research & Investment at Unit Trust of India Investment Advisory Services Ltd for 6 months. He was associated with IL&FS Investsmart Ltd as Sr. Manager at Investment Advisory Services for 2.5 years. Before joining DSIPM as an Assistant Vice President he has worked with DSP Merrill Lynch as an Assistant Vice President - Global Private Client.
The other schemes managed by Mr Sambre include DSP Small cap Fund and DSP Midcap Fund.
Mr Jay Kothari holds a bachelor's degree in management studies (BMS) and an MBA degree in Finance from University of Mumbai.
Mr Kothari has over 14 years of experience in banking and investments. Before joining in as a Sales Head at DSPIM, he was a part of Priority Banking division at Standard Chartered for a year. Currently, he is the Vice President in Equity Investments and a Product Strategist and a Dedicated Fund Manager for overseas investments at DSPIM.
Some schemes which he manages as Fund Manager and Co-fund Manager include: DSP World Agriculture Fund, DSP World Mining Fund, DSP World Energy Fund, DSP World Gold Fund, DSP Focus Fund, DSP US Flexible Equity Fund, DSP Equity Savings Fund, DSP India T.I.G.E.R. Fund (The Infrastructure Growth and Economic Reforms Fund), DSP Regular Savings Fund, DSP Equity Opportunities Fund, DSP Global Allocation Fund, DSP Natural Resources and New Energy Fund, DSP Midcap Fund, DSP Small Cap Fund, DSP Top 100 Equity Fund.
The Outlook for DSP Healthcare Fund:
The fortune of the fund will be closely linked with healthcare and pharma, which are defensive sectors.
To achieve its stated objective DSPHF will construct the portfolio in such a way that it leaves no subdomain out from the healthcare sector.
The fund house believes that the healthcare sector is poised to grow due to favourable environment for it. In its presentation the scheme mentions the rationale behind the healthcare growth:
Increased US FDA approvals to boost exports and China markets opening up
Conducive policy environment -Ayushman Bharat to be an instrument for creating growth in volume domestically
Growing awareness within the health industry and rise in disposable incomes has increased the lifespan of individuals has fuelled the demand of healthcare
PersonalFN believes that although the markets are correcting with reduced valuations offering good times to invest, but one should not ignore the risk involved before investing in a sector fund. If markets remain volatile in the run-up to 2019 Lok Sabha elections, even healthcare and pharma companies may not be spared. Therefore, although there may be good opportunities in the long run, the risk also is very high.
[Read: Why Comparing Returns to Risk Is More Meaningful!]
DSPHF is suitable who are willing to take extremely high risk and have a long investment horizon. It would be wise to assess your own risk appetite and investment horizon before investing in such a fund.
PS: If you want to add SOLID mutual funds to your portfolio, try PersonalFN's unbiased premium research service-FundSelect is meant to assist investors in selecting worthy mutual fund schemes.

Author: PersonalFN Content & Research Team
This article first appeared on PersonalFN here.
PersonalFN is a Mumbai based personal finance firm offering Financial Planning and Mutual Fund Research services.
Disclaimer:
The views mentioned above are of the author only. Data and charts, if used, in the article have been sourced from available information and have not been authenticated by any statutory authority. The author and Equitymaster do not claim it to be accurate nor accept any responsibility for the same. The views constitute only the opinions and do not constitute any guidelines or recommendation on any course of action to be followed by the reader. Please read the detailed Terms of Use of the web site.
More Views on News
Apr 16, 2021
A look at what India's top equity mutual funds bought and sold in March 2021.
Apr 16, 2021
PersonalFN's analysis on the features and performance of Kotak India EQ Contra Fund.
Apr 16, 2021
Those who don't learn from financial history are doomed to lose their money.
Apr 16, 2021
There is no stopping this 11-bagger stock from significant upside.
Apr 15, 2021
Rahul Shah on whether another big crash is likely and the ideal strategy to counter it.
More Views on News
Most Popular
Apr 13, 2021
Ajit Dayal on how India's vaccine strategy will impact the markets.
Apr 6, 2021
Rather than predicting the market, successful investing is more about preparing well and placing your bets accordingly.
Apr 9, 2021
This could take India to the position of 3rd largest economy.
Apr 13, 2021
In this video, I'll you what I think is the real reason behind yesterday's market crash.
Apr 12, 2021
This ignored sector could deliver big short-term profits.
More