Sundaram AMC Receives SEBI's Approval to Acquire Principal AMC. What Should Investors Do?
Nov 23, 2021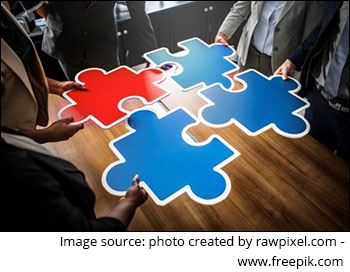 Sundaram Asset Management Company Ltd. has received SEBI's approval for the acquisition of Principal Asset Management Pvt. Ltd. Sundaram Asset Management Company had first announced the purchase of the asset management business of Principal in January 2021, and had received the approval of Competition Commission of India in April 2021.
As per the terms of agreement, Sundaram Asset Management Company (Sundaram AMC) will acquire the schemes managed by Principal Asset Management Pvt. Ltd (Principal AMC) and acquire 100% of the share capital of Principal Asset Management Pvt. Ltd., Principal Trustee Company Pvt. Limited, and Principal Retirement Advisors Pvt. Ltd.
--- Advertisement ---
The Hidden Opportunity in EV Stocks No One Knows About

With today's fast-changing technology and concern about the environment, the popularity of electric vehicles (EVs) has been on the rise.

Most investors go the usual route of investing in large companies and waiting to rake in profits.

We believe that's not the best approach.

In fact, our research has uncovered a hidden way to make potentially windfall gains from this EV opportunity.

Interested to know more? You can get all details by clicking the link below:

Equitymaster's Latest Research Project - Details
------------------------------
Accordingly, the schemes of Principal Mutual Fund will be transferred to and form part of Sundaram Mutual Fund. In order to avoid existence of similar schemes and to comply with the SEBI circular on scheme categorization, certain schemes of Sundaram Mutual Fund will be merged with the corresponding schemes of Principal Mutual Fund while a few schemes of Principal Mutual Fund will be merged with the corresponding schemes of Sundaram Mutual Fund (see Table 1 below).
Table 1: List of schemes that will be merged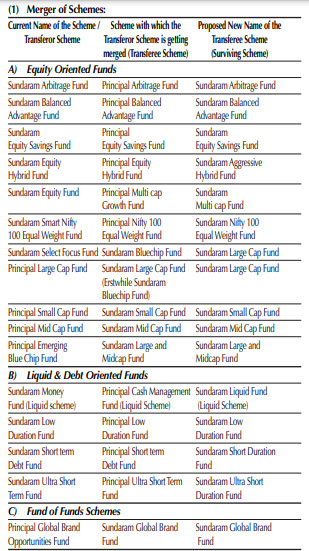 (Source: Addenda - Sundaram Mutual Fund)
Meanwhile, the following schemes of Principal Mutual Fund will be taken over by Sundaram Mutual Fund and there will be no change in characteristic or features of the scheme except the name.
Table 2: Schemes that will be carried over by Sundaram Mutual Fund

(Source: Addenda - Sundaram Mutual Fund)
Why is Principal Mutual Fund exiting the asset management business?
In a press release, Mr Pedro Borda, Chief Operating Officer (COO), Principal International said, "As part of a systematic review of the company's portfolio of businesses and global market dynamics, we've made the decision to exit the asset management business in India. As we transition the business, customers and distributors will remain our top priority. We believe they will benefit from Sundaram Asset Management's larger mutual fund platform in this market."
This will mark the exit of another foreign entity from mutual fund business in India. In the past few years, foreign entities like Morgan Stanley, ING, PineBridge, Deutsche, Goldman Sachs, JP Morgan, and Black Rock have sold their stake in the Indian asset management industry.
Revealed: Richa Agarwal's Top 3 Stocks for 2022
The acquisition will help Sundaram Asset Management Company to become a sizeable player in the Indian mutual fund industry. As on October 31, 2021, Sundaram Mutual Fund had Rs 33,577 crore in assets under management (AUM), whereas Principal Mutual Fund had an AUM of Rs 9,558 crore during the same period.
Commenting on the acquisition, Mr Sunil Subramaniam, Managing Director, Sundaram Asset Management Company said, "This transaction will strengthen our presence in the marketplace with the addition of a range of schemes with a good long term performance track record across the large and mid-cap segments. This will complement our business which has traditionally been weighted towards the mid- and small-cap segment."
What should investors in Principal Mutual Fund do?
Unit holders of the Transferor Schemes will be allotted new units under the Transferee Schemes/Surviving Schemes and a fresh account statement reflecting the new units allotted will be sent to the unit holders.
Illustration: Allotment of units in case of merger of schemes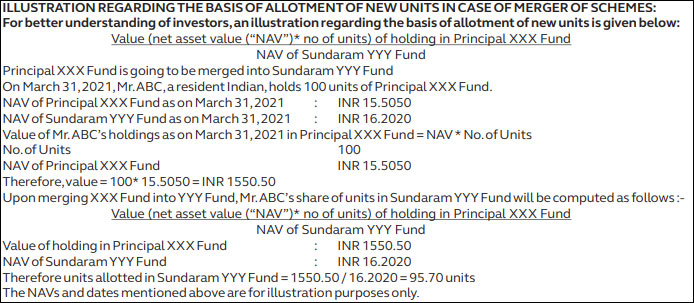 (Source: Press release - Principal Mutual Fund)
According to SEBI's circular, merger of Transferor Scheme(s) with Transferee Scheme(s) is treated as a change in fundamental attributes of the Transferor Scheme(s). However, merger or consolidation is not seen as a change in fundamental attribute of the surviving scheme if there is no change in the fundamental attributes of the transferee scheme and if it does not change the features/ provision (in any manner) which would adversely affect the interest of the unit holders of the surviving scheme(s).
Consequently, unit holders in such schemes of Principal Mutual Fund that will undergo change in fundamental attributes have the option to redeem their investment in the scheme without any exit load at the prevailing NAV, within the notice period of 30 days.
Though there is an option to exit without any load, the proceeds from redemption are subject to capital gains tax depending on the holding period and type of scheme (equity, debt).
--- Advertisement ---
Markets in Downturn? Here's What You Must Do...

The markets corrected sharply in recent days...

And it's impossible not to be reminded of the bloodbath we saw in March 2020.

The truth is...

Stock market corrections and recessions are inevitable and painful...

But this #1 video with Rahul Shah has the power to change how you perceive corrections and crashes. In fact, you'll master the art of turning every market crash to your advantage...

Watch the COMPLETE Lazy Millionaire Summit Right Now
------------------------------
It is important to note that exiting is just an option and not a compulsion. If the Principal mutual fund scheme that you have invested in is performing well compared to its category peers and the benchmark index, and if there is no significant difference in the investment strategy/style or portfolio characterisitcs, then it makes sense to continue holding it.
That said, since most schemes of Sundaram Mutual Fund across equity and debt categories have not fared well on risk-reward parameters in the last couple of years, you need to keep a close watch on its performance post the merger.
However, if the merged scheme follows a more aggressive/conservative investment approach than the current scheme and is no longer in congruence with your risk profile, or if the investment objective of the merged scheme does not align with your own investment objective, you can consider exiting the scheme during the free exit load period.
Certain schemes of Sundaram Mutual Fund will also undergo significant changes in its fundamental attributes. For instance, Sundaram Select Focus, a Focused Fund will now be merged with Sundaram Bluechip Fund and will become a Large-cap fund.
But do not conclude that the merger of schemes will improve or deteriorate its performance. Instead, pay attention to the changes and practices put in place by Sundaram AMC post acquisition of Principal AMC and how prudently they manage your money.
To conclude
It is important to understand the investment philosophy of the fund house and investment processes they follow. Only process-driven fund houses can give you consistent performers over the long term.
Further, before taking any investment decisions evaluate your investment objective, risk appetite, and investment horizon to select the most suitable scheme that scores well on quantitative as well as qualitative parameters.
PS: If you are looking for quality mutual fund schemes (including Equity-linked Saving Schemes) to add to your investment portfolio, I suggest you subscribe to PersonalFN's premium research service, FundSelect. PersonalFN's FundSelect service provides insightful and practical guidance on which mutual fund schemes to Buy, Hold, and Sell.
Currently, with the subscription to FundSelect, you could also get Free Bonus access to PersonalFN's Debt Fund recommendation service DebtSelect.
If you are serious about investing in a rewarding mutual fund scheme, subscribe now!
Author: Divya Grover
This article first appeared on PersonalFN here.
Join Now: PersonalFN is now on Telegram. Join FREE Today to get 'Daily Wealth Letter' and Exclusive Updates on Mutual Funds
PersonalFN is a Mumbai based personal finance firm offering Financial Planning and Mutual Fund Research services.
Disclaimer:
The views mentioned above are of the author only. Data and charts, if used, in the article have been sourced from available information and have not been authenticated by any statutory authority. The author and Equitymaster do not claim it to be accurate nor accept any responsibility for the same. The views constitute only the opinions and do not constitute any guidelines or recommendation on any course of action to be followed by the reader. Please read the detailed Terms of Use of the web site.
More Views on News
Jan 21, 2022
Several companies are adopting drone technology for regular business operations.
Jan 19, 2022
While promoter holding is an important parameter, it should not be the sole reason for buying a stock.
Jan 19, 2022
These penny stocks are up more than 30% already since the beginning of the year.
Jan 27, 2022
This is why gold and silver will go up in 2022.
Jan 27, 2022
New-age Indian tech stocks suffer in the market meltdown. Are any of these stocks still in your portfolio?
More Views on News
Most Popular
Jan 18, 2022
Rakesh Jhunjhunwala is holding these penny stocks in his portfolio for several years now.
Jan 14, 2022
Energy is a sector that looks set to take off. It's time to get in.
Jan 18, 2022
Tech Mahindra's acquisition of European IT-company fails to excite investors.
Jan 18, 2022
Here's all you need to know about these five Tata group stocks that aren't as popular as the others.
Jan 19, 2022
While promoter holding is an important parameter, it should not be the sole reason for buying a stock.
More