Here's Why Investing in Equities Through Flexi-cap Funds Makes Sense Now
Nov 25, 2021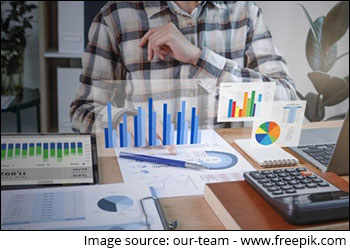 Flexi-cap Funds is an equity mutual fund category that has the flexibility to invest across market cap segments viz large-cap, mid-cap, and small-cap without any upper or lower limit. This multi-cap strategy provides fund managers with more leeway in building the portfolio.
The Flexi-cap Funds category has gained lot of attraction among investors in the last few months as it allows investors to diversify their investment portfolio across market caps. Consequently, the category has witnessed massive inflows; its asset size is now second only to the Large-cap Funds category.
Does investing in Flexi-cap Fund makes sense now?
After witnessing a stellar broad-based rally since March 2020, the Indian equity market has turned volatile and lost some steam in the past few weeks. The Nifty 500 index is now down by around 6% from its peak (as on November 22, 2021). Though economic activities have revived, there are concerns about stretched valuations and sustainability of corporate earnings.
Moreover, global cues continue to be weak amid inflation fears and resurgence of COVID-19 in some of the European countries. The market is likely to witness further correction as investors start shifting their focus from momentum to quality stocks.
Graph 1: The Indian equity market has lost some steam in the past few weeks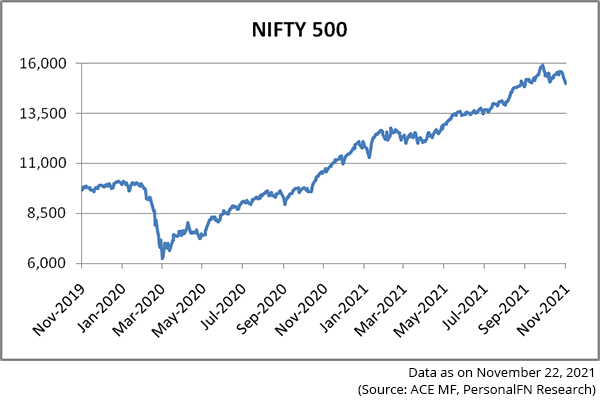 In such market conditions, it is important to maintain a diversified portfolio of stocks spread across market caps. As you may be aware, companies belonging to different market caps usually vary in performance over certain time periods. Therefore, diversifying your investments across market caps, preferably through a Flexi-cap Fund, can reduce portfolio risk and mitigate volatility, thereby maximizing portfolio returns over the long term.
Depending on market conditions, liquidity conditions, and valuations, the fund manager of a Flexi-cap Fund can manoeuvre among different categories of market cap. This gives fund managers greater scope to identify alpha-generating opportunities from a large universe of stocks which can reward investors with superior risk-adjusted returns over the long term.
[Read: Multi-cap Fund v/s Flexi-cap Fund: Which is a Better Fit for Your Portfolio?]
Graph 2: Diversification across market caps enables you to earn optimal risk-adjusted returns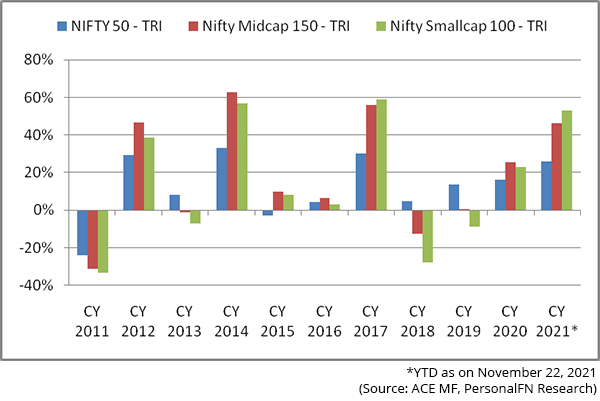 Flexi-cap Funds have the flexibility to even reduce the exposure to riskier segments such as small-caps and mid-caps to zero if the situation so requires and simultaneously increase exposure to large-caps. Such flexibility coupled with the higher large-cap allocation can aid in stabilizing the portfolio during bearish market phases. In addition, managing liquidity challenges associated with mid-caps and small-caps becomes easier for fund managers in case of Flexi-cap funds.
Meanwhile, if the broad-based market rally continues and mid-cap and small-cap stocks continue to soar higher than large-cap stocks, Flexi-cap Funds can increase their exposure to mid-cap and small-caps and benefit from its high growth potential.
The freedom to dynamically manage allocation in the large-cap, mid-cap, and small-cap segment enables Flexi-cap funds to offer investors a better mix of growth and value stocks.
FREE REPLAY: Catch the Details of Potential Crorepati-Making Stocks Right Now...
How is the performance track record of Flexi-cap Funds?
Though Flexi-cap Funds is a recently launched category, many funds in the category have been in existence for a very long time under the erstwhile Multi-cap funds category. Now classified as Flexi-cap Funds, these funds continue to follow their old investment strategy because it offers complete flexibility for the fund while investing across market cap segments. Hence, the recategorization did not have any significant impact on the way mutual fund houses manage these schemes.
Flexi-cap Funds have generated consistent returns for investors during both upside and downside market conditions. In the last 1-year, 3-year, 5-year, and 7-year period, Flexi-cap Funds have generated returns of 43.55% (Absolute), 21%, 18%, and 13.4% (compounded annualised) respectively, as on November 22, 2021. Moreover, it has outperformed the Large-cap Funds category that too at a reasonable level of risk.
Notably, Mid-cap Fund and Small-cap Funds have outperformed Flexi-cap Funds and Large-cap Funds by a wide margin in the last couple of years. However, since Mid-cap Funds and Small-cap Funds have a mandate to invest minimum 65% of its assets respectively in mid-cap and small-cap stocks, there is high risk associated with these schemes.
Table: Performance of Flexi-cap Funds in the past market cycles
Scheme Name
Bull Phase
Bear Phase
Bull Phase
Bear Phase
Bull Phase
Bear Phase
Bull Phase
09/Mar/09 To 05/Nov/10
05/Nov/10 To 20/Dec/11
20/Dec/11 To 03/Mar/15
03/Mar/15 To 25/Feb/16
25/Feb/16 To 14/Jan/20
14/Jan/20 To 23/Mar/20
23/Mar/20 To 22/Nov/21
Flexi Cap Funds - Category average
82.29
-24.91
29.79
-18.95
16.4
-34.22
65.15
NIFTY 500 - TRI
81.66
-28.17
26.95
-20.06
16.64
-37.84
70.73
Data as on November 22, 2021
(Source: ACE MF, PersonalFN Research)
As you can see in the table above Flexi-cap Funds category may not outperform the broader Nifty 500 - TRI index during bullish phases. However, they can generate reasonable returns in line with the benchmark. This is because most funds in the category maintain a large-cap biased portfolio at all times to reduce the impact of any potential volatility and benefit from the stable growth that it provides. On the other hand, the category can efficiently contain the downside risk during bearish market phases by reducing exposure to riskier segments.
Even at times when the overall stock market is not performing well there are certain segments/sectors that may be doing well. Thus, due to its flexible investment mandate, Flexi-cap funds can identify such opportunities and deliver steady returns across market phases.
--- Advertisement ---
There is a new paradigm shift currently unfolding across the global economic landscape...

And at the heart of this massive SHIFT is...

INDIA!

India is on the verge of a multi-trillion-dollar rebirth that could potentially mint countless new millionaires...

If you are on the right side of this mega shift, then it could be your biggest opportunity to build potentially massive wealth over the long term.

Click here to find all the details...
------------------------------
Who should invest in Flexi-cap Funds?
The equity market volatility could intensify in the near future. Investors who do not have a very high risk profile can consider booking profits in riskier categories like Mid-cap Funds and Small-cap Funds and deploy the proceeds in less risky avenues such as Flexi-cap Funds.
But ensure that the fund's objective aligns with your financial goal, risk profile, and investment horizon. Flexi-cap funds are suitable for investors looking to invest in a large-cap oriented fund along with tactical allocation to mid-cap and small-cap stocks. You should invest in this category only if you have investment horizon of at least 5 years.
Since the performance of a flexi-cap fund depends on the fund manager's ability to timely identify attractive opportunities from a large universe of stocks, selecting a worthy Flexi-cap scheme is crucial. Avoid selecting schemes in the category based on its short term performance.
Ensure that you invest in worthy schemes after evaluating its long term performance on various qualitative and quantitative parameters. When you invest in Flexi-cap Funds prefer the SIP mode of investment to mitigate the impact of volatility and benefit from the power of compounding in the long run.
If you are looking for quality mutual fund schemes to add to your investment portfolio, I suggest you subscribe to PersonalFN's premium research service, FundSelect. PersonalFN's FundSelect service provides insightful and practical guidance on which mutual fund schemes to Buy, Hold, and Sell.
Currently, with the subscription to FundSelect, you could also get Free Bonus access to PersonalFN's Debt Fund recommendation service DebtSelect.
If you are serious about investing in a rewarding mutual fund scheme, subscribe now!
Author: Divya Grover
This article first appeared on PersonalFN here.
Join Now: PersonalFN is now on Telegram. Join FREE Today to get 'Daily Wealth Letter' and Exclusive Updates on Mutual Funds
PersonalFN is a Mumbai based personal finance firm offering Financial Planning and Mutual Fund Research services.
Disclaimer:
The views mentioned above are of the author only. Data and charts, if used, in the article have been sourced from available information and have not been authenticated by any statutory authority. The author and Equitymaster do not claim it to be accurate nor accept any responsibility for the same. The views constitute only the opinions and do not constitute any guidelines or recommendation on any course of action to be followed by the reader. Please read the detailed Terms of Use of the web site.
More Views on News
Jan 19, 2022
While promoter holding is an important parameter, it should not be the sole reason for buying a stock.
Jan 19, 2022
These penny stocks are up more than 30% already since the beginning of the year.
Jan 18, 2022
Rakesh Jhunjhunwala is holding these penny stocks in his portfolio for several years now.
Jan 19, 2022
Find out why Jhunjhunwala is still bullish on this Tata group stock.
Jan 19, 2022
These four penny stocks have the potential to deliver spectacular gains.
More Views on News
Most Popular
Jan 7, 2022
Modern wars are fought with semiconductors. India's best semiconductor stocks have big tailwinds from defence and manufacturing.
Jan 10, 2022
These companies have been consistently paying higher dividends for several years.
Jan 13, 2022
With government initiatives set to boost the steel sector, find out who has a better chance of coming out on top.
Jan 11, 2022
The upside in supply chain players could be huge but a delay in the transition to EVs, or any policy related hiccups could end the momentum.
Jan 18, 2022
Tech Mahindra's acquisition of European IT-company fails to excite investors.
More