Mirae Asset Large Cap Fund: Participating in High Quality Businesses
Mirae Asset Large Cap Fund: Participating in High Quality Businesses
Nov 27, 2020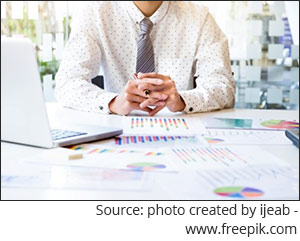 When the equity markets was expected to go through a prolonged bear phase amid the pandemic's impact on the economy, investors witnessed a dramatic turnaround as the markets reached all-time highs. The steady rise in equity market has been backed by vaccine hopes, improvement in consumer sentiments, government stimulus, among other factors.
Market movement is difficult to predict, even for seasoned investors. Therefore, the advice on whether to sit on cash, invest heavily, or book profits should be made based on careful evaluation of your financial needs rather than on current market sentiments.
Therefore, it is advisable to invest according to your risk appetite, financial goals, and investment horizon and hold on to it through market ups and downs. If you are an investor with moderate risk appetite investment in large-cap oriented funds could be best suited for your needs.
Mirae Asset Large Cap Fund (MALCF) is a popular scheme in the large cap category that has a track record of delivering superior performance over longer time periods.
--- Advertisement ---
The Smallcap Revival Summit

Join us on the evening of 28th January to learn,

• Why despite rallying over 100% since March-2020 lows... small-cap stocks are set for a massive rally over the coming months and years
• Details of our top 3 stocks to capture potentially huge gains from this upcoming small-cap rally
• And how to spot opportunities, even in the current market, with potential to generate 200%, 400%, and even 900% long-term gains

Plus there is a lot more that we are going to cover.

The summit is free to attend for Equitymaster readers.

But since there are limited seats, we would recommend you to register at the earliest.

Click here to register. It's free.
------------------------------
Graph 1: Growth of Rs 10,000 if invested in Mirae Asset Large Cap Fund 5 years ago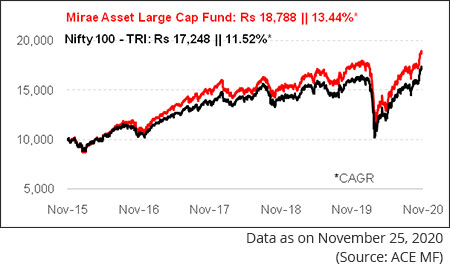 Launched in April 2008, MALCF has rewarded its investors well despite undergoing multiple changes in its investment mandate. Popularly known as Mirae Asset India Opportunities Fund, the scheme was earlier classified under Multi Cap Funds category and named as Mirae Asset India Equity Fund. However, in May 2019, the scheme was rechristened as Mirae Asset Large Cap Fund and classified under large cap funds category. The latest change in its mandate has not impacted the core investment style of the fund as it still aims to help investors gain from sector and stock specific opportunities, while its portfolio continues to be biased towards large caps. The prudent investment strategies followed by the fund has earned it a tag of being a consistent performer that has rewarded long-term investors well across market cycles. Over the last 5 years, MALCF has appreciated at a CAGR of 13.4%, as against 11.5% delivered by the current benchmark Nifty 100 - TRI index.
BREAKING: Full Details of the #1 Investment of the Decade...
Table: Mirae Asset Large Cap Fund's performance vis-a-vis category peers
Returns are point to point and in %, calculated using Direct Plan - Growth option. Those depicted over 1-Yr are compounded annualized
Data as on November 25, 2020
(Source: ACE MF)
*Please note, this table only represents the best performing funds based solely on past returns and is NOT a recommendation. Mutual Fund investments are subject to market risks. Read all scheme related documents carefully. Past performance is not an indicator for future returns. The percentage returns shown are only for indicative purposes.
MALCF has been one of the top quartile performers across various time periods in the past. It consistently ranked among the top funds in its previous opportunities style as well as multi-cap funds category, whereas it's ranking under the current large-cap funds category is healthy as well. Over longer time frame of 5-7 years, the fund has managed to generate a decent alpha of around 2-4 percentage points over the benchmark.
With a Standard Deviation of 21.28, the fund's volatility has been nearly in line with the benchmark as well as its large cap category peers. Moreover, the Sharpe Ratio of the fund has been among the best in the category and much ahead of its benchmark and many of its peers. Its ability to constantly limit downside and cap losses during market downturn and superior performance during market rallies differentiates it from the rest.
--- Advertisement ---
Top 3 Stocks for 2020 and Beyond

We've uncovered 3 high-potential tech stocks after years of research.

These 3 cutting edge tech stocks could potentially create a wave of Indian millionaires.

First one is present in the sector which is expected to GROW over 300 times by 2030.

Second one is one of the leading players in Artificial Intelligence technology.

And the third one is involved in putting up a global safety net to save the world from cyber criminals.

These 3 tech stocks have the potential to offer life-changing gains in the long run.

Click here to get the details...
------------------------------
Investment strategy of Mirae Asset Large Cap Fund
From an Opportunities style to a Multi Cap funds category, this scheme has finally taken the next leap to the Large Cap funds category. The recent categorization into large cap funds category didn't have any major impact on its investment style. MALCF continues with its strategy of following a combination of top down and bottom up approach to stock picking and endeavours to invest in companies which have a chance of benefiting from economic growth and structural changes happening in the country.
The fund has proven its ability to timely identify sector and stock specific opportunities. Aiming to outperform the benchmark, the fund managers follow a rigorous investment process that leads to alpha generation. They look at business on various quantitative and qualitative parameters and give high importance to quality and scalable business run by credible management.
MALCF usually holds a large cap bias with some allocation towards mid cap stocks and invests in a well-diversified portfolio of about 55-65 stocks. The fund holds the tendency to vary its investment strategies depending on the external factors. However, the current large cap mandate may limit its flexibility. The fund resists from following any market momentum and stays fully invested most of the times.
Graph 2: Top portfolio holdings in Mirae Asset Large Cap Fund

As of October 31, 2020, MALCF held a well-diversified portfolio of 53 stocks. It held major exposure in highly liquid large cap names like Reliance Industries, HDFC Bank, Infosys, and ICICI Bank together accounting for around 36% of its assets. TCS, Bharti Airtel, Axis Bank, HUL, Maruti Suzuki India, and L&T are among the other top holdings in the fund's portfolio.
In the last one year, MALCF has benefited from its prominent holdings in stocks like Infosys, Reliance Industries, Divi's Laboratories, TCS, Torrent Pharma, Dr Reddy's Laboratories, Balkrishna Industries, etc. that have together contributed around 9% to its returns. Some other stocks like Max Financial Services, Tata Consumer Products, Ajanta Pharma, Info Edge (India) stood among other top gainers in the portfolio.
In terms of sector, the fund's portfolio is currently skewed towards Banking and Finance stocks (29.5%), followed by Infotech, Petroleum Products, Consumption, Pharma, and Auto together accounting for another 50% of the portfolio. The remaining portion of the fund's portfolio is diversified across range of sectors like Engineering, Telecom, Consumer Durables, and Power among others.
Suitability
MALCF holds a well-diversified portfolio spread across stocks and sectors that helps it efficiently deal with market fluctuations. This bodes well with the large-cap allocation that further increases the stability of the portfolio. MALCF has a history of performing consistently well across market cycles through timely sector bets. The cyclical bets taken by the fund manager has helped increase the return generated by the fund during economic recoveries, whereas the allocation to defensives helps tackle the volatility and limit downsides.
Its investment approach is centered around participating in high quality businesses upto a reasonable price and holding the same over an extended period of time. This makes MALCF suitable for long term investors with moderate risk appetite.
PS: If you wish to select worthy mutual fund schemes, subscribe to PersonalFN's unbiased premium research service, FundSelect. Each fund recommended under FundSelect goes through our stringent process, where funds are tested on both quantitative as well as qualitative parameters.
Every month, PersonalFN's FundSelect service will provide you with insightful and practical guidance on equity mutual funds and debt schemes - the ones to Buy, Hold, or Sell.
And on the occasion of 20 years of our unbiased research service, we bring to you this Special Anniversary Offer. Subscribe now!
Note: This write up is for information purpose and does not constitute any kind of investment advice or a recommendation to Buy / Hold / Sell a fund. Returns mentioned herein are in no way a guarantee or promise of future returns. As an investor, you need to pick the right fund to meet your financial goals. If you are not sure about your risk appetite, do consult your investment consultant/advisor. Mutual Fund Investments are subject to market risks, read all scheme related documents carefully.
Author: Divya Grover
This article first appeared on PersonalFN here.
Join Now: PersonalFN is now on Telegram. Join FREE Today to get 'Daily Wealth Letter' and Exclusive Updates on Mutual Funds
PersonalFN is a Mumbai based personal finance firm offering Financial Planning and Mutual Fund Research services.
Disclaimer:
The views mentioned above are of the author only. Data and charts, if used, in the article have been sourced from available information and have not been authenticated by any statutory authority. The author and Equitymaster do not claim it to be accurate nor accept any responsibility for the same. The views constitute only the opinions and do not constitute any guidelines or recommendation on any course of action to be followed by the reader. Please read the detailed Terms of Use of the web site.
More Views on News
Jan 18, 2021
In this video, I'll tell you why I think Paytm could usher in a revolution in the Indian stock market.
Jan 18, 2021
Steps that could help you reset your portfolio for a profitable 2021.
Jan 18, 2021
I'll reveal a powerful profit opportunity which is unsuitable for 99% of investors!
Jan 18, 2021
The portfolio strategy is a roadmap through which investments can be made to achieve your financial objectives.
Jan 15, 2021
In this video, I'll show you why it might be the right time to take money of the table in pharma stocks.
More Views on News
Most Popular
Jan 5, 2021
My new guide will show you the huge potential in future proof businesses.
Jan 8, 2021
The smallcap rally has enough steam left in it. If you haven't joined yet, it is still not too late.
Jan 8, 2021
The charts are telling the bulls to be cautious.
Jan 11, 2021
Were you shocked that bullion prices hit lower circuits on Friday on the MCX? Find out why it happened...
More