Sachin Tendulkar, Rahul Dravid, or Virat Kohli - Who are You When it Comes to Your Retirement?
Sachin Tendulkar, Rahul Dravid, or Virat Kohli - Who are You When it Comes to Your Retirement?
Nov 28, 2018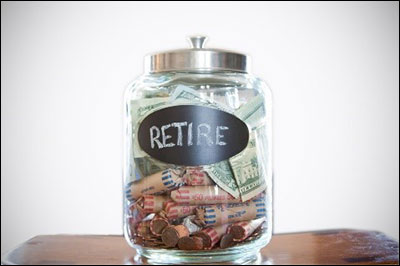 Conversations in a typical Indian household majorly revolve around food, cricket, and politics. Last Sunday was no different.
It was India v/s Australia and after being 1-0 in a 3-match series with the second match cancelled due to rains, India had to win to level the series or in my fathers' words "save their honour".
My father, an ardent cricket fan, invited his "morning walk wale dost" to watch the match, and inadvertently the discussion shifted from the match to their favourite players.
As my father's friends had the control over the TV remote, I could do little else but sit with them and feign enthusiasm about cricket. Amid the cheer of a six-run by Dinesh Karthik, I had an epiphany, the behaviour that my father and his friends exhibit, is similar to their favourite cricketers.
My father, Mr Khude, (60), was like Rahul Dravid - always conservative and averse to taking unnecessary risks. He was content in making less returns as long as he made assured returns.
Mr Sharma, (61) was like Sachin Tendulkar - cautiously aggressive. He wanted both assured return as well as rewards for the risk taken.
Mr Agarwal, (61) was like Virat Kohli, too aggressive & always taking the long shot. He wanted to make money in the long term, and short-term losses had no effect on him.
--- Advertisement ---


7 Stocks to Profit from This Market Crash

Tanushree, the editor of StockSelect believes that the recent market downturn has thrown up some great investing opportunities…

And she has put together a special report, 7 Stocks to Profit from This Market Crash, to share with her subscribers.

Here's how you can join them and claim your FREE copy of this report now.

If you get in now, you can even claim an additional year of access to StockSelect, absolutely free.

This offer ends promptly at 11:59 PM, 30th November.

Full details here.
------------------------------
I wondered how differently each of them would handle their retirement and the idea of this case study struck.
For illustration sake, let's assume that they are to retire with Rs 60 Lakh each; this is how they would pace their innings.
Table 1: My Father- The Dravidian

My father would stick to assured traditional investments like senior citizen FD, senior citizens saving scheme, POMIS, etc., avenues that provided guaranteed returns and were largely secured. Even if he earned less returns, for him safety of principal is a must, just like Mr Dravid's strategy of scoring ones and twos instead of getting out attempting a boundary.
So, my dad would be happy to earn Rs 4.93 Lakh assured per annum on an investment of Rs 60 Lakh, rather than take market risks and lose even a penny, even if his own daughter is the advisor!
[Read More: 7 Investment Avenues for Your Post-Retirement Portfolio]
Table 2: Mr Sharma - The Tendulkarite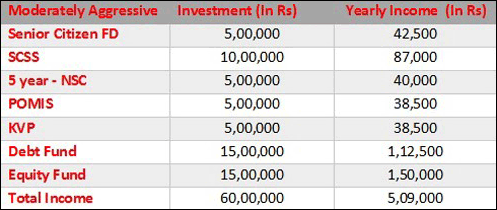 Note: Return on debt fund assumed @ 7.5%, while return on large-cap equity fund assumed @ 10%
Mr Sharma would go the Sachin Tendulkar way, score boundaries as well as singles. He would split his corpus 50% in assured investments, 25% in low risk debt funds, and 25% in large-cap oriented equity funds. His strategy will ensure a cash-inflow of Rs 5.09 Lakh on an investment of Rs 60 Lakh. In this way, not only would his returns increase, his investments would be diversified as per his risk-taking capabilities.
Table 3: Mr Agarwal -The Virat Kohli

Note: Return on debt fund assumed @ 7.5%, while return on equity fund assumed @ 10%
Finally, Mr Agarwal, akin to Virat Kohli in the truest form, "go big or go home", he always quoted. He would invest 75% of his corpus in equity mutual funds, and the remaining 25% in debt and assured return products. He was adept at absorbing the short-term loss, if he would make a good buck in the long term.
A loud cheer brought me back to the present, India had won, saved their honour, and while Krunal Pandya was declared the man of the match, I wondered who the man of the match would be among my father, Mr Agarwal, & Mr Sharma.
Table 4: Dravid vs. Tendulkar vs. Kohli

The answer would be, all of them!
In all my years of being in the investment advisory business, I have realised that investing is a personal thing, and that there is no universal right or wrong. My father, Mr Agarwal, and Mr Sharma are correct in their approach as they have taken into account their risk appetite, and comfort with the risk factor. Therefore, they are content with their earnings.
Having said that, there are some pointers that can be taken from all of them and implemented in our investment planning:
Stay disciplined like Tendulkar: There was a time when the master blaster did not score runs. Everyone opined that he should retire, but he didn't! The markets are in nature volatile, as long as you have good funds and are invested for the long term, market turning negative shouldn't bother you. Like Sachin, don't listen to the crowd, have belief in your funds and stay strong.
Investments need time - Dravid: Mr Rahul Dravid, aptly nicknamed the "wall" would, at times, take 100 balls to make 10 runs, but that does not mean that he is a bad batsman. In fact, he is simply aware that in a test match, you don't try to hit boundaries off of every ball. Your investment tenure is like a test match, don't expect to score 20% CAGR every year, pace your innings.
Be Aggressive - Kohli: If you have seen Virat Kohli bat, you would know that even if team India is in a bad spot, he still plays aggressively. When the markets are down, it is the perfect opportunity to add equities to your portfolio. That's because they are available at attractive P/Es.
So, to conclude, there isn't an ideal way of investing. Your ideal way might not work for me and vice-a-versa. This is why having a person who understands your unique way and money philosophy helps.
At PersonalFN, we take pride in our ability to understand the requirements and relationship with money of every client and then cater to their specific need. This has been one of the primary reasons for our strong 18+ years of financial planning success.
If you too are looking to work with a financial planner, who cares and understands and will give you and your financial goals the dedicated time and attention that it needs, look no further. Get in touch with PersonalFN's financial guardian on 022-61361200 or write to info@personalfn.com. You may also fill in this form, and soon our experienced financial planners will reach out to you.

Till then Happy Investing!
Author: Deepika Khude
This article first appeared on PersonalFN here.
PersonalFN is a Mumbai based personal finance firm offering Financial Planning and Mutual Fund Research services.
Disclaimer:
The views mentioned above are of the author only. Data and charts, if used, in the article have been sourced from available information and have not been authenticated by any statutory authority. The author and Equitymaster do not claim it to be accurate nor accept any responsibility for the same. The views constitute only the opinions and do not constitute any guidelines or recommendation on any course of action to be followed by the reader. Please read the detailed Terms of Use of the web site.
More Views on News
Mar 22, 2018
Certain blue chips hold the potential of delivering returns comparable to small-cap stocks. With these stocks, you can get the best of both worlds.
Dec 14, 2018
The state election results and the resignation of RBI governor, Urjit Patel, has made the market nervous. It is exactly in times like these, you can get to buy the best quality safe stocks at the right prices.
Dec 14, 2018
The election results, the RBI drama, the market volatility - they do nothing but distract us from true wealth building. It is exactly in times like these, you can and should buy the best quality safe stocks at the right prices.
Dec 13, 2018
Among the tax-saving products, ELSS is one of the most attractive options for investors having an appetite for high risk. It is also an avenue that has the shortest lock-in period of three years.
Dec 13, 2018
In volatile times like these in the run up to the 2019 elections, which should you look at?
More Views on News
Most Popular
Dec 3, 2018
Indian small cap space is offering a discount season. Make sure you do not get too late to scoop up the bargains.
Dec 6, 2018
My latest StockSelect recommendation ticks all the boxes of a great safe stock.
Dec 5, 2018
Credit disbursement to the productive sectors of the economy such as infrastructure, engineering, food processing, textiles, and chemicals, among others is rising.
Dec 3, 2018
After months of heavy FII selling, November witnessed a return on foreign money into Indian equities...
Dec 5, 2018
PersonalFN explains the probable reason as to why the capital market regulator has initiated DSP Mutual Fund's bond sale that caused DHFL stock to crash.
More