Do You Know Certain Less Popular Mutual Funds Can Help You Build Solid Wealth?
Nov 29, 2021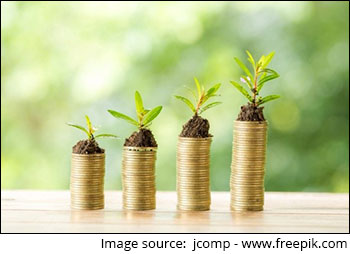 The Indian Mutual Fund industry consists of around 44 fund houses with each of them offering a galore of equity-oriented funds. As an investor, you only need around 5-7 equity mutual fund schemes across various sub-categories depending on the financial goals you wish to address as well as your risk profile and investment horizon. Therefore, it may be an uphill task for you to select the best mutual funds from the plethora of options available.
Often you may be tempted to take the shortcut route and select the best mutual funds based on its popularity. Some of you may also face the dilemma about whether you should invest in well-known mutual fund schemes, or mid and small-sized schemes, or funds of lesser-known AMCs, which have generated an equivalent or better performance.
--- Advertisement ---
Rahul Shah's Lazy Millionaire Summit Is Now LIVE...

Discover the Master Key to Turning Every Market Crash to Your Advantage

Hurry up! Join in now...

Click Here to Join the Lazy Millionaire Summit
------------------------------
[Read: How to Select Top Equity Mutual Funds for Your Portfolio]
You see, many of the top performing mutual funds in the recent years were relatively small in size (see table below). On the other hand, several large-sized funds in various categories have trailed their mid-sized and small-sized peers by a significant margin in the last few years. This includes popular funds like Kotak Flexi Cap Fund, HDFC Flexi Cap Fund, HDFC Top 100 Fund, Aditya Birla SL Frontline Equity Fund, HDFC Mid Cap Opportunities Fund, to name a few.
Table: Top performing schemes on a 3-year return basis
AUM as of October 31, 2021
Returns are in CAGR (%) as on November 25, 2021. Direct Plan - Growth Option considered
Source: ACE MF
This highlights that certain lesser known funds too are capable of generating big gains for the investors. Some mid- and small-sized funds are well managed and have the potential to deliver superior risk-adjusted returns in line with the popular peers in the category. Unfortunately, these funds are less noticed by investors as they remain undiscovered under the shadow of popular large-sized funds.
Most small-sized funds (having a corpus of less than Rs 5,000 crore) remain undiscovered despite of their remarkable performance in the past because distributors and brokers generally recommend popular large-sized funds. DIY (Do It Yourself) investors too prefer to invest in popular funds to save themselves from the hassle of comparing different schemes on various parameters.
What they fail to recognise is that there are various instances where some lesser known funds have built a successful track record over the long term without taking undue risk.
Equitymaster's Stock Screener: Identifying High-Potential Stocks Has Never Been this Easy
This is because the relatively smaller size of the corpus helps fund managers to manoeuvre the portfolio with more agility, in line with the changing market conditions, and maintain highly liquid portfolio. Therefore, small-sized funds may be better placed to limit the downside risk during bearish market phases and uncertain market conditions. Large-sized funds do not have such flexibility, particularly if they have substantial allocation to mid-cap and small cap-stocks.
Do note that this does not mean that popular/large-sized schemes will not do well in future. Well-managed funds with sound investment strategies and risk management processes in place can be expected to do well irrespective of the size of its assets under management (AUM). But in the quest of finding best mutual funds for your portfolio, you should not ignore lesser-known schemes.
Why you should not wait for less popular funds to gain traction before investing in it
The best way to benefit from the high potential of small-sized funds is to be able to identify them early before the crowd discovers them. If you start investing in a scheme after it has gained popularity it may be nearing its saturation stage which can affect its future performance. Many a times the fund may even restrict inflows to maintain the focus of the investment objective. Thus, you may miss out on the wealth creation potential of such funds.
That said, not all less popular funds are worthy of your investment. If a scheme has very low corpus of say Rs 500 crore or less despite being in existence for many years, or if it has generated a one-off superior performance, it may be better to ignore it.
So, just like in the case of small-cap stocks, where quality of the management team and growth potential is the key to finding winners, focus on quality of the fund plays a key role in discovering high potential of less popular funds.
--- Advertisement ---
There is a new paradigm shift currently unfolding across the global economic landscape...

And at the heart of this massive SHIFT is...

INDIA!

India is on the verge of a multi-trillion-dollar rebirth that could potentially mint countless new millionaires...

If you are on the right side of this mega shift, then it could be your biggest opportunity to build potentially massive wealth over the long term.

Click here to find all the details...
------------------------------
At PersonalFN, we have been able to timely identify such less popular mutual funds, or 'Hidden Gems' as we like to call them, when they were relatively undiscovered. Here is a look at one of the 'Hidden Gem' we identified in the past...
Axis Long Term Equity Fund was just about Rs 950 crore when we first recommended it to our subscribers in February 2014. Since our initial recommendation, the corpus of this tax saving fund has grown to a mammoth Rs 34,235 crore (as of October 2021) and is currently the largest fund in its category.
Graph: Growth of Rs 10,000 if invested in Axis Long Term Equity Fund at the time of recommendation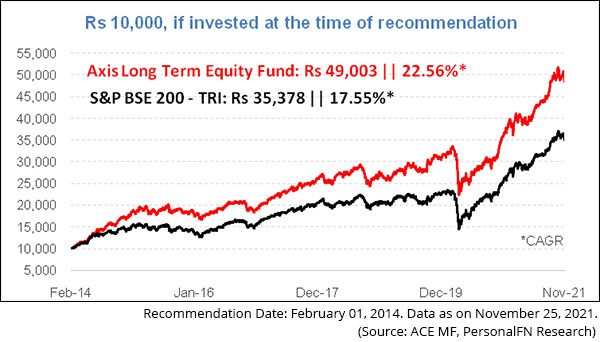 Since the time of our recommendation in February 2014, the fund has grown at a compounded annualized growth rate of around 22.6%, compared to 17.6% CAGR by its benchmark S&P BSE 200 - TRI index.
This is just one of our past small-sized recommendations till date, which at the time, was not in the recommendation list of many. Our research team has identified several other funds in the last 15 years. The diversion from crowd-think has proved worthwhile for our subscribers, by generating substantial wealth over the decades.
With the help of our dual-edged research methodology, which focuses on qualitative and quantitative aspects, we have currently identified 5 Undiscovered Funds with high growth potential.
If you want to benefit from the growth potential of such undiscovered funds, subscribe to PersonalFN's exclusive report 5 Undiscovered Funds with high growth potential now!
Author: Divya Grover
This article first appeared on PersonalFN here.
Join Now: PersonalFN is now on Telegram. Join FREE Today to get 'Daily Wealth Letter' and Exclusive Updates on Mutual Funds
PersonalFN is a Mumbai based personal finance firm offering Financial Planning and Mutual Fund Research services.
Disclaimer:
The views mentioned above are of the author only. Data and charts, if used, in the article have been sourced from available information and have not been authenticated by any statutory authority. The author and Equitymaster do not claim it to be accurate nor accept any responsibility for the same. The views constitute only the opinions and do not constitute any guidelines or recommendation on any course of action to be followed by the reader. Please read the detailed Terms of Use of the web site.
More Views on News
Jan 21, 2022
Several companies are adopting drone technology for regular business operations.
Jan 19, 2022
While promoter holding is an important parameter, it should not be the sole reason for buying a stock.
Jan 19, 2022
These penny stocks are up more than 30% already since the beginning of the year.
Jan 24, 2022
We reached out to Brijesh Bhatia, Research Analyst at Equitymaster for his views on the current market sell-off and how investors should play it.
Jan 24, 2022
Will Sensex fall to 40,000? Or will it head higher towards 100,000? Here's what our readers think...
More Views on News
Most Popular
Jan 13, 2022
With government initiatives set to boost the steel sector, find out who has a better chance of coming out on top.
Jan 11, 2022
The upside in supply chain players could be huge but a delay in the transition to EVs, or any policy related hiccups could end the momentum.
Jan 18, 2022
Rakesh Jhunjhunwala is holding these penny stocks in his portfolio for several years now.
Jan 18, 2022
Tech Mahindra's acquisition of European IT-company fails to excite investors.
Jan 14, 2022
Energy is a sector that looks set to take off. It's time to get in.
More