Franklin Templeton Moves Supreme Court. What's Next for Unitholders?
Franklin Templeton Moves Supreme Court. What's Next for Unitholders?
Nov 30, 2020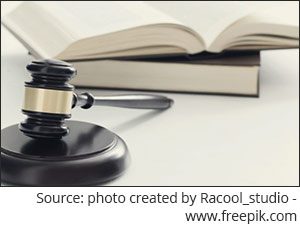 Franklin Templeton has moved the Supreme Court which it said will ensure an appropriate implementation of the law in the best interest of unitholders.
Earlier the Karnataka High Court had ruled that Franklin Templeton (FT) cannot go ahead with the winding up of the schemes without obtaining the consent of a simple majority of the unitholders. It had stayed its own order for six weeks ending December 05 to allow FT time to appeal in the Supreme Court. The schemes will remain frozen for transactions during this period.
Notably, FT wants the six schemes to remain under winding up till the unitholders' consent is received via voting. Franklin in its petition to the SC has mentioned that if the redemptions remain unrestricted till the time unitholders' vote is obtained, it may force the fund managers to sell holdings at deep discounts. This could result in irrecoverable loss to unitholders and the fund will not be able to ensure equitable treatment to all.
--- Advertisement ---
Access Ends After 11:59pm Tonight

After 11:59pm tonight, we are closing access to our Great Indian Wealth Project research.

This includes Tanushree's special reports and a comprehensive wealth building guide as mentioned below.

– First Stock to Potentially Accumulate Rs 7 Crore Long-term Wealth
– 2 High Growth Stocks for a Millionaire's Portfolio
– Eight Steps to Your Eight Figure Fortune

You could have claimed these resources (worth Rs 7,850) virtually FREE at our Great Indian Wealth Project special event.

But for some reason you couldn't make it to the event.

This is your final chance. Because we are closing access to these resources after 11:59pm tonight.

Don't miss it.

Get Our Complete Research on the Great Indian Wealth Project Virtually FREE
(This link will become inactive after 11:59pm tonight)
------------------------------
As per news reports, FT has pointed out in the petition that the K'taka High Court's reliance on regulation 18(15)(c), which reads that trustees shall obtain unitholders' consent when the majority of the trustees decide to wind up, was misplaced and proceeded on an erroneous understanding of the scheme of regulations. It also stated that only a handful of people holding less than 0.03% of the units in the schemes have challenged its decision to wind up the schemes.
Till now 4 out of 6 schemes have turned cash positive after repaying the borrowings. These are Franklin India Ultra Short Bond Fund (FIUBF), Franklin India Dynamic Accrual Fund (FIDA), Franklin India Low Duration Fund (FILDF), and Franklin India Credit Risk Fund (FICRF). Franklin India Short Term Income Plan (FISTIP), and Franklin India Income Opportunities Fund (FIIOF) still have outstanding borrowings.
FT has received Rs 9,682 crore as of September 30 from the six schemes in the form of maturities, prepayments and coupons. Of this, Rs 5,952 crore is available for distribution to unitholders in the four cash positive schemes.
Table: Expected timeline of payout from wound-up schemes of FTMF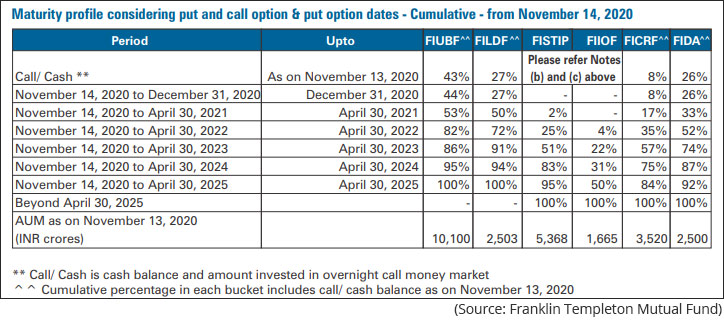 After the abrupt decision to wind up its schemes, looks like FT has yet again taken investors for granted. Despite K'taka high court's ruling and the fact that it received six weeks of stay order during which redemptions will continue to be frozen, FT has not yet conducted the voting process to seek unitholders' consent.
Watch Now: 3 Little-known Stocks We are Super Bullish On
The consequence is that the matter might reach the apex court, if it accepts the petition, which could spell further delay in resolution for the unitholders. However, there is a possibility that the apex court rejects the petition and directs FT to start the voting process without further delay, though it remains to be seen if the scheme will remain wound up in the meanwhile. Notably, it has been more than six months since the fund house wound up six of its schemes leaving its unitholders in a lurch.
[Read: Who Is to Blame for the Franklin Templeton Fiasco?]
Since four out of six schemes have turned cash positive, unitholders would start receiving money as per the expected recovery timeline mentioned by the fund house once the consent for winding up is received.
However, if the decision of winding up is held invalid (due to non-consent of unitholders), the schemes will have to be reopened for redemption. It is likely that the schemes will receive severe redemption pressure once that happens. Consequently, to meet these requests the schemes will have to undertake sale of assets at deep discount, which would negatively impact the NAV of the schemes. The fund house may thus set withdrawal limits to deal with redemption requests.
Everything will now depend on the Supreme Court's review of the fund house's petition.
PS: If you wish to select worthy mutual fund schemes, subscribe to PersonalFN's unbiased premium research service, FundSelect. Each fund recommended under FundSelect goes through our stringent process, where funds are tested on both quantitative as well as qualitative parameters.
Every month, PersonalFN's FundSelect service will provide you with insightful and practical guidance on equity mutual funds and debt schemes - the ones to Buy, Hold, or Sell.
And on the occasion of 20 years of our unbiased research service, we bring to you this Special Anniversary Offer. Subscribe now!
Author: Divya Grover
This article first appeared on PersonalFN here.
Join Now: PersonalFN is now on Telegram. Join FREE Today to get 'Daily Wealth Letter' and Exclusive Updates on Mutual Funds
PersonalFN is a Mumbai based personal finance firm offering Financial Planning and Mutual Fund Research services.
Disclaimer:
The views mentioned above are of the author only. Data and charts, if used, in the article have been sourced from available information and have not been authenticated by any statutory authority. The author and Equitymaster do not claim it to be accurate nor accept any responsibility for the same. The views constitute only the opinions and do not constitute any guidelines or recommendation on any course of action to be followed by the reader. Please read the detailed Terms of Use of the web site.
More Views on News
Feb 26, 2021
PersonalFN analyses the features of ITI Mid-Cap Fund and explains the potential this fund has to offer to its investors.
Feb 26, 2021
In today's video, I'll discuss why thew stock market went up on Wednesday, 24 February 2021, when the NSE had to shut trading due to a technical glitch.
Feb 26, 2021
You my personal trading checklist and you will be well on your way to making it big as a trader.
Feb 25, 2021
In this video, I'll show you how to get started on the path to daily trading profits.
Feb 25, 2021
Timely review of your investment portfolio is the key, to enable stable returns and work towards your envisioned financial goals during various market phases.
More Views on News
Most Popular
Feb 24, 2021
Last time the smallcap index crossed 19k a big correction followed. Here's what makes it different this time.
Feb 15, 2021
In this video, I'll cover your queries on intraday trading and also share my view on how to decide stop losses and target prices.
Feb 16, 2021
A look at what India's top equity mutual funds bought and sold in January 2021.
Feb 16, 2021
Do you enjoy reading Tesla and Bitcoin stories? Here's a not so famous small-cap stock to profit from the rise of EVs.
More