UTI Flexi Cap Fund: Riding Out Uncertain Market Conditions
Dec 3, 2021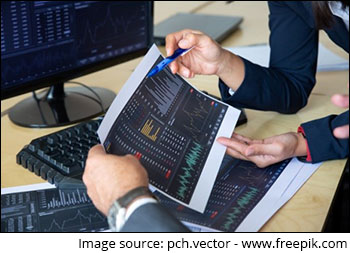 The Indian equity markets have bounced back sharply on the back of a healthy GDP growth rate of 8.4% in the second quarter of 2021-22. However, concern about 'Omicron' still lingers along with worries about rising inflation and expensive valuations that may keep the equity markets volatile in the near future.
In such market conditions, it is important to maintain a diversified portfolio of stocks spread across market caps and sectors, preferably through Flexi Cap Funds. This will help you to reduce portfolio risk and mitigate volatility, thereby maximizing portfolio returns over the long term.
Flexi Cap Funds allow you to diversify your investment portfolio by dynamically managing allocation across market caps. Such flexibility allows fund managers to identify the most attractive opportunities during both upside and downside market conditions.
UTI Flexi Cap Fund is a well-managed Flexi Cap Fund that has stood the test of time and rewarded investors with superior risk-adjusted returns.
--- Advertisement ---
Rahul Shah's Lazy Millionaire Summit Is Now LIVE...

Discover the Master Key to Turning Every Market Crash to Your Advantage

Hurry up! Join in now...

Click Here to Join the Lazy Millionaire Summit
------------------------------
Graph 1: Growth of Rs 10,000 if invested in UTI Flexi Cap Fund 5 years ago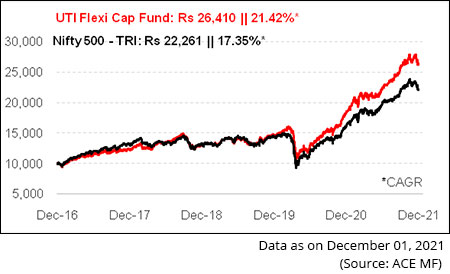 UTI Equity Fund is one of the oldest schemes in the Indian mutual fund industry. While its past performance was ordinary, the fund has registered turnaround performance in the last couple of years. UTI Flexi Cap Fund showed remarkable performance during the market crash of 2020, outpacing the benchmark as well as the category average by a substantial margin. Moreover, in the current bull phase, UTI Flexi Cap Fund has managed to outpace many of its category peers as well as the benchmark. Over the last 5 years UTI Flexi Cap Fund has registered a growth of around 21.4% CAGR as against 17.4% CAGR by its benchmark Nifty 500 - TRI, thus outpacing the benchmark by a significant margin. An investment of Rs 10,000 in the fund 5 years back would now have appreciated to Rs 26,410, compared to valuation of Rs 22,261 for the simultaneous investment of Rs 10,000 in the benchmark index.
Table: UTI Flexi Cap Fund's performance vis-a-vis category peers
Returns are point to point and in %, calculated using Direct Plan - Growth option. Those depicted over 1-Yr are compounded annualized
Data as on December 01, 2021
(Source: ACE MF)
*Please note, this table only represents the best performing funds based solely on past returns and is NOT a recommendation. Mutual Fund investments are subject to market risks. Read all scheme related documents carefully. Past performance is not an indicator for future returns. The percentage returns shown are only for indicative purposes.
UTI Flexi Cap Fund has evolved strongly in the last couple of years which has helped it to figure among the top quartile performers and has enabled it to scale up its performance across time periods. With this UTI Flexi Cap Fund has managed to outpace the benchmark index by a significant margin across time periods and has also fared better than many of its category peers.
UTI Flexi Cap Fund has shown fair level of stability as well. Its standard deviation of 20.51% signifies that the fund's volatility has been lower than the benchmark (21.87%), though nearly in line with the category average (20.6%). With superior performance in the recent past, UTI Flexi Cap Fund has shown significant improvement in its risk-adjusted return. It's Sharpe Ratio of 0.32 is far competitive to its prominent category peers and the benchmark.
Equitymaster's Stock Screener: Identifying High-Potential Stocks Has Never Been this Easy
Investment strategy of UTI Flexi Cap Fund
Classified under Flexi Cap Funds category, UTI Flexi Cap Fund has a mandate to invest minimum 65% of its investment in equity & equity related instruments with exposure across market caps. However, there is no minimum limit or restriction specified for any market cap segment. Positioned as a flexi cap fund investing across the market capitalization spectrum, UTI Flexi Cap Fund holds a well-diversified portfolio spread across large-cap, mid-cap, and small-cap stocks, but with predominant allocation to large caps.
The fund endeavours to pick high quality businesses run by seasoned quality management with the ability to show strong growth for a long period of time. It focuses on businesses operating in secular growth industries that can generate economic value through the cycle rather than cyclical industries which are highly volatile. Accordingly, the fund looks for stocks of quality companies that can perform across market cycles and mitigate drawdown during depressed market conditions, as well as rebound faster based on the strong fundamentals of balance sheets & business models.
UTI Flexi Cap Fund follows the bottom-up stock selection process with well-defined metrics of free cash flows, capital efficiency and ability to compound earnings. The investment strategy involves picking of stocks with strong earnings quality (high operating cash flow and high free cash flow characteristics) and those that can continue to show strong growth into the foreseeable future, thus providing for compounding of wealth.
Graph 2: Top portfolio holdings in UTI Flexi Cap Fund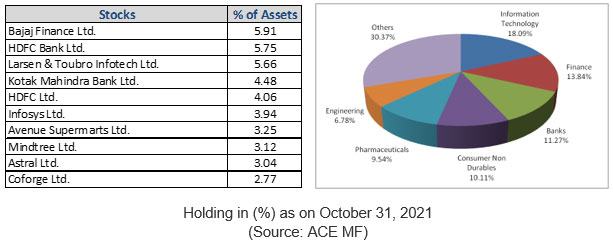 As on October 31, 2021, UTI Flexi Cap Fund held a well-diversified portfolio of 62 stocks. The fund held its top exposure in names like Bajaj Finance, HDFC Bank, L&T Infotech, Kotak Mahindra Bank, and HDFC Ltd., that collectively account for around 26% of its assets. Most of these names have been prominent candidate in the fund's portfolio for over a year now. Notably, UTI Flexi Cap Fund has kept itself away from some of the index heavyweights like Reliance Industries, HUL, etc. and has limited the top allocation to a single stock to well under 6%.
--- Advertisement ---
There is a new paradigm shift currently unfolding across the global economic landscape...

And at the heart of this massive SHIFT is...

INDIA!

India is on the verge of a multi-trillion-dollar rebirth that could potentially mint countless new millionaires...

If you are on the right side of this mega shift, then it could be your biggest opportunity to build potentially massive wealth over the long term.

Click here to find all the details...
------------------------------
In the last one year, UTI Flexi Cap Fund's holdings in Bajaj Finance, L&T Infotech, Mindtree, Astral, Avenue Supermarts, Infosys, Info Edge (India), Grindwell Norton, and HDFC Bank, among others contributed the most to its superior performance.
Around one-fourth of UTI Flexi Cap Fund's portfolio is allocated to stocks in the Banking and Financial sector. Infotech follows with an allocation of 18.1%. Consumption, Engineering, Pharma, Auto & Auto Ancillaries, Retail, Consumer Durables, and Healthcare Services, are among the other core sectoral holdings of the fund.
Suitability
Being classified as a Flexi Cap Fund, UTI Flexi Cap Fund has the flexibility to dynamically manage the portfolio allocation to benefit from changing market sentiments and valuation that could help generate alpha for its investors.
Managed by an experienced fund manager, Mr Ajay Tyagi, UTI Flexi Cap Fund is in safe hands and is well equipped to outperform its benchmark as well as category peers during uncertain market conditions. UTI Flexi Cap Fund is sector agnostic; it holds significant exposure to defensives along with a balanced exposure towards cyclicals. This has helped the UTI Flexi Cap Fund to keep volatility at a reasonable level and perform well over complete market cycles.
UTI Flexi Cap Fund is suitable for cautious investors looking for a relatively stable flexi-cap fund that can provide stability to one's portfolio as well as offer capital appreciation in the long term.
PS: If you are looking for quality mutual fund schemes (including Equity-linked Saving Schemes) to add to your investment portfolio, I suggest you subscribe to PersonalFN's premium research service, FundSelect. PersonalFN's FundSelect service provides insightful and practical guidance on which mutual fund schemes to Buy, Hold, and Sell.
Currently, with the subscription to FundSelect, you could also get Free Bonus access to PersonalFN's Debt Fund recommendation service DebtSelect.
If you are serious about investing in a rewarding mutual fund scheme, subscribe now!
Note: This write up is for information purpose and does not constitute any kind of investment advice or a recommendation to Buy / Hold / Sell a fund. Returns mentioned herein are in no way a guarantee or promise of future returns. As an investor, you need to pick the right fund to meet your financial goals. If you are not sure about your risk appetite, do consult your investment consultant/advisor. Mutual Fund Investments are subject to market risks, read all scheme related documents carefully.
Author: Divya Grover
This article first appeared on PersonalFN here.
Join Now: PersonalFN is now on Telegram. Join FREE Today to get 'Daily Wealth Letter' and Exclusive Updates on Mutual Funds
PersonalFN is a Mumbai based personal finance firm offering Financial Planning and Mutual Fund Research services.
Disclaimer:
The views mentioned above are of the author only. Data and charts, if used, in the article have been sourced from available information and have not been authenticated by any statutory authority. The author and Equitymaster do not claim it to be accurate nor accept any responsibility for the same. The views constitute only the opinions and do not constitute any guidelines or recommendation on any course of action to be followed by the reader. Please read the detailed Terms of Use of the web site.
More Views on News
Jan 21, 2022
Several companies are adopting drone technology for regular business operations.
Jan 19, 2022
While promoter holding is an important parameter, it should not be the sole reason for buying a stock.
Jan 19, 2022
These penny stocks are up more than 30% already since the beginning of the year.
Jan 24, 2022
Will Sensex fall to 40,000? Or will it head higher towards 100,000? Here's what our readers think...
Jan 24, 2022
The strong momentum in India's IPO market is expected to continue in 2022 and perhaps outperform the year 2021.
More Views on News
Most Popular
Jan 13, 2022
With government initiatives set to boost the steel sector, find out who has a better chance of coming out on top.
Jan 11, 2022
The upside in supply chain players could be huge but a delay in the transition to EVs, or any policy related hiccups could end the momentum.
Jan 18, 2022
Rakesh Jhunjhunwala is holding these penny stocks in his portfolio for several years now.
Jan 18, 2022
Tech Mahindra's acquisition of European IT-company fails to excite investors.
Jan 14, 2022
Energy is a sector that looks set to take off. It's time to get in.
More