Canara Robeco Emerging Equities Fund: Striving to Deliver Consistent Returns
Canara Robeco Emerging Equities Fund: Striving to Deliver Consistent Returns
Dec 4, 2020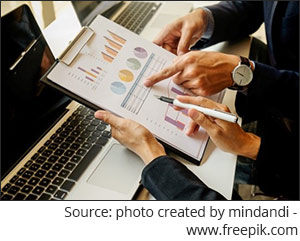 The mid and small cap index has had a good run in the last one year, outperforming the large cap index with a significant margin. This was despite the fact that the pandemic crisis affected smaller businesses the most. The small and mid cap segment may continue to do well backed by economic revival and government stimulus.
But one needs to remain cautious about the volatility in the segment as compared to large caps. It will be best to have reasonable exposure across market caps.
Large and mid cap funds are a separate set of multi-cap strategy that gives you the opportunity to diversify your investment predominantly across stocks of large and mid-sized companies with some allocation to small caps.
Canara Robeco Emerging Equities Fund (CREEF) is one of the leading players in the large and mid cap funds categorythat has a superior performance track recordof rewarding investors.
--- Advertisement ---
These 3 Stocks are the Dark Horses of the Stock Market

The mainstream media mostly ignores them.

Mutual funds and hedge funds can't buy them in bulk.

Stock brokers rarely cover them.

These stocks are the dark horses of the stock market.

They only come in limelight after they have rallied by hundreads of even thousands of percent.

Our head of smallcap research, Richa Agarwal, has a knack for identifying such stocks before they begin their rally.

Over the years, she has spotted such stocks which have gone on to offer triple and even quadruple digit gains for investors. (* Past performance is no guarantee of future results)

Today, when the markets are near all-time high... and some investors are thinking of booking profits... Richa has spotted 3 such stocks which are set for a massive rally.

She will reveal the details of these 3 stocks on 28th January at her free online summit.

Click here to sign-up instantly. It's free.
------------------------------
Graph 1: Growth of Rs 10,000 if invested in Canara Robeco Emerging Equities Fund 5 years ago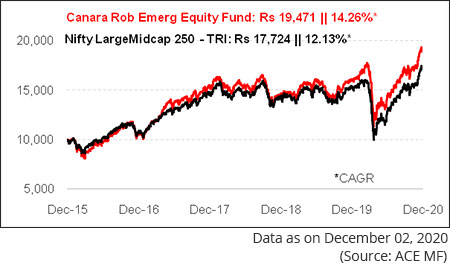 Originally a mid and small cap biased fund, CREEF underwent a change in mandate to become large and mid cap fund. The fund has managed to put up a decent performance over complete market cycles by participating in the recovery phases and upside market rallies. Over the last five years, CREEF has generated returns at 14.3% CAGR in comparison to 12.1% CAGR generated by its benchmark Nifty LargeMidcap 250 - TRI index. The fund has thus outpaced the benchmark by a noticeable margin of around 2 percentage points. Much of the outperformance over the index in the last 5 years has been registered during the mid and small cap rally seen in 2016-2017, when its portfolio was biased towards mid and small caps; and CREEF has stood strong in the recent corrective phase.
BREAKING: Full Details of the #1 Investment of the Decade...
Table: Canara Robeco Emerging Equities Fund's performance vis-a-vis category peers
Returns are point to point and in %, calculated using Direct Plan - Growth option. Those depicted over 1-Yr are compounded annualized
Data as on December 02, 2020
(Source: ACE MF)
*Please note, this table only represents the best performing funds based solely on past returns and is NOT a recommendation. Mutual Fund investments are subject to market risks. Read all scheme related documents carefully. Past performance is not an indicator for future returns. The percentage returns shown are only for indicative purposes.
CREEF has managed to maintain substantial lead over most of its category peers across various time periods. The fund has outperformed its benchmark Nifty LargeMidcap 250 - TRI by a noticeable margin across both short term and long term returns basis. Over longer time periods, CREEF easily ranks among the top schemes, and makes it to the list of prime contenders.
The volatility registered by the fund is nearly in line with the category peers though slightly lower than the benchmark. The fund has managed to generate sound returns to compensate investors for the risk taken. Its Sharpe ratio, a measure of risk-adjusted returns, is among the best in the large and mid-cap funds category.
--- Advertisement ---
Top 3 Stocks for 2020 and Beyond

We've uncovered 3 high-potential tech stocks after years of research.

These 3 cutting edge tech stocks could potentially create a wave of Indian millionaires.

First one is present in the sector which is expected to GROW over 300 times by 2030.

Second one is one of the leading players in Artificial Intelligence technology.

And the third one is involved in putting up a global safety net to save the world from cyber criminals.

These 3 tech stocks have the potential to offer life-changing gains in the long run.

Click here to get the details...
------------------------------
Investment strategy of Canara Robeco Emerging Equities Fund
Being a large and mid cap fund, CREEF is mandated to invest a minimum 35% of its assets in large-caps, with a simultaneous investment of at least 35% in mid-caps. The fund currently has a balanced exposure across both large caps and midcaps and holds a well-diversified portfolio of 55 to 65 stocks, with focus on quality, growth, and valuation.
While evaluating companies, the fund managers emphasise on its qualitative features, management and governance. They also look at quantitative parameters by analyzing the balance sheet and use valuation to determine the weight, i.e. underweight / overweight position in stocks. The core focus of the fund is on cash flow generating businesses. For the purpose of investment, the fund focuses on companies with low P/E ratio (as compared to the industry P/E), consistent growth potential, operating in niche businesses with high and increasing profit margin, huge untapped market potential, research driven companies, scope for value added services, scope for increasing PE to Growth and so on.
CREEF uses a mix of top-down and bottom-up approach to pick high growth stocks from the list of eligiblecompanies in the large and mid-cap space and makes well use of diversification to manage downside risk. The fund has a reasonable turnover ratio of around 60%.
Graph 2: Top portfolio holdings in Canara Robeco Emerging Equities Fund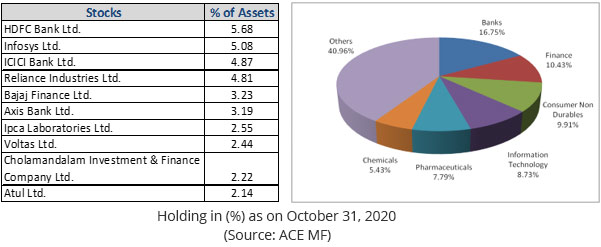 As on October 31, 2020, CREEF held a well-diversified portfolio of 56 stocks diversified across market caps and sectors. The fund held its top exposure of 5.7% in HDFC Bank, followed by 5.1% in Infosys, 4.9% in ICICI Bank, 4.8% in Reliance Industries, and around 3.2% each in Bajaj Finance and Axis Bank. Ipca Laboratories, Voltas, Cholamandalam Investment & Finance Company, and Atul, were the other names in its top holdings. The top 10 holdings in the fund's portfolio together account for about 36.2% of the total assets.
CREEF has benefitted immensely from its holdings in Ipca Laboratories, Reliance Industries, Divis Laboratories, Infosys, NavinFlourine International, IRCTC, L&T Infotech, and Balkrishna Industries, which have turned out to be major contributors to its returns in the last one year. Moreover, other mid cap names like Atul, Gujarat Gas, Jubilant FoodWorks, Synegene International, etc. have helped the fund generate significant alpha for its investors.
CREEF's portfolio is currently skewed towards Financial Services, with Banks carrying around 16.8% weightage in the portfolio, with another 10.4% in Finance stocks. The fund has significant exposure in Consumption, Infotech, Pharma, and Chemicals stocks with an allocation of in the range of 5.10%. Engineering, Petroleum, Consumer Durables, Cement,and Auto ancillaries are among the other prominent sectors in the fund's portfolio. Notably, around 77% of its portfolio is diversified across top 10 sector holdings.
Suitability
CREEF has delivered promising returns over longer time periods and has proven its ability to generate decent risk-adjusted returns for its investors. In the recent corrective phase, the performance of the fund has been satisfactory, where it has managed to restrict losses reasonably well and maintain the gains made in the prior bull phase. CREEF maintains a well-diversified portfolio of stocks spread across sectors and balanced across large cap and mid cap segment to mitigate risk. However, higher weightage to few sectors such as banking and financial may temporarily increase volatility if the sector comes under pressure for any reason. This makes the fund suitable for aggressive investors having high risk appetite and an investment horizon of more than five years.
PS: If you wish to select worthy mutual fund schemes, subscribe to PersonalFN's unbiased premium research service, FundSelect. Each fund recommended under FundSelect goes through our stringent process, where funds are tested on both quantitative as well as qualitative parameters.
Every month, PersonalFN's FundSelect service will provide you with insightful and practical guidance on equity mutual funds and debt schemes - the ones to Buy, Hold, or Sell.
And on the occasion of 20 years of our unbiased research service, we bring to you this Special Anniversary Offer. Subscribe now!
Note: This write up is for information purpose and does not constitute any kind of investment advice or a recommendation to Buy / Hold / Sell a fund. Returns mentioned herein are in no way a guarantee or promise of future returns. As an investor, you need to pick the right fund to meet your financial goals. If you are not sure about your risk appetite, do consult your investment consultant/advisor. Mutual Fund Investments are subject to market risks, read all scheme related documents carefully.
Author: Divya Grover
This article first appeared on PersonalFN here.
Join Now: PersonalFN is now on Telegram. Join FREE Today to get 'Daily Wealth Letter' and Exclusive Updates on Mutual Funds
PersonalFN is a Mumbai based personal finance firm offering Financial Planning and Mutual Fund Research services.
Disclaimer:
The views mentioned above are of the author only. Data and charts, if used, in the article have been sourced from available information and have not been authenticated by any statutory authority. The author and Equitymaster do not claim it to be accurate nor accept any responsibility for the same. The views constitute only the opinions and do not constitute any guidelines or recommendation on any course of action to be followed by the reader. Please read the detailed Terms of Use of the web site.
More Views on News
Jan 25, 2021
Here's how to not miss 10 best days for your portfolio returns.
Jan 25, 2021
In today's video, I'll show you why it's not a good idea to blindly support the bullish consensus prevalent in the market these days.
Jan 25, 2021
Is the valuation for this 5-bagger running ahead of its fundamentals?
Jan 25, 2021
PersonalFN explains whether you should invest in top performing mutual funds of 2020.
Jan 22, 2021
Rahul Shah discusses which group of stocks performed the best in 2020 and its implications for your portfolio.
More Views on News
Most Popular
Jan 15, 2021
In this video, I'll show you why it might be the right time to take money of the table in pharma stocks.
Jan 15, 2021
The pandemic failed to thwart Richa's investing success formula for 2020.
Jan 22, 2021
In this video, I'll show you a crucial chart that you need to check before you decide to sell any stock or index.
Jan 21, 2021
Our ace stock picker is ready to capitalise on a big growth opportunity.
More